Throughout metro Atlanta, about 5,000 nonprofits strive to make their communities stronger. Helping out can be as simple as tutoring from your office computer or as deep as committing to a long-term mentorship. Signing up can be as easy as clicking the United Way's app VolunHere or registering online with Hands On Atlanta and checking their calendar of projects. Whether your priority is the cause, the location, or the schedule, here are some worthwhile organizations that depend on volunteers:
Pick by CAUSE | Pick by SCHEDULE | Pick by LOCATION
Pick by CAUSE
Animal Welfare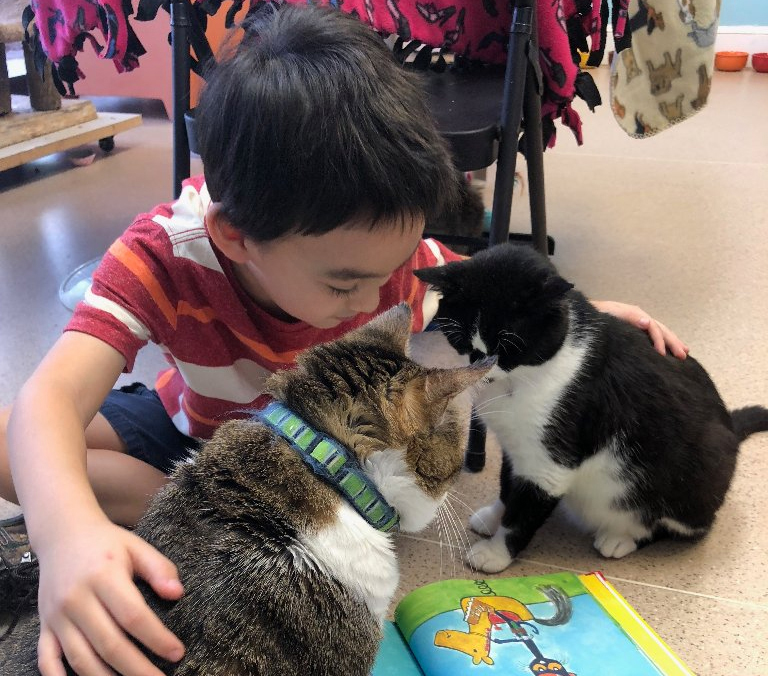 Furkids
Furkids runs the largest cage-free, no-kill cat shelter in Georgia, as well as a large no-kill dog shelter, and is one of the only animal rescues to accept children of any age as volunteers. Young kids can read to cats, and teenagers can walk dogs or help run the thrift shop. Parental supervision may be required. Locations in Gwinnett (cats) and Alpharetta (dogs) and at various adoption sites.
Atlanta Humane Society
Volunteers can walk dogs, help with animal adoptions, and represent AHS at events. Volunteers must be 18 or older, pay a $25 fee for supplies (including a T-shirt), and attend an orientation. Rescue facilities are in Atlanta and Alpharetta.
Children
Foreverfamily
To help children of imprisoned mothers, volunteers can spend a couple of hours assisting staff as they prepare children for a prison visit, or they can commit to a 13-hour shift chaperoning children. Help is also needed in the office and with occasional afterschool programs. All volunteers complete training and interviews online and undergo a background check.
Pajama Program Reading Center
At hour-long pajama parties, volunteers read to children who are experiencing homelessness, in foster care, or otherwise vulnerable and help them select a free book and pajamas. Volunteers also can become a weekly "Reading Buddy" for a child or sort books and fold pajamas. Events take place during workday hours at the Reading Center in Glenwood Park. Requires a background check.
Soccer in the Streets
This organization reaches about 5,000 underserved children annually with soccer training, leadership programs, and mentoring to help them succeed "on and off the field." Volunteers can serve as an assistant coach, referee, site manager, or mentor, or they can help with events or office duties. Soccer locations in Atlanta, College Park, and DeKalb County.
Environment
Chattahoochee Riverkeepers
CRK relies on volunteers to help monitor water quality in urban streams by taking weekly samples. To help with weekend cleanups, volunteers can paddle on the river in canoes or kayaks or stay on shore. Sweep the Hooch, a large annual cleanup, will be held on April 6. CRK also needs office help and volunteers at festival booths. Register and complete a waiver online.
Park Pride
On "Greener Good Volunteer Days," volunteers help mulch, clear invasive plants, pick up litter, and do other tasks to improve parks in DeKalb County and the city of Atlanta. Most projects last three hours (typically from 9 a.m. to noon) on weekdays or weekends. Check their calendar, and register online.
Health and Disability
Lekotek of Georgia
Lekotek provides a place for children with disabilities to gain new skills and self-esteem through playtime with adapted toys, computers, and iPads. Volunteers help with Computer Club, provide Spanish translation for some families, and assist with special events. Locations are in northeast Atlanta and satellite offices in Kennesaw, Duluth, Alpharetta, Peachtree City, and Gainesville. Most volunteer opportunities are during the weekend.
AID Atlanta
AID Atlanta has provided services and education related to HIV/AIDS since 1982. Volunteers help at health fairs, answer questions on an info-line, provide community outreach, and help in the office. Hours are flexible between 9 a.m. and 7 p.m. on weekdays, with some Saturday opportunities. Volunteers must attend orientation and training and commit for at least six months.
Homelessness and Hunger
Hosea Helps
Every Thanksgiving, Hosea Helps feeds more than 5,000 people in need of a good meal and companionship, an event created by civil rights activist Hosea Williams. But the organization also hosts large events throughout the year, a summer food program, and a care center that offers food boxes, clothing, and other assistance. Volunteer hours are Tuesday through Thursday, 10 a.m. to 6 p.m., with some Saturday events. Create a volunteer account, and sign up through the calendar. Children should be 12 or older.
Furniture Bank of Metro Atlanta
Volunteers assemble kitchen and linen kits for families in need and help people who are transitioning from homelessness pick out furniture. Groups also can arrange to build tables and dressers. Shopping shifts are weekdays from 8:30 a.m. to 2 p.m. Other shifts can vary but must be during regular office hours.
Second Helpings
This uber-efficient nonprofit needs volunteers to pick up donated food from restaurants and stores and deliver it to food pantries, shelters, and other agencies. They arrange for each driver to complete the task within 90 minutes—from home and back. Commit to drive at least once a month for 12 months or to fill in as a substitute driver. Other volunteer tasks include putting together bag lunches or helping generate reports.
Pick by SCHEDULE
Evenings or Weekends
Trees Atlanta
Every Saturday and one Sunday per quarter, Trees Atlanta volunteer crews are mulching, planting, pruning, or otherwise enhancing the urban forest. One evening a week in the summer, "Weeds and Wine" volunteers pick weeds in the BeltLine Arboretum and then gather for some free food and wine. (Weekday projects are also available.) Create a volunteer account, then sign up for events.
MedShare International
MedShare recovers excess medical supplies and equipment from hundreds of hospitals and corporations for use by clinics and hospitals and by medical mission teams. Volunteers sort items, check expiration dates, prepare products for shipping, and assemble clean birthing kits. Shifts at the Decatur distribution center generally last three hours and include Tuesday evenings and Fridays.
Remote Volunteering
TutorMate
All volunteers need is a computer if they want to become the weekly reading buddy of a first-grader who needs extra reading practice in Atlanta, Fulton, or DeKalb schools. One-on-one audio sessions are scheduled by teachers. Volunteers are asked to donate or raise funds for the $300 per child cost of the program. Sessions last 30 minutes and volunteers commit for the school year. Reading Buddies and students meet in real life at the end of the year.
Scholarship Academy
This Atlanta-based organization helps students obtain scholarships and make a financial plan for college. Virtual volunteers provide help online with scholarship essays, interview preparation, and resume guidance. In-person help is also needed at college fairs and in the Atlanta office. Scholarship Academy expects to work with 10,000 Georgia students this year.
Same-day Signup
Hands On Atlanta
Since 1989, Hands On Atlanta has connected volunteers with nonprofit organizations that need help. Register online, then search through opportunities or check the event calendar. In many cases, you can sign up the morning of a program if spots are still available. On Hands On Atlanta Day in October, you can stop by for a quick on-site registration and help with a "Pop-Up Project."
Open Hand Atlanta
Open Hand cooks, packs, and delivers more than 5,000 meals a day to clients who are elderly or disabled, and that requires thousands of volunteers. Shifts are usually about three hours and are available seven days a week, including evenings. Volunteers are especially needed for meal packing and delivery. Children must be at least 9 and accompanied by an adult.
With a Social Group
Community Bucket
For "service made social," young professionals come together monthly for "Weekends of Good," with a choice of volunteer projects, such as working in an urban garden or picking wild fruit with Concrete Jungle to give to food banks or homeless shelters. Each project is followed by socializing at a nearby brewery or restaurant.
Atlanta Moms Making a Difference
Since an Atlanta mom created this service organization in 2015, more than 400 families have participated in activities, such as collecting snacks for the pantry of a homeless shelter for women and children or decorating canvas bags for foster children. Projects are designed for families—even with young children. Check the website for events, and email your interest.
Ongoing
Big Brothers Big Sisters of Metro Atlanta
After being matched with a child between the ages of 6 and 18, Big Brothers and Big Sisters take their Littles on outings, play games, read together, and become a friend and mentor. The program is available in 12 metro Atlanta counties. Volunteers commit to meeting with their Little twice a month for at least a year. They must pass a background check.
One Good Deed
Adult volunteers visit with an older person living alone to help with simple tasks, run errands, have lunch, and provide companionship. Visits should occur twice a month for at least two hours at a time, and volunteers make a one-year commitment.
Travel
Habitat for Humanity Global Village Trips
Have an adventure and learn about another culture while you build homes with Habitat for Humanity. Global Village trips are available in nearly 30 countries. The cost typically ranges from $1,650 to $2,500, which helps fund Habitat's building efforts and does not include airfare or visa fees. May be tax-deductible.
DIG Adventure Trips
Twice a year, Atlanta-based Development in Gardening (DIG) volunteers travel to East Africa where they help nutritionally vulnerable people develop nutrient-rich gardens. Trips typically last 12 days and include a side trip, such as a luxury safari. The cost is about $5,000, which includes airfare from Atlanta, lodging, food, transportation, and a tax-deductible donation to DIG.
Pick by LOCATION
Intown
Back On My Feet
One day in 2007, a Philadelphia woman running to relieve stress passed by some homeless men and thought that running might help them, too. Today, Back on My Feet is a national nonprofit operating in 12 cities, including Atlanta, seeking to transform lives through a running and workforce development program. Volunteers run one to five miles at least one early morning a week with homeless individuals, who run three days a week for at least 30 days. They also receive job skills training and other support.
Friends of Refugees
Volunteers can help refugees with job searches and readiness, tend a community garden, tutor women or children, advise small business owners, and support pregnant refugee women. Most activities are in Clarkston, with times during the day and some evenings and weekends. Orientation, application, and background check are required.
Northeast Metro
Norcross Cooperative Ministry
This faith-based organization supported by 23 churches provides extensive services to families in need in southwest Gwinnett (Norcross, Peachtree Corners, portions of Doraville and Tucker). Volunteer tasks range from sorting clothing to working with clients seeking emergency assistance or teaching classes in job readiness and money management. Hours vary and include Tuesday evenings and Saturdays.
Path Project
The Path Project promotes academic success and seeks to improve graduation rates through programs for children of all ages, from Mommy & Me to High School Leaders Clubs. Volunteers help with reading and homework assistance, as teacher and camp assistants, and in parent engagement. Locations in Lawrenceville, Buford, Loganville, Sugar Hill, and Stone Mountain.
Northwest Metro
MUST Ministries
MUST Ministries serves more than 34,000 people each year with three food pantries and 30 school-based food pantries. MUST also provides housing assistance, a shelter, workforce development, four clothes closets, four Christmas toy shops, and more than a quarter of a million summer lunches for children in need in seven counties. Various tasks are available at locations in Marietta, Smyrna, and Canton.
LaAmistad
"La Amistad" means "the friendship" in Spanish, and the program seeks to build relationships while promoting academic and life enrichment. Volunteers are needed for afterschool tutoring, homework assistance, and adult ESL classes. Locations include Marietta, Sandy Springs, and South Cobb as well as Atlanta and DeKalb County.
Southeast Metro
Noah's Ark
Noah's Ark cares for exotic, wild, and domestic animals in a sanctuary in Locust Grove. Volunteers help greet visitors as "Habitat Ambassadors," tend to the facility, and assist with events. They do not have direct contact with animals, and applicants must be at least 18 years old.
Our World at HOPE Park
After building a park in McDonough that is accessible to children with disabilities, this organization created a school and programming for children with special needs. Volunteers help as baseball buddies for children with special needs, work in career development for adults with special needs, and assist with community events.
Southwest Metro
Midwest Food Bank
A faith-based organization with a Christian mission to alleviate hunger and malnutrition, Midwest Food Bank in Peachtree City distributes food to nonprofit agencies such as food pantries and homeless shelters and for disaster relief. Volunteers help sort, pack, and deliver and provide office help. Some tasks are child-friendly.
Bloom Our Youth
This Fayetteville organization provides support to foster children and their families with foster care training, foster parent education, and the Bloom Closet, a free "boutique" where foster children of all ages can get free new or nearly new clothes, shoes, toiletries, and school supplies. Volunteers help sort donations, organize the "store," and keep up with inventory. Volunteers also help with fundraising events. After a background check, volunteers can help foster children shop in the Bloom Closet. Hours are 9 a.m. to 5 p.m. Monday through Saturday.
This article appears in our January 2019 issue.