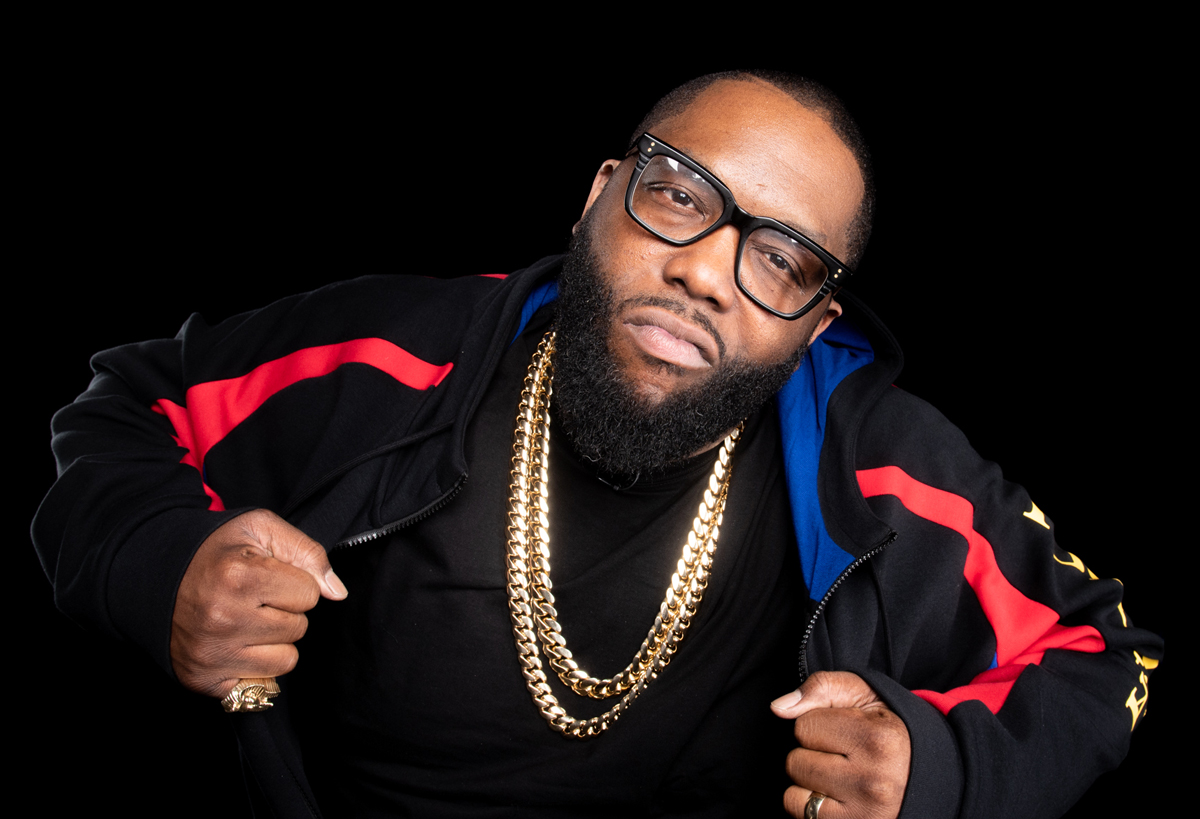 Rapper Killer Mike has been an incendiary progressive force in politics, whether he is rallying for Vermont Senator Bernie Sanders for president or Keisha Lance Bottoms for Atlanta mayor. He's also not one to hesitate speaking his mind. His new Netflix documentary series, Trigger Warning, goes to incredible lengths imagining what could be done if he truly had his way. Through the show, the lifelong Atlantan—born Michael Render—presents solutions that politicians wouldn't exactly call "common sense" to issues of a weakened black economy, a diminished education system, and a divided nation: He pitches classroom instructional videos set to pornography to Omnitech technical school. He and T-Pain hold auditions at Big Boi's Stankonia Studios for a supergroup that ultimately features a self-identifying white nationalist. And when that supergroup couldn't quite connect even with fans at a Run the Jewels show, Killer Mike's hip-hop duo with El-P, Killer Mike forms a sovereign nation called "New Africa."
As Donald Glover does with his FX show Atlanta, Killer Mike uses his pointed wit and wild imagination to shed new light on bizarre, hard truths about being an American. Below, we talked to him about the series.
Some of your fellow executive producers, like Daniel Weidenfeld, previously worked on Adult Swim programs—and you can tell from the tone of Trigger Warning. Why did it make sense to partner with them?
Well, the tone of the show is literally my personality, and Daniel and I have been friends for 12, 13 years. We've been sending ideas back and forth based on experiences and conversations over the last ten years. We tried an early version at FX that we didn't like that much, and we left it alone until we got the Netflix deal. I think the world caught up with what we envisioned.
What were you and Daniel talking about ten years ago?
Like the Crip-A-Cola. I've always asked myself, what is it about other ethnic groups that they're able to readily and publicly claim their notorious beginnings to bring them legitimacy? My Italian friends will proudly say that their grandfathers ran with the Mafia. And in America, we love the bad guy. Even the good guys, we want them to kick ass like a bad guy. So what is it about the psychology of my community that didn't allow us to embrace our bad guys in that way? I wanted to know why the Hell's Angels were smart and used serendipity in a way that they were able to build legitimacy as a motorcycle club and say, "Let's all go sell t-shirts." I think that is practical and genius and worthy of doing.
Street gangs have built a brand to where Levis was comfortable with putting a red bandana in the right side pocket when Lil Wayne was getting hot. We know what that means. The world knows what that means. But this is a faceless corporation, and they're using it to build their product. I thought, why don't I go to people who are actual members of street fraternities and actually have propelled this brand, to build legitimacy off what they are doing? People who are making money, who are able to support their children, are able to contribute to the ecosystem and the greater economy. They become individually stronger, which makes their community stronger, which makes the greater good stronger.
How did Netflix get involved, and how involved were Netflix?
I really enjoy the fact that we came to Netflix with a good idea, and they had the faith in us to say, "We're going to strip this idea all the way down." It's going to be Michael Moore-ish, in the way that I am the main character actually engaging the public. And I thought that added a swagger or an "in-your-faceness," like early In Living Color or Chappelle's Show. It brought a perspective that people hadn't thought of, and Netflix allowed us to go in the world and do it.
In the first episode, you try to only buy from black businesses for three days. Somehow I was shocked to see you struggle in Atlanta, of all places.
When my grandmother popped up in Atlanta in 1942, up until I would say even the 1980s, it was radically different. You had the ability to go to a black barber and buy food and produce directly from a black vegetable farmer. There was an availability because blacks were integrated into the business class. Edgewood Avenue, where my barbershop is now, was filled with black business and commerce.
When black people say, "you're giving money to white folks," what they are really saying is corporate versus local. Now you're taking money that you would use to buy local groceries and take it to Whole Foods, and the west side becomes a food desert. When I tell people to buy black, I'm really telling people to buy from small businesses, from people who are around you, located near you. Find and support those places so that we have stronger regional businesses versus having to deal with national chains that may not accept you.
I don't want white people to avoid black businesses. I want the greater community to support black businesses. But the black district has to be fit in order for people to support it; you don't get an Atlanta Life Insurance Company if a black barbershop had not already been there, because the founder [Alonzo Herndon, Atlanta's first black millionaire] wouldn't have been able to have the business conversation that sparked his imagination to start selling life insurance and death insurance. That only happens when our economy integrates into the larger economy.
Which of Trigger Warning's social experiments ended up being the most interesting, and why?
Teaching through pornography. I became a strong reader because my mom caught me reading Playboy, but she also caught me reading. I was interested in the articles: I wanted to know about Michael Jordan and what the Beastie Boys were doing. Of course I liked the pornography, oh my god. But my mother, who was only 16 years older than me, took that as an opportunity to encourage me to read, to talk to me about sexuality and what that meant. [Using pornography to teach] is a funny, twisted, cynical, dark, sarcastic, witty way of doing it, but I think it could really motivate people.
How did y'all land on the title Trigger Warning?
I didn't even know what Trigger Warning meant. Daniel, my producer, came to me with that idea; that was our tentative title at first. Once I realized that it would piss middle-class white people off, I was like yeah, this is what we're doing. [laughs]
The fifth episode features a supergroup that speaks to all creeds and colors. Talk about the decision to give a white nationalist not only camera time, but the final verse in this "We Are the World" moment.
We gave everybody camera time. White nationalism triggers you, so you're bringing that up. There are a lot of subtle triggers that are in there for everyone.
I grew up in the South. I have dealt with Confederate pride and white nationalism my whole life, and not from the perspective of being a victim of it. At the end of the day, I have to engage even people who I disagree with as human beings, to seek understanding, because we're here. This man lives in DeKalb County. It's not like we're not going to see each other at the Kroger. We have different opinions on social things, but that does not mean that I don't recognize and respect him. We wanted to feature everyone's voice, and you saw what happened.
How did you want people to feel after watching Trigger Warning?
I don't want folks to walk away with a specific feeling, as much as I want them to process that feeling. Usually you feel something, you go to Twitter and Facebook to tell people how you feel. You might then put that thought behind you. What I want you to do is process your fear and think. After that you converse with people who are in your inner circle, people who don't look like you, and people who do. I want to start conversations. I want to get people interacting and intermingling differently.
I didn't plan on Mario [an aspiring singer and actor who Killer Mike accuses of being "an absolute fucking racist" when they first meet] being the heel. Mario was just a genuine asshole when I met him, but the more I knew him, the more enamored I became with his personality. By the end of it, before people came to vote for me over a more qualified woman to lead the nation [of New Africa], Mario was the only person willing to speak out on leadership and truly be a patriot in that moment. You see what I'm saying? I engaged it all the way through, and I left with a great love and affection for him.
The show's ending—i.e. the election of New Africa—was surprising to me. But I also wondered if it was a response to folks asking when you're going to run for office. Why be the booster, as opposed to stepping into those leadership roles?
Henry Kissinger was in the White House a lot longer than many presidents. I would rather help those that are truly qualified and willing to make a sacrifice at this time than do that myself. I'm a capitalist. I like money. I have a beautiful wife and children, and my first priority is guaranteeing their financial future. That doesn't mean that I think rich people shouldn't be politicians, but anyone with ambitions of being rich, I don't think, is fit for politics right now. I will continue to kick ass for [Senator Bernie] Sanders, for [Georgia State Senator Vincent] Fort, for [Mayor] Keisha [Lance Bottoms] and anyone locally who is doing right by people. I just won't trade in my singing and dancing salary for a public servant salary.
Now that Trigger Warning is out, how are you feeling?
I'm feeling a lot of pressure. We're a little behind schedule: Crip-A-Cola and Blood Pop are coming to market, and we're finalizing and getting everything straight. I'm very happy the show is being received well. But this is not a pretend show. So there are aspects of business that need to be done to set this on the right path. We're just making sure that it will be shared locally and that it will be online.
Finally, how does it feel to be performing the week of the Super Bowl, opening for Foo Fighters on February 2?
I was about to say, growing up, Dave Grohl was the drummer of my life. I'm going crazy. I'm excited, I'm happy. I grew up four miles from the stadium. I'm a kid who was telling the teacher at 9 years old that I'm going to be a rapper. Now I can live out that childhood dream with one of my best friends. I'm ecstatic.