In downtown Atlanta, something hums in the grit and grime of the city's basement. Someone has plugged in an amp.
Artists, responding to beats from below, are headed to Underground Atlanta, the subterranean corridor that housed speakeasies during Prohibition, a rollicking bar district during the early '70s, and then chain retailers in the '90s and 2000s. Today, Atlanta's "city beneath the city" is having another go-around—now as a DIY arts space.
Across from the Five Points MARTA station, a flight of stone steps leads down to this creative renaissance. On Underground's lower level, the storefront of an old geode shop has been stripped back to its foundation and redecorated with found objects to become an eclectic performance space called No Tomorrow. Next door, a former Victoria's Secret, now gutted to the studs, is home to hardcore, hip-hop, and visual art under the name Mom Said It's Fine. Three other studios complete the row of storefronts-turned-galleries: Innerspace, Emmcdee Gallery, and Itch. Nearly every evening, someone reads poetry or dances to an atmospheric soundscape in the studios.
"We'll have four different shows next to each other, so people can come and explore each one," said Carl Janes, who runs Innerspace. In a single evening at Underground, No Tomorrow features performance artists holding experimental improvisation workshops; Itch hosts an open mic; a metal band plays at Mom Said It's Fine; Emmcdee Gallery hosts an art exhibition; and Innerspace offers more live music—all side by side. "It's almost like a multistage event every night," said Janes. And the community is growing: Tyree Smith's ARTlanta Gallery joined the lineup at Upper Alabama Street late last year.
Underground Atlanta's current owner is Shaneel Lalani, a 34-year-old entrepreneur who immigrated to Atlanta from Mumbai when he was a child and has already made a fortune in gas stations and video gaming. In 2020, he paid $31.6 million for the ailing subterranean district, created in the 1920s when the City built viaducts over Old Alabama and Old Pryor streets to accommodate railroads. Lalani believes a little polish will restore the gleam of history trapped beneath the grime. But some members of the nascent arts community worry that scrubbing too hard will chip it all away.
• • •
In 2020, Lalani Ventures hired artist and place-maker Kris Pilcher as creative director. "When I first got access to the property, it was in a really dilapidated state," Pilcher said. "There was trash piled up on the streets. All the storefronts were abandoned, in disrepair."
Pilcher tapped seven local artists for short-term residencies to revitalize the property as Lalani Ventures planned redevelopment. The artists—Carl Janes, George Long, Maria McDowell, Priscilla Smith, Mike Stasny, EuGene Byrd, and Miriam Robinson—moved into abandoned storefronts in the Lower Alabama Street corridor. "They have changed the public perception of the area, at least among the more creative demographic of Atlanta," Pilcher said.
No Tomorrow, the performance venue run by artist in residence Priscilla Smith, hosts a free workshop called Laboratorium every Thursday. The improvisational performance concocts noise and movement. It's as weird as weird gets: unbridled music, motion, and sound, using "instruments" like pots and pans, tin foil, and child's toys. "My shorthand for it is, 'We bang on a pot and roll on the floor,'" she explained. No Tomorrow also hosts intimate indie rock concerts, raves, and film showcases.
There is often more mainstream fare, too: In 2021, within the first six months of Underground's latest reopening, 40,000 people visited The Art of Banksy: Without Limits, an exhibition of the British street artist. On First Fridays, the unofficial afterparty for the High Museum of Art's High Frequency Fridays, the line to enter Underground often stretches a block down Peachtree Street, as far as the Coca-Cola sign above the Walgreens. All of the studios are open to browse. The event draws over 3,000 people each month, said Underground Atlanta's director of events and activations, Lyle Baldes.
Maria McDowell prides her venue, Emmcdee Gallery, on its versatility and flexibility: exhibitions, spoken word, dance, birthday parties, symphonies, childrens' Shake N' Paint, entrepreneurial events, comedy, hip-hop, R&B shows. This freedom is a quintessential element of the do-it-yourself vibe the artists have brought to the space. Underground's new life embodies the essence of DIY: The artists in residence rent their spaces, advertise by word of mouth, livestream performances on Instagram, and post hand-drawn flyers on social media. "The beautiful thing about the DIY scene is you can have an absolutely amazing show, in a basement with zero resources, that rivals something that you would see at the High Museum," Pilcher said.
While freeform, these nights of DIY art aren't random. At Innerspace, Carl Janes is a puppet master, pulling the strings so creative communities overlap. "Within the punk scene, I realized that Atlanta is so vast that we have at least five different, parallel punk scenes that aren't even aware of each other," Janes said. "I'm able to take similar projects from the different scenes and then create a show that introduces everybody to each other."
• • •
Movement and loss are integral parts of being an Atlanta creative. Eyedrum art gallery started in a downtown loft in 1998, then moved to its first official location in Castleberry Hill, then to three different spaces throughout the 2000s, and, most recently, to a warehouse on Ralph David Abernathy Boulevard in 2021. In the 2010s, the Goat Farm, an arts organization, led an initiative to fill abandoned spaces on South Broad Street downtown with artists, with the goal of developing a "permanent creative community," Pilcher said. When German conglomerate Newport purchased the buildings that housed the spaces five years later, that arts community "basically shut down overnight," he remembered. (In July 2023, Newport announced it was selling its downtown holdings to local developer Braden Fellman Group.)
Before Innerspace, from 2009 to 2018, Carl Janes ran a gallery and studio called the Secret Spot in East Atlanta Village. Bands played shows on the flat roof of the building, Janes shot fireworks, and crowds gathered in the parking lot below. "It turned into this exciting, creative space where people were really just kind of unbridled and lawless and having great fun," Janes said. Its demise was sudden: "One day I showed up and there was a 'For Sale' sign in front of my door, and that was kind of the beginning of the end," Janes said. "And now there are townhomes plopped down from outer space on top of it."
In 2017, Janes stood on a rooftop with a microphone, gazing down at a block packed with hundreds of regulars. "There's a war going on. It's a culture war, and the battlefront is our collective conscience," Janes told the crowd. "A lot of us culture-makers are losing very important spaces to all of us." The Secret Spot was a difficult loss. "The best thing for me was to just get on the other side of the world from it," Janes said. He was in China for an artist's residency when the building was demolished. Less than five years later, Janes moved his art Underground.
But there's no illusion of permanence in today's Underground Atlanta either, with galleries tucked into the district's exposed foundation. "This is obviously a delicate space to operate," said Mike Stasny, who runs Mom Said It's Fine. "And there's a salacious nature of deserved victimhood that happens to artists, where you move into a space and then it gets built up and then we get kind of kicked out. But I've always liked that adventure."
Still, the arts scene is surviving in spite of this game of real estate whack-a-mole. "With gentrification, you lose some of the authenticity, of the grit and the cobwebs of the past, which are beautiful in and of themselves. I want to keep those cobwebs to a certain degree," Emmcdee Gallery's Maria McDowell said. "With a little bit of spit shine, you can make it a little bit better but keep the original feeling down here." Although talk of gentrification hangs heavily over the space, Stasny is open to a little tidying up. "Gentrification is literally 'to make more polite,' which sounds somewhat terrifying," Stasny said. "But I am curious about what the more polite version of a DIY space would be."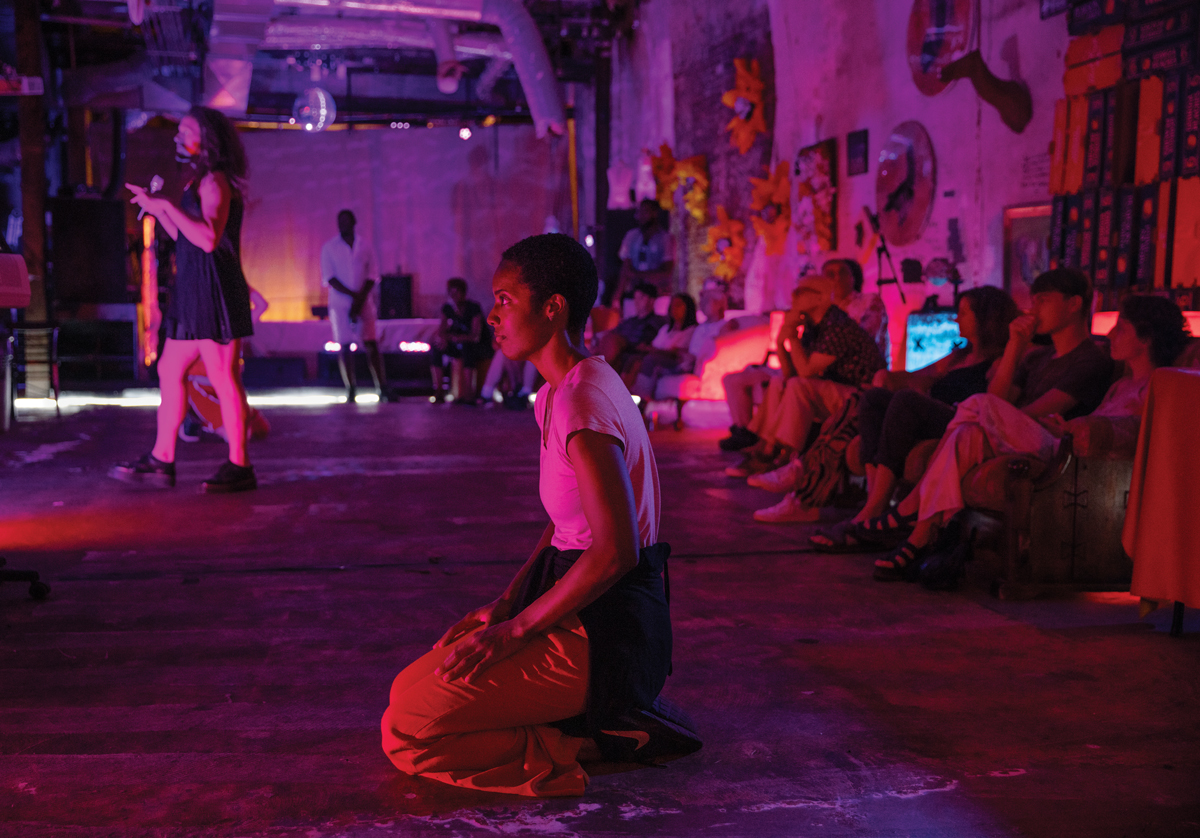 Development and preservation are often at odds. "Unfortunately, commercial real estate is all about generating profit," Pilcher said, considering the future of Underground's artist residencies. "I don't believe that it would be possible to create a really long-term, homegrown artists' community there without implicit support from the owner, which will also require significant investment in that community." Pilcher left Lalani Ventures in 2022 after a year and a half as creative director of Underground Atlanta, citing "inconsolable creative differences." He believes owner Lalani's long-term vision is to build a "completely commercialized real estate development," while his own was a "permanent, sustainable creative community."
However, for now, Lalani Ventures continues to invest in Underground's art community. In January 2023, the company launched First Fridays, which showcase the artists as a crown jewel of future development. Today, thousands flock to Underground on the first Friday of every month for art, music, poetry, food, and drink. Underground Atlanta's Lyle Baldes refers to the series as a "party." "The artists definitely benefit downtown by making it more colorful, making it more beautiful, getting people excited about it," Baldes says. For his part, Lalani says he plans to build vertically—without disturbing the artists on Lower Alabama Street. "Our goal is to incorporate them into our long-term strategy."
Lalani also says he is steering Underground in a direction that he hopes will be more sustainable: By 2026, he plans to construct a tower for market-price housing, affordable housing, and Georgia State University student housing in Peachtree Fountains Plaza. "This is not just a city within a city back in the 1960s, where it was just an underground destination or a nightlife district," Lalani says. "Right now, even though we're focusing toward nightlife destinations, our long-term plan is to have people living here, and this is what I think is going to be a game changer." Masquerade—a legendary, decades-old independent music venue—moved to Underground in 2016, and beloved dance club MJQ Concourse is slated to relocate there by the end of the year.
Lalani Ventures joins a movement aiming to revitalize downtown with mixed-use development. In April, the City of Atlanta began converting two office buildings, 2 Peachtree Street and 14 Marietta Street—each less than a block from Underground Atlanta—into mixed-use residential.
But development and increased traffic could lead to increased rent and endanger an arts scene that's just found its footing. The artists in residence appeal to a diverse community at a widely accessible price point, which is possible because their rent is still relatively low. The price of admission to most shows is $10 to $15 via Venmo or CashApp. McDowell charges $100 per hour to book Emmcdee Gallery, plus a $75 cleaning fee. Other studios in Underground are similarly priced. "Although we could probably charge more, I don't want to because I want young people to be able to come here and do their thing and not be intimidated by [the price]," McDowell said. Financial accessibility is key. "As Atlanta's grown, the DIY scene has become much more diverse, and I've observed that it's a lot more queer-friendly and queer-driven," said Pilcher. "And there are more people of color on the scene who have made amazing contributions."
• • •
In 2017, Janes stood on the roof of his East Atlanta studio, the Secret Spot, and watched the crowd cheer from the ground for the last time. In 2023, a crowd surrounds him again, gathering along the walls of his Underground studio, Innerspace. The spinning disco ball on the ceiling refracts bits of color onto the scene. Janes stands on the sidelines beneath the array of handwritten setlists he's collected and hung on the wall. A hand-painted sign above him reads "punks only," but it's tongue-in-cheek. Everyone is welcome: millennials in leather blazers and lace-up shoes, grown-up punks with dyed hair and tattoos, garage-rock-loving dad types, high schoolers eager to see their favorite riot grrrl revival band, all mingling together at the same four-set show.
"The current scene is so impressive to me," Janes said. "They're post-everything: They're post-ego, they're post-gender, they're post-race. They've been able to explore all these different genres, and they kind of blow them apart and bring them back together in different pieces. And so it's evolving."
This article appears in our September 2023 issue.