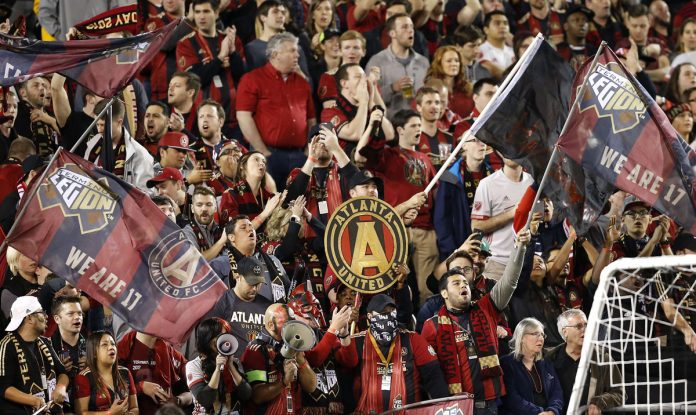 Photograph by Mike Zarrilli/Getty Images
After a well-fought loss against one of the league's better teams earlier this month and a blowout victory in the Minnesota snow, Atlanta United FC returns to Georgia Tech's Bobby Dodd Stadium on Saturday for its second home game. More than 55,000 soccer fans packed the stadium on March 5 to see Atlanta's first-ever Major League Soccer team play its official game. We saw fireworks! We endured referees' bad calls! We lost! But we also spent a long time waiting to get in the stadium, missed a good chunk of the game standing in lines for pretzels and beer, and wincing at some chants. What can we expect, from the fan's perspective, during this weekend's match-up against the Chicago Fire?
Can Bobby Dodd handle Atlanta United? The March 5 game was the fourth-largest audience for a soccer game in the world that week, according to socceramerica.com. Upon arriving at Bobby Dodd Stadium, ticketholders were greeted by lines that snaked across the street and down sidewalks. Inside the stadium, spectators waited as long as 30 minutes to buy a beer, pretzel, or water. The stadium is used to accommodating large crowds, says Mike Flynn, a Georgia Tech athletics department spokesman. "Over the past two seasons, eight of our 14 games have drawn at least 49,000, including two sellouts of 55,000," he says. So how will Saturday's game be different?
For one, says Elena Cizmaric, an AUFC spokesperson, the stadium capacity has been reduced, which means 10,000 fewer fans will file into gates seven, eight, and nine—the most congested entrances and exits during the home game. Crews are installing better signage to direct ticketgoers as well. And expect more staff to assist the crowd. Fans can do their part by arriving early, downloading digital tickets and having them ready upon entering, and abiding by the clear bag policy.
Now about the food and booze Expect more of everything. AUFC and stadium officials plan to open as many as 10 additional food and beverage locations throughout stadium, "pending safety reviews that are still ongoing," says Cizmaric. The number of hawkers will nearly triple and more people will pour beer to cut back on the long concessions lines. In addition, alcohol sales will be extended, from the 65-minute mark to the 75-minute mark. Behave yourselves, however, as Georgia Tech might revisit that cut-off time, "with public safety being the no. 1 consideration," she says. Food and beverage options will also be available outside the stadium, including Sonny's, Twisted Taco, Smashburger, Chick-Fil-A, and more.
MARTA is ready March 5 was a banner day for transit ridership. Alisa Jackson, a spokeswoman for the transit agency, says MARTA experienced nearly triple its regular amount of entries and exits at Midtown and North Avenue stations, the two rails stops closest to the station. "A 'normal' Sunday at Midtown and North Avenue stations yields a combined average of 4,231 rail system entries," she says. "But for March 5th there were 11,258 rail system entries. That would be an excess of about 7,000 Rail entries. This is about 166 percent increase over a normal Sunday for these two stations."
Give it a chants Learn 'em, love 'em, live 'em. During the March 5 game spectators on the stadium's north end were caught between watching the capo—the fan leader standing on a platform and leading cheers—and reading chants in their match day book. Michael Collier, the musical director of fan club Terminus Legion, says the capos kept the chants simple because it was the first game and the group wanted to gauge how well fans could hear. (Preseason games in Chattanooga and Charleston helped them gauge what worked and what didn't, Collier says.) "There are some chants that Terminus Legion has been using for years at Atlanta Silverbacks games that we tried and fell flat, and some that we came up with on the spot that stuck, so it's all going to be trial and error for a while," say Collier, who created or picked member-submitted chants and worked with AUFC to include a few easy-to-remember cheers in the Match day books. Collier and other capos heard feedback—positive and negative—on how to improve for Saturday's game against Chicago. One priority: making sure the supporter section can better hear the leaders.
Collier says the group will record the chants—most are inspired by local artists such as OutKast, Drivin' and Cryin', and REM, or they're traditional soccer cheers with an Atlanta twist, he says—and post them on terminuslegion.com. Practice makes perfect, people.
But don't practice every chant Some fans decided to shout a homophobic slur in Spanish—one spectators hear quite often during foreign games, unfortunately—during goal kicks. AUFC leaders have asked fans to cut this nonsense out, and fan groups are urging fans to yell "Heyyyyyyyyyy Ya" during corner and goal kicks—and to refrain from tossing items onto the field.