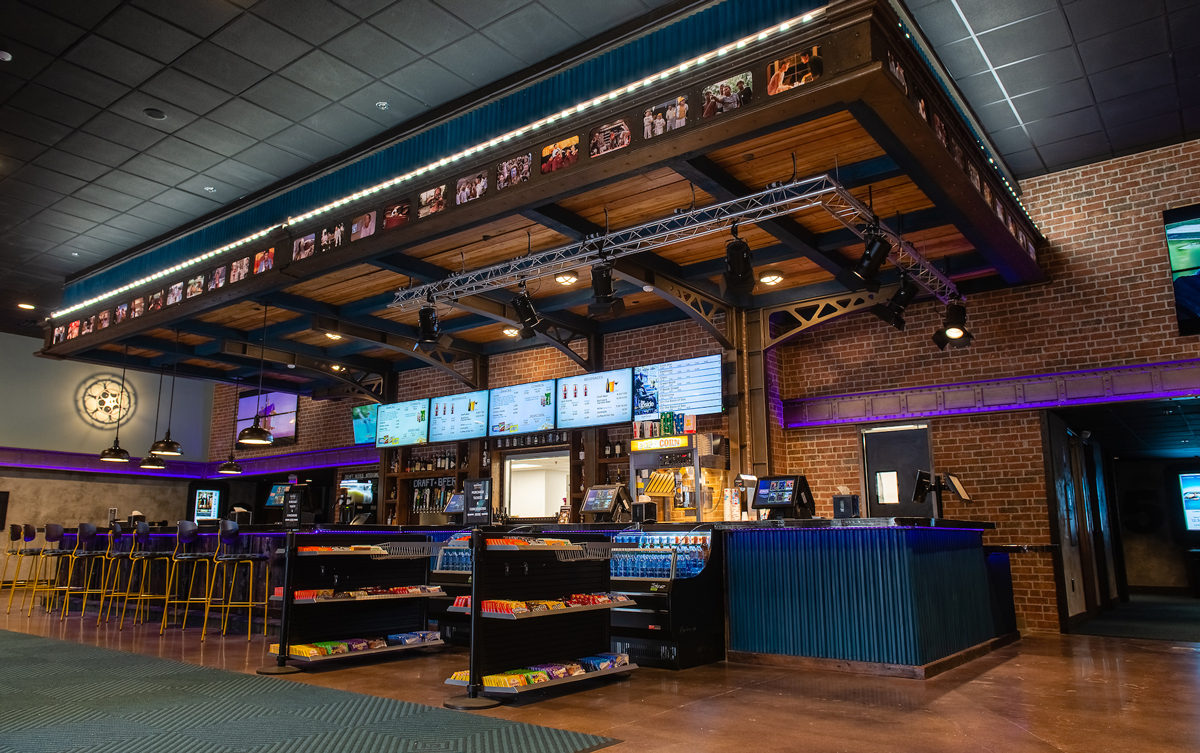 The former Lefont movie theater in Sandy Springs has undergone a facelift—not just in name, but in owner. Now called Springs Cinema & Taphouse, local entrepreneur Brandt Gully purchased the old theater from the now-retired Atlanta cinema king George Lefont to bring a "modern twist" to the space.
Gully says he saw the potential of revamping the theater early on and tried to convince Lefont to see the trends happening at other similar businesses around the country. "I urged him the last few years to implement the new features at cinemas around the country, making it more luxurious with a kitchen and a bar," he says.
In November 2017, Gully purchased the neighborhood landmark and kicked off a $2.5 million investment in the space. The building was originally built in the late 1980s so it ended up being a complete gut project, he says. Now, a year and a half later, the building has been transformed.
"This part of north Atlanta has seen a tremendous amount of growth and I felt like the theater needed to match the change in demographics, with a lot of younger people and families transitioning into the area," Gully says. "I wanted to be different."
The difference in atmosphere can be seen as soon as you walk through the doors and into the lobby and full bar, designed by Nashville-based firm Artisan Industry. The mix of industrial and retro motifs can be seen across the space, all designed by Focus Design Interiors of Atlanta, with exposed beams, deep blues, and vibrant yellows. Staffed with mixologists, the bar also offers local craft beer, wines, and specialty cocktails, with a rotating limited-edition offering inspired by one of the playing films.
Patrons don't need to see a movie in order to enjoy the full bar and kitchen offerings, which include flatbreads, salads, sliders, pizza, and other bites. The seats inside the auditorium include tables for moviegoers to eat while they enjoy the movie, but food must be ordered before the show begins.
Gully says that the best part of the renovation was the addition of heated recliner seats to the eight auditoriums, bringing the total capacity to 775 chairs. The auditoriums will show the latest Hollywood blockbusters, but won't forget its roots. As in its former life, Springs Cinema will continue showing independent art-house films and hosting screenings and premieres.
The theater officially opens today (February 15), but Gully says the bar has already received positive feedback in the past week during the soft opening.
"It's been really well-received so far. People are excited to have a place that they can go hang out before and after a movie, or without a movie. It's not an afterthought. It is really the centerpiece of what we're doing," says Gully.
"We're not a chain, it's our theater. We want people to understand this is a local theater focused on staying local, being a big part of the community," Gully says. 5920 Roswell Road, 404-255-0100