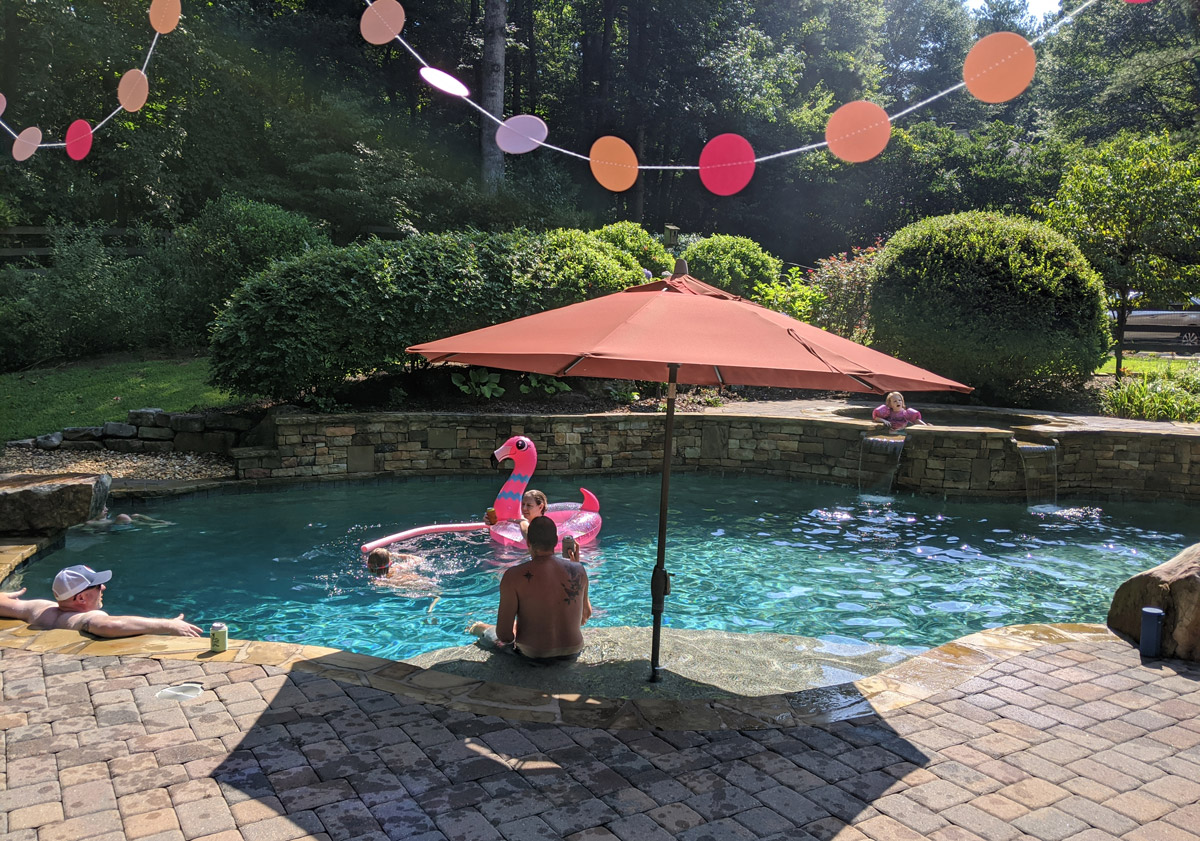 It's a humid Saturday afternoon at the end of a Roswell cul-de-sac, where towering hardwoods create a quiet cove. Behind an elegant, brick-faced house is a big glistening saltwater pool, a dog-days godsend, an oasis with dual waterfalls pouring from the hot tub, submerged ledges for lounging, strategically placed umbrellas for shade, and boulders that double as diving boards. It's a child's eighth birthday, and Quad City DJ's pumps from a Bluetooth speaker. Three families from the same Kirkwood street—occupants of a small social circle for the past couple of months—comprise the socially distanced group of 12 that has come to celebrate here. And we all have one thing in common: Nobody knows who the hell owns this place.
Welcome to the world of Swimply, a service that acts as an Airbnb of private pools and whose tagline beckons users to "escape locally" in a time of pandemic lockdown.
Launched a little more than a year ago in Long Island by two young entrepreneurs, Swimply's web platform facilitates hourly rentals of other people's private pools and now counts hosts in nearly every U.S. state, plus Canada and Australia. Rates average about $40 per hour but can climb as high as $300 for really posh accommodations. The roughly 20 Swimply options around metro Atlanta right now run the rent-a-pool gamut: From $15 per hour for a saltwater pool in Palmetto, to $30 for a smallish option with a slide in Virginia-Highland, up to $150 for both a lakefront spread with beach access elsewhere in Roswell and a College Park offering marketed as the "Love Pool."
Our four-hour excursion in Roswell cost the parents of the birthday girl about $240 and included access to a large screened porch for lunch and birthday cake and a basement restroom. (Most Swimply hosts offer the latter, but for those who can't, the company can help provide portable restrooms that they mandate be cleaned regularly, officials say.) Our friendly host, tinkering with a BMW SUV in his garage, simply said, "Welcome" as we meandered up his driveway—the last we saw of anyone but our pals. We'd followed the rules and brought all our own towels and floats, and as our time ran out, the only indication we'd been there was a few splashes on the pool's stacked stone.
Cofounder Asher Weinberger, 34, who previously founded and scaled up a couple of ecommerce startups, launched a pilot company in 2018 by searching for pools around Long Island via Google Earth, knocking on doors, and asking owners if they'd like to be part of his rudimentary website at the time. Of 80 homeowners approached, 76 of them shut their doors in Weinberger's face. But within a few weeks, the pools-for-rent company saw thousands of patrons sign up.
The onset of the COVID-19 pandemic forced Swimply to furlough virtually all of its staff, but as warmer months arrived and the Centers for Disease Control and Prevention announced findings that pool water showed no evidence of spreading the coronavirus—while still strongly advising social distancing around swimming pools—the business exploded. Swimply has grown 3,300 percent since March, as Weinberger estimated during a phone call in early August. His own backyard pool is listed on the platform, and it netted him $15,000 last month alone, he says.
"We've seen unbelievable, meteoric growth that's allowed us to hire back people we've laid off and hire even more," says Weinberger. "Lots of our hosts lost their jobs, and we're not just paying for their pool upkeep—we're paying for their entire mortgage in many cases."
One local beneficiary is Marcia Clarke, an Ellenwood insurance underwriter who heard about Swimply a year ago at work. She's hosted about 25 groups of 15 people or less since Memorial Day Weekend, charging $60 per hour for use of her pool, spacious deck, and rented port-o-potty. Her family is careful to give guests their privacy, and between each rental she douses all surfaces with a spray bottle of bleach fastened to her garden hose. It's been a particular hit, she says, with families whose apartment complex, hotel, and even subdivision pools have been shuttered by COVID-19.
"I think the app is bringing a great selection of people," Clarke says. "Everybody's following the rules. I haven't had any problems. It's a great opportunity, and I just want people to enjoy themselves."
For a 15 percent fee from hosts, and 10 percent service charge from swimmers, Swimply handles the payment process, facilitates booking, and provides hosts with waivers and other paperwork. Weinberger says the service has had to change surprisingly little despite the global pandemic, apart from being "hypervigilant" about booting any host off the platform who breaks rules pertaining to large crowds or healthy distancing.
"What we built was a contactless experience in the first place," he says. "You can't steal a pool, you can't break a pool, and the chlorine in the water does 99 percent of the cleanup for you."
For now, Weinberger says Swimply has the rent-a-pool market cornered in the U.S., though similar services have appeared in European markets. A warm-weather place like Atlanta is on the company's radar for potential growth, but the around-the-clock availability of pools every day of the week, he notes, means that even 20 listings can service thousands of people.
"We definitely have a nice amount of business going on in the state of Georgia. Around Atlanta, of course, is the epicenter of that," says Weinberger. "It's not nearly as big as it will be, but we're going to develop that this coming year."