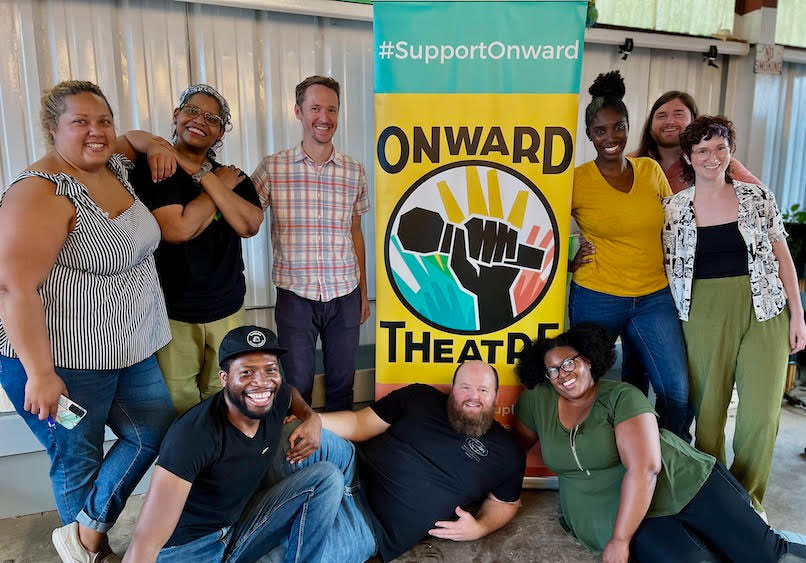 ARTlanta is a new column dedicated to celebrating the artists, creatives, and designers who give Atlanta its flavor. Our city has long had a reputation for nurturing the courageous and the bold. From performers to musicians, painters to animators, Atlanta is enriched and enlivened by their presence. In this space, I'll highlight artists, discuss trends, and list can't-miss events. Let's paint the town peach.
Each and every day, we decide what kind of city we want to live in. When we choose whether or not to attend community board meetings, volunteer at a local nonprofit, or even let someone merge in traffic, we are shaping the identity of the place we call home. I see artists as the voices of our better angels, showing us the world as it is as well as how it could be. Recently, I've had the chance to meet some artists who intend to shake up Atlanta's cultural scene with new ventures. These painters, performers and purveyors saw a hole in the city's cultural landscape and decided to plant seeds.
Unfortunately, amid the flurry of new ideas, we also lost a mainstay of the metro's arts scene with the closure of Atlanta Lyric Theatre, which shut down on March 7 after 42 seasons. The Lyric was known for staging popular musicals with outstanding local talent. It's hard to say exactly why it closed, but sadly, it's in line with a national trend of arts nonprofits struggling to stay afloat post-pandemic.
In Atlanta, more than a dozen local arts leaders penned an open letter to the city and state proposing a five-prong plan for increased support. It highlights, in part, that the Atlanta Regional Commission in 2017 estimated that the nonprofit arts sector on its own was a "$719.8 million-dollar industry that supported more than 23,000 full time jobs across the city, more than Home Depot, Piedmont Health Care or Publix, and that the Atlanta arts community contributes more than $65 million to local and state government revenue through taxes every year." I highly recommend reading the entire letter.
Yet even with this unfortunate closure, there is always new life and new energy in Atlanta. I recently spoke to the visionaries behind some of the newest spaces, mainly to ask the question, What on earth would make someone open a new arts venue in the middle of an socioeconomic tilt-a-whirl?
I wasn't surprised when they all answered my question in that altruistic, Atlanta way. For veteran artist Anderson Smith, whose gallery exhibits contemporary paintings and mixed media work by local artists, it was about disruption. "Most galleries tend to be a bit stuffy, and I wanted to do something different," he said of his Buckhead location, which feels more like a cool boutique.
Bijou Ede and Caitlin King started their new improv troupe, Onward Theatre, to infuse more diverse voices into sketch comedy. They're on a mission to discover what defines Atlanta's brand of comedy while keeping accessibility, affordability, and equity in mind. They perform at the Academy Lofts in Adair Park, as well as in spaces all across the city, with the goal of being an "octopus" with many tentacles in the community.
"Starting Onward allowed us to form a strong foundation of respect, inclusion and understanding that would also foster the next generation of comedians," says Ede. "We see improv as a life skill, and recognize the power comedy has in opening minds to different perspectives."
Benjamin Deaton and Anna King opened Wolfgang Gallery on the Westside to introduce Atlantans to contemporary artists who are generating buzz. The industrial vibe of the neighborhood is represented in the gallery's three distinct viewing areas, with open ceilings and concrete floors. In May, expect an exhibit of works by Brooklyn-based artist Jay Miriam, whose work focuses on women's interpersonal relationships, in the Back Gallery. In the Front Gallery, look for a collection of paintings that play on the idea of Americana from Colombian artist Douglas Cantor.
These industrious artists could not be more different, but they have each enriched the city's arts scene by following their desires to experiment with something new. In the first edition of ARTlanta I wrote, "All art, no matter the medium, is an experiment, and so is developing your artistic taste." So, now is the time for us to decide what type of city we want. Do we want Atlanta to be a place where the arts flourish? I think we know the answer. Sunny, spring days are here again, and now is the time to explore.
Below are a few new (and new-ish) arts venues across the metro that are worth visiting this spring.
What's new in your neighborhood? Tell us what you're creating or seeing using #ARTlanta on Twitter and Instagram.
About Kelundra Smith
I grew up in Stone Mountain and Loganville, where my parents and teachers got me into the arts early because that's where energetic girls who talk a lot go. I am a theater critic, journalist, playwright, and lifelong arts lover. My articles about Southern art and artists have been published in the New York Times, ESPN, American Theatre, Garden & Gun, Oxford American, Bitter Southerner, ArtsATL, and elsewhere. As a playwright, my scripts focus on lesser-known historical events in Georgia's history.