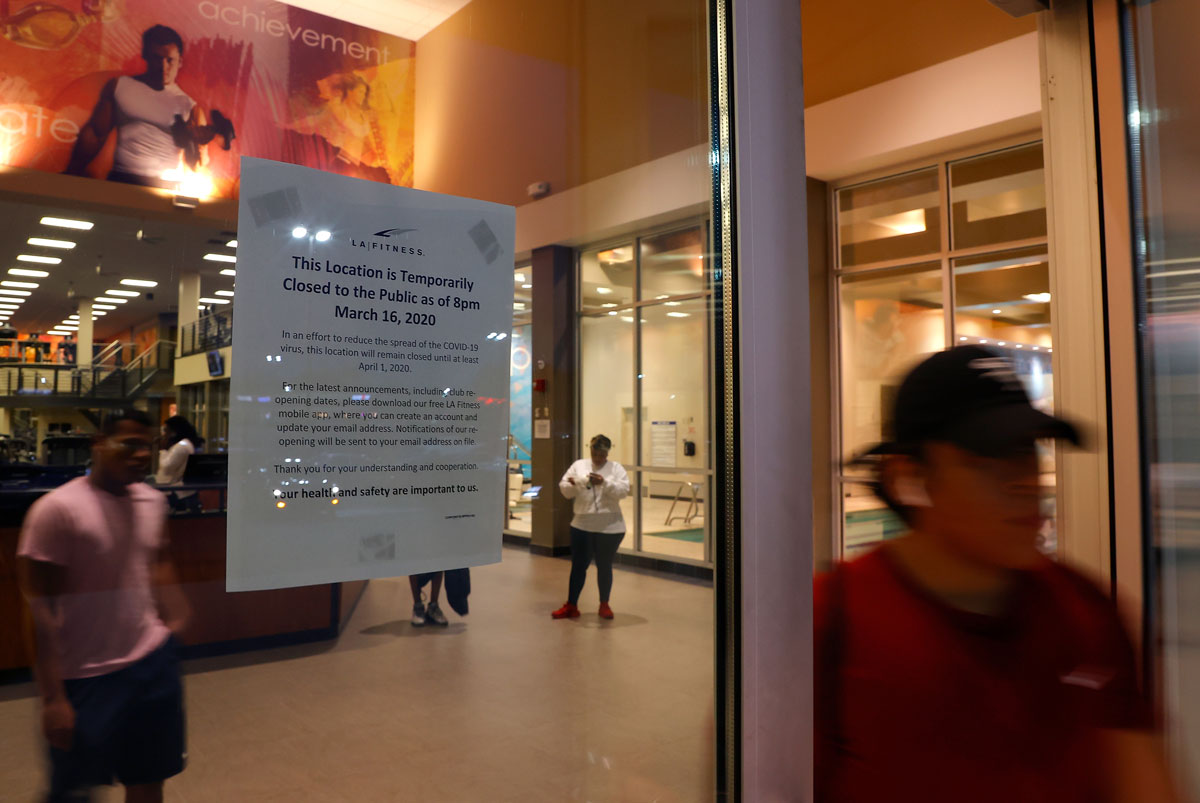 Governor Brian Kemp held a press conference Monday afternoon to announce he would begin re-opening businesses in Georgia as soon as this Friday. The announcement came as a shock to many, as President Trump's federal recommendations call for states to have at least 14 days of decline in positive cases before easing restrictions, which the data released by the state Department of Public Health does not yet clearly show.
Kemp stated in his press conference, "According to the Department of Public Health, reports of emergency room visits for flu-like illnesses are declining, documented COVID-19 cases have flattened and appear to be declining, and we have seen declining emergency room visits in general," but plotting the daily numbers from the health department does not show a consistent decline in coronavirus cases. After Kemp's announcement, the state released a new chart logging the rolling average daily count, which does show cases starting to decline.
Then on Thursday, the governor released an updated version of the executive order that further detailed safety guidelines for Georgia businesses.
This development has confused plenty of Georgians, so let's try to break it down.
Which businesses can re-open under the executive order?
Beginning Friday, April 24, gyms, fitness centers, bowling alleys, body art studios (tattoo and piercing parlors), barbershops, hair salons, estheticians (waxing, threading, eyelash extension, cosmetic treatments, etc.), massage therapists, cosmetology schools, private social clubs, and movie theaters can re-open.
The order includes a lists several safety procedures the businesses are required to adopt. Each business category has slightly different requirements, but broad guidelines include increased sanitation, screening employees for fever and illness, implementing teleworking or staggered shifts as possible, prohibiting handshakes, enforcing social distancing, and increasing workspace to six feet between employees, among other conditions. Another caveat is that that most businesses are not to have more than 10 people inside at a time unless they can remain six feet apart at all times. We'll go into more detail on the specific guidelines below.
Elective medical services—elective surgeries, dental offices, physical therapists, optometrists, among other services—"should begin treating patients as soon as practicable." Kemp's April 3 shelter-in-place order did not actually order any of these businesses to close, although some have elected to close on their own. The order encourages those who voluntarily closed to re-open.
Restaurants will be allowed to open for in-person dining on Monday, April 27. Kemp also mentioned in his April 20 press conference that houses of worship can hold in-person services as long as they adhere to strict social distancing guidelines, although these were never truly restricted under the shelter-in-place order. He recommended online and drive-in services as an alternative.
Which businesses won't be allowed to re-open?
Bars, live performance and entertainment venues, amusement parks, and swimming pools will not yet be allowed to re-open. Schools are also not re-opening.
What happened to the shelter-in-place order?
Georgia's shelter-in-place order is still in effect through April 30, and those who are at an even greater risk for the virus (those over 60 or who have compromised immune systems) asked to stay home through May 13. So even though these businesses are open, Georgians are still supposed to stay home as much as possible and wear cloth face masks when they do go out. The April 23 order, which will take effect from May 1 through 13, requires that Georgians continue to social distance and refrain from gathering and strongly encourages them to wear face masks when outside the home.
(By the way, if you're confused by the dates in the April 23 order, while the order as a whole does not go into effect until May 1, businesses opening on April 24 are required to comply with the order's requirements immediately; same for restaurants opening on April 27. There is not a period where these businesses can be open and not comply with the order's safety guidelines.)
Does this plan follow the federal Opening Up America Again guidelines?
Not quite. Phase One of the federal plan does state that gyms can re-open with "strict physical distancing and sanitation protocols," allows restaurants, movie theaters, sporting venues, houses of worship, and other "large venues" to open under "strict physical distancing protocols," and allows elective surgeries to resume, but in order for phase one to even begin, states are supposed to have a 14-day downward trajectory of flu-like illnesses, symptoms that present similar to COVID-19, documented COVID-19 cases, and positive COVID-19 tests. Hospitals also have to be able to "treat all patients without crisis care" and have "robust testing" in place for healthcare workers, including antibody tests. States are also supposed to have contact tracing systems prior to starting Phase One. The state is working on a such a program, but there isn't yet a timetable of when it will be implemented according to the AJC. President Donald Trump has also criticized Kemp's plan, saying in a national press conference that it was "just too soon" to allow businesses such as salons and tattoo parlors to re-open.
What are some of the safety guidelines that these businesses have to follow?
We won't list every guideline, as the governor's executive order is 26-pages long—it is available for download it here—but we wanted to point out a few notable ones to give you an idea of what is expected of businesses.
Restaurants
Among other sanitation and safety guidelines, the executive order says that restaurants shall allow no more than 10 patrons per 500 square feet to occupy the restaurant at one time; require all employees to wear face masks/coverings; "limit contact" between waitstaff and diners; discontinue salad bars and buffet service; use rolled silverware rather than placing flatware on the table; sanitize essentially every single item between diners (table condiments, digital ordering devices, check presenters, self-serve ordering areas, tabletops); remove self-serve items from drink, condiment, utensil, and tableware stations, requiring employees to distribute these items instead; use single-use paper menus or disinfect plastic menus after each use; re-arrange dining rooms to allow six-feet between parties; seat no more than 6 people to a table; prevent patrons from congregating in waiting areas or bars; and close any playgrounds or play areas. The order also says that while dine-in is allowed, "take-out and curbside pick-up services should be prioritized over dine-in services."
Hair salons, barbershops, tattoo parlors, etc.
In addition to what is in the executive order, the Georgia State Board of Cosmetologists and Barbers has released separate safety guidelines, which can be read here. Among the guidelines, salon and shop employees are required to wear masks at all times, and face shields are recommended. Customers are also advised to wear masks. Among other sanitation and safety guidelines, the executive order says that these shops shall operate by appointment only and not allow walk-ins; require patrons to sanitize their hands before entering; only allow one patron per service provider to be in the building at any time; require patrons to wait in the car until it's time for their appointment to start; and stagger shifts so that no more than 50 percent of employees are providing service at one time.
Gyms and fitness centers
Among other sanitation and safety guidelines, the executive order says that gyms and fitness centers shall screen patrons at the door for fever or signs of illness; use contactless check-in methods; require patrons to wipe down machines before and after use; limit the use of cardio equipment to every other machine; prohibit socializing in the gym; suspend group classes; suspend in-faculty child care; close pools, basketball courts and "other group sport areas," hot tubs, saunas, steam rooms, and tanning beds; limit or suspend locker room access; and require patrons to spray showers with a provided cleaning solution after use.
Indoor movie theaters
Among other sanitation and safety guidelines, the executive order says that theaters shall only seat parties of six people maximum, with all parties seated six-feet apart; put tape on the floors at ticket counters and concessions to guide patrons six-feet apart; close any playgrounds and arcades; and not use party rooms to host parties.
Bowling alleys
Among other sanitation and safety guidelines, the executive order says that bowling alleys shall put tape on the floors at ticket counters and rental areas to guide patrons six-feet apart; allow only six people per lane; stagger lanes to keep parties six-feet apart; remove self-serve bowing ball and shoe selection (meaning employees have to distribute these items); close any playgrounds and arcades; and not use party rooms to host parties.
Grocery stores
Grocery stores, of course, have been open during the entire pandemic, but the executive order now issues requirements for them, many of which grocery stores have already been doing. The requirements include limiting customers to 50 percent of capacity or 8 people per 1,000 square feet; and installing protective screens "where worker-patron interactions are likely" (such as the plexiglass screens that have been installed at Kroger and Publix). They are also advised (but not required) to reduce store hours for cleaning; add tape or decals on the floor to keep customers six-feet apart; provide PPE to employees; discontinue samples; and close self-serve and buffet areas, among other guidelines.
Childcare facilities
Childcare facilities have also never been required to close as they are considered an essential service, but new requirements include providing meals in classrooms rather than communal settings; not providing toys and games that cannot be easily sanitized; cloth toys that are machine washable are to "be used by one individual at a time or should not be used at all and should be laundered before being used by another child"; and each child's bedding is to be kept separate and "any bedding that touches a child's skin should be cleaned weekly or before use by any other child."
What are Atlanta's local leaders saying about this?
On Tuesday, Mayor Keisha Lance Bottoms told WSB-TV's Jovita Moore that she learned of Kemp's plans to re-open businesses while "watching Channel 2 like the rest of Georgia." She said she does not agree with the order and that she hasn't seen the data the governor says he used to make the decision. "We still are not testing asymptomatic [people] and people with mild symptoms, so I still don't think we have a clear picture of what our real numbers are. Our numbers are still going up." She said she didn't understand how businesses like hair and nail salons could properly social distance, and added, "But I do hope that I'm wrong and the governor is right, because if he's wrong, more people can die."
In sharp contrast, Marietta Mayor Steve "Thunder" Tumlin fully backed Kemp's direction, noting Monday on Facebook that he would go to the gym and get his hair cut on Friday and planned to patronize Marietta restaurants for three meals a day starting next week. "Buy, hire, trade, and dine in Marietta. Godspeed," he wrote.
DeKalb County CEO Michael Thurmond and Brookhaven Mayor Ernst have expressed skepticism in the decision. Sandy Springs Mayor Rusty Paul said he would be "cautious" in implementing the order.
Since Mayor Bottoms doesn't agree with the order, can she issue her own?
No, the executive order contains a clause that says local leaders can't issue any orders that expand or minimize Kemp's order.
How are Atlanta businesses responding to this?
The response is mixed. Many Atlanta businesses have been vocal about plans not to re-open. However, our guess is that many businesses choosing to re-open immediately may not be vocal about it due to social media backlash. Eater Atlanta is collecting a lengthy list of restaurants who have said they won't re-open immediately, which includes many local favorites.
How are Atlantans responding to this?
Social media response appears mixed, but an 11 Alive online poll asking "Do you agree with Gov. Kemp's decision to ease restrictions?" ended with a whopping 98 percent voting "No."
This story was updated on April 24 with information from Governor Kemp's April 23 executive order that further detailed the guidelines and safety protocols.