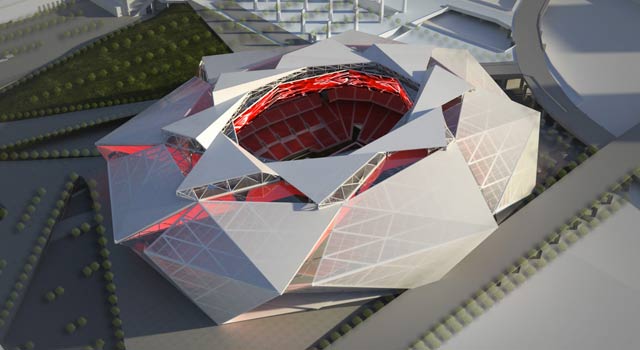 NFL.com
It's official: the $35 million design contract for the new Falcons stadium has been awarded to 360 Architecture of Kansas City, and from the design ideas already floated, it looks like Arthur Blank and the team will be getting a statement building alright. Just what'll be stated is debatable.
"Alien invasion or football experience? In Atlanta come 2017, there won't be much of a difference," writes Jay Busbee over at Yahoo Sports.
 Jason Kirk at SB Nation helpfully ranks the "ten most insane features" of the "Stankonia Dome," giving top spot for unlikeliness to the "impact seating" that would vibrate to reflect each on-field hit. Notes Kirk:
The NFL is trying to make people think less about brain injury, not more. It would rather not make you think about brain injury every time you sit down in the league's most noteworthy (for a few seasons, at least) stadium. Also, this being Atlanta, the things will both catch fire and be stolen en masse for use as strip club props.
Thanks for the vote of confidence, Jason.
And, here's how some others chimed in: