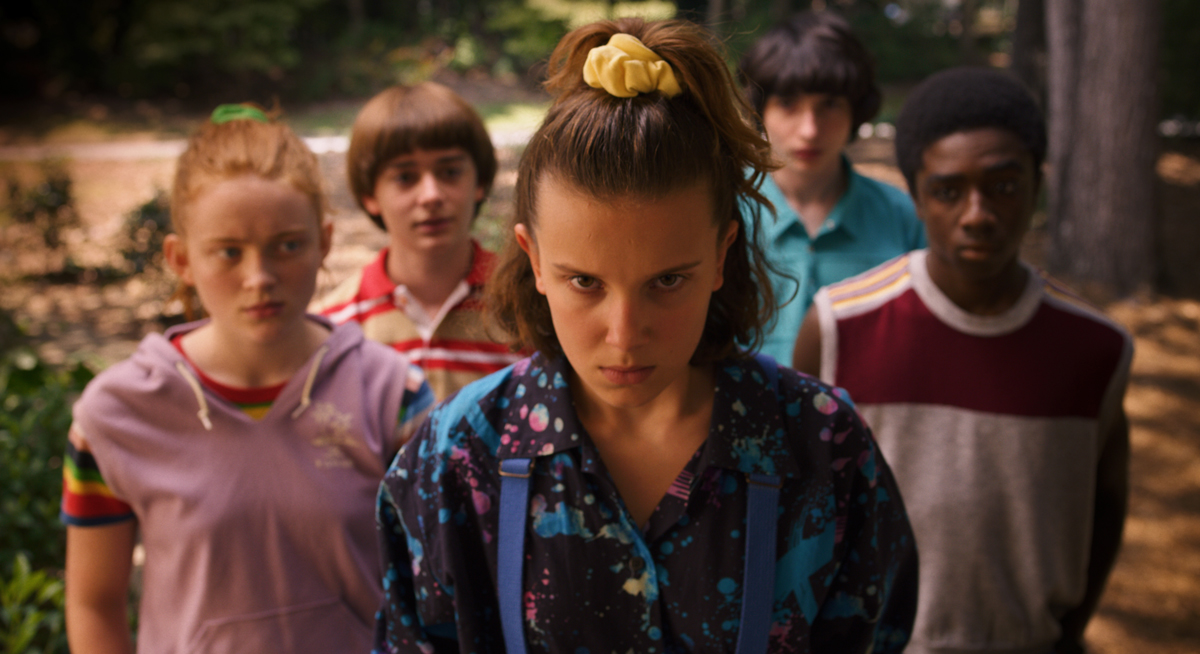 A lot of us have some extra time on our hands right now as we stay home, practicing social distancing to slow the spread of coronavirus. That means little projects, yardwork, learning new skills, and watching copious amounts of television. If you're going to sit on the couch, you might as well watch stuff made in your own backyard, right?
If you haven't seen much that was produced in Atlanta's Hollywood of the South, now's the perfect time. These films and television programs will transform places you know into far away locales, let you explore the city during different eras, and entertain you for hours. To make things even easier for you, we've listed what you can watch on each streaming service. Grab some popcorn and start watching.
Netflix
If you're looking for a good introduction to projects shot in Atlanta, Netflix is a great first stop for local binge-worthy content. Some of the most successful films and television shows, including Avengers: Infinity War, Stranger Things, The Vampire Diaries, and The Walking Dead can be found here.
Avengers: Infinity War
Stranger Things
Ozark
Ant-Man and the Wasp
Driving Miss Daisy
Halt & Catch Fire
Insatiable
The Walking Dead
The Vampire Diaries
The Originals
Legacies
Black Lightning
Raising Dion
Containment
Scream 2 (also on Showtime)
Dynasty
Love is Blind
Hulu
You'll find Donald Glover's quintessential Atlanta series here. If you're looking to dive into Tyler Perry's filmography, Hulu has the biggest selection available to stream. Additionally, check out the Academy Award-winning I, Tonya if you missed it, or delve into local classics like Drumline, Smokey and the Bandit, or Archer.
Atlanta
I, Tonya
Smokey and the Bandit
Archer (also on FXNow)
Drumline
Real Housewives of Atlanta
For Colored Girls
Madea's Witness Protection (also on Amazon Prime)
Madea's Big Happy Family (also on Amazon Prime)
A Madea Family Funeral (also on Amazon Prime)
Boo 2! A Madera Halloween (also on Amazon Prime)
Lodge 49
Futurama (Okay, this one wasn't produced here, but go watch season two's 12th episode, "The Deep South" to appreciate an entire episode dedicated to Atlanta.)
Disney+
Disney+ should be your first stop to get into the Marvel Cinematic Universe, many of which were filmed here. And if you're missing sports while practicing good social distancing, there's the classic Remember the Titans.
Avengers: Endgame
Black Panther
Captain America: Civil War (also on USA Network)
Ant-Man (also on USA Network and TNT)
Remember the Titans
Guardians of the Galaxy Vol. 2
Amazon Prime
There aren't a lot of made-in-Georgia productions on Amazon Prime, but since this is probably what you're using to avoid having to leave the house for supplies, it's worth looking at. As with Hulu, Amazon Prime has a few of Tyler Perry's films.
Madea's Witness Protection (Also on Hulu)
Madea's Big Happy Family (Also on Hulu)
A Madea Family Funeral (Also on Hulu)
Boo 2! A Madera Halloween (Also on Hulu)
Basic Cable Channels
If you've got a cable login, you have access to decent online libraries of content, you may just have to endure ads and/or television edits. As a bonus, it would seem that FX currently holds the streaming rights to a lot of comedies that shot here over the last six years. And we could all use a laugh right now.
FXNow
Archer (Also on Hulu)
Baby Driver
Spiderman: Homecoming
Anchorman 2
Ride Along
Passengers
Goosebumps
Keeping up with the Joneses
Dumb & Dumber To
Let's Be Cops
Food Network
SyFy
TNT
Ant-Man (Also on Disney+ and USA Network)
The Divergent Series: Insurgent
The Divergent Series: Allegiant
USA Network
Captain America: Civil War (Also on Disney+)
Ant-Man (Also on Disney+ and TNT)
Madea's Family Reunion
A Madea Christmas
Premium Cable Networks
Some of our best television content is locked away behind subscription-based premium channels. If you're already paying for these, there's a few can't miss shows like The Outsider and Watchmen. Also, dive into some of Atlanta's classics such as Sharky's Machine, Fried Green Tomatoes, and My Cousin Vinny.
HBO
Watchmen
The Outsider
Fast Five
RoboCop 3
Showtime
The Fighting Temptations
Who is America?
Scream 2 (Also on Netflix)
Starz
Sharky's Machine
Fried Green Tomatoes
My Cousin Vinny
Venom
Manhunter
Pet Sematary II
Cinemax
Other platforms
Aside from the major networks and services, a few odds and ends have some of the Hollywood of the South's work ready to watch.
YouTube Premium
Apple TV+

CBS All Access
The Big Chill (Also on Crackle)
Escape from New York (Also on IMDbTV)
MacGyver
IMDbTV
Trouble with the Curve
Escape from New York (Also on CBS All Access)
Crackle
The Big Chill (Also on CBS All Access)
School Daze
Vudu