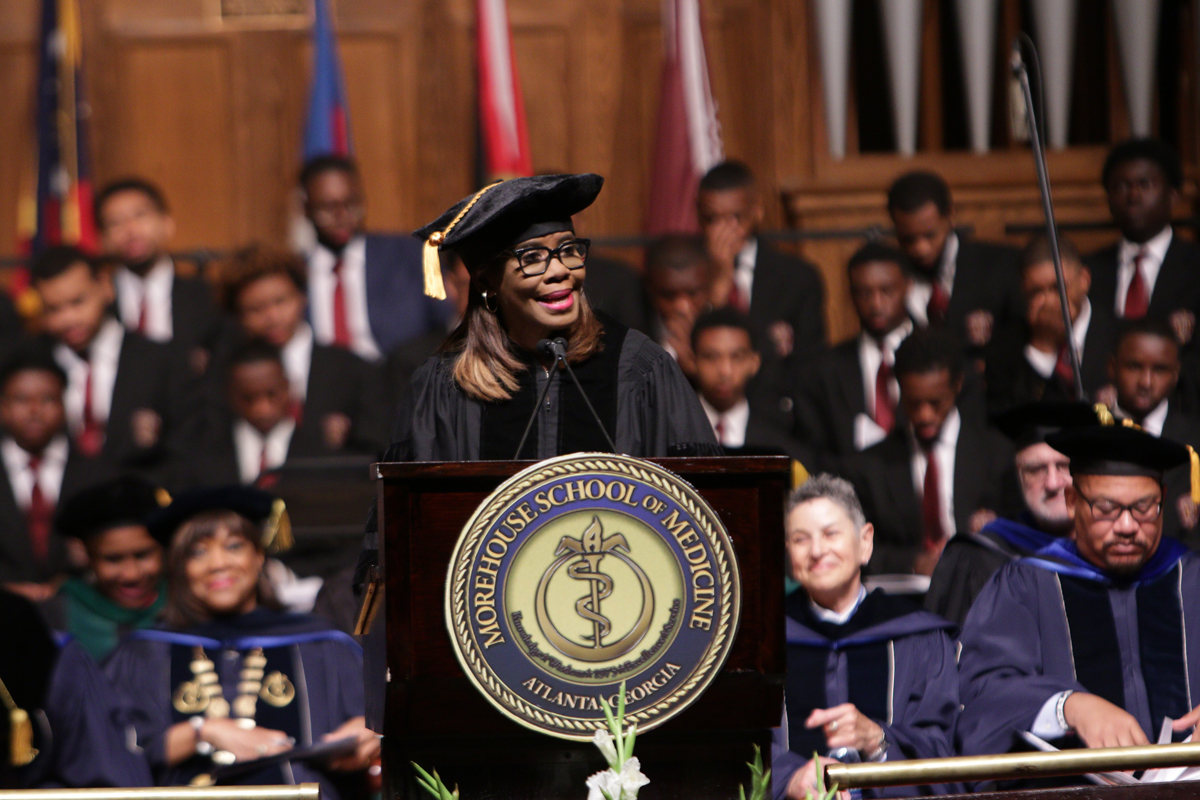 This past weekend, the current mayor of Atlanta, the former mayor of Tallahassee, a billionaire technology investor, a Naismith Basketball Hall-of-Famer, and the first African American female president-elect of the American Medical Association each delivered commencement speeches at the five schools that make up the Atlanta University Center, discussing pride, family, the benefit of an education, never giving up, and taking joy in helping others.
Andrew Gillum, the former Florida mayor and gubernatorial candidate, received an honorary doctorate from Clark Atlanta University and served as the school's commencement speaker, where he gave this year's class of 781 graduates a solid piece of advice learned from his father, a construction worker with a fourth-grade education.
"My father taught me the five B's of public speaking," Gillum said. "Be brief brother, be brief."
Morehouse speaker and Vista Equity Partners CEO Robert F. Smith was also awarded an honorary degree alongside actress Angela Bassett. And while he may not have had an old family proverb to share, he did break the internet and make national headlines when he announced that through an estimated $40 million grant, he will "eliminate" the student loan debt for all 396 members of the class of 2019.
Here are some other highlights from the five commencement speeches that helped send thousands of AUC graduates off to begin their next journeys.
Saturday, May 18
Morris Brown College
Dominique Wilkins, Atlanta Hawks legend, founder of TwoOneTechnology, and Fox Sports South analyst
"Nothing brings me more peace and a smile to my face than helping someone succeed."
"This is a special moment in our lives because this is something no one can take from us."
Morehouse School of Medicine
Patrice A. Harris, president-elect, American Medical Association
"As a first or only, our responsibility is to make sure we are not the last."
"By standing in your authentic voice, you're leading by example for all other medical schools."
Sunday, May 19
Morehouse College
Robert F. Smith, CEO/chairman of Vista Equity Partners
"Between doubt and your destiny is action, between our community and the American dream is your leadership."
"This degree you've earned is a social contract to devote your talents and energies to honoring those legends on whose shoulders you stand."
Spelman College
Keisha Lance Bottoms, mayor of Atlanta
"Use your curiosity to uncover the truth, and use your strength to dismantle systems of oppression."
"What we have seen on the campus of Spelman is that the spirit of activism lives on in the same way the courageous voices of Marian Wright Edelman, Pearl Cleage, Alice Walker, Tina McElroy Ansa, Bernice King, Rosalind Brewer, and Stacey Abrams abides in each of you."
Monday, May 20
Clark Atlanta University
Andrew Gillum, former mayor of Tallahassee
"Be the best example you can be, not only to the people and children you know but to the folks you don't know."
"Ignore the haters. There are so many people who want to put limits on your life. They might have said you wouldn't be here today. Let your haters be your motivators."
Correction: This story originally incorrectly named the Morehouse School of Medicine speaker as Patricia A. Harris. Her name is Patrice A. Harris. The story has been updated.