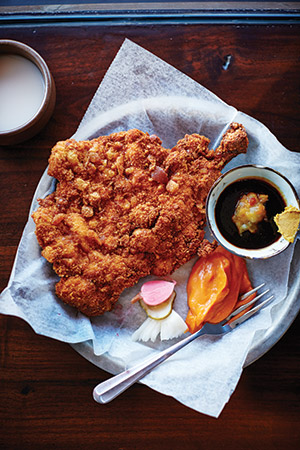 Behold the restaurant at 1788 Clairmont Road, one of the kookiest relics of midcentury fast-food mania that still exists in Atlanta. It was originally an Arby's, built in 1969, four years after the chain began franchising out of Ohio. A craggy stone base supports picture windows on three sides. The curved roof, per the company's vague Western motif, was meant to evoke the arched canvas covering of a Conestoga wagon. With its lurid red tint and bulbous overhang, it more reminds me of the Rolling Stones' tongue logo. It sticks out from among its backdrop of pine trees, in any case.
In its post-Arby's life, the building long housed an Athens Pizza Express. It closed in 2010 and was replaced by Kitsch'n 155, which served burgers and malts and took the retro theme to the extreme, painting the interior stone wall DayGlo turquoise and the counter a neon shade of cherry Popsicle.
But I doubt the long-ago franchisees would have ever envisioned, even in jest, the thrust of the newest tenant: Sobban bills itself as a "Korean Southern diner." That such an idea even took root—and probably draws the most voracious crowds since the place first cranked out roast beef sandwiches—speaks to this moment in the city's dining evolution. As immigrants keep streaming to the ­northern suburbs, Korean food has become our dominant Asian cuisine. Tabletop barbecue restaurants like Han Il Kwan on Buford Highway and 678 in Duluth present the sweet, clean, and occasionally funky flavors of Korea in high-energy milieus: They're the new Japanese steakhouses. Chefs across the metro area have latched onto kimchi's affinity with Southern cooking, which favors pickles and pungent relishes like chowchow.
No two cooks have more successfully explored the ways to merge Korean and Southern seasonings than Jiyeon Lee and Cody Taylor, Sobban's owners. They also operate tiny Heirloom Market BBQ in Cobb County, near where the Braves plan to build their new stadium. Last year I named Heirloom Market (which is now mostly takeout; you can stand and eat on the patio) the best barbecue joint in Atlanta. Taylor grew up in Texas and Tennessee. Lee recorded hit Korean pop songs in the late eighties and moved to Georgia in 1999 to attend Le Cordon Bleu College of Culinary Arts in Tucker. They met while working at Midtown's bygone Repast, itself a showpiece of next-gen East-meets-West cuisine, and seamlessly melded their culinary backgrounds when they opened their own place. They marinate smoked brisket in soup made with doenjang, the Korean version of Japanese miso; top pork sandwiches with kimchi coleslaw; and offer cucumber-radish salad alongside mac and cheese as sides. There's no end to the lines out the door.
Sobban, opened in October, is a fascinating work in progress that Lee and Taylor are rapidly fine-tuning. The focus on barbecue culture at Heirloom Market created a tight structure for their winning experiments. With a less constrictive playing field, the creations for Sobban at first went a little haywire. I wasn't the only food writer, for instance, to notice an out-of-proportion sugariness in many of the dishes' sauces. The initial misfires were partly due to the overwhelming response: Heirloom Market's reputation and Sobban's alluring price point (most entrees fall between $10 and $15) created an early stampede.
As the crowds leveled out and the months passed, the kitchen found its equilibrium. Start with a craft beer (perhaps a Kentucky Ale aged in a bourbon barrel), sake, or white Burgundy from the short list curated by manager Daniel Crawford. He previously worked at Le Caveau Wines in Chamblee and has an unerring palate for choosing beverages that match the food's complexity. The short, revolving menu mingles Korean standards with a few innovations that pull in the Southern influence. Settle in with mandu, seared dumplings—shaped like flying saucers, filled with ground beef and shiitake mushrooms—that you swipe through a gentle sweet-and-sour sauce. They stoke the appetite.
The kimchi-seafood pancake differs from the thick, gargantuan specimens you find in most Korean restaurants. These thin slices, served in an appetizer portion, teeter between crisp and soft, and they're perked up with a scattering of lightly fried shrimp, squid, and fish morsels and two dipping sauces: a soy number spiked with ginger and Thai chiles and a mayo-based one zinged with gochugaru (smoky red pepper flakes). A stack of fried chicken wings, shellacked with a narcotic chile-ginger glaze, graces nearly every table.
Chicken kalguksu, a noodle soup, has much improved since the restaurant's first weeks, when the broth was faint and the homemade noodles waterlogged. Now it's pure winter comfort, the stock richer and just spicy enough to buzz the taste buds and the noodles more satisfyingly chewy. For a nifty special, the kitchen recently made a crackery flatbread out of the noodle dough, which the cooks spread with a pesto made from sesame leaf (a Korean term for the minty herb known more commonly as shiso, its Japanese name) and topped with roasted vegetables.
For the most calibrated East-West collusion, order pork donkatsu. The breaded chop comes with sweet potato–carrot mousse, a smattering of pickled vegetables, and a beautiful ceramic bowl on the plate filled with a soy-based sauce containing spoonfuls of hot mustard paste and peach chutney. With it, request a side of miso kale, an ingenious muddle of greens simmered with doenjang (the intense miso), kimchi, a touch of cream, and a pinch of Parmesan. The familiar crunch from the pork's coating, the umami blast from the soy sauce and miso, the soothing sweet potato puree: Together they lull you into a state of elation. Couldn't world leaders reach peace over such a meal?
My other favorite cross-cultural brainstorm is a witty lunch entree of rice and beans: frisky kidney beans with a splotch of sour cream, an austere mound of steamed white rice (the kind you'd receive in any Asian restaurant), a rectangle of moist cornbread whose secret ingredient is tofu, a couple of bacon strips, and a hillock of kimchi. It's the dish that most reminds me of eating at Heirloom Market. I'd hoped to feel the same about the nori corn dog, an all-beef hot dog flecked with seaweed that is battered and dunked in the deep fryer, but the meat was ferociously smoky and the whole thing clanged with an odd metallic taste.
Dessert is bingsu, a Korean sundae of sorts built on shaved ice with a flurry of toppings. Of the three versions, I'm most taken with the "Ellijay" that includes plum ice cream, stewed apples, persimmon jelly, and candied pumpkin seeds. Kids will dig the tofu chocolate ice cream variation sprinkled with—surprise!—Pop Rocks.
The new owners of course subdued Kitsch'n 155's garish hues. They painted the back stone wall a muted gray and brought in wooden tables to add some earthen warmth. But look at the floor near the front window. You'll notice brown tiles still left from the Arby's days, with mosaics in the shape of steers' heads. No need to beef up the space any further, though. We can all taste that it's a new era.
Sobban
Rating: 2/4 stars (Very good)
1788 Clairmont Road
678-705-4233
sobban.com
Hours: Lunch: Tuesday–Saturday 11:30 a.m.–2:30 p.m.
Dinner: Tuesday–Thursday 5–9:30 p.m., Friday–Saturday 5–10:30 p.m.
This article originally appeared in our February 2014 issue under the headline "Where Southern meets Seoul."