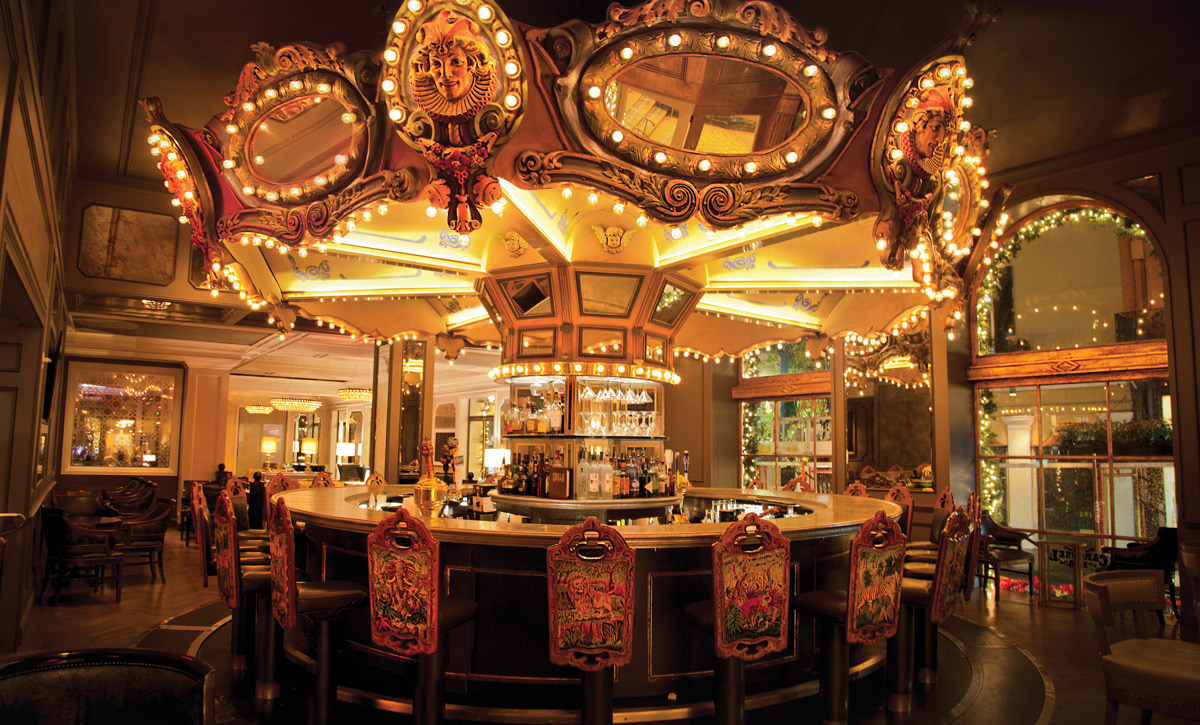 Truman Capote was not born inside New Orleans's Hotel Monteleone. But when he drank there with friends, which was often, he liked to claim he was. It wasn't so much a lie as an ebullient spin on the truth: His mother spent her pregnancy as a guest of the grand French Quarter hotel, and the staff arranged her transportation to a nearby hospital when she went into labor with her son. Today, the hotel's Capote Suite reflects the trademark pomp of the Southern Gothic author—crystal chandeliers, a traditional parlor, and ornately draped windows overlooking the corner of Iberville and Royal streets.
Capote isn't the only famous writer with ties to Hotel Monteleone. Tennessee Williams frequently met Capote at the hotel's Carousel Bar for cocktails (more on the bar later); in Williams's play The Rose Tattoo, the property makes a cameo as a modern hotspot. Today, a suite named in the playwright's honor comes complete with its own wet bar and an elegant six-person dining table. Ernest Hemingway mentioned the Carousel Bar in his short war story "The Night Before Battle," so it's only appropriate that the hotel's Hemingway Suite is located in an area of the building that once housed Union troops. And Eudora Welty featured the bar in her short story "The Purple Hat"; her namesake room offers wide-angle views of the Mississippi River.
With its many connections to prominent authors, Hotel Monteleone is one of only three hotels in the United States designated as a Literary Landmark by the Friends of the Library Association. But long before it received the honor in 1999, it was a landmark in its own right. Located a block off Bourbon Street, it was founded in the mid–nineteenth century as a sixty-four-room hotel and purchased in 1886 by a wealthy Sicilian cobbler, Antonio Monteleone. Though it has seen significant changes over the years, including the addition of more than 500 rooms and a heated rooftop pool and bar, it remains family-owned. Today, a fifth generation of Monteleones manages the bustling hotel.
This includes the Carousel Bar, undoubtedly one of the most famous drinking establishments in a city jammed with them. Open since 1949, it is beloved for the twenty-five-seat "carousel" encircling the bar, which completes its leisurely revolution every fifteen minutes. For those lucky enough to nab a seat (there's plenty of overflow in the adjoining lounge), the must-order drink is the Vieux Carre, a smooth whiskey cocktail invented here.
Rooms at the hotel are plush and floral, featuring high ceilings, crown molding, and marble and granite bathrooms. There are a number of accommodation types, including six varieties of suites—most notably those literary suites paying homage to scribes who have fallen in love with the hotel over the years. Through their words, both written and spoken, they gave this New Orleans hotel the gift of immortality. Even when those words weren't entirely true.
214 Royal Street, New Orleans, Louisiana • 504-523-3341 • hotelmonteleone.com
While You're There
Power-Lunch Like a Local
If you're in New Orleans on a Friday, make plans—and save your pennies—for the popular lunch at Galatoire's, one of the French Quarter's oldest and most venerated Creole restaurants. While tables on the main floor usually require reservations, this meal offers the weekly exception. In-the-know types show up in the wee hours of the morning and pay a professional "line sitter" to hold their spot until the doors open at 11:30 a.m. (The going rate for this service is $20 per person in the reservation.) Come lunchtime, diners return in their Big Easy finery (most men wear jackets; collared shirts are required) and head inside for a lunch that can last until dinner. Plan to order stiff drinks, let your server choose your meal, and spot plenty of local politicians milling from table to table. By the time you're on your second or third cocktail, someone will bang a spoon on a glass to announce their friend is celebrating a birthday. Or a wedding. Or a divorce. In any case, the whole room will shake their white-linen napkins and cheer until a three-piece band enters the dining area to play a tune. It's raucous, unrepentant, and delicious fun. Just like New Orleans.
This article appears in the Fall/Winter 2020 issue of Southbound.