Mitch Landrieu

"We're a city that knows how to throw a party," says New Orleans Mayor Mitch Landrieu. He would know: A native of the Big Easy, he's had his share of fun at the town's famed festivals and parades. While he's loath to pick a favorite ("it's impossible to choose just one experience"), he's a regular fixture at fetes from the New Orleans Jazz and Heritage Festival to the Essence Festival.
A member of one of Louisiana's most prominent political families (his father, Moon, served as the city's mayor in the seventies and his sister, Mary, represented the state in the United States Senate for three terms), Landrieu was the state's lieutenant governor when Hurricane Katrina hit. He says his harrowing memories of that time make New Orleans's tricentennial anniversary all the more poignant. "The city is the definition of resilience," he says.
Landrieu says he wants the milestone to honor the people who rebuilt the town brick by brick, and he hopes visitors will venture beyond the French Quarter to see the transformation. "While that's one of our most recognizable landmarks, there is so much more to see in New Orleans," he says. "We are a city made up of seventy-three neighborhoods, each with its own distinct flair."
One example he cites is the historic neighborhood of Treme, known as the birthplace of jazz. He also suggests visitors check out Magazine Street's six miles of shopping and dining stretching from the Garden District to Uptown. "Some of our best cuisine and most unique sites are found off the beaten path," he says.
He's looking forward to a year of remembrance and celebration, and he says he's confident New Orleans has what it takes to thrive in its next 300 years. "We have proven to be a city of innovation and change," he says. "A city for the ages."
Troy "Trombone Shorty" Andrews

If you want to see the real New Orleans, take it from Troy Andrews: You need to follow a second-line parade. You'll find at least one departing from Treme, Andrews's lifelong neighborhood, nearly every Sunday afternoon. "It usually takes you through the entire city, and you're listening to street horns and drums and watching people dance for hours," says the Grammy-nominated musician known as Trombone Shorty.
As you traverse the town, you'll wind through the French Quarter, where Andrews suggests darting into Verti Marte—"the neighborhood's best-kept secret"—for an All That Jazz po'boy made with shrimp, ham, turkey, mushrooms, and Swiss and American cheeses. "Get that food, then keep rolling and get back to dancing," he says.
Andrews, who fronts the funk band Trombone Shorty & Orleans Avenue, says he joins in this time-honored tradition whenever he can; it reminds him of the trailblazers who put the city's sound on the map. "I'm just blessed to be a part of a long line of musicians who helped create the music," he says.
He's a fan of others in that line as well, turning up at Blue Nile on Wednesday nights to see New Breed Brass Band and heading to Maple Leaf Bar whenever Ivan Neville or Rebirth Brass Band are playing.
Andrews, whose namesake foundation supports local high-school musicians, says supporting your neighbors—including your fellow performers—is a New Orleans credo. "There's a family aspect to the way we treat people here," he says. "We take care of each other."
And that's what makes him hopeful for the future. "We support homegrown talent more than any other city," he says. "So as long as we keep the culture alive, everything else will fall into place."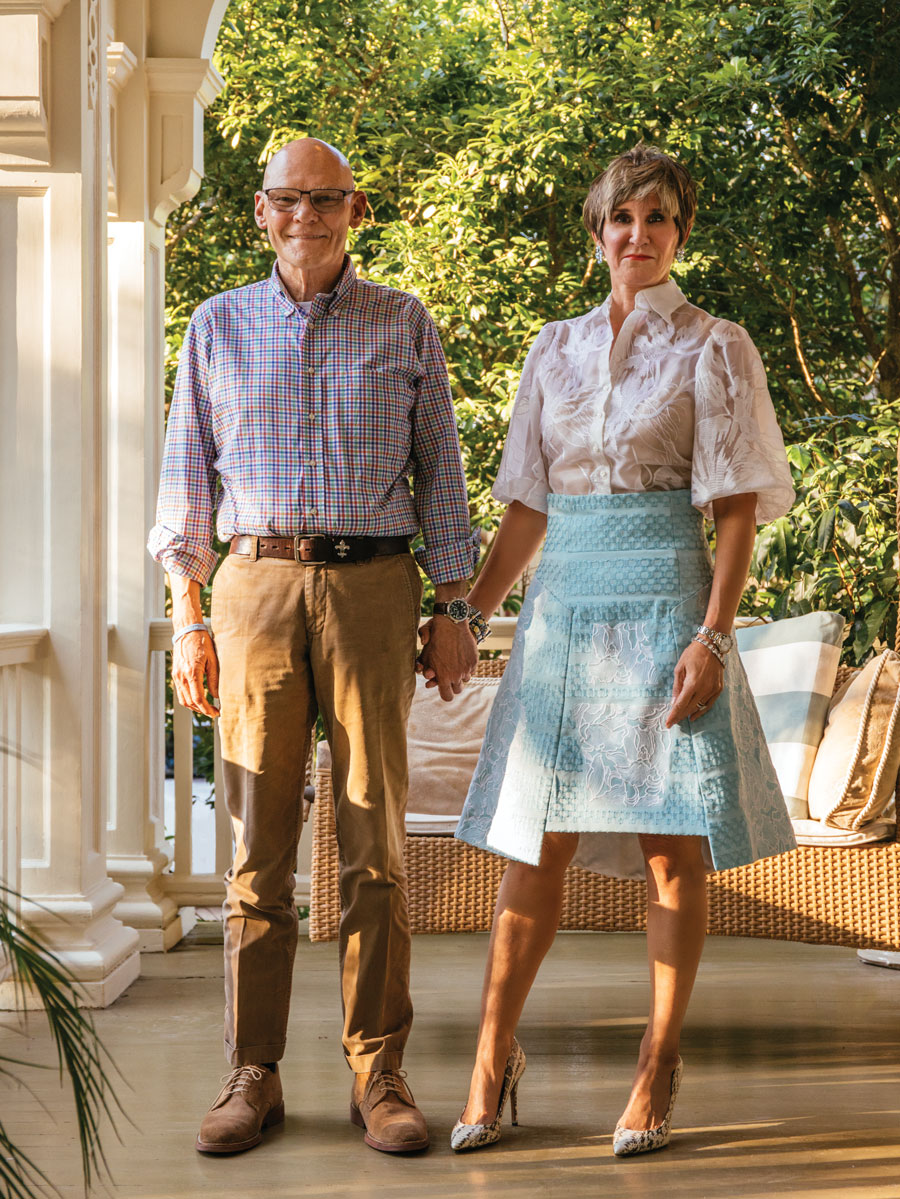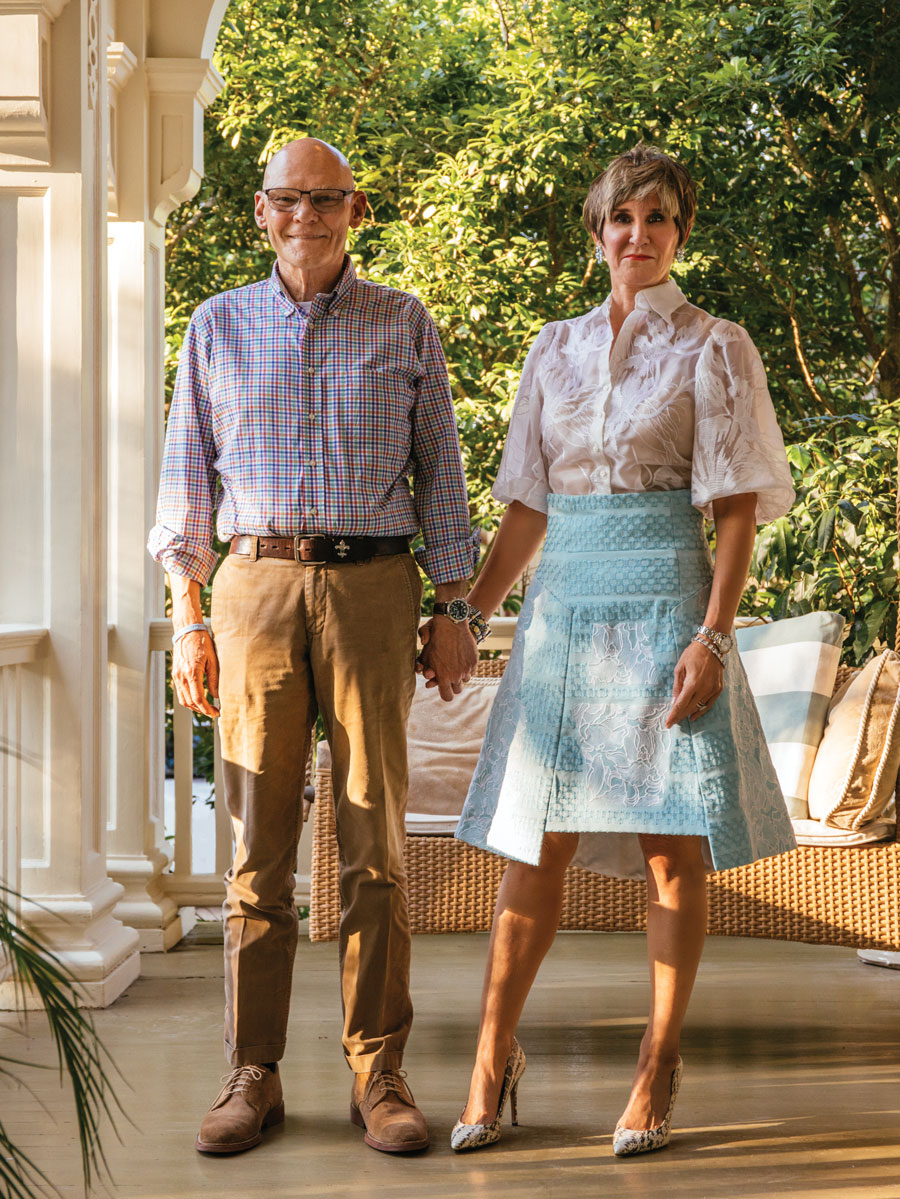 James Carville and Mary Matalin

Something has changed between James Carville and Mary Matalin. They're still America's political odd couple (he's a Democrat who ran Bill Clinton's first presidential campaign; she's a Libertarian who served in both Bush administrations). But since moving from Washington, D.C., to New Orleans in 2008, they seem uncharacteristically harmonious. "It does something to your whole vibe when you live here," Matalin says. "I find it difficult to get all gassed up about anything trivial the way I used to."
Call it an unexpected side effect of a nervy move: They had always toyed with the idea of relocating to New Orleans, and after Hurricane Katrina, they knew they needed to go for it while they still had the chance. For Carville, it was a homecoming—he grew up in nearby Carville, a town named for his grandfather—while Chicago-born Matalin fell in love with the city in the eighties, before she met her future husband. When they wed in 1993, they held the ceremony at the Omni Royal Orleans and the reception at Arnaud's.
Which, by the way, remains one of their favorite spots. "It's among the best bars in the world," Carville says, adding that visitors shouldn't discount it just because it's in a touristy part of town. "When people say they don't want to go to the French Quarter because they want to be where the locals are, I tell them: 'I meet my friends in the French Quarter,'" Carville says. In fact, he also claims Galatoire's, a Bourbon Street institution, as one of his favorite spots.
Like her husband, Matalin couldn't care less what's new and trendy; she'll take a patio table at Brennan's any night of the week. "I love that kind of classic, fine-dining experience with friends," she says.
She also loves the city's architecture, especially its "cathedrals rivaling those in Europe." A practicing Catholic, she belongs to St. Stephen, a nineteenth-century German Gothic church noted for its 200-foot spire. "It's worth seeing inside, too," she says, referring to its massive stained-glass windows designed by a 170-year-old German firm.
You don't find this sort of history many places in America, and Matalin and Carville are darn proud of that fact. "We're older than this country, and we have a distinct culture in everything from our food to our funerals," Carville says. "We don't talk about quality of life here, because ours is a way of life."
Harry Connick Jr.

It wasn't so long ago that actor and musician Harry Connick Jr. wasn't sure his hometown of New Orleans would see its 300th birthday. "Hurricane Katrina was a really close call," says Connick, whose dad was the longtime district attorney for Orleans Parish and late mother was a Louisiana Supreme Court Justice. "The fact my city is back, stronger than ever, and celebrating its tricentennial anniversary—I'm so proud to be alive for it."
Connick himself was an important part of its restoration, working with fellow Grammy winner and longtime friend Branford Marsalis to build the Musicians' Village in the Upper Ninth Ward for artists displaced by the hurricane. Within the development, they opened the Ellis Marsalis Center for Music, named for Branford's father—who also happened to be Connick's childhood piano tutor.
Connick stops by the center nearly every time he's in town (he films his syndicated talk show, Harry, in New York), but that's about as close as he comes to catching live music in the Big Easy. To him, home is about two things: family and food. "The first thing I do when I get into town is go straight to my dad's house in Lakeview," he says. Together, they'll go to dinner at Cava, where they order their favorite dish: crabmeat remoulade. "I don't think the owner, Danny, even has a freezer," Connick says. "He gets all his seafood straight from the fish market."
Though he tends to keep a low profile, Connick steps out in a big way during Mardi Gras, when he joins the Krewe of Orpheus on its march down St. Charles Avenue and Canal Street. He and his dad helped found the super krewe in 1993 in an attempt to bring more diversity to the Mardi Gras parades; theirs was the first to include both men and women and a large number of minority members. Connick says he's proud that his city was willing to embrace such a change. "I think the amazing thing about New Orleans is its seemingly perpetual evolution," he says. "That's what makes it so strong."
Leah Chase

At ninety-four, New Orleans native Leah Chase has been around for almost a third of her city's history. She saw it through the civil rights era, when she fed gumbo to Martin Luther King Jr. and other freedom fighters at her Creole restaurant, Dooky Chase's. She prayed for it through Hurricane Katrina, when her neighborhood of Treme was underwater. And she's amazed by it now, calling it a "city on the move."
"We're making so much progress," says Chase, whose life inspired the character Tiana in Disney's The Princess and the Frog. She cites the recent removal of Confederate statues from New Orleans's public spaces, which, in her view, "moves the city forward in the eyes of the world."
She also sees big changes at the New Orleans Museum of Art, whose board she joined in the seventies. "Honey, back then, there was nothing there but Old Masters," she says. "You're not going to get young people into a museum with just that." NOMA recently made news when it acquired a number of important contemporary works by Southern artists—paid for by the Leah Chase Exhibition & Art Purchase Fund.
Chase is passionate about making sure young people experience the city's cultural attractions. She recently showed up at Audubon Butterfly Garden and Insectarium to cook mealworms for an audience of shrieking children, and she loves taking her twenty-seven great-grandchildren to the Audubon Aquarium of the Americas (though not all at once). "We have so many things for kids now," she says. "There used to be a time when people thought they couldn't bring their children here because it was all adult entertainment. But it's not."
Just like New Orleans, Chase keeps on moving, going to her restaurant every day to cook and talk to guests. "People ask, 'At your age, why are you still working?'" she says. "Because I like it. I just don't feel like slowing down."
Steve Gleason

Former New Orleans Saints safety Steve Gleason made thousands of plays over his eight-year NFL career, but one secured his place in New Orleans lore: On the night the Superdome reopened after Hurricane Katrina, he came up the middle and blocked a punt. The crowd went absolutely nuts; to them, it was a sign that the Big Easy was back. But Gleason can't take all the credit. "I was buoyed by a stadium and a city full of preposterous, harebrained, unyielding, and passionate idealists," he says. "We call them Who Dats." These same idealists erected a nine-foot statue of Gleason's block outside the Superdome. It's called Rebirth.
That word means everything to him. In 2011, Gleason was diagnosed with ALS, or Lou Gehrig's disease, a terminal neuromuscular disorder. But the married father of a young son continues to forge ahead. "Like the residents of a city built two feet below sea level, I choose to be an idealist," he says.
This means living life to the fullest and always participating in his favorite New Orleans tradition, the Jazz Fest Triathlon. An unofficial—and wild and wacky—race held the Thursday before Jazz Fest's second weekend ("Locals Day," according to Gleason), it's something his wife, Michel, introduced him to the day they met in 2004. "It's called a triathlon—and it is—but it's mostly drinking, chanting, and listening to music, supplemented by running, biking, and swimming across Bayou St. John," he says.
The couple has taken part in the event every year since—once on the heels of Gleason's release from the hospital. "I'd had some trouble breathing due to the complications of ALS," he says. "I went directly to the festival to participate in my 'can't-miss' ritual."
Of course, Gleason can recommend plenty of other New Orleans activities: Eat crab claws at Lilette; go to a baseball game at the Shrine on Airline; and check out the stunning sculpture garden at the New Orleans Museum of Art. But to him, nothing beats the Jazz Fest Tri. "As I dance and sing with the hodgepodge congregation, I realize something," he says. "This is less satire and more a reverent celebration of life in New Orleans, with its sultry imperfections and sideways beauty."
Bryan Batt

Step into Hazelnut, an upscale gift and home store on Magazine Street, and you might find Bryan Batt cleaning the floors. Sure, he won two Screen Actors Guild awards for his portrayal of Salvatore Romano on Mad Men, but when he's between acting projects, he's just a guy with a mop. "People come in and go, 'You really are here!'" Batt says. "Yep, I'm one of the owners."
Batt grew up in a well-connected New Orleans family: They ran the now-closed Pontchartrain Beach Amusement Park and counted the Brennan family of Commander's Palace fame among their good friends. In 2003, Batt and his husband Tom Cianfichi, then living in New York, decided to move to New Orleans and fulfill their dream of opening a store. "I missed home, and New Orleans didn't have any stores like what we had in mind," Batt says. They set up shop along a stretch of Magazine Street in Uptown, which they'd long admired for the individualism of its shops. "Each store is privately owned, so the things you find weren't decided by committee," he says. Hazelnut—with its stylish cocktail ware and home decor—has been a resounding success, moving into a space triple its original size last year.
Batt says he and Cianfichi love living in New Orleans, where they take walks around Audubon Park and stop for snoballs at Hansen's. Naturally, they're fans of the jazz brunch at Commander's Palace ("there's something so celebratory there," Batt says). They also like having drinks on the Pontchartrain Hotel's Hot Tin Rooftop Bar. "It has one of the only views of the Garden District," Batt says. "You look out, and all you see are trees."
Even though New Orleans has made it to the ripe old age of 300, Batt says its residents don't take a single day for granted. "We live as if there's no tomorrow," he says. "We celebrate life, death, and everything in between with parades and bands and cocktails. You've got to make hay while you can."
Branford Marsalis
You'd expect a member of America's "First Family of Jazz" to have strong opinions about where to hear live music in New Orleans. And Branford Marsalis, a native of the Big Easy, certainly does: He recommends Tipitina's and Blue Nile for funk, Snug Harbor for jazz sets by his dad and brothers, and Frenchmen Street for a glimpse of what Bourbon Street was like decades ago. But what really gets Marsalis talking is the city's food. "Our city's Indians, Europeans, and Africans created a style of cooking that's unique in the world," the three-time Grammy winner says. "America may not really have a culinary identity, but New Orleans does."
He rapidly rattles off a list of his favorite restaurants—Bayona, Emeril's, Cochon, Willie Mae's, Mandina's, Elizabeth's, Angeline, Mahony's, Li'l Dizzy's, Dooky Chase's. Then he thinks of a mom-and-pop he's sure most people haven't heard of. "Castnet. Go to Castnet," he says. "It always serves gulf seafood that's very fresh. It's quite incredible."
Wherever Marsalis eats, he's often joined by his family, including his father Ellis and his brothers Wynton, Delfeayo, and Jason. Collectively, they were named American Jazz Masters by the National Endowment for the Arts. "It's flattering," Branford says. "But if you start believing it, you're in trouble."
Still, after Hurricane Katrina, those accolades helped pave the way for Branford and his lifelong pal Harry Connick Jr. to open the Musicians' Village in the Upper Ninth Ward. The village provides housing for displaced musicians, and it's also the home of the Ellis Marsalis Center for Music, a community center where musicians can learn, practice, and record.
Marsalis says he's proud to be a part of the city's musical-preservation efforts, especially as it turns 300. But he has to chuckle at the notion of an entire year's worth of tricentennial celebrations. "It's just another reason to have more parties in New Orleans," he says. "Along with the fact the sun came out, the Saints started playing, and it's Friday—or it will be soon."
Donna Brazile

When Donna Brazile is home in New Orleans, she doesn't worry about much. If it's oyster season, she'll order three dozen from Drago's. ("Don't tell my doctor.") If someone's playing music on Frenchmen Street in Marigny, she dances. ("Nobody judges you.") And if it's the middle of the day and she's hot, she has herself a good, stiff drink at Mandina's. ("It's so doggone humid that you can't just settle for iced tea.")
Brazile, the former chair for the Democratic National Committee, likes educating her D.C. colleagues about the laid-back New Orleans mentality. "I once told Mitt Romney that Louisiana girls like to pinch tails and suck head," she says. "He sort of lit up, so I said, 'You know, crawfish! We eat crawfish by the dozen with corn on the cob and a cold, cold beer.'"
She's thrilled that her beloved hometown is celebrating its tricentennial anniversary, and that her large extended family—many of whom were displaced by Hurricane Katrina—have all returned in time to join in on the fun. "Three hundred years is a lot of history, and we made a lot of that history together," she says. "We went through one of the worst chapters in American life, and we came back from the brink."
To mark the occasion, she'll toast the town in the way she likes best: Sitting on a levee by the Mississippi River and sipping a beer. "The river, for me, has spiritual meaning," she says. "I know this sounds strange, but on those levees, I feel like I can connect with God."
She also connects with her own history. "My mom's family arrived almost three hundred years ago at the Port of New Orleans and was sold into slavery," she says. "I'll be in New Orleans for the big anniversary because my ancestors would want me to be. It's our city and our home. To me, there is no other place."