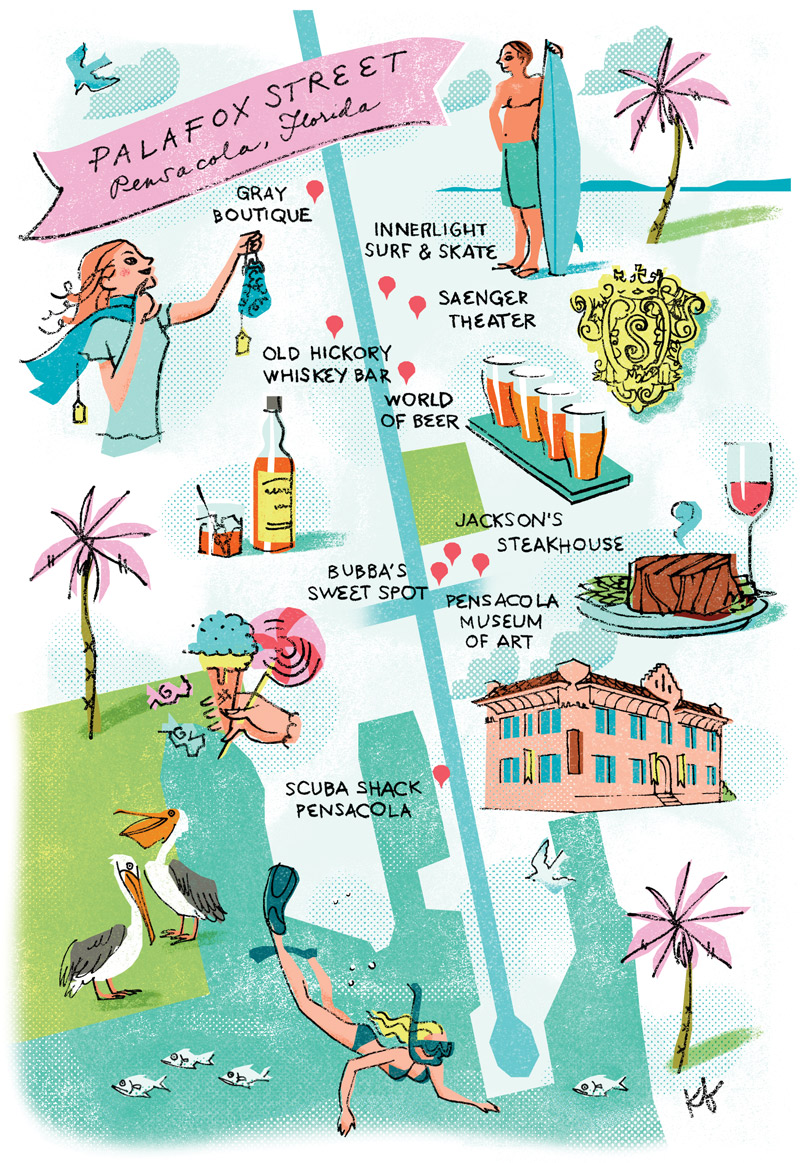 Slicing through downtown Pensacola all the way to the bay, Palafox Street is known as the city's core cultural artery. It's a distinction the street has enjoyed for the past two-and-a-half centuries, during which it has been subject to—and shaped by—British, Spanish, and American rule. In 1764, the Brits laid it out as a central vertical line on the city's grid, naming it George Street after King George III and lining one of its blocks with a grassy public square. When the Spanish seized power in 1781, they renamed the street after General Jose de Palafox y Melzi and called the square Ferdinand VII. The United States acquired Florida in 1819 and left the names alone, even as Pensacola became the territory's new capital. Andrew Jackson was named Florida's first governor and gave his inauguration speech in Plaza Ferdinand. (A bust of the soon-to-be president still sits in the square.) Today, the varied architecture along Palafox—Georgian Revival, Spanish Baroque, Neoclassical Revival—offers evidence of its long and layered backstory. So do storefront awnings supported by nineteenth-century wrought-iron columns and oversized restaurant windows that recall the days before air conditioning. But despite these historical flourishes, Palafox remains a place locals and visitors traverse every day—to shop, dine, go to a show, even hop on a boat for a scuba trip. The street has a past that's impossible to ignore, but its present is every bit as compelling.
Jackson's Steakhouse
Named for Andrew Jackson and situated in the bones of a nineteenth-century mercantile, Jackson's is the grande dame of Pensacola's fine-dining scene. Request a table by the window facing Plaza Ferdinand and order bacon-wrapped oysters, prime steaks, and locally caught snapper. The wine list is award-winning, and the cocktails are some of the best—and strongest—in town.
Pensacola Museum of Art
Housed in a historic jail, this University of West Florida museum showcases works from the likes of Picasso, Warhol, Chagall, and Matisse inside former cells. This spring, check out the area's best new talent at an exhibit by UWF's graduating art students.
Gray Boutique
Owner and Pensacola native Katy Nagel curates all the clothing, scarves, and jewelry in this sophisticated shop. Browse for denim and leopard-print bangles while sipping a glass of bubbly. Your dog is welcome to join you while you shop.
World of Beer
Yes, this brew emporium with more than 500 varieties is part of a fifty-three-location chain—but its founders, Scott Zepp and Matt LaFon, grew up in Pensacola and moved back after hitting it big. This location is their baby. Grab a seat on the dog-friendly patio, order a chilled glass of Pensacola Bay Riptide Amber, and enjoy the Florida sunshine.
Saenger Theater
Opened as a vaudeville theater in 1925, this Spanish Baroque playhouse hosts performances nearly every day, from concerts by the Pensacola Symphony Orchestra to Cats. In the summer, it also screens classic movies selected by local vote.
Old Hickory Whiskey Bar
Female-owned and -operated, this clubby hangout offers more than 600 whiskey varieties (and a full cocktail menu, too). Its name is a nod to Andrew Jackson's nickname; he once lived across the street. Sit back in a leather chair and ogle the floor-to-ceiling whiskey-bottle "library" before selecting your pour.
Scuba Shack Pensacola
Situated on the bay, Pensacola's oldest dive shop sells the latest scuba equipment and takes adventurers to world-class sites on the fifty-foot boat parked right off its dock. It also offers equipment rentals and air fills.
Innerlight Surf & Skate
Since 1969, this local mainstay has been Pensacola's go-to surf shop. Browse the aisles for O'Neill bathing suits, Reef sandals, Chris Christenson surfboards, and Blue Angels merchandise (the Navy's legendary flight demonstration squad is based in Pensacola).
Bubba's Sweet Spot
Owned by Pensacola native and famed pro golfer Bubba Watson, this gourmet candy store sells saltwater taffy, swirl lollipops, ice cream, and branded mint "golf balls." Watson lives nearby and has a serious sweet tooth—don't be surprised if you bump into him by one of the candy jars.
This article appears in our Spring/Summer 2020 issue of Southbound.