Where to Meet Locals
According to Teri Johnston, mayor of Key West
When Teri Johnston was sworn in as mayor of Key West last year, the occasion made headlines around the state. It wasn't just because Johnston is only the second woman to serve as the town's mayor in 190 years; she's also among the first openly lesbian mayors in Florida. But even as out-of-towners gobbled up news of her victory, locals simply high-fived her as she strolled into City Hall. "I've been here twenty years," says Johnston, sixty-eight. "The people here are my neighbors and my friends."
She's convinced these friends of hers constitute Key West's greatest selling point; after all, it is their fiercely independent spirit that gives the Conch Republic its colorful personality. So where should a visitor go to meet some of them? Johnston recommends heading to the Coffee Plantation Realty Cafe: "You'll always find locals there having coffee and conversation." Chat about art with the owners, Diane and Theo Glorie, whose works are for sale on the walls, and be sure to ask Theo about the guitars he has on display. "He loves to talk music," Johnston says.
Hungry? Head half an hour east to Cudjoe Key, where landmark bar and grill The Square Grouper serves up seared-tuna tacos and local girl power. "Lynn Bell is the owner, and Dee Marius is the sous chef," Johnston says. She recommends ordering Dee's famous almond-encrusted grouper or her jasmine rice bowl, washing it down with a Crazy Lady blonde ale from Key West's Waterfront Brewery.
Speaking of drinks, Johnston says Schooner Wharf on Key West's historic Harbor Walk is an ideal place to sip them with locals. She recommends arriving at noon to hear Key Westerner Michael McCloud play tropical favorites garnished with humorous anecdotes about his time on the island. "There's a reason Michael has been playing thirty years," she says. "He's incredibly talented and definitely someone you want to say hello to."
Another person worth getting to know? George Fernandez, who, along with his partner, Sam Trophia, founded the Key West Butterfly and Nature Conservatory in 2003. "Back then, the area of Duvall Street where they put the conservatory wasn't popular with tourists," Johnston says. "George is a risk taker who believed it would work, and it really paid off." Johnston says besides chatting with Fernandez, visitors will want to spend some time checking out the conservatory. "Sitting in the lush greenery with butterflies flying around is one of the most unique and relaxing things you'll do in your life," she says. "I love being there."
Before she became mayor, Johnston loved to dive, and though she'll refrain from the risky hobby during her term, she still snorkels. "We have one of the three remaining living coral reefs in the world," she says. "I could never stay totally away." She recommends chartering a tour through locally owned Sebago Watersports, making sure to ask for the legendary Captain Paul McGrail, one of the company's founders. "He'll be able to show you everything there is to see on the water. He'll also tell you anything you want to know about life in Key West," she says, then smiles with a wink. "Tell him the mayor sent you."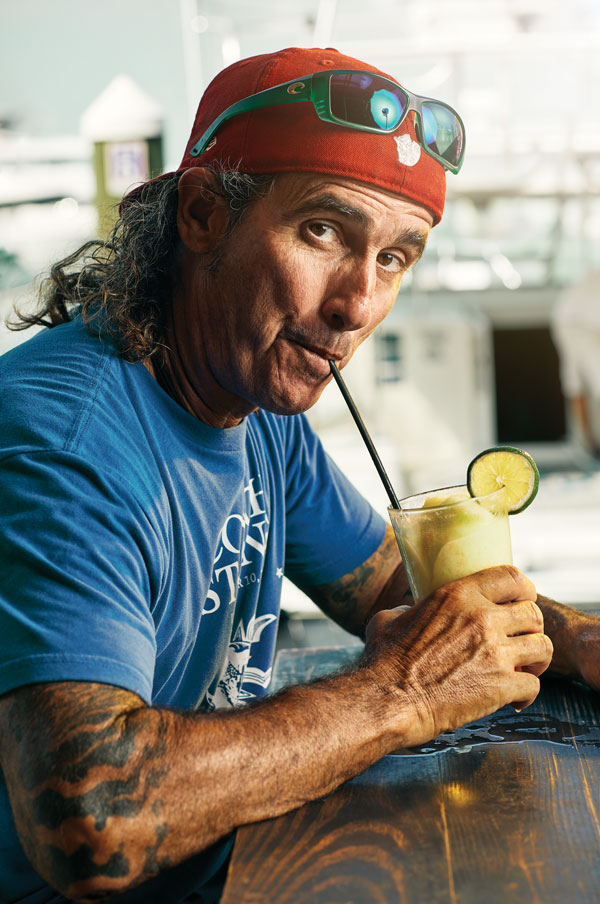 Where to Drink
According to Paul Menta, founder of Key West First Legal Rum Distillery
"I'm not a moonshiner. I'm a sunshiner," Paul Menta says, clutching a bottle of sixty-proof rum sweetened with Florida oranges. The man does not lie: He indeed distills his rum in broad daylight at the aptly named Key West First Legal Rum Distillery, which he founded in 2013. A former restaurateur with a passion for cocktails, Menta reasoned that this island 329 miles from Cuba ought to have its own rum. And judging by the 10,000 visitors who tour his distillery each year, he was onto something.
Menta, fifty-three, has lived in Key West since he was sixteen, which means he's spent plenty of time sampling its watering holes. "We're a drinking town—a drinking town with a tourist problem," he laughs. These days, he's partial to Uva Wine, which offers varietals from small-batch vineyards, served behind a rustic wood bar. Uva allows food deliveries from Thirsty Mermaid Raw Bar next door so patrons can enjoy the eatery's popular oysters without waiting hours in line for a table. "That's my little secret," Menta says with a wink.
He's also a fan of the craft cocktails at Point5, a local hangout on the second level of a restored bungalow on Duval Street. He recommends ordering the Club Car, made with Blackwell Jamaican rum, Foro Amaro, and a brandied cherry, and served in a snifter (for coolness points).
If Menta feels like a casual sip at the end of a long day, he walks a block from work to the Boat House, a waterfront joint popular with fishermen in flip-flops. There he orders the Limey Bitch, an off-menu frozen concoction made with Key lime liqueur and Menta's signature Bad Bitch rum. But if he really wants to live on the edge, he'll take a taxi twenty minutes east to the Purple Porpoise Pub on Big Coppitt Key, an "epic" dive bar. "There are people there who haven't left since the seventies," he says. "Buy a T-shirt; you'll be a legend." But don't, he cautions, drink the water. "It's a beer-and-a-shot place," he says. "For sanitary purposes."
Where to Stay
According to Carol Wightman, co-owner of the Marquesa Hotel
When Carol Wightman moved from Miami to Key West in 1988, her plan was to help transform a nineteenth-century conch house into an elite hotel. Wightman, who had worked for years in advertising, had enthusiasm aplenty but not a speck of hospitality experience. "I wasn't sure what to expect," says Wightman, sixty-one. "I definitely thought the longest I'd be here is five years."
Well, it's been three decades, and Wightman now finds herself welcoming guests such as Amazon Founder Jeff Bezos and bestselling author Margaret Atwood to the Marquesa Hotel. Wightman and her partners recently expanded the hotel to include three more Old Town buildings, and its namesake restaurant—helmed by Graham Dailey of Iron Chef fame—is one of the highest-rated in the Keys.
Much of the credit belongs to Wightman, who continually refreshes the interiors to maintain the hotel's modern-meets-historic aesthetic. (Think antique chairs covered in geometric-print fabric.) She wants guests who walk in—be they Jeff Bezos or Joe Blow—to feel as if they've come home. Albeit a home where the gardens are perfectly manicured, the iced tea freshly brewed, and the pools sparkling beneath the Florida sunshine.
Wightman can be a tough critic when she travels around the Keys, but she's found several properties that hit the mark. Number one? Little Palm Island, which reopens in 2020 after two years of post-Irma renovations. Accessible only by boat or seaplane, it doesn't have landlines or reliable cell service—and that's exactly what Wightman appreciates. "It makes you slow down and reflect on the beauty of nature," she says. "You start to realize most of us work way too hard."
Wightman's also a big fan of the Moorings in Islamorada, which she visits in the winter. "It's what everyone envisions when they say 'Florida Keys,'" she says. "It has classic architecture, palm trees, and a gorgeous beach." She also recommends the Cheeca Lodge next door to the Moorings for its wide-ranging amenities, from deep-sea fishing to upscale dining. "You can park your car there and never once move it," she says. "There's really no reason to leave."
Where to Eat
According to Daniel Schillinger, executive chef of Pierre's Restaurant
To some, Pierre's Restaurant is a glamorous Islamorada institution. To others, it's a familiar backdrop from Netflix's Bloodline. To still others, it's a celebrity hotspot where you might see Jennifer Lopez and Alex Rodriguez. But to Daniel Schillinger, it's pretty much a second home. "I'm here a lot," says Schillinger, thirty-nine, with a smile.
Schillinger moved to Islamorada last fall to assume the executive chef post at Morada Bay restaurant group, which includes Pierre's and its sister restaurant, Morada Beach Cafe. When he took the helm at the storied enterprise, he knew the bar was high. "Expectations are a big thing in the Keys, and my team and I understand that," he says. "We work very hard."
Schillinger has advice for diners coming to Pierre's: Arrive early and make a night of it. "Get to our lounge between 5:30 and 6:00, tell our bartenders the kind of drink you like, and have them create something special for you. Then sit on the porch with it and watch the sun go down." When you're ready for dinner, ask for the southwest corner table on the veranda. "That one's my favorite," he says. "It offers shade but has a great view of the water."
Wondering what to order? Schillinger says go for the seafood ("you're in the Keys, after all"), perhaps the Florida lobster curry served in a coconut shell. "That's a dish that will never leave our menu," he says. If you still have energy after dinner, walk next door to Morada Beach Cafe, where you can kick off your shoes in the sand and enjoy a nightcap while live music plays. "It just feels like the Keys," Schillinger says.
When he isn't at his own restaurants for a meal, Schillinger heads half an hour north to Hobo's Cafe in Key Largo. "I love it because it's old-school food," he says. "I like the local yellowtail served Godfather-style with white wine, tomatoes, oregano, and parsley."
When Schillinger goes down to Key West, he doesn't miss a chance to dine at Louie's Backyard. "It's a bit highfalutin, right on the water with a great wine list," he says. "I like their grilled shrimp, octopus, and garlic sausage with white beans. Their food is eclectic and cool."
But his favorite Key West spot is a locals' hideaway called Blue Heaven. "I believe it's their best restaurant," he says. It isn't on the main drag, nor is it fancy, but that doesn't mean the shrimp and grits or the "Yellow Submarine" snapper sandwich are anything but excellent. "And don't get me started on the pies," he says. "Their chocolate pecan pie and Key lime pie are some of the best around."
Where to Buy Art
According to Michelle Nicole Lowe, proprietor of Michelle Nicole Lowe Art Gallery
Michelle Nicole Lowe tried to be a desk-job person. Honestly, she did. After graduating from high school in Miami, she attended the University of Florida, where she took courses like macroeconomics and calculus to earn a degree in finance. A gig with Accenture in Washington, D.C., followed, but there were two problems: One, Lowe knew deep down she was an artist; and two, she discovered she hated cold winters.
After two years that felt like twenty, Lowe quit her job and moved to Italy to attend art school. From there, it was off to balmy Islamorada, which, in the late aughts, was in the midst of building a fledgling arts district. "New galleries were popping up all over town, with artists doing their work right out of them," says Lowe, thirty-four. "I wanted to be a part of it."
And part of it she is, earning a spot on the cover of the Keys' Culture Magazine and drawing thousands of visitors a year to Michelle Nicole Lowe Art Gallery. She says she's inspired by the water—her husband, Camp Walker, is a professional fishing guide—as well as by other Keys artists she's come to know and support. "There's Dwayne and Cindy King, who've owned Old Road Gallery in Tavernier since I was a little girl," she says. "They do incredible work with bronze." She also loves visiting printmaker and Keys native Valerie Perreault's Portside Studio and Gallery in the Islamorada Arts District for her whimsical interpretations of the island and its nature.
In Key West, Lowe likes Adam Russell and Kelly Lever's Key West Pottery, a small shop situated on Duval Street. "Their stuff is colorful and eclectic," she says. She also recommends popping into Gallery on Greene, helmed by art dealer Nance Frank: "Nance showcases all kinds of artists, including many Cuban artists, and they're all collection-worthy."
Lowe says the laid-back Keys vibe makes it possible for creatives of all stripes to defy traditional boundaries. "Anything goes here—fashion-wise, lifestyle-wise, art-wise," she says. "There's a lot of freedom to try new things."
Where to Explore Culture
According to Arlo Haskell, executive director of Key West Literary Seminar
When tickets become available in February for the Key West Literary Seminar taking place the following January, all 400 typically sell out in two-and-a-half minutes. That's partly because the seminar features Nobel Prize winners, United States poets laureate, and bestselling authors (this year's speaker lineup includes Friday Night Lights author Buzz Bissinger), but it's also because Key West has a literary history that never fails to intrigue. Authors such as Ernest Hemingway, Tennessee Williams, and Robert Frost lived and wrote here, and Arlo Haskell—who runs the literary seminar—has a theory as to why: "Writers are drawn to edges," says Haskell, forty-one. "Key West offers them, both in its geography and in its culture."
Haskell, who grew up twenty miles east of Key West in Cudjo Key, oversees the Old Town Literary Walking Tour, which showcases the hangouts of Judy Bloom (she's often behind the counter at her bookstore, Books and Books) and Thomas McGuane (he met his wife—who also happens to be Jimmy Buffett's sister—in the Chart Room Bar). Another stop on the tour? The Monroe County Public Library, where Tennessee Williams was often seen nosing through a book. (Be sure to take a gander at his old library card and listen to recordings of his public readings.)
Tennessee Williams fans should also check out the Custom House Museum, which showcases a permanent collection of the playwright's paintings. "Not a lot of people know he painted, but it was a very important part of his life," Haskell says.
Something else most people don't realize? Ernest Hemingway didn't have just one Key West address. His Spanish Colonial home in Old Town is a major draw, but during Haskell's tour, you can also eyeball Papa's first Key West apartment on Simonton Street the place where he wrote A Farewell to Arms.
Haskell says another Keys cultural site too many visitors overlook is the Florida Keys History & Discovery Center in Islamorada. Not only does the two-story museum explore the Upper Keys' modern history (including the formation of Henry Flagler's Over-Sea Railway), it gives voice to the native people who once called the Keys home. "It's really great," he says. "They do an admirable job of presenting what's known about the indigenous inhabitants of the area who were wiped out during the years of Spanish occupation."
Where to Dive
According to Captain Spencer Slate, owner of Captain Slate's Scuba Adventures
Nine of Spencer Slate's fingers have been surgically reattached. They have been reattached because they were bitten off by moray eels and barracuda. Eels and barracuda bit his fingers off because he was feeding them—he regards them as his pets. And even though his pets have taken off all but one of his fingers, he still brings them small fish twice a week with clients swimming alongside. "Nowadays, though, I've caved in and started wearing butcher gloves," says Slate, seventy-one.
Slate has operated Captain Slate's Scuba Adventures in Key Largo since 1978. During this time, his underwater stunts have been featured on the Discovery Channel and 60 Minutes. He's also become something of a local legend, diving in a Santa Claus suit every Christmas and in a bunny costume each Easter. He's been asked to transform into a swimming Cupid on Valentine's Day, but that's where he draws the line. "I ain't putting a diaper on," he says, making a cutthroat gesture with his surgically reattached fingers.
Slate says it isn't hard to figure out why more than a million people dive in the Keys each year: It has the third-largest coral barrier reef system in the world, stretching from Miami to Key West. His go-to spot? Davis Reef, a coral reef outside Plantation Key that's home to a submerged smiling Buddha and a long ledge teeming with tropical fish. "Every once in a while, you'll see Jose, a resident hammerhead," Slate says. "That makes it fun."
After visiting Davis Reef, dodging Jose, and rubbing Buddha's belly, head to nearby John Pennekamp Coral Reef State Park in Key Largo for another religious experience: descending twenty-five feet to see the famed Christ of the Abyss statue. So clear is the water there, Slate says, even snorkelers can see the statue from the surface.
In the Middle Keys, the Over-Sea Railroad dive site lets experienced divers go 100 feet underwater to see parts of Henry Flagler's original railroad bridge, which connected the Keys with mainland Florida in the early twentieth century. Slate says even at those depths, the site has good visibility—and that's fortunate, because it's covered in barracuda. "It's no big deal, though," he says. "They're only aggressive if you're a fish. I feed them out of my mouth."
He's not kidding. And he's not quitting either, even after he retires in a few years. "Oh, I'll never stop diving," Slate says. "I've got to keep feeding my pets."
Where to Fish
According to Captains Rick Stanczyk and Nick Stanczyk, co-owners of Bud N' Mary's Sportfishing Marina
If Islamorada is the "Sportfishing Capital of the World," Bud N' Mary's Sportfishing Marina is its center of governance. Open since 1944, the bustling marina is home to Islamorada's oldest and largest charter fishing fleet. Bud N' Mary's co-owners, brothers Rick Stanczyk and Nick Stanczyk, are royalty around here: Not only can they help you reel in "any fish that swims," their family actually pioneered the sport of daytime swordfishing.
It would sound like bragging if it weren't the truth. Islamorada has the good fortune of being surrounded by the Atlantic Ocean, Florida Bay, and the Gulf of Mexico, which means the brothers can indeed take you saltwater fly fishing, backcountry sport fishing, or deep-sea fishing—yes, including daytime swordfishing. But be warned that Rick and Nick are two of the Keys' most popular guides. If you want to book a charter trip with either of them, you'd better make a reservation at least six months in advance.
Rick, thirty-six, is an inshore fisherman, and one of his favorite places to take people is Flamingo, the southernmost headquarters of Everglades National Park. "I love getting into the backcountry waters and hooking snook and redfish. We also see porpoises and manatees." For tarpon fishing, he heads to local bridges such as Long Key Bridge. "You have to be patient," he says. "Any day you get one tarpon is a good day."
Nick, thirty-four, specializes in swordfishing, taking clients thirty miles off the coast and battling the 100-plus-pound monsters into the boat. "It's definitely something to see," he says. He also reels in blackfin tuna, amberjack, and shark near Islamorada's famous underwater mountains, the Islamorada Hump and the 409 Hump.
For reef fishing, Nick recommends Alligator Reef near Upper Matecumbe Key for yellowtail, snapper, and grouper; Conch Reef off the coast of Plantation Key for sailfish, mackerel, and wahoo. "People can't believe how much they can catch here," he says. "We make it easy to bring home dinner."
Where to See Wildlife
According to Bette Zirkelbach, manager of the Turtle Hospital
Seven years ago, Bette Zirkelbach didn't know much about sea turtles—except, of course, that they were cute and they were endangered. Today, she thinks of them as her children. "If I'm not at work, I miss them," she says with a small smile, gently lifting one out of a tank to look it over.
Since 2012, Zirkelbach, fifty-three, has managed the Turtle Hospital in Marathon, the only hospital of its kind in the Keys. Since its founding in 1986, it has rescued, rehabilitated, and released more than 2,000 turtles. It also welcomes 80,000 visitors a year to tour its facility and meet its flapping patients. "I think that compassion is contagious," she says. "When you see these guys up close, you can't help but be moved to try to protect them."
Zirkelbach, who moved to the Keys twenty years ago to work at the Dolphin Research Center in Grassy Key, believes the same can be said of all Keys wildlife—even creatures that aren't quite so cuddly. "Sharks are very misunderstood," she says. "We humans are not on their menu." She recommends taking a backcountry schooner tour through the mangroves with Danger Charters, where you'll see them feeding on marine life in the shallows. "Now that's what they actually eat!" she says. "It can be very exciting to watch."
To spot birds during migration, she says to head to Curry Hammock State Park on Grassy Key: "It has a fantastic hawk watch. You can see them perched everywhere." If you want to observe flamingo-like roseate spoonbills wading in the shallows, go to Crane Point Hammock Museum and Wildlife Preserve in Marathon. "They're definitely photo-worthy," she says. She's also a fan of Big Pine Key, where tiny Key deer roam the National Key Deer Refuge. "They're an endangered species, and you're almost guaranteed to see them when you go there," she says.
Still, her favorite species will always be of the shell-covered variety, the sea turtle children to whom she must routinely say goodbye. At least, she says, the parting is a happy one. "When I see one of our healthy turtles going back into the wild, it's a beautiful thing."
Where to Enjoy Nightlife
According to Sushi, producer of 801 Cabaret
Every New Year's Eve, thousands of mainlanders descend upon Key West. They come for its eighty-degree temps and its even-hotter parties. They also come for its stroke-of-midnight tradition since 1998: the descent of an eight-foot high-heeled shoe onto Duval Street, carrying inside it a drag queen who goes by a single name: Sushi. "That's me, honey," the fifty-two-year-old says, easing into a red banquette at the Key West club she runs, 801 Cabaret.
Sushi's shoe drop has been seen all over the world, with CNN broadcasting it the past eleven New Year's Eves. But the other 364 nights of the year, you won't find Sushi inside a heel; you'll find her wearing them while she produces two sold-out drag shows a night. "Our performances are quirky and fully accepting of everybody and anybody," she says. "People love to come laugh with us."
Sushi (legal name: Gary Marion) has lived in Key West twenty-five years, and in that time, she's seen many a late night. She prides herself on her diverse taste in nightlife, from live-music hot spots like the Green Room ("It's in this beautiful old conch house they just renovated—I love it"), to dive bars such as the Green Parrot ("It's a great place to sit and people watch"), to a clothing-optional rooftop bar, Garden of Eden ("You get a great view of the whole city—wink, wink").
Besides her own drag club, Sushi recommends LaTeDa for Randy Roberts' cross-dressing celebrity impersonation show. "It's amazing," she says. "I mean, I almost cried. But then I sneezed, and I was fine." For "something sassy," she recommends the male revues at Bourbon Street Pub. And to end the night, she suggests singing "Only the Lonely" during karaoke at Bobby's Monkey Bar. "Somehow," she says, turning her palms skyward, "that's where I always end up."
Heading to the Keys? Check out these properties:
This article appears in the Fall/Winter 2019
 issue of
Southbound
.