Since founding her brand State the Label in 2010, designer Adrienne Antonson has created free-spirited handmade clothing that is meant to be well-lived in. Think overalls, swing skirts, loose-fitting pants, and smocks. Her handpainted and locally sewn adult and children's designs are made from natural fibers like organic cotton and linen. Priced from $24 to $375, State pieces feature fabulously big pockets, bold stripes, polka dots, and splatters and patterns that loosely mimic lichen and marble.
Last year, Antonson moved her family from Thomson, Georgia, to Winterville, settling closer to her employees in a community she says is perfect for raising a family. Then, in May, she unveiled a brick-and-mortar storefront in nearby Athens, conceived as a place where people can shop the collection in person (previously, it was available only online) while also browsing lifestyle goods curated by the State team. Shoppers are welcome to peek into the attached, sunlit studio, where they might see Antonson painting on fabric or her staff stitching a garment.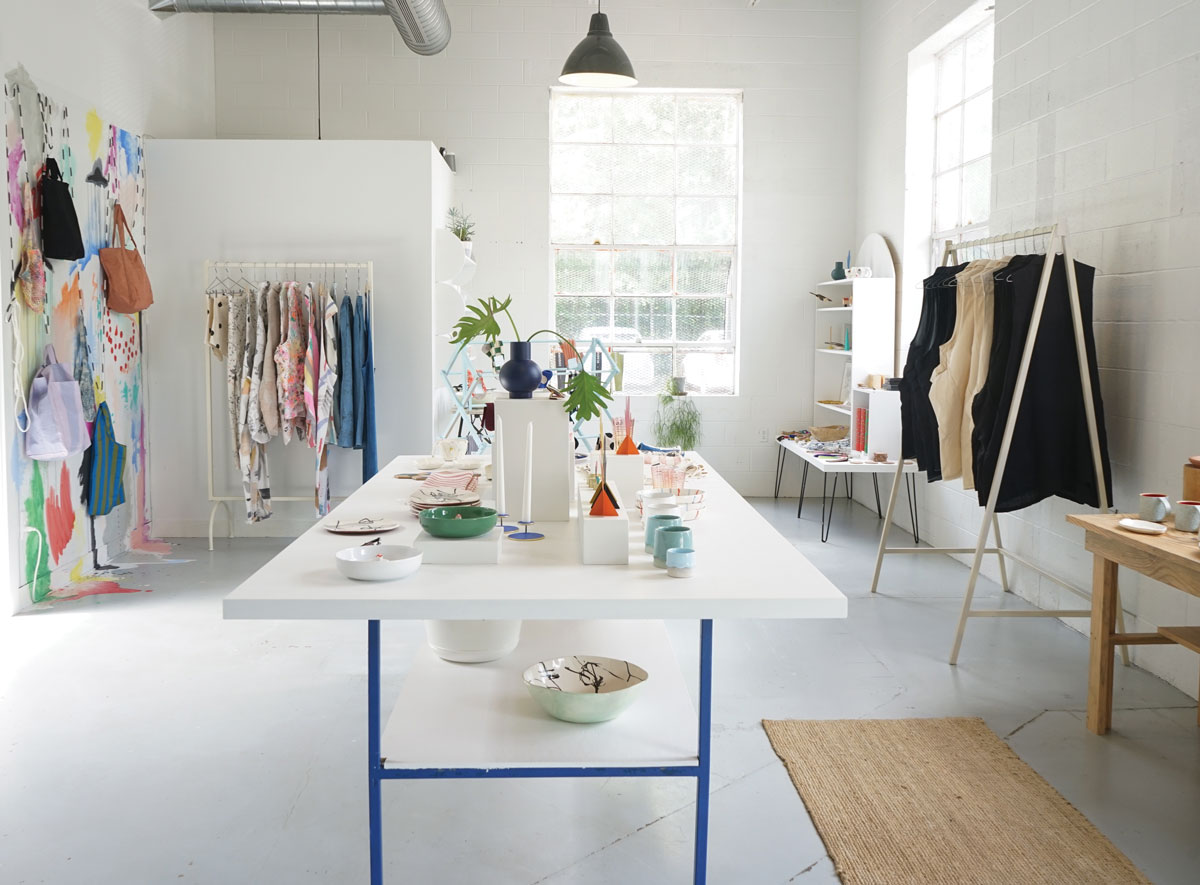 In addition to one-of-a-kind State pieces and sale items that will never hit the website, the bright shop offers an eclectic collection of wares made by small local makers or brands Antonson loves, like ARQ undergarments or Baggu reusable totes.
"It's the kind of place I would just be so excited if I went into," Antonson says, "which is all we ever wanted to build: the store we dream of."
Don't bother looking for a rhyme or reason in the merchandise. Part of the fun is seeing what curiosities Antonson has selected for her customers. Think colorful ceramics, jewel-toned cardboard beetles ($17), polka-dot britches ($38), apothecary goods, neon ski caps ($18), and floor poufs made from fabric scraps ($240). statethelabel.com
Editor's note: This story was written before the COVID-19 outbreak. Since then, Antonson has turned her brick-and-mortar store into a studio and is selling items online. She has also sold cloth face masks online and coordinated an effort to sew masks for local hospitals.
This article appears in our March 2020 issue.