Whether you're hiking, biking, or riding through Rabun County, you'll discover amazing things to see, taste, and do around every bend and behind every tree—and there are a lot of those. From thrilling outdoor adventures to fine wines and Farm-to-Table dining, there are discoveries enough to fill every soul. And, at the end of the day, the best discovery you'll find, may just be yourself.
Discover Trails and Waterfalls
Rabun County is home to some of the most spectacular trails and waterfalls in the state. There are three state parks, more than any other county in Georgia, each with multiple trails, as well as many local trails, that all end with either gorgeous waterfalls or breathtaking views. Whether you like a casual stroll with the family or an invigorating hike, there is something for everyone. And, with over 34 stunning waterfalls, your efforts are sure to be well rewarded.
Discover State Parks
Black Rock Mountain, Tallulah Gorge and Moccasin Creek State Parks were created to both protect and provide access to the wonderful beauty of the Appalachian Mountains and its ancient heritage. With campgrounds, trails, visitor centers, and lake and river access, Rabun County's state parks welcome visitors to the natural environment of the area in a safe and "user-friendly" way. Spend a day, weekend, or even longer among the mountains, waters, forests, and fellow park friends to disconnect from your routine and reconnect with yourself.
Discover Fishing and Camping
Whether you're out for lake bass, river trout, or whatever happens to hit your line, and whether you prefer primitive camping or luxury glamping, Rabun County is where you'll find what you seek. With over 225 lakes, rivers, and other fishing spots, as well as dozens of campgrounds of every sort, you can spend your days on the water landing a beauty and your evenings around the campfire telling friends about the one that got away.
Discover Lakes and Rivers
With lakes and rivers everywhere you turn, everyone can enjoy the water in Rabun County. Relax with a casual cruise at sunset and enjoy the serenity of one of the many deep mountain lakes surrounded by the majesty of the Appalachians. Take it up a notch and go jet skiing or tubing with the kids. And, for those who really live for extremes, there's white water thrills for every experience level on the Wild and Scenic Chattooga River or during water release days at the Tallulah Gorge, where world-class kayakers take on the falls as they once were before the dams came.
Discover Culinary Excellence
Did you know that Rabun County is Georgia's Farm-to-Table capital? It's no wonder, as area residents have been living off the land for centuries. And now, with five Best Chefs America award recipients and dining options ranging from innovative and upscale to Southern homestyle and bar-be-que, all offering exciting dishes crafted with farm fresh ingredients, the secret had to get out.
Discover Wineries and Distilleries
Rabun County is home to four fabulous wineries, two artisan spirits distilleries, a number of wine tasting rooms, and a fun and friendly micro-brewery, along with all the awards their crafts have earned. The perfect combination of ideal soil, elevation, and clear mountain water, coupled with the skills of Rabun County's wine-makers, distillers, and brewers, provide the basis for exceptional products. Add to that the stunning mountain views from the vineyards and the inviting charm of true Southern hospitality and you will find yourself partaking in an experience that goes beyond delightful.
Discover Mountain Resorts
If you're looking for the ideal location to host your next corporate retreat, a perfect setting for the wedding of your dreams, or simply an amazing round of golf followed by an afternoon at the spa, then Rabun County is for you. The area's luxurious mountain-top resorts and venues exceed every expectation, offering world-class hospitality and facilities for any occasion.
Discover Unique Accommodations
From a little red caboose to an authentic 1800s cabin and everything in between, Rabun County has accommodations to suit every fancy. Just a few include historic Bed and Breakfasts with intimate charm and personalized attention; rustic cottages where you can truly escape the ordinary; and well-appointed chalets where you can find your home away from home. No matter what your needs or preferences are, there's a place for you in Rabun County.
Discover Appalachian Arts and History
The Appalachian Mountains of North Georgia are rich with history and vibrant with the stories of our people and culture. From the Cherokee to the first European settlers, Rabun County cherishes its heritage. With museums like the Foxfire Museum, the Jane Hurt Yarn Interpretive Center, the Lillian E. Smith Center, and the Hambidge Center, visitors can immerse themselves in a variety of experiences—literary, environmental, creative arts, and primitive lifestyles—to take a step back in time and appreciate and learn from the past.
Discover Outdoor Adventure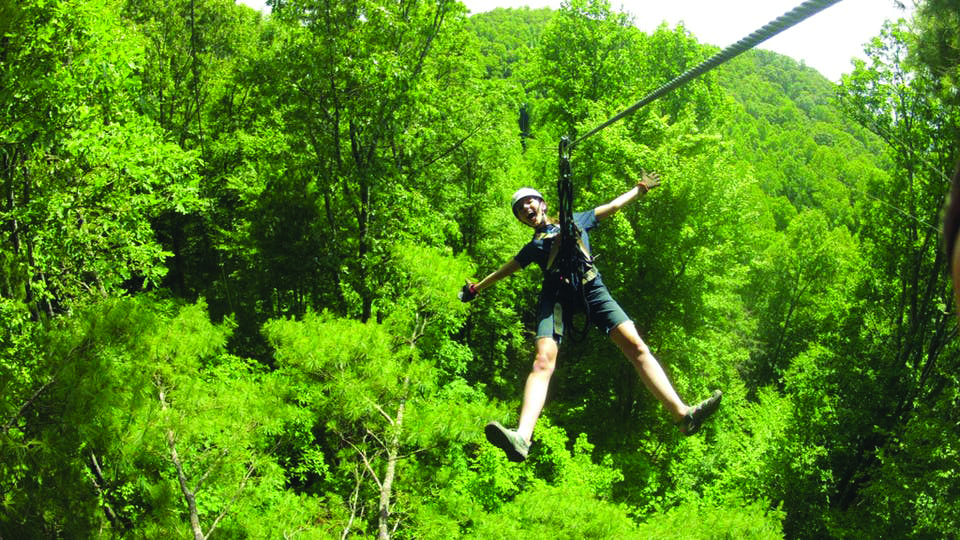 But the best reason of all to come to Rabun County is for outdoor adventure. No matter what type of "ride" you enjoy, you'll find it here. If your sense of adventure tends toward the moderate, try a quiet horseback ride through a cool mountain stream. Spend the afternoon shopping at one of the many specialty boutiques, antique stores, or farmers markets, and the evening savoring a wonderful meal and fun activities in town. If you prefer things a bit more daring, try a zip-line tour through the canopy, 250 feet high, or a thrilling white water raft trip down the Wild and Scenic Chattooga, just to name a few. There's something for every sense of adventure in Rabun County.
With so much to explore and discover only a short trip away, your visit to Rabun County will be as surprising as it is amazing, and you'll wonder why you didn't explore here sooner. So, don't waste another minute—start your next great adventure exploring Rabun County at ExploreRabun.com.