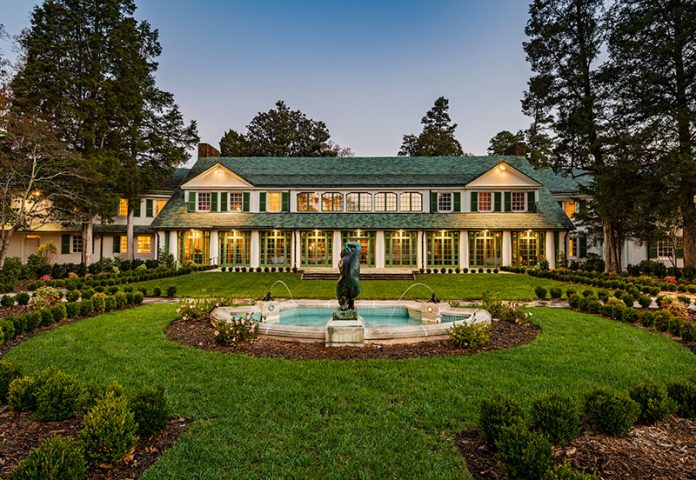 In 1917, two women began separate journeys that continue to influence the larger cultural community. In New York, artist Georgia O'Keeffe was featured in her first solo exhibition, setting the stage for an art career that defined the American Modernism movement and still sets trends today. Almost 600 miles to the south in Winston-Salem, North Carolina, Katharine Reynolds moved her family into Reynolda, the progressive summer estate of her own making that continues as a cultural beacon.
One hundred years later, their paths have crossed. Reynolda House Museum of American Art in Winston-Salem is hosting the exhibit Georgia O'Keeffe: Living Modern through November 19, 2017, its only showing in the South. Assembled by the Brooklyn Museum and Wanda M. Corn, the Robert and Ruth Halperin Professor Emerita in Art History at Stanford University, the exhibit brings nearly 200 items from O'Keeffe's life, including 70 photographs of the artist and 40 of her paintings, drawings, and sculptures.
Born in Wisconsin, O'Keeffe traveled throughout the country, teaching and studying art. It was during this time that she grew tired of the well-worn process of replicating reality that was taught in her art classes. So, she bowed to her free spirit and began painting her interpretation of, most notably, close-ups of flowers, the New York skyline and desert scenes.
Katharine was married to R.J. Reynolds of R.J. Reynolds Tobacco Co., a leading industrialist who helped establish the New South. She directed renowned architect Charles Barton Keen's design of their house, which blends arts and crafts and colonial revival styles. It's one of the best remaining glimpses into early 20th century upper-class life. The O'Keeffe exhibit starts in Reynolda House's Mary and Charlie Babcock Wing, which was built in 2005 to add a visitors center, oral history stations, and more gallery space, and flows into the original 64-room mansion.
One of the most striking parts of the exhibit is the 20-year series of pictures taken of O'Keeffe by Alfred Stieglitz, a noted photographer, gallery owner, and her husband for more than two decades. They showed her how the medium could help define her image, another turning point in her career.
On the second floor, make your way through what once were the Reynolds family bedrooms. Here displayed are O'Keeffe's personal effects, including jewelry, accessories and clothing, some of which she designed. Their colors and clean lines reveal how she was influenced by the desert landscape of New Mexico, where she created and lived for nearly 60 years.
The museum's permanent art collection, including "In the Studio" by William Merritt Chase, one of O'Keeffe's teachers, resides in the rest of Reynolda. The museum's own O'Keeffe pastel "Pool In the Woods, Lake George" is on view as part of the O'Keeffe exhibition. The nearly 200 works of the museum's American art collection are rotated regularly and represent 250 years of American art. The items were collected under the direction of Barbara Babcock Millhouse, R.J. and Katharine's granddaughter. Much like O'Keeffe, she veered from popular trends, selecting pieces that shaped the genre. This includes works by colonial artist Jeremiah Theus, Hudson River School painters, and Jacob Lawrence, who depicted African-American life.
Interspersed with the artwork are reminders of the Reynolds family's time in the home. Toys, accessories and some of Katharine's clothing, for example, are on display in two attic rooms. And in the two-story reception hall, you'll hear the Aeolian Co. organ, one of three domestic "symphonic organs" still in existence. It's played at 2:45 every afternoon.
The O'Keeffe exhibit, the largest ever hosted at the museum, helps commemorate two Reynolda anniversaries: the art museum's 50th and the estate's 100th. Also joining in is a new book, which shares the stories behind the acquisition of some of the museum's key pieces.
Your admission ticket also grants access to the estate's grounds, which are on the National Register of Historic Places. Sculpted by nationally-known landscape architect Thomas Sears under Katharine's direction, she saw them as a gift to the community. More than two miles of easily-traversed trails will take you from restored formal gardens, known for their cherry trees, to a wildlife-filled wetland, the remains of a 16-acre lake.
You'll find great food, shopping and lodging a few more steps away, making Reynolda an easy overnight escape from Atlanta. It's a quick flight—nonstop service is available from Hartsfield-Jackson Atlanta International Airport to Piedmont Triad International Airport. If you'd rather drive, Winston-Salem is less than a five-hour trip, mostly along Interstate 85.
Reynolda Village—just the other side of the formal gardens—is a unique mix of more than 20 shops and several restaurants, many in original buildings. The estate's dairy barn, for example, is home to Silo Bistro and Bar, which seats its diners beside the refrigeration system installed 100 years ago as part of Katharine's efforts to share modern agricultural methods with local farmers. Its patio is perfect for enjoying a salad, panini, specialty cocktail, or craft beer on a warm fall day. The Village Tavern serves more-substantial meals, including Hemingway Florentine, featuring tilapia in a white-wine sauce, and hearty grilled meatloaf with green beans and mashed potatoes.
After your meal, enjoy some shopping for fashions and furnishings. If you're feeling creative, bring a bottle of nearby Yadkin Valley's finest wine, and do some painting at Uncorked Masterpiece. There is also a yoga studio, spa and salons.
Overnight accommodation packages are available through the museum. Choose from Graylyn Estate, home to Reynolds Tobacco's first CEO, where stays include butler service and butterscotch cookies made from Mrs. Gray's recipe, or Kimpton Cardinal Hotel. The Kimpton Cardinal is inside the former downtown R.J. Reynolds Tobacco Company's headquarters, which served as the model for New York's Empire State Building. First-floor Katharine Brassiere and Bar honors Mrs. Reynolds and serves classic French dishes and American cuisine.
Plan your trip to Winston-Salem to experience the rich history of Reynolda House Museum of American Art by visiting ReynoldaHouse.org.