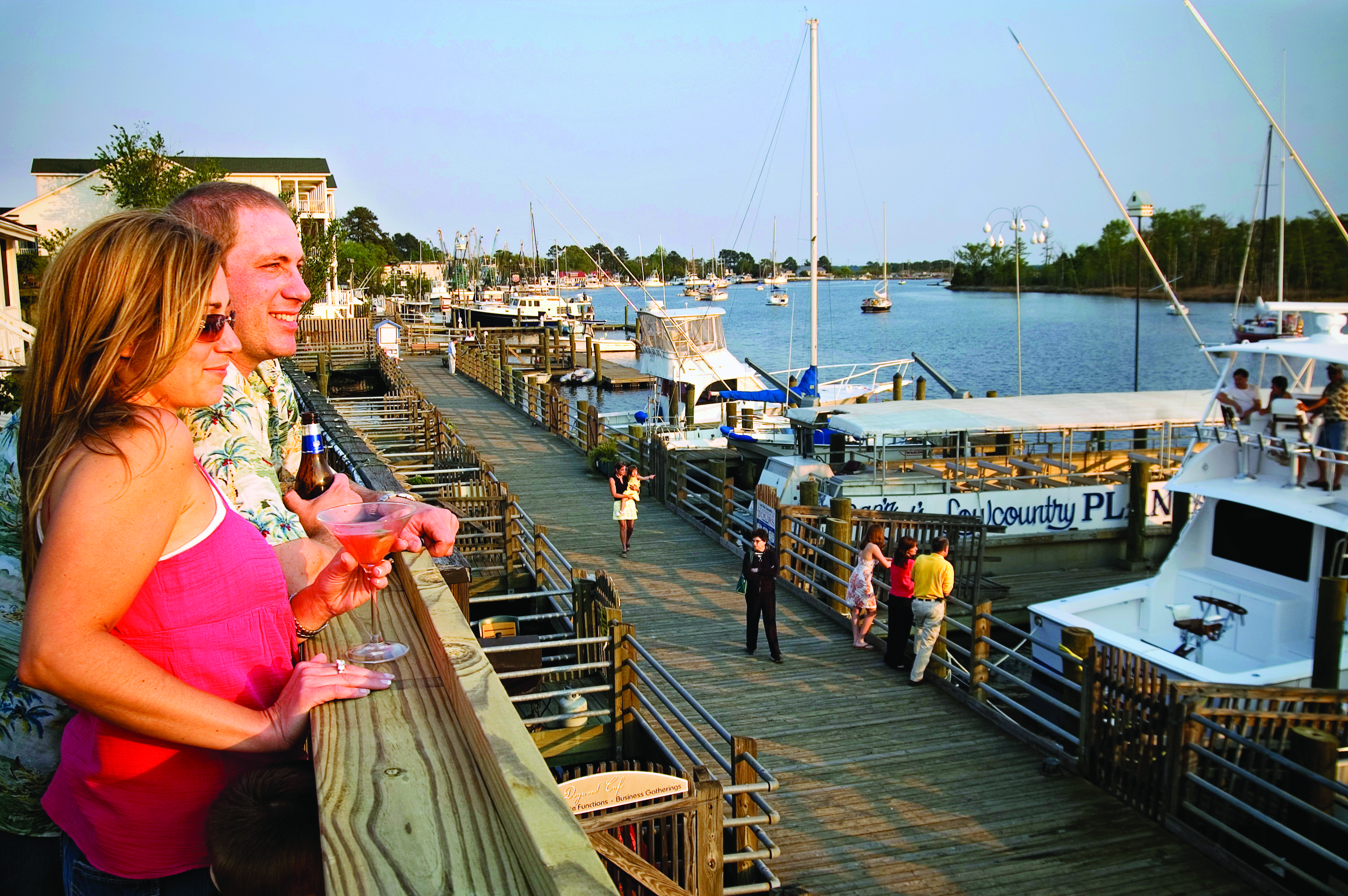 At the center of South Carolina's laidback and stunningly beautiful Hammock Coast is Georgetown, the state's third-oldest seaport.
In 2018, USA Today named Georgetown "America's Best Coastal Small Town," saying it's "what Charleston used to be—200-year-old homes (more than Charleston, in fact), scenic plantations, lots of Southern charm, and none of the crowds."
Welcome to "Little Charleston"
Often called "Little Charleston," Georgetown is home to more than 50 historic homes in and around its downtown district, many of which are on the National Register of Historic Places. All are within an easy stroll of the Harbor Walk, where visitors discover delightful shops and award-winning restaurants.
Located on Winyah Bay at the confluence of the Black, Great Pee Dee, Waccamaw, and Sampit rivers, Georgetown is the second-largest seaport in South Carolina and was once the commercial center of an indigo- and rice-producing area. It gained additional fame in recent years as the birthplace of Fraser Robinson, the grandfather of former First Lady Michelle Obama.
Georgetown's Rich History
During the American Revolution, Thomas Lynch Sr. and Thomas Lynch Jr., father and son Georgetown planters, signed the Declaration of Independence. In the final years of the conflict, Georgetown was an important port for supplying Gen. Nathanael Greene's army. Francis Marion, better known as the "Swamp Fox," led many guerrilla actions in the vicinity.
Following the American Revolution, rice surpassed indigo as the staple crop and large rice plantations were established around Georgetown along its five rivers. Rice was cultivated in the swampy lowlands along the rivers, where enslaved labor built large earthworks—including dams, gates, and canals—to irrigate and drain the rice fields during cultivation.
Those unique American-history stories are recounted daily in Georgetown. In fact, land, river, and harbor tours feature hosts who cherish the opportunity to detail Georgetown's rich history and to pinpoint sites such as former rice fields and the historic Georgetown Lighthouse, which has been a beacon to countless visitors for generations. There are even ghost tours to intrigue visitors—don't worry, they're not too scary.
Experiencing Georgetown
Picturesque views and Southern charm at its finest await visitors to Georgetown, where history and hospitality are found in abundance. Visitors can soak it all up under Live Oak-lined streets while visiting five museums in the downtown, or "Front Street," area:
The Rice Museum, with its iconic clock tower, is a prominent symbol of Georgetown. Through dioramas, maps, artifacts, and other exhibits, visitors are enlightened on a society once dependent on the rice crop.
The Georgetown County Museum offers visitors a look at artifacts that represent 300 years of local history. Items on display include a cypress dugout canoe found near Caledonia Plantation on the Waccamaw River and an original letter from Gen. Francis Marion (the "Swamp Fox") to Gen. Nathaneal Greene, dated July 30, 1782.
The South Carolina Maritime Museum, located on the waterfront near the center of Front Street, offers a glimpse into the sea-going history of South Carolina and Georgetown with large photos, ship models, and the actual Fresnel lens once found in the Georgetown Lighthouse.
History and weddings, one recently covered by The New York Times, are showcased at the Kaminski House Museum, the site of many social events and concerts. The museum, the former home of Gov. Harold Kaminski, and the adjacent Stewart-Parker House are perched on a bluff overlooking the Sampit River and Georgetown Harbor.
The Gullah Museum celebrates the Gullah/Geechee culture of African Americans from West Africa who were skilled farmers. Exhibits include traditional Gullah art such as story quilts, sweetgrass baskets, and carved wooden walking sticks. It is one of the few museums in the world dedicated to the unique Gullah culture and language.
Visiting Georgetown and its Surrounding Areas
Georgetown is located about an hour's drive from Charleston to the south and about 40 minutes north to Myrtle Beach. Both cities boast top-notch airports with international and direct flights.
U.S Routes 17, 17A, 521, and 701 meet in the center of Georgetown. Just short drives from Georgetown, you'll find Andrews, where fishermen cast lines in the Black River; Murrells Inlet, where seafood is king; and the beaches of Garden City, Litchfield, and Pawleys Island, where leisure and golf vie for best sport.
In fact, the unspoiled beaches of Georgetown County are only short drives from downtown Georgetown. World-famous Brookgreen Gardens and Huntington Beach State Park are a 20-minute and picturesque drive from Front Street, providing ample opportunities for visitors to take in all that is charming and unique in "America's Best Coastal Small Town," while also offering short sojourns to other areas of interest close at hand.
Hopsewee and Hampton plantations, both open to the public, are also only short drives from Georgetown's waterfront.
Planning Your Trip to Georgetown
Georgetown hosts a number of events that showcase history and culture, including a Shakespeare Festival, a Melting Pot Unity March, a Shag Dance Festival, the Winyah Bay Heritage Festival, the Wooden Boat Show, and more. It has hosted a number of Bassmaster tournaments, showcasing unparalleled fishing for national TV audiences.
For those looking for a taste of authentic coastal life, be it for a vacation or for a future home, Georgetown, South Carolina is the place to be. As the locals say, "Play, meet, eat, shop, and live Georgetown."
For more information, visit www.hammockcoastsc.com or www.discovergeorgetownsc.com.