Manuel Maloof opened his eponymous tavern in 1956 with conversation as a founding principle. "Where else can a guy who makes $50 a week and a guy doing $200,000 a year sit next to each other and find out what each other is thinking?" He banned live music or even a jukebox "because those things keep people from talking to each other." As he told this magazine back in 1968, "A tavern ought to be a place where people from all over can come in and say what's on their mind."
Manuel, who died in 2004, presided over plenty of conversations himself—from behind the bar, pulled up to a table, and later as a powerful DeKalb County politician and driving force among Georgia Democrats. Through the decades, the tavern expanded along with Manuel's influence; it now occupies a warren of rooms in the granite-faced building at the corner of North Highland and North avenues. As it's grown, the walls, shelves, ceiling, and doors have been covered with a trove of mementos, collective bric-a-brac that pays homage to the family that has operated the bar for more than half a century and their thousands of customers. There were efforts to franchise; in the 1980s, a Manuel's Tavern opened on Memorial Drive and another one operated near Norcross. Both closed, inevitably. "This is a one-of-a-kind place, and needs to be the one of its kind," says Brian Maloof, Manuel's youngest son, a former paramedic who runs the tavern today. The bar's artifacts may chronicle its history, but only so much. "You can't capture this place in objects," Brian says. "What really makes Manuel's is the spirit. And that you find in the people who come here and the people who serve them. It's a ritual."
The Bar
The wooden bar survived a fire at Tip Top Billiard Parlor, a Downtown establishment that Manuel's father, Gibran, ran for three decades. The stools have been in use since Manuel created a pub out of the former Harry's Delicatessen, a beer-and-sandwich joint that occupied the center storefront. He salvaged the paneling behind the booths from homes slated for demolition. "We have to repair the upholstery, but everything else is the same it was when the main bar opened," Brian says.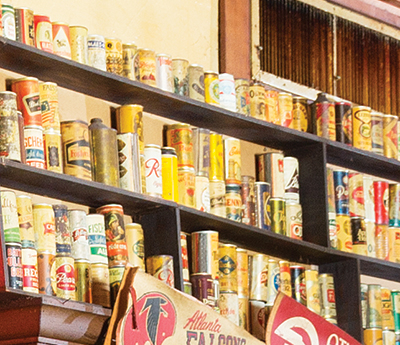 The Beer Cans
Many of the 200-plus cans were souvenirs, brought by vacationing regulars. "People want to leave us their collections," Brian says. "But I just don't have room." Until the 1970s, the tavern served beer only; even today, brews account for triple the sales of liquor and wine.
The Three Urns
After Manuel's death, his ashes were placed behind the bar below a portrait of FDR. In 2013, they were joined by the ashes of his younger brother, Robert, who managed the tavern's daily operations during Manuel's political career. A third urn contains the cremains of longtime patron Calvin Fluellen, the first African American graduate of the Grady Memorial College of Radiology. A protective frame encloses Fluellen's urn: "We knew that there would be a night when his friends would beg, 'Oh, take Calvin down and let him join us at the bar,'" Brian says. Other patrons are memorialized: A glass case holds books by author Paul Hemphill.
Tommy's Bike
Tommy Maloof, one of Manuel's seven sons, took over the tavern in 1985. When Tommy's health suffered, he began cycling to lose weight and went on a spiritual quest from Georgia to California on this bicycle. Tommy died in 2001 from complications of Crohn's disease. Brian Maloof took over the bar during the last years of Tommy's illness at the urging of his father and "out of Catholic guilt."
Pennants
When the Falcons came to town in 1966, Manuel was an early supporter, buying blocks of season tickets and chartering buses to games. The Atlanta Flames hockey franchise is, of course, long gone. The newest pennant is for Georgia State, which fielded its inaugural football team in 2010.
British Influence
Manuel met his wife, Dorothy, better known as Dolly, when he was a World War II Air Corps mechanic stationed in England. He modeled the tavern after British pubs. Their son Michael was the oldest of eight children.
Nameplates
"People ask, 'How do I get my name on a plate?,' and I tell them, 'You don't want to,'" Brian says. The brass nameplates honor deceased regulars and are mounted near particular stools or booths. Plates near the door honor those barflies who flitted from seat to seat.
Portrait of JFK
After Kennedy won the 1960 presidential election, Manuel hung JFK's portrait behind the bar—ignoring customers' gripes. (One patron wagered $50 against JFK and settled the bet with a box full of pennies; it's still there, tucked behind the liquor bottles.) After Kennedy's assassination, Manuel closed the bar and sat inside alone to watch the funeral on TV. All day long, regulars stopped by—more than a hundred in all—to offer
condolences.
A Cop Bar
One nameplate honors Ken Raines, a detective assigned to the Atlanta Missing and Murdered Children cases in the 1980s. The special unit was stationed around the corner from the bar. On the day the team was relocated, Raines carried the sign over to Manuel's. Only six zones make up the APD, but cops used "Zone 7" as code to arrange to meet at Manuel's; a sign reading "APD Zone 7" hangs in one room. Legend has it that APD Chief Eldrin Bell once came for lunch, spotted multiple squad cars in the parking lot, and made it a policy that no more than a handful of cops could be seen in the bar at any time.
Campaign Spot
The bar remains a required stop for local and national Democratic candidates. Jimmy Carter announced his 1970 gubernatorial bid at Manuel's, and his grandson Jason, presently running for governor, has been spotted there. Above, the Clinton–Gores in 1992; below, Senator Wyche Fowler works the beer taps, and Manuel poses with Senator Sam Nunn, whose daughter Michelle, currently campaigning for the U.S. Senate, spent hours at Manuel's while launching Hands On Atlanta.
Paul Hemphill's Book Collection
Journalist and author Paul Hemphill spent decades at Manuel's, a haven for writers since its earliest days. Writing for this magazine in 1968, Hemphill described the tavern as "a musty, granite-faced, oak-tabled spa on the edge of the city's decaying inner core which may be the last of the old-fashioned neighborhood taverns in Atlanta." After Hemphill died in 2009, Maloof enshrined a collection of his books and a few artifacts, such as a glove from his short-lived semi-pro baseball career. "To me, it is such a wonderful, only-at-Manuel's-Tavern kind of thing," says Hemphill's widow, Susan Percy. Percy visits the shelf every time she goes to Manuel's, brings out of town guests to see it, and has shown it to her young grandson. In a way, Manuel's was her "dowry," Percy says. "I brought the china and the silver, and Paul brought Manuel's—and as usual, he one-upped me. Those things only last so long, but the spirit at Manuel's is forever."
Clergy Parking Signs
One hot summer day a few years ago, Reverend Monsignor R. Donald Kiernan came for lunch and brought along Archbishop John F. Donoghue. The elderly clergymen were forced to park on at the far end of the lot. By the time they reached the tavern, they were overheated in their black vestments. "He told me, 'If I have to walk like this, I won't be able to come back,' and I swore to him he never would," Maloof says. The clergy-only spots were installed within days. Generally, the rule is followed, though, sometimes the staff spots a Bible tossed onto the dashboard as a makeshift parking credential. When the Maloof family moved to Atlanta after emigrating from Lebanon, they were an anomaly—Arab-speaking Catholics. The family co-founded St. John Chrysostom Melkite church on Ponce de Leon Avenue; its namesake saint was born in Syria.

ONLINE EXTRA: The Rooftop Chicken Coop
As of this year, Maloof operates a state-certified, twenty-four-hen chicken coop on the rooftop of the bar. You can sample the organic eggs at weekend brunch. Click here to learn more about the "roof-to-table" coop.
Clergy parking photo by Rebecca Burns

This article originally appeared in our August 2014 issue.