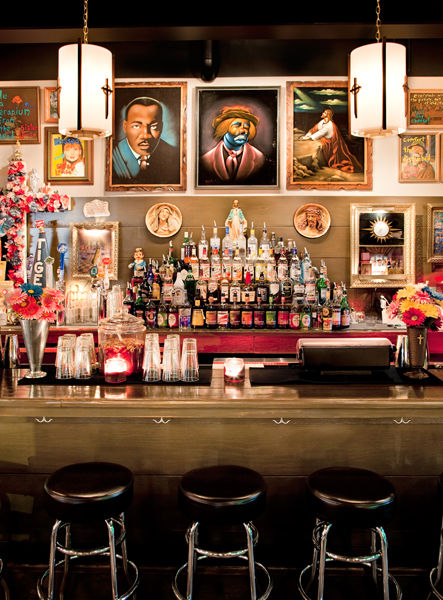 By his own admission, Grant Henry had to dumb down the decor of his provocative new dive bar on Edgewood Avenue. From the street, Sister Louisa's Church of the Living Room & Ping-Pong Emporium (Church, for short) looks enough like the real thing that people regularly walk in expecting to find a storefront religious sanctum. After they take in the big, tacky flower cross and the velvet Jesus behind the liquor bottles, they beat a hasty retreat.
The high camp befits the personality of the owner, known around town as a celebrity bartender and artist. (Sister Louisa is Henry's second self.) Yet Church has its own touching sincerity. "It is a natural culmination of my life work, although I can't truthfully say that I planned it that way," he said.
When I met him in the mid-1990s, he was into old cars and 1950s memorabilia. I knew that he had worked in education, psychiatric hospitals, and hotel franchise development. A twice-divorced father of three living openly as a gay man, he struck me as genuinely happy in his own skin and generous to a fault. His friends seemed to number in the thousands.
Even prior to his time at Columbia and Princeton, where he studied for a Master of Divinity, Henry obsessed over religion and its symbols. He scrawls short, colorful phrases on cheap, found religious depictions to transform them into art that jumps off Church's walls. And as a former antiques dealer, he has assembled enough gorgeous pews, revival lamps, and even one bona fide confessional to furnish his new place with righteous style. The minimal menu (hot dogs and toppings, Rice Krispie treats supplied by nearby Home Grown restaurant) is formulated as a "church picnic." The most accomplished drink served is red sangria loaded with fruit, which sits in an enormous jar on the bar near the entrance. The bartenders would laugh if you asked for a cocktail list.
I love that the place concentrates instead on bingo, organ karaoke, cheap wine, blue-collar beers, and Ping-Pong. With great music, great staff, no televisions, no Wi-Fi, and no smoking, Church is more about fellowship than sacrilege.
466 Edgewood Avenue, 404-522-8275, sisterlouisa.com
Photograph by Patrick Heagney