Home
Authors
Posts by Christiane Lauterbach
Those of us who write about food often focus on seeking out informal little joints and unheralded treasures. But, since it opened in September, I've heard Palo Santo described frequently enough as the "sexiest scene in town" to wonder if we're overlooking diners' desires for another kind of restaurant: one that dazzles its audience with a big show, creating a kind of collective, near-religious culinary experience.
Though the menu changes weekly, Molli Voraotsady maintains a fidelity to the foods of her childhood; outside of sourcing produce from the Grant Park Farmers Market when she can, she hasn't felt the need to mess around with tradition.
In which our critic roams the metro in search of everything delicious. This time: Japanese noodles, coffee, and green-tea pastries and soft-serve.
Chef Arnaldo Castillo pays respect to the South wherever he can. His anticuchos de corazon, a street food usually consisting of grilled beef heart, is made with deliciously tender pork hearts from local pigs, interspersed with fried yuca. Causa, typically a cold layered dish of whipped Andean potatoes, avocado, and proteins, is mounded like an adorable little cake with, in one version, a distinctive layer of chicken salad bound with mayonnaise on top.
In which our critic, Christiane Lauterbach, roams the metro in search of everything delicious. This time: Midday pleasures at Meherwan Irani's Indian-street-food destination.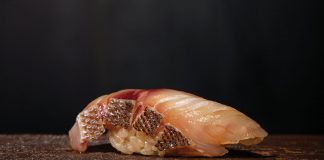 Mujo—easily the most refined spot to open in Atlanta in more than a decade—is luxury dining at its creative best.
As part of our list of the 75 Best Restaurants in Atlanta, we also picked out the 11 Best New Restaurants of 2022. Here, you'll find everything from Vietnamese hot fried chicken to tender lamb birria to Edomae-style sushi to quinoa-based "brekkie bowls."
Todd Richards, Cedric McCroery, Allen Suh are back with this new location of the beloved Hartsfield-Jackson International Airport restaurant, serving creative Southern-meets-Asian dishes.
Capella—the brightest star in the constellation of Auriga, thought to depict a charioteer holding a she-goat—is an apropos name for a place where discerning cheeseheads and newbies alike can follow the lead of a stellar purveyor of inspiring food.
It starts on the Decatur Square, ends at Peachtree Boulevard; and is an overall enlightening cultural journey amid many international businesses and places frequented by the gourmet crowd.