Atlanta, interrupted
May 20, 2020
In mid-March, as Atlanta began to shelter in place, we woke up to a city we barely recognized. Scenes that had been comfortingly familiar felt suddenly off balance, forsaken. Buildings where we had worked and gathered and cheered were suddenly devoid of life. Bars where we had celebrated and laughed and flirted echoed with silence.
With a speed too furious to comprehend, the coronavirus halted the strongest economy Atlanta had experienced in decades. High-end restaurants shuttered their dining rooms and started offering takeout, shops covered doors with plywood, hospitals braced for a surge in patients. The state negotiated to build makeshift wards at the Georgia World Congress Center, where high school seniors should have been tossing their mortarboards. Nearly all the places we knew best by the sheer numbers of people who frequented them became achingly empty. We missed those scenes. Mostly, though, we missed each other.
(TOP PHOTO) 04/04/20 6:15 p.m.
NCAA officials initially considered holding the Final Four basketball games in a nearly empty arena save for team officials and players' family members. But on March 12, the NCAA canceled the tournament for the first time in its history. In a parallel universe, the area in the photograph would have been packed with fans, crews, and vendors. The championship rounds were projected to bring an estimated 100,000 people and tens of millions of dollars to downtown hotels, restaurants, Mercedes-Benz Stadium, and the regional economy.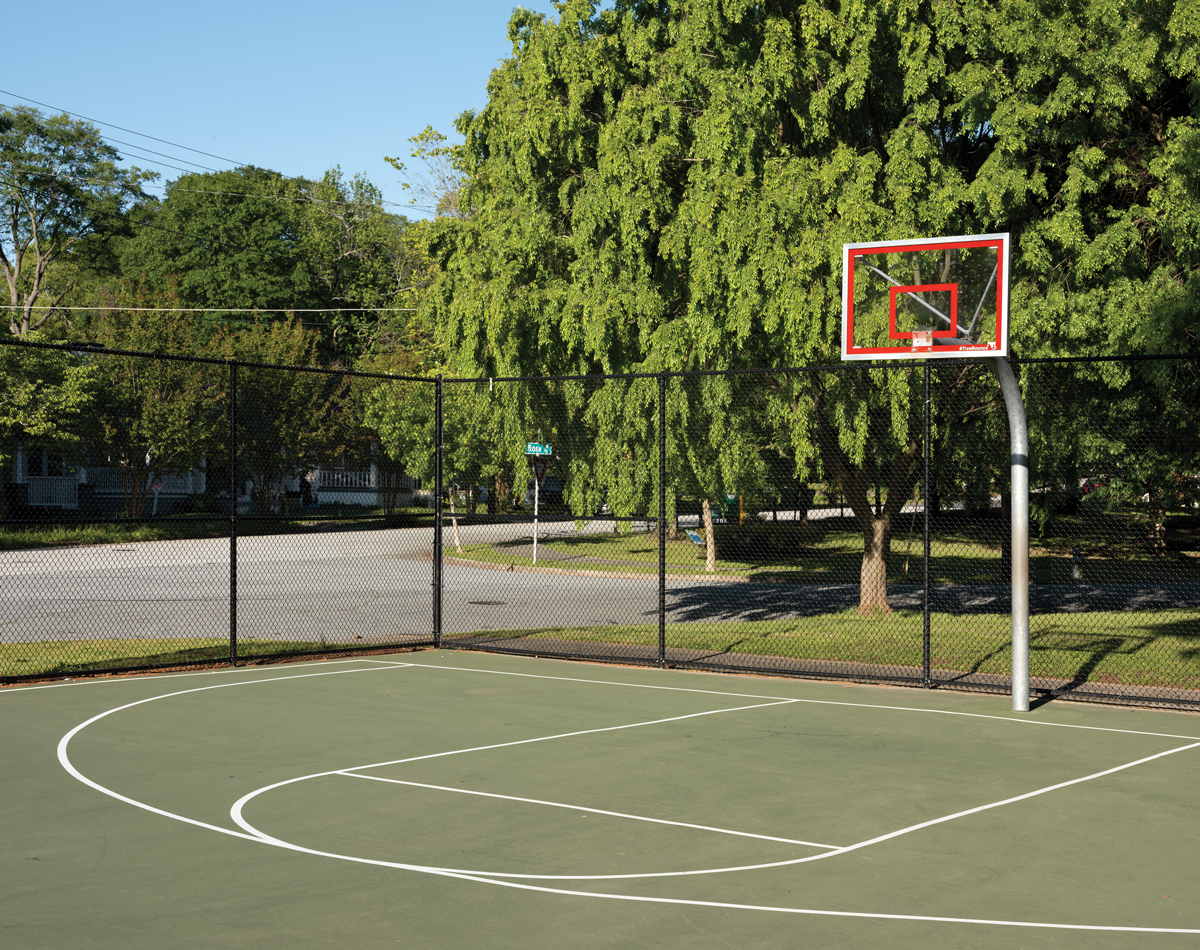 04/20/20 6:20 p.m.
On a clear spring evening, the basketball court in West End's Rose Circle Park usually resounds with bouncing balls and shouts of players, either students out of nearby Brown Middle School or adults off work. But city park officials removed the hoops in early April, and aside from a few people exercising here or on the adjacent BeltLine Westside Trail, the park has fallen silent.
04/13/20 2:15 p.m.
Congestion, the seemingly all-day phenomenon along the Downtown Connector, now brings inevitable comparisons to the iconic scene from The Walking Dead. By early April, two weeks after Governor Brian Kemp declared a public emergency, traffic on Georgia's interstates dropped by nearly 50 percent compared to the previous year. Traffic fatalities decreased by 13 percent during the same time period.
03/21/20 6:00 p.m.
A young man rolls on his OneWheel through the empty parking lot at the Kennesaw Regal 13 and RPX. Normally, middle schoolers, couples, and families would be streaming in and out of the suburban cineplex on a Saturday night to watch movies like Godzilla vs. King Kong and The Hunt. Movies expected to be released the following weeks, like the new James Bond film No Time to Die, were postponed until the fall.
04/04/20 10:09 a.m.
Wooden pallets nudge shoppers lined along the front and back of the Kennesaw Costco to practice social distancing while they wait to stock up on food and necessities, including suddenly valuable toilet paper. Company executives decided in late March to restrict the number of people allowed in the store at one time. Longer lines did not mean greater sales, however. In early April, the company said online sales spiked during the early weeks of the pandemic but in-store sales did not rise as high as anticipated.
04/17/20 8:32 p.m.
By the end of March, an estimated seven out of 10 hotel rooms across the country sat empty. In Atlanta, one undisclosed hotel provided rooms where homeless people who had tested positive for COVID-19 could quarantine. And the Marriott Marquis and Atlanta Hilton joined other hotels nationwide by spelling out hearts and "hope" with lit-up, empty rooms.
04/10/20 1:43 p.m.
Instead of gathering congregations for religious services, many churches, temples, and mosques began streaming their sermons and prayers. On Good Friday, Vincent Jones, a servant pastor of Wheat Street Baptist Church, recorded a sermon at the iconic Auburn Avenue church.
03/21/20 3:58 p.m.
Two people take advantage of an empty field across the street from the Jim R. Miller Park and Event Center to drive a remote-controlled stock racing car. Days earlier, the county health department had opened its first drive-thru COVID-19 testing center at the park.
03/16/20 3:08 p.m.
Construction crews continue work on Georgia State University's Arts & Humanities Building in downtown Atlanta.
03/21/20 4:58 p.m.
A woman rides her bike through an empty parking lot at Bishop Park in Marietta.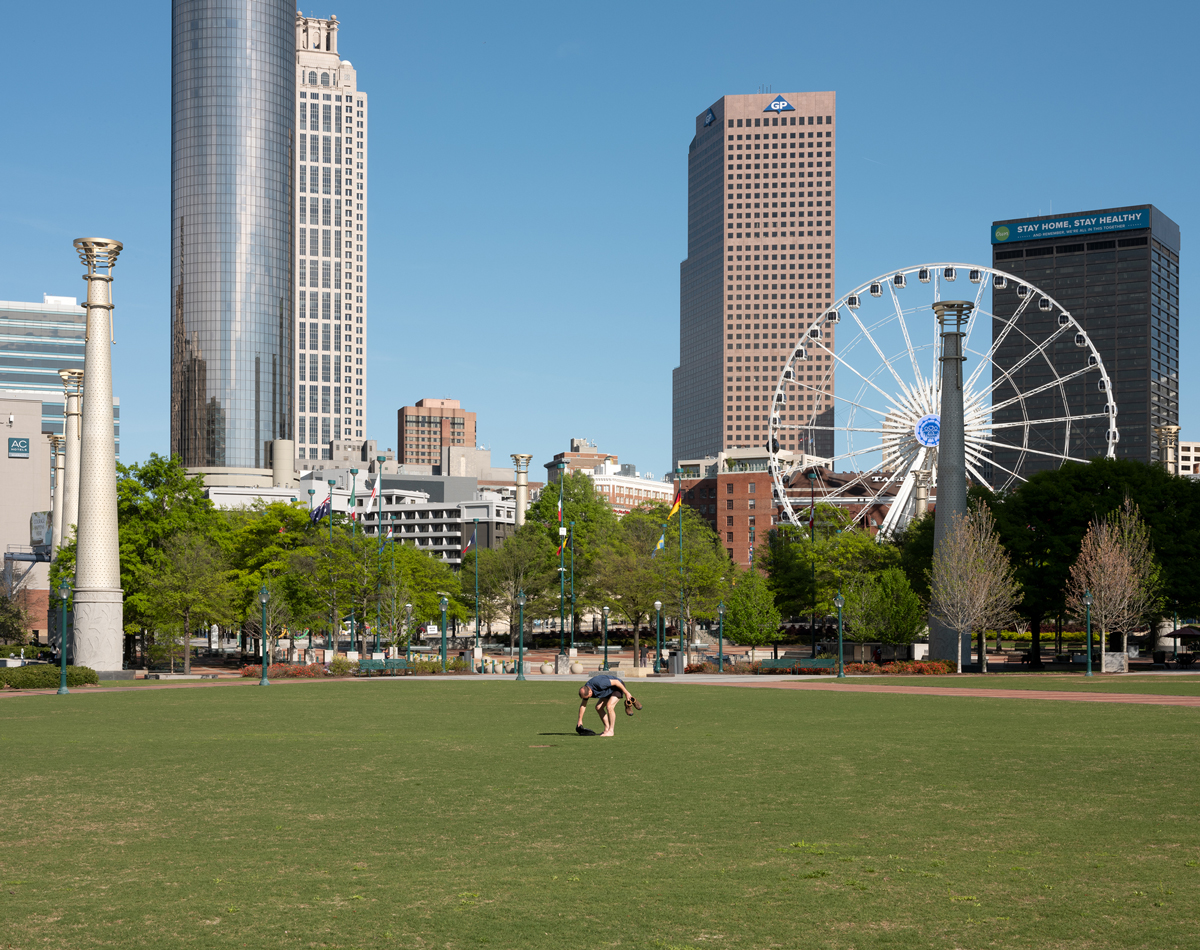 04/04/20 5:25 p.m.
A man gathers his belongings in an empty Centennial Olympic Park on a Saturday afternoon.
03/28/20 5:06 p.m.
Police patrol outside Lenox Square in Buckhead on a Saturday evening.
04/04/20 11:03 a.m.
An entrance to the Walmart Supercenter on Chastain Meadows Parkway in Marietta.
04/12/20 10:50 a.m.
A man listens to Easter service at Big Bethel AME Church as it's being broadcast simultaneously online.
04/04/20 4:34 p.m.
The South Terminal parking lot at Hartsfield-Jackson Atlanta International Airport sits mostly empty on a Saturday afternoon.
This article appears in our June 2020 issue.