Home
Authors
Posts by Felicia Feaster
Atlanta's rising creative community­—from film producers to choreographers to painters—is gaining new recognition on the national scene. Here, six of these artists discuss what's next.
Whitespace gallery owner Susan Bridges and Living Walls founder Monica Campana on what Atlanta's artists' community needs and what the future holds.
Longtime costume designer Ruth E. Carter's over 30 year history in film is documented in the engaging SCAD FASH Museum of Fashion + Film exhibition "Ruth E. Carter: Afrofuturism in Costume Design" open through September 12, 2021.
Us Kids, directed by Kim A. Snyder, makes a stop on its nine-city tour at the Plaza Theatre Drive-In at 8:30 p.m. Thursday, August 27. Samantha Fuentes and Alex Dworet, who both survived the Parkland, Florida, shooting, will be at the Plaza for a Q&A, along with a virtual appearance from Snyder.
Though he's best known as the thoughtful, politically-outspoken lead singer of R.E.M., Michael Stipe has long nurtured a fertile side career as a music and film producer, artist, and photographer. He'll discuss his photography as the Marquee Speaker for this year's Atlanta Celebrates Photography.
Running June 1 to September 29, Michael Rooks' new High Museum of Art exhibition, Of Origins and Belonging, Drawn From Atlanta, features six local artists, most of whom come from immigrant backgrounds. Up next: Rooks wants to bring the world to Atlanta.
With the news that SunTrust Bank had been acquired by BB&T and that the Turner Broadcasting name will soon be a thing of the past under AT&T's acquisition of WarnerMedia, many Atlanta nonprofits are asking questions about what these changes mean for corporate support of the arts in the city.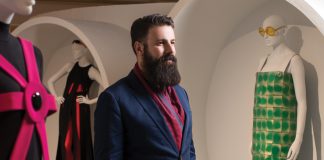 If Rafael Gomes offers to take you into SCAD FASH's conservation lab, behind the unmarked white doors deep within the bowels of the Peachtree Street museum, where vintage fashion is kept in long blue boxes swaddled in layer upon layer of tissue paper, go. Just go.
A university-trained artist and occasional graffiti writer, Michi Meko built his early career on good humor and good times at rollicking, quirky opening parties. Now, his work has had a dramatic shift in his tone—focusing on "the contemporary experience of black life and survival."
On October 7 Sid and Ann Mashburn will serve as honorary chairs of Atlanta Celebrates Photography's 12th annual gala. Held at the Porsche Experience Center, the event will include a silent and live auction of works by Parish Kohanim, Builder Levy, and Carl Martin, among others, to support the ACP, the largest annual community-based photo festival in the United States.