Home
Authors
Posts by Jeanne Bonner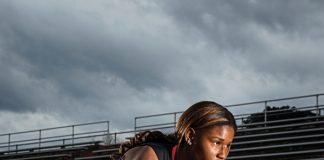 For Candace Hill, life is now divided into two eras: before the 10.98 and after the 10.98. Last June the Rockdale County high school junior ran a 100-meter sprint in Seattle in 10.98 seconds and became—officially—the fastest girl in the world.
Michael Wahl never planned to start a diaper company. But in 2013, after building wells as a church missionary in Haiti, where toddlers often go naked, he returned home and, with wife Starla, set about designing a quick-dry, reusable diaper.
Bordered on the north by Atlantic Station and the south by ­Georgia Tech, Home Park is in the heart of west Midtown. And yet the compact neighborhood remains somewhat hidden in plain sight—well, as hidden as a neighborhood can be when it abuts a premier university and a sprawling outdoor mall and entertainment complex.
When Clare Schexnyder was expecting her first child in 2005, it was hard to find exercise classes aimed at mothers-to-be. So she came up with Oh Baby! Fitness.
The monthly Basement Market combines the store's regular merchandise with one-day-only treasures. For decorators, vintage furniture collectors, or scouts for TV and movie sets, it's an appointment to keep each month.
It's easy to overlook the Herndon Home. The museum sits on a short one-way street in a hidden corner near Vine City.
The house across the road is abandoned. Down the street, Morris Brown College buildings are largely vacant now that the school has lost its accreditation. Scaffolding covers the facade of the two-story brick mansion after a storm damaged one of the columns.