Home
Authors
Posts by Jessica Keaton-Young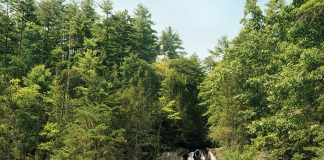 Georgia's landscape has everything from the rugged Appalachians to granite monadnocks and shady creekside trails. We whittled it down to 12 great hikes, fit for an experienced backpacker, day-tripper, or even an urban crusader (two are ITP!).
Long before Amy Sedaris picked up her glue gun or Etsy revved up a new generation of artisans, the American Craft Council helped build public appreciation for fine crafts. When the ACC Show returns to the Cobb Galleria Centre from March 14 to 16, the attraction will mark its twenty-fifth year in Atlanta. We recommend going to the show for motivation, then releasing your own inner artist with some of these local classes.
The quirky enclave of Cabbagetown, next to the Old Fourth Ward, sprung up as a mill village in the late 1800s. Young professionals have replaced textile workers, but the close-knit sense of community remains: You'll find neighbors chatting on their porches, digging in the community garden, or gathering at the local tavern.
Jae Schmidt was looking for a more sophisticated way to pedal to his administration job at Emory's medical school when he discovered the English bicycle brand Pashley. He eyed its solid, hand-built frames and curvy silhouettes and knew he'd found The One.