Bowling seems old hat compared to booking a lane for competitive axe-throwing tournaments with your friends (or solo). It costs $20 to $40 per person to toss around some sharp metal at a wood target like you're Khal Drogo on a mission. They'll show you how it's done. You can even BYOB and throw axes (which sounds like a bad idea, but it's surprisingly not). When you're ready to go pro, you can join the World Axe Throwing League with chapters all over the U.S. and Canada. No bowling shoes required. badaxethrowing.com
The first thing you'll notice inside the former Philips Arena, which underwent a $192.5 million renovation this summer, is open space. The revamp includes a ton of new standing-only room, letting you get much closer to the action. Taking a page from Mercedes-Benz Stadium, the arena added "fan-friendly pricing" on concessions in addition to new premium offerings from B's Cracklin' BBQ, Antico, and the massive Zac Brown's Social Club. Shiny new video boards and fun attractions like Killer Mike's barbershop keep fans happy, win or lose. statefarmarena.com
Want to know where to spot the stars who are in town for filming? The BeltLine-adjacent food hall in Inman Park is where dozens of cast members from the Walking Dead and the Vampire Diaries often eat. With Watchman's in-house and Superica on the other side, it's no surprise Big Boi is often a guest, as well as Sacha Baron Cohen. krogstreetmarket.com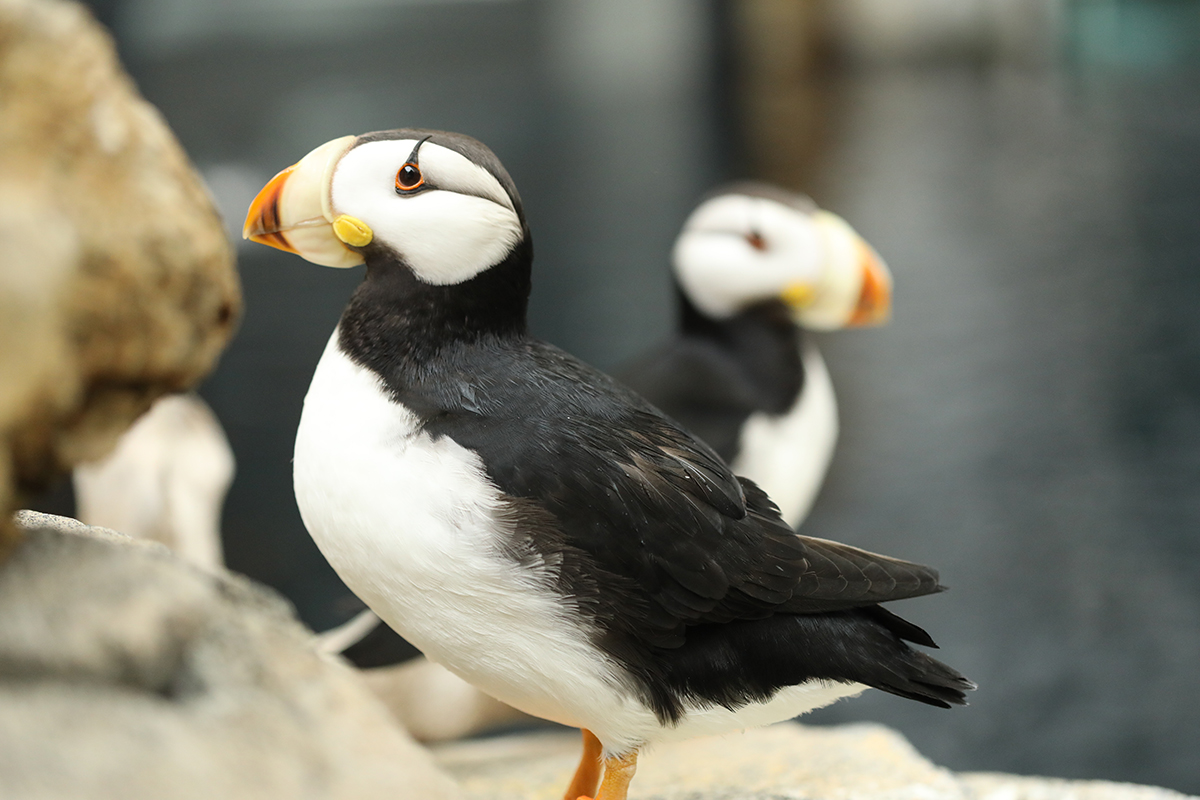 Already home to whale sharks, penguins, and beluga whales, the Georgia Aquarium introduced a new exhibit of alcids (a type of sea bird similar to penguins) in January, including horned and tufted puffins. Their habitat promises a double dose of cute, as it's located directly across from the sea otters. It's the perfect opportunity to teach your Star Wars–obsessed youngster about real-life porgs, the puffin-inspired creatures from The Last Jedi. georgiaaquarium.org
Best love-hate relationship: 

Scooter apps
You look at all those annoying people hogging the BeltLine and want to scream, but then you snag one for yourself and feel like you're making your own wind. Apps like Bird, Lime, Muving, and Relay bikeshare let you enjoy the perks of using wheels on demand without the fuss of actually owning them. But, ugh, this trend is taking over.
Never know what to do with out-of-towners? Hand them a Clue Town scavenger hunt ($15), designed to make a puzzle out of each walkable neighborhood in Atlanta, drawing attention to landmarks that otherwise go unnoticed. Toss out the traditional sightseeing guide; this one brings out the inner Indiana Jones. cluetownbooks.com
Very few bike trails mix urban and rural like this new three-plus-mile trail in northwest Atlanta. After departing the trailhead at MARTA's Bankhead station off Donald Lee Hollowell Parkway, bicyclists pedal past a proposed mixed-use development, over a series of rapids seemingly plucked straight from North Georgia, and then along an elevated bridge and onto a rolling area that feels worlds away from the city. Even better: The trail is a key piece of what could become a long-needed path connecting to a proposed bridge over the Chattahoochee River, finally connecting Cobb and Atlanta to the Silver Comet Trail.
Best handy app: Hux
Launched by three Georgia Tech graduates in 2014, Hux makes scheduling house-cleaning services as easy as ordering delivery food. After cross-referencing the size of your home against property records, the Atlanta-based company offers a range of services, including add-ons like cleaning baseboards and windows, and then pulls up a list of cleaning crews at different price points and availability. Hux handles communication and billing and can set up recurring visits. The startup has already attracted funding from Silicon Valley bigwigs like Tim Draper, who helped bankroll Tesla and Skype. hux.com
After a $23 million renovation that forced the removal of 525 trees, Bobby Jones Golf Course reopened in November, and it's a fascinating look at how a golf course can be utterly reimagined. The course—which used to be owned by the City of Atlanta and now is owned by the state, which leases it to a foundation—has been transformed from a crowded 18-hole track into a nine-hole reversible layout. In other words, the design (big greens, multiple tee areas per hole) means nine holes can be played as 18. Of special note are an additional six holes built just for kids, called the "Cupp Links," named for the famed golf course architect Bob Cupp, who designed the new layout before his death in 2016. Course officials say they plan to plant at least as many new trees to replace the axed ones. bobbyjonesgc.com
Every weekday at 5 p.m., Matt Hutchinson, an Adult Swim senior writer, and Zach White, a production coordinator on hit animated series Rick and Morty, slip on black shirts, bolo ties, and black fingerless gloves, and set up in front of a green screen in the network's Midtown studios to continue the Internet's most accessible inside joke. One part public-access junk swap, one part absurdist motivational therapy, the hour-long Internet streaming show has attracted visits from Napoleon Dynamite's Jon Heder, Silicon Valley's Thomas Middleditch, and musical guests like Andrew W.K. and Tobacco. adultswim.com
Best viral 

photo: 

South 

Fulton Eight
Sending #BlackGirlMagic across the internet, a portrait of eight black women in a South Fulton courtroom showed the municipality's leaders: interim police chief Sheila Rogers, court administrator Lakesiya Cofield, chief judge Tiffany Carter Sellers, city solicitor LaDawn Jones, public defender Viveca R. Famber Powell, clerk Tiffany Kinslow, clerk Kerry Stephens, and clerk of court Ramona Howard. Originally published by Atlanta Voice, the sophisticated black-clad group blew up social media this June, inspiring Atlantans and people everywhere.
When the six-year, $30 million renovation of the infamous, bedraggled Clermont was completed this year, Atlanta got the stylish destination boutique hotel it's been waiting for. The hip interiors—dramatic floral wallpaper, jewel-toned velvet upholstery, vintage-style rattan, original terrazzo stairs—are enough to draw locals for a seat at the peacock blue bourbon bar. But there are reasons to stay: Tiny Lou's, is one of the city's buzziest new restaurants. Ponce City Market and the BeltLine are next door. The rooftop patio provides twinkling views of the Atlanta skyline, which you can enjoy while reclining in a retro lounger, rum drink in hand. Then, tumble into a room—which feels like a decadent escape, with retro furnishings but decidedly high-tech finishes—or into the infamous basement lounge below, where Blondie still crushes cans in a space largely unchanged. hotelclermont.com
Best hope for pennant: 

Baby Braves
The Atlanta Braves may have lost in the postseason for the ninth straight time, but this year was different. At least three players projected to be in the 2019 lineup are 25 years old or younger: Ronald Acuna, Ozzie Albies, and Dansby Swanson. This year, rookie outfielder Acuna became the youngest player to homer in five consecutive games and the youngest to hit a postseason grand slam. Just wait until next year!
If you missed tickets to the High Museum's blockbuster Yayoi Kusama: Infinity Mirrors exhibition, you still have the chance to snap a selfie in a mirrored, disco-ball themed room at the Winky Lux Experience, which runs until March at Lenox Square. That room is one of nine made-for-Instagram spaces available for selfie snapping—and beauty product sampling—on view as part of the cosmetic company's pop-up. Each room has its own tunes and accompanying product: The floral-themed room, for example, plays a glass harmonica soundtrack as customers experience the Flower Balm, a clear gloss that changes shades based on the user's pH levels. winkylux.com
Best eye-catching coworking space: Constellations
Atlanta has no shortage of quality coworking spaces and business incubators, but few combine the sophisticated, cool community mission and charm—ever-flowing cold-brew iced coffee, fresh-baked chocolate chip cookies, a civic-minded library—of Constellations. Located in the painstakingly restored second floor of the Southern Schoolbook Building designed by Neel Reid, the coworking hub is home to Fahamu Pecou, Civil Bikes, and GivingPoint, among other businesses inspired by the neighborhood's civil rights legacy. Not to mention the professional-grade podcasting studio. constellations.community
Best dog park: Fetch
Coaxing guests to "unleash and unwind," Fetch is as much a place for owners to hang out as it is for their canines. The new dog park in the Old Fourth Ward glows with shiny Astroturf (so paws stay clean), and diversions include water troughs for splashing, nap stations, and fresh tennis balls. And that's just for the dogs! A '76 retrofitted Airstream operates as a full-service bar, and a Texas-style restaurant in a shipping container is slated to open in early 2019. Outdoor TVs and speedy WiFi encourage lingering. But the part that dog owners really rave about is the monthly membership program (from $20/month) that requires all dogs be, ahem, "vetted" to make sure they're friendly and vaccinated. With day passes set at $10, any repeat visitors are likely to join. What's more: "Bark rangers" make sure pups play nice, so you can kick back with your beer. fetchparkatl.com
Best unexpected public art: Clean Moto Car Wash murals
In early 2018, Westview-based artist Michael Jones hatched an idea with the owner of Lean Draft House, a hybrid taco bar and motorcycle museum in neighboring West End. With the help of 14 of his fellow artist friends, including Joe Dreher, Jagua, and his wife, Krista Clark, he painted murals on the bar's DIY car wash next door. The artists each claimed a bay and created brilliant individual works of art—on display until the end of June 2019—that give commuters something to ponder while rinsing off suds. 1333 White Street
Truly great bar trivia needs to be challenging (but not impossible), entertaining, and, most importantly, move at a decent pace. That's exactly what you'll find with Geeks Who Drink, a Denver-based trivia group that made its way here last year. Currently held at eight different bars in metro Atlanta (including City Winery, Second Self Brewing, and New Realm Brewing), it has a tongue-in-cheek, nerdy bent that leans heavy on pop culture and science and incorporates audio clues and photographs. Keep eyes open for monthly themed quizzes, which in the past have included Harry Potter, Nintendo, Stranger Things, and Disney. geekswhodrink.com
It started in 2017 with Terrapin Taproom and Sports & Social's 30-foot television, then gained momentum with Punch Bowl Social, Garden & Gun Club, and Achie's. Sure, you can come here to watch the Braves. But it can be more fun to play yourself—whether your game is giant Jenga, ping pong, bowling, simulated golf, or dozens of other bar games. The Battery has become Atlanta's favorite new place to hang out. batteryatl.com
Cristen Conger and work-wife Caroline Ervin cohosted Stuff Your Mom Never Told You, one of iTunes's first educational women's podcasts, for six years before leaving to found Unladylike Media. The two unravel dense topics with humor, from the intersection of feminism and birding to Ruth Bader Ginsburg's proposed Equal Rights Amendment (it's "like an IUD for your rights"). If you crave a "dose of delightful feminist rage" between weekly episodes, pick up their new social-justice self-help book, Unladylike: A Field Guide to Smashing the Patriarchy and Claiming Your Space. unladylike.co
Ryan Hersh loved his four-mile bicycle commute to Emory University but hated arriving at the office like a sweaty mess. So in 2016, from his Kirkwood home, he launched Edison, an electric bicycle company that builds quality two-wheelers at less than half the price of its motor-powered peers (from $2,000). With the familiarity of a seven-speed and the 20-mph oomph of a scooter, these sleek, battery-operated bikes—available in different colors, plus a new cargo model capable of toting groceries and toddlers—take the drudgery out of Atlanta's uphill climbs, making commutes faster, easier, and more fun. Want more of a workout? Ease up on the throttle and lower the pedal-assist setting—or just carry the 45-pound bike up a few sets of stairs. edisonbicycles.com
Greatest hits
Best skating venue
Sunday nights at Cascade Family Skating
Best rooftop
Skyline Park at Ponce City Market
Best karaoke
Metalsome Live Band Karaoke at Dark Horse Tavern
Best urban hike
Cascade Springs Nature Preserve
Best nature center
Chattahoochee Nature Center
Best political columnist
Jim Galloway
Best surprising greenspace
Oakland Cemetery
Best fanbase
Atlanta United
Check out our other Best of Atlanta 2018 winners:
Food & Drink
Style & Design
Beauty & Fitness
Arts & Culture