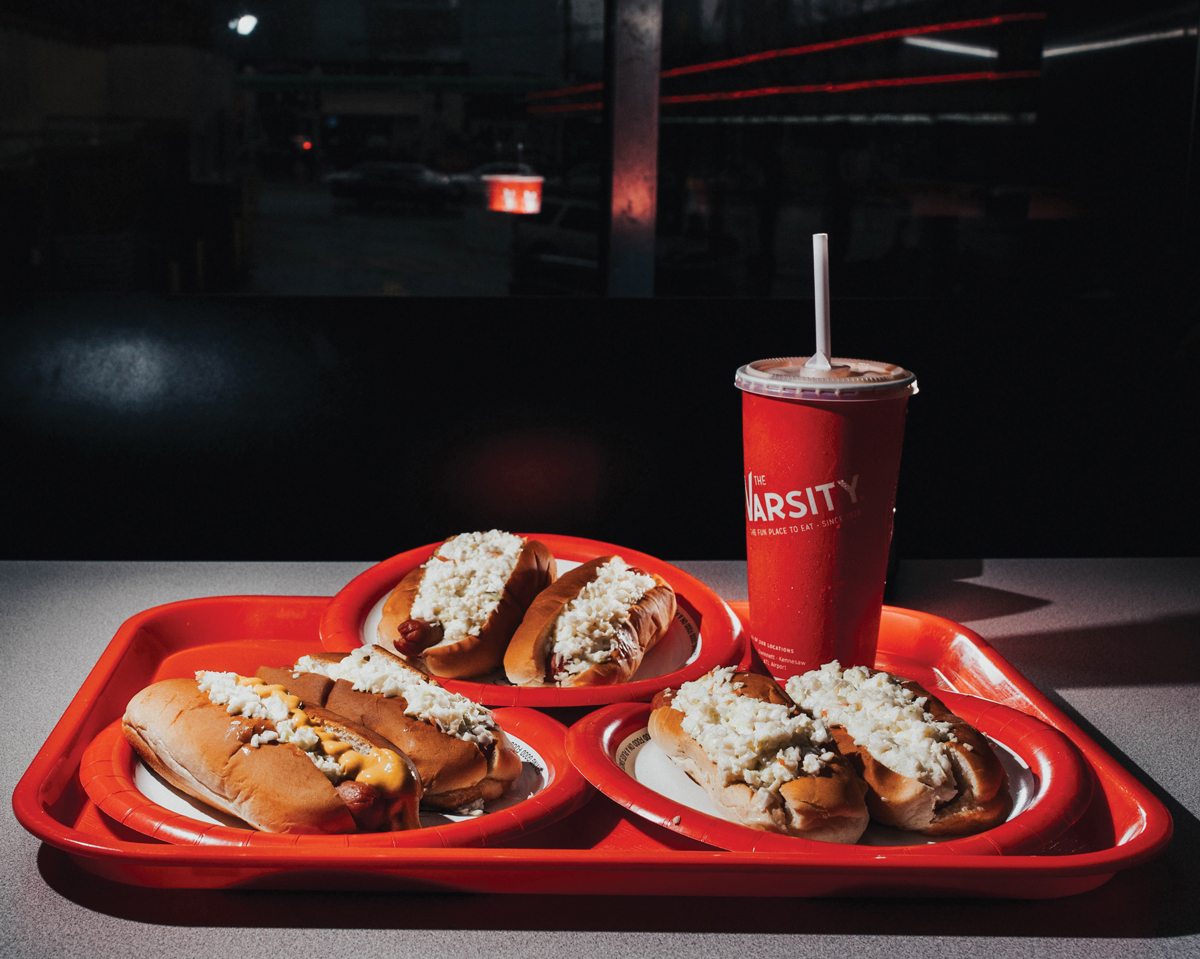 One morning a few years back, while waiting on a flight at Hartsfield-Jackson International Airport, I had to do something to address the rumbling in my stomach. It was barely 10 a.m., and my gate offered only two immediate options: Chick-fil-A and the Varsity, both quintessential Georgia fast-food institutions.
I chose the latter. I was craving a slaw dog, and I scarfed down two—not the least bit ashamed of my choice in breakfast.
Slaw dogs first popped up in West Virginia in the early 1920s and became popular in that region during the Great Depression, in the years when hot dogs and cabbage were affordable for most struggling families. "Basically, nobody had any money, and in thinking of what to eat, it had to be something cheap and memorable," says Christopher Scott Jones, a contributor to the West Virginia Hot Dog Blog.
I grew up in Atlanta, with a Southern mother who ate slaw dogs frequently while I frowned. It took a while for me to appreciate the joy of a boiled hot dog in a warmed bun, topped with biting yellow mustard that's the perfect foil to sweet, tangy, creamy coleslaw.
A traditional West Virginia slaw dog is topped not just with slaw and yellow mustard but also with meaty chili and diced sweet onions. That's the way they're served at Macon's Nu-Way Weiners, which has been around since 1916 (even longer than the slaw dog itself). "The chili and the slaw must be designed to be together, and their taste profiles must be complementary," says Stanton Means, the West Virginia Hot Dog Blog's "head weenie wonk." "The slaw can be sweet if the chili is spicy, but less spicy chili requires a more subtle flavor in the slaw."
Still, I'm partial to the chili-free simplicity of the Varsity's slaw dog. It keeps the focus on the coleslaw, which is crafted to be the ideal partner to the hot dog itself. The Varsity's slaw is on the drier side (and therefore won't soak your bun), with minced cabbage rather than sliced—including some outer leaves for a deeper green—and a dash of orange from a carrot. It's similar to Nu-Way's time-honored slaw, though Nu-Way skips the carrot. "My father invented our [coleslaw] recipe," Nu-Way president James Cacavias boasts. "We were getting a lot of requests for slaw dogs."
I can see why. Once you acquire a taste for them, they're easy to covet—even in the morning.
This article appears in our March 2019 issue.