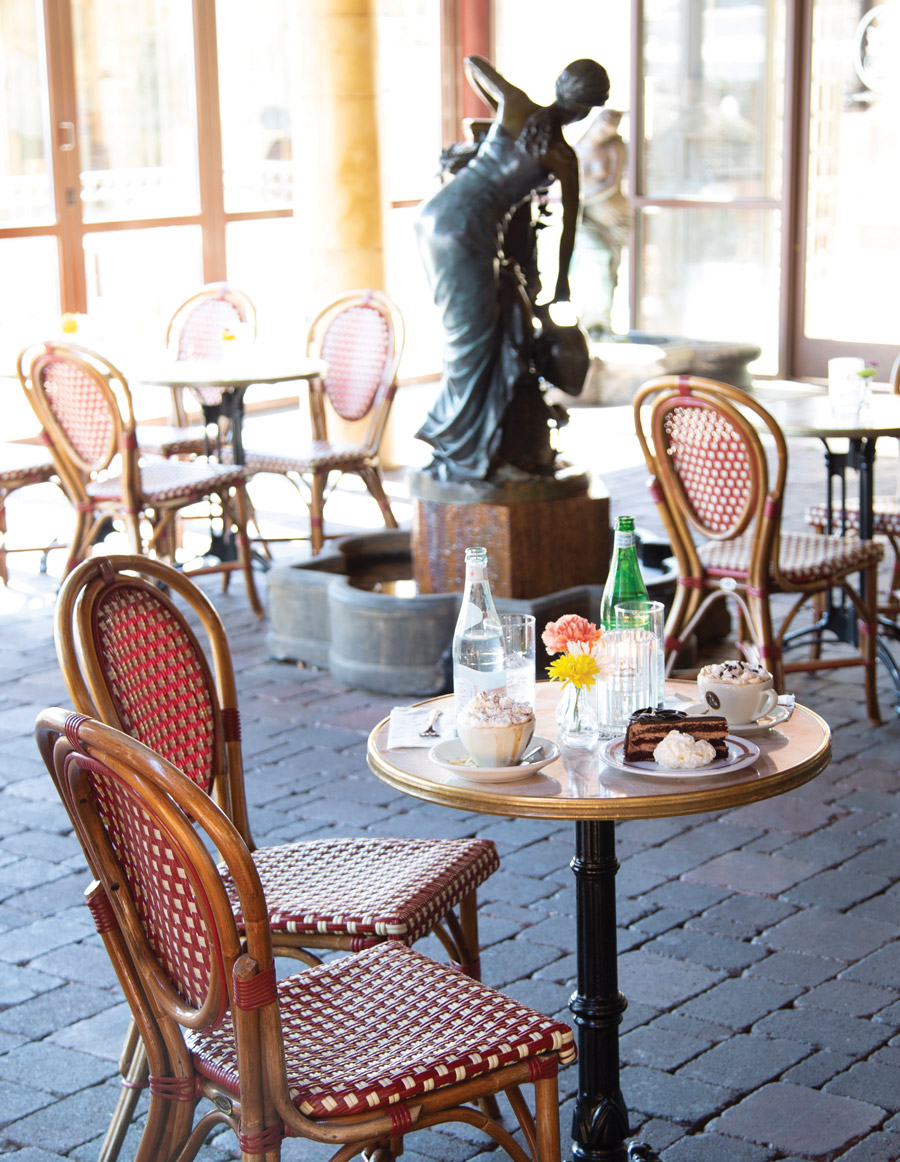 Years before I tasted a Viennese melange, I practiced ordering one in a high school language lab. Cafe culture occupied a small, luxuriant spread in one of my German textbooks, but the sheltering Atlanta suburbs where I grew up in the early 1990s gave no quarter to such mystique. I couldn't wait to get the hell out of there—but in the meantime, there was Cafe Intermezzo.
Cafe Intermezzo had two branches in those days: the original in Dunwoody and the one I preferred, on a noisy strip of Peachtree Road near Brookwood Hills. I am told the parking at my favored location was terrible, which I do not remember because I did not drive until after high school. (Due to ill-advisedly skipping sixth grade, I was two years younger, and at least two years weirder, than most of my classmates.) Adulthood always seemed particularly far away to me, probably because it was.
Both the original cafe and its offshoots were designed in homage to Europe's soigné coffeehouses, with high ceilings, walnut wainscoting, brass fixtures, and long uplit glass cases displaying pastries of infinite complexity. In my early teens, visits were a special occasion. I remember thronging to the Brookwood location for dessert—always something with manifold chocolate layers—after performing in high school musicals. Later on, home from college, I sipped cappuccinos in its front rooms with the doors opened to the street, brooding alone or with a friend.
To my untuned senses, Intermezzo's hushed tones and lighting, dim even during the day, seemed engineered for maximal intrigue. In its surfaces, I saw glimmers of the life I would live when I finally grew up and got out. In that future, I promised myself, I would claim my own joy from the world when and how I wished to. Intermezzo was the first place where I smelled cigarettes and whiskey on another person's breath and realized I did not hate it. Intermezzo was practice for adulthood.
I turned 21 a few months after graduating from college. My friends had scattered; I celebrated with a glass of wine at the Dunwoody Intermezzo with my mother. (The worse indignity: I did not get carded.) And then, I grew up. I moved to an exciting city. I traveled alone. I drank coffee in extraordinary rooms around the world—including, one Christmas, several of Vienna's. I was gone for a long time.
While I was away, Cafe Intermezzo evolved too. Its Brookwood location shuttered in 2013—moody to the end, at least according to photos I found on an outdated review site—and moved to Midtown. The small chain now has four cafes, with one in Nashville. As they have for years, all of the locations play language-education recordings in their bathrooms and for customers holding the phone. (During a recent inquiry, I heard a woman ask in French where to pay a fine, or maybe where to buy almonds. I should have listened more carefully.) Now, though, you might hear Japanese or Arabic in addition to European tongues.
Atlanta may not have the kind of cafe culture that once seemed to me the purview of adults, but it does contain a creative ferment I never perceived as a kid—a magic and a serendipity and other things, grown-up things outside the margins of what I used to envision wanting. So, I've stayed. Sooner or later, I'll make my way back to Intermezzo alone, just to be reminded of how different things are now—how different I am. Places can hurt but, with the right light, they can also heal.
This article appears in our April 2021 issue.