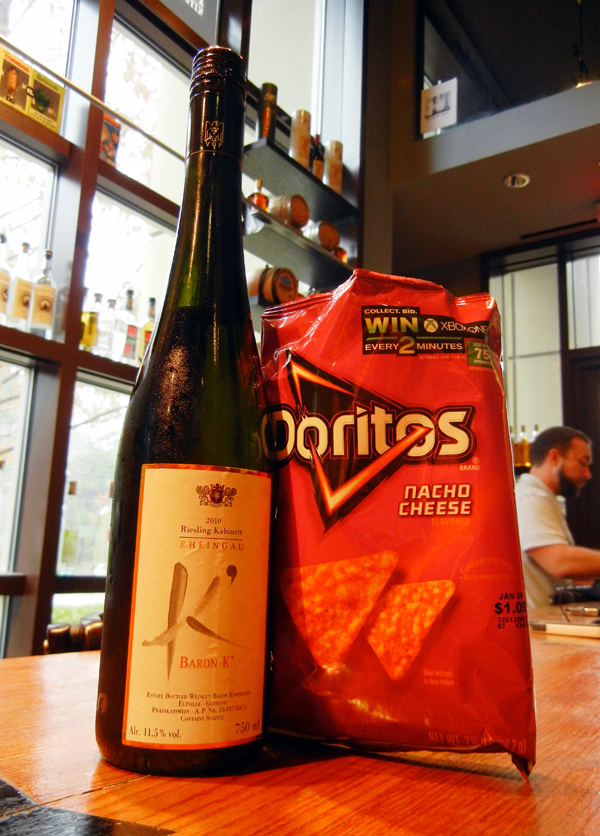 It was the pairing I had been waiting for.
In recent months I had explored pairing wine with juicy steaks, cheeses, Latin food, and Thanksgiving spreads, but Nick Windler, Local Three's beverage director, was about to answer one question I've had all along:
What goes with Cheetos?
The question dates back to my childhood love for certain foods. Kraft mac and cheese, Funyuns, Cheez-Its, ketchup sandwiched between two Keebler Club original crackers—I enjoy them as much as I do the crisp minerality of a Sancerre or the layers of fruit packed in a Gigondas from France's Rhone Valley. I am an equal opportunity consumer.
With dishes like foie gras cheesecake and sweetbread popcorn, Local Three is not afraid to be playful. So, who better to pair wine with snacks from a gas station than they? Windler was admittedly nervous about the challenge, especially since I refused to tell him what I was bringing, but much to both of our surprises (and to his colleagues walking in and out of the bar), the pairings were shockingly good.
In some cases, the snacks highlighted basic, elemental qualities of certain grape varietals. In all cases, the wine balanced salt levels and subdued those generic, processed flavors I associate with most bags of chips.
As a general rule, Windler was keen to pick wines high in acid. In his words, "Wine without acid is like food without salt. It's flabby and soft, and doesn't cleanse your palette or make you salivate."
1) Ritz Crackers / 2010 Maison Roche de Bellene Bourgogne Chardonnay Vieilles Vignes
"Chardonnay loves butter and oak. In this case, you've got a lot of butter on the crackers," Windler says. "I'm essentially adding more butter."
2) Miss Vickie's Smokehouse BBQ Flavored Potato Chips / Steele Zinfandel Catfish Vineyard 2010
Because of its jammy and smoky characteristics, Zinfandel is a classic pairing with barbecue. How did it play with chips? Shockingly well, turning each bite "into its own sweet, berry barbecue sauce."
3) Sour Cream & Onion Chips / NV Laetitia Brut Cuvée
When Windler spotted the sour cream and onion chips, his mind went straight to caviar (if only we all had that reflex). Champagne is considered the ideal pairing with caviar, and so Windler played along with a sparkling wine from the Central Coast in California. "These chips have a strong flavor so you need a ton of acid and a bunch of bubbles to clean it off your tongue."
4) Cheetos / 2010 Monticello Vineyards Estate Grown Pinot Noir
Windler picked this rounder, fruitier style Pinot since "cheese goes great with fruit, and people always eat grapes and cheese together." Fresh, ripe, and round, the pinot was the answer to my childhood dreams.
5) Doritos Nacho Cheese / Baron K Riesling Kabinett 2009
Playing off of the cheese and spice in Doritos, Windler went for a dryer-style Riesling. "You always want to pair spiciness with some sweetness. If the wine is only acidic, everything will taste bite-y and astringent," he says. Did it work? Yes, yes it did.