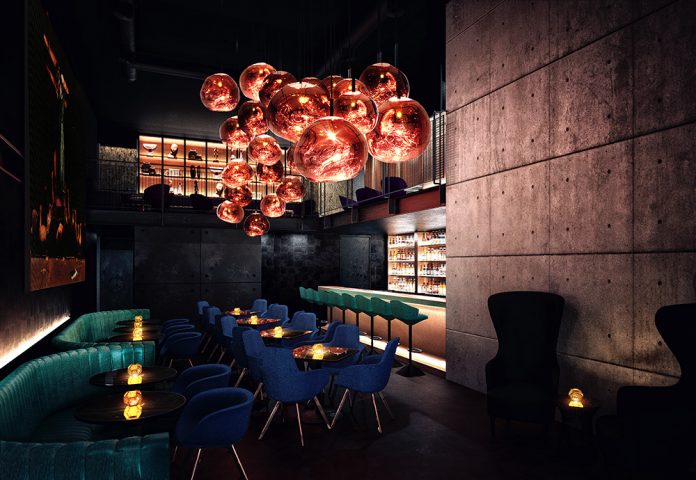 Courtesy of Tom Dixon
Himitsu, the upscale Japanese cocktail lounge by Umi, will open at 3050 Peachtree Road in early to mid October. Owners Farshid Arshid and Charlie Hendon have assembled an all-star team, including executive chef and co-owner Fuyuhiko Ito, creative director Shingo Gokan, director T. Fable Jeon, and London-based designer Tom Dixon. Himitsu will offer an extensive sake collection, plus sochu, cocktails, and wine. With 60 seats spread between two floors and a 12-seat bar, Himitsu will be reservation only.
"We're going after a super luxury experience," Arshid says. "I saw the concept in Tokyo. Either you go to an izakaya or it's very curated, reservation only. By being prepared, you can execute better." He reveals more details about the food, drinks, and décor below.
Himitsu means "secret." Why did you decide to go with this theme?
It's the façade. [Before Umi], nobody paid attention to this side of the [shopping] center—it's mostly offices and aestheticians. But once we came here, people said it was the best courtyard in town. We're one of the only restaurants without a sign. It's also part of what I saw in Japan—everything was very exclusive. We wanted to keep it a secret so that only people we know or who know about it could attend.
What's on the menu? Will there be overlap from the Umi menu?
We might have one or two overlaps. We'll have eight or nine smaller dishes: crudo like yellowtail jalapeno and Kobe tartare. We'll have a dish with beluga caviar and maybe five or six rolls and a couple of warm dishes. The space doesn't have a proper cook line—only a convection oven—so we'll have to see what we can make with that. Lisa [Ito], the chef's wife, will do four or five desserts.
And the cocktails?
Here are some examples: Shouro will be pear vodka, truffle, ruby red grapefruit, and tonic, served in a stemless flute (no ice). The sweetness of the pear and truffle honey are balanced against the grapefruit and tonic. It has a cleansing, citrus finish. It's great for vodka and tonic lovers looking for a little more depth to their beverage, or a great long drink if you're looking for something light and simple.
The Hisui is blanco tequila, mezcal, and yuzu-shiso agave, served in a rocks glass, garnished with shiso leaf, and rim garnished with plum salt. [You taste] the light, smoky agave, bright, green, tart yuzu, with a cooling, balanced citrus finish. [It's good] if you like margaritas or other agave spirit-inspired cocktails with vibrant, citrus flavors. 
How will the reservations work?
Upon confirmation of the reservation, we'll send you a code to get in. (You can't just open the door and go in.) There will be two doors. The first is to the waiting space where you check in. The dining room isn't revealed until your reservation is confirmed. We'll keep a few tables back for last-minute VIP clients who want a table, but it's not going to be a standing room situation.
 Tell me about your partnership with Shingo Gokan and T. Fable Jeon. How do they work together?
Shingo is creative director. The recipes, technique, and style of bartending is dictated by him. Fable is responsible for executing Shingo's program. They learn to make three or four drinks and record it on video, then spend three weeks perfecting them.
Will there be food and beverage pairings?
Absolutely. Places usually do sake pairings or wine pairings. With Shingo, every drink is like a sauce—it feels like it's the next complement to what the food needed. We will do a section of the menu with recommendations for what goes well together. When Shingo is here or Fable is doing special events, we'll probably do some sort of pairing. That's phase 2.
Fable has always wanted to do an omakase-style for drinks. You sit at the bar, and he's in control. You pick your spirit and ingredient of choice and let him course it out for you. If white strawberries are in season, we'll do a special for the day or week with those.
How important is service here?
People spend their time and money when there is great service. This clientele is looking for a different level of service—the kind you get when you go to a 5-star hotel. We're using Baccarat and Saint-Louis glassware for all the drinks. They cost $200 to $400 a glass. We're not changing the price of the drinks ($13-$20) to make up for that. I love to give people an experience they don't typically have, and presentation is such a big part of dining.
Any other projects in the works?
Not yet. We're looking at possibly doing a private omakase room on top of the building across the courtyard. It'd be small: eight to ten seats, 1,800 square feet, with two seatings. It'd be very traditional Japanese and very refined. The timing depends on the landlord—probably 2016.