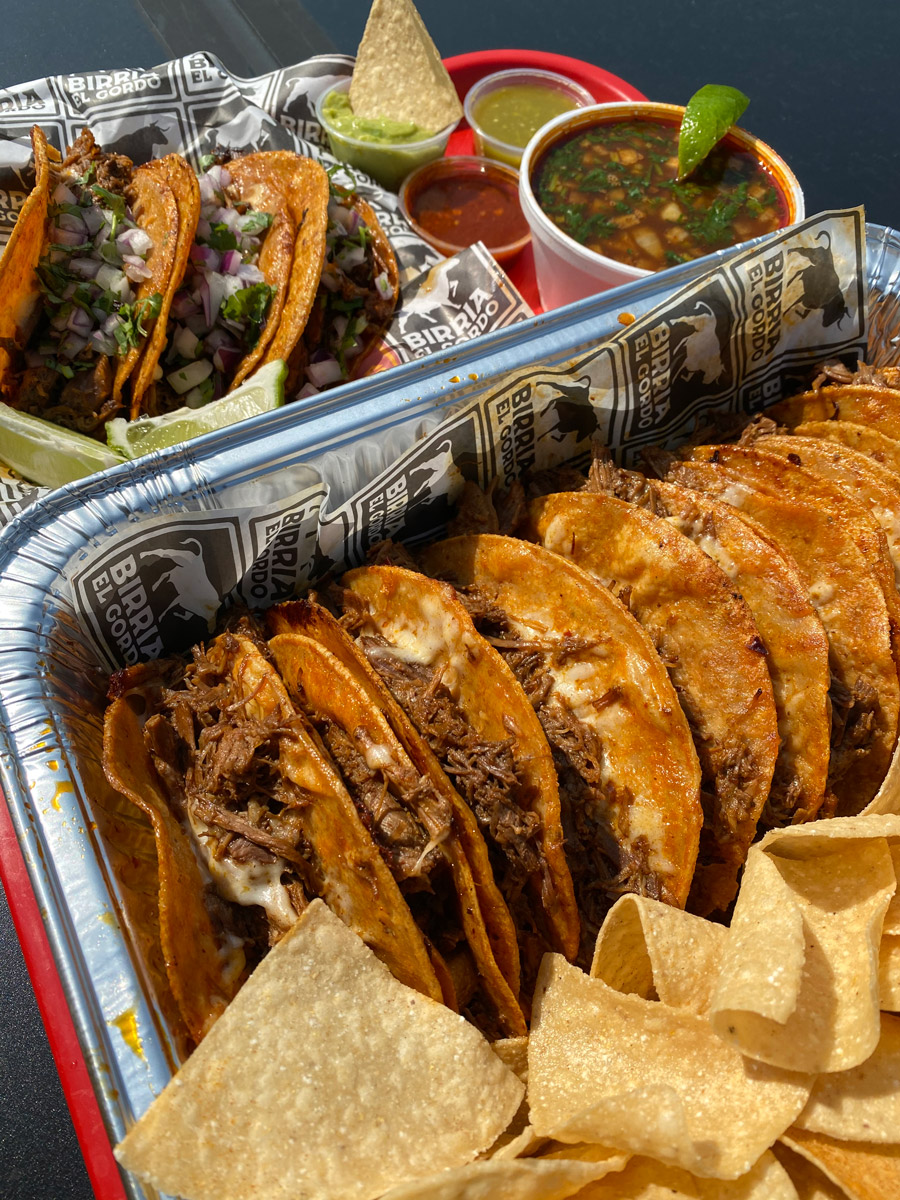 Taco trends are—in my humble opinion—the best trends, and birria is having its moment at restaurants and pop-ups across the country. Birria tacos are made with meat—often goat, beef, or chicken—that's slow-cooked in a spicy, earthy, red braising liquid. The meat is shredded and placed inside of a corn tortilla that has been griddled using the top layer of fat from the braising liquid, which gives birria tacos their signature red-orange color. A cup of the braising liquid, or consomme, is often served alongside birria tacos for dipping.
If you're looking for a spot to try birra locally, look no further than Birria El Gordo in Marietta. The Pineda family, who run the pop-up, moved to Atlanta from the San Fernando Valley in the late 1990s. "My parents wanted to come over here for better job opportunities because it was getting tougher and more expensive in California," says Nestor Pineda Jr. Nestor Jr., who manages the Instagram account for Birria El Gordo, works there with his parents, Nestor Sr. and Emeli Pineda; sister, Jessica; and brother, Julian.
The Pinedas originally owned a grocery store, Carniceria y Fruteria Guerrero, that went under during the 2008 recession. Billares Guerrero was their next endeavor, a restaurant in Marietta frequented mostly by people who lived nearby. But when the family closed the neighborhood restaurant in March due to the pandemic, they, like so many restaurant owners, had to quickly pivot. Five weeks later, Birria El Gordo pop-ups, named after a grandson, opened in the space on the weekends, a nod to the fact that birria is traditionally made on weekends or for special occasions like birthdays or weddings.
"When it was originally just a regular restaurant, [the patrons were] just mostly Mexican people," Nestor Jr. says. "Now, it's a very diverse crowd."
You can credit the birria and the hunger-inducing photos on the pop-up's Instagram account for that. Making Birria wasn't a stretch for the Pinedas. "We've always sold barbacoa [at Billares Guerrero], which is similar to birria," says Nestor Jr. "The only difference is the way the carne is prepared. Birria renders a lot more consomme than barbacoa does."
 

View this post on Instagram

 
Birria El Gordo offers birria made with beef, goat, chicken, and jackfruit. Fillings come in a variety of styles like the mulita (a tortilla sandwiched with birria and avocado) or taco dorado (crunchy tacos with a cheese option), and Vampiro (a tostada with cheese and guacamole). You can also get a styrofoam container of consomme as a dip for your tacos or to eat as a soup. Many of the taco creations get a coating of Birria drippings, which infuse the tortillas with all the complex, slow-cooked flavor of the heavily spiced fillings. All the tortillas are made by hand, which can make orders take a little longer, but it's worth it. Look for specials on Instagram that range from split baked potatoes overstuffed with shredded birria meat to red holiday tamales to birria ramen. They also have a bar menu, where you can order agua frescas or Tajín-rimmed micheladas.
In its early days, the pop-up would often sell out quickly. But, months later, there's more food to go around, and they've added an extra day to their Friday through Sunday hours—Taco Tuesday, of course. The restaurant offers dine-in, but you can also place a takeout order inside, take a pager, and wait in your car. Because these tacos are best eaten fresh and hot out of the kitchen, this is a great place to opt for a car picnic. But be to sure bring a roll of paper towels—the tacos are extremely saucy.
The family is looking to open a standalone intown location they say could open sometime in 2021. But for now, they want to see how the pandemic pans out and are hoping the right opportunity in the city presents itself. 350 Pat Mell Road Southeast (Inside Billares Guerrero), Marietta, (678) 503-0114