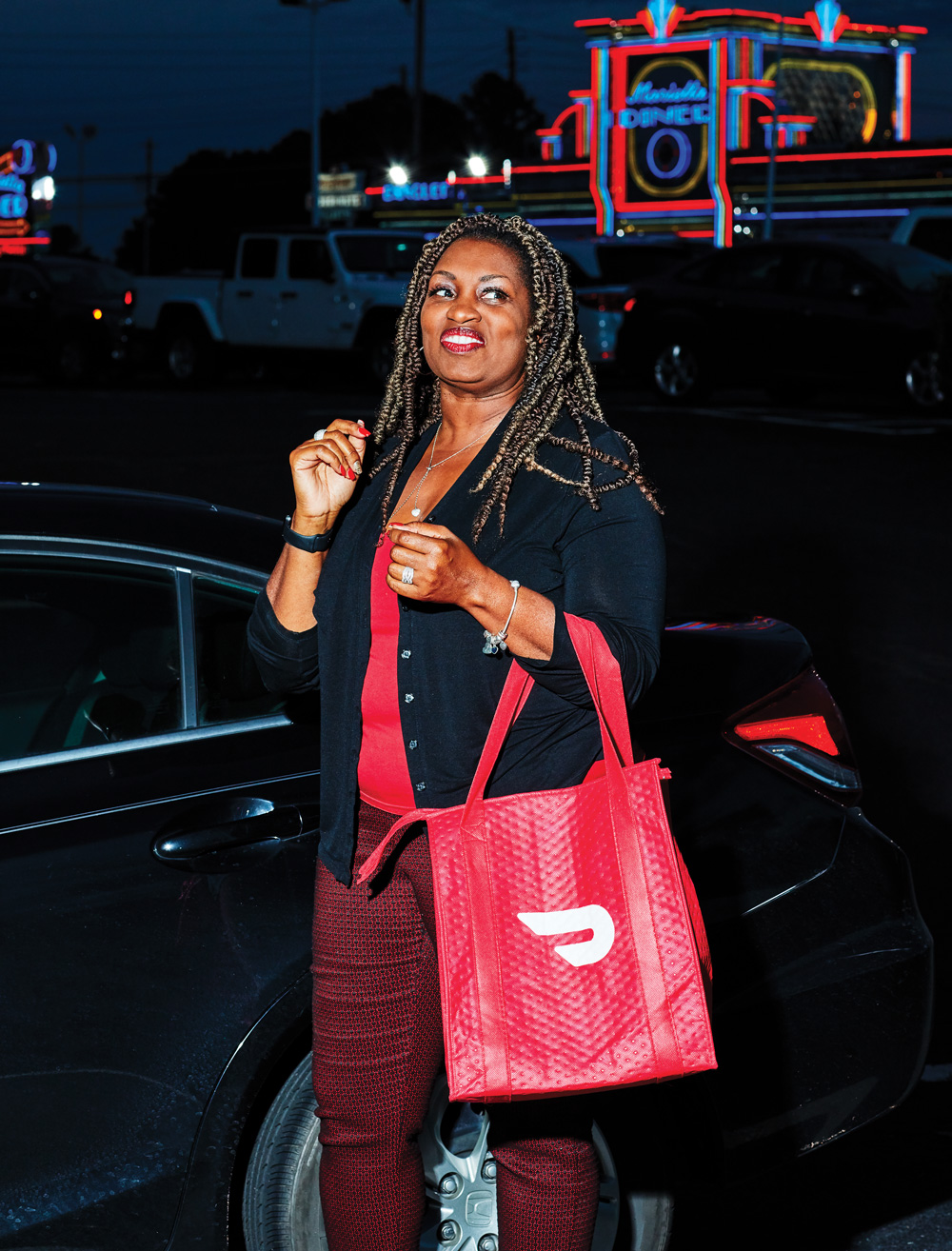 Interviews by Heather Buckner
Kimberly Smith
Postmates, DoorDash
I work full-time for a builder, selling houses. In the evenings, Monday through Friday, I clean offices and then do Postmates. On the weekends, I manage my own business and do delivery. I have a lot more time to work because I don't get to do the socializing that I would typically do. I mean, we can call, text, email, but that closeness, being able to hug and kiss on family and friends, I miss that.
I recently lost my mom, about a year ago. I have been able to find things to do that are positive, productive, to kind of fill in that gap of losing her. With driving, I have been able to not only pay off my credit cards but it has allowed me to adopt a family going through a little bit of a struggle. A young couple and their three children moved in [to the apartment above mine]. After my mom had passed, I just had an extreme amount of extra—extra food, just extra. And the first thing I thought was my mom would want me to share. When I moved, I put it on my calendar every month to make sure that I take them some items.
My favorite area, primarily, is Brookhaven during the week. When I'm at home, since I'm in Kennesaw, I pretty much stick to Smyrna, Marietta. This business is about time. If I have your hot food, I want to get it to you ASAP. Near Lenox Mall, it is so freaking congested. I picked up an order from the Palm at the Westin for a girl; she lived in the apartment building across the street. It took me longer to go in there and pick up the food and maneuver through traffic than it would have for her to walk across the street. I tell all my friends: As long as we, as consumers, continue to be lazy, there will be money to be made. Keep being lazy! I'm going to hand you a smile and your food.
Kimberly's three favorite takeout meals:
Pad thai boraan with shrimp at L'Thai (Smyrna, Tucker, and Peachtree Corners)
Short end ribs at Thompson Brothers BBQ (Smyrna)
Gyro and Greek potatoes at Santorini Taverna (Sandy Springs)
Mathew Lovell
Uber Eats
I've been in restaurants and retail for a couple of decades now, and I just got burnt out. I wanted to get out of a brick and mortar and make my own schedule. I was driving for Uber, doing passengers, then, when Covid hit, I switched over to Uber Eats to minimize my exposure to people. My fiance works at the Flying Biscuit, but with everything shutting down during Covid, I was the main breadwinner. He was getting unemployment, which helped, but that put me out driving a lot more. On an average day, I'll have a downtime of maybe five minutes between orders. Recently, I picked up a part-time job working three days a week at a restaurant in Midtown just to have a little more stability, a little paycheck coming in every couple of weeks that I could depend on.
I had a phone call with Uber today because our wages have dropped. They gave me a lame reason about lowering base payout to improve the in-app experience. Up until a couple of weeks ago, the minimum I would make on an order, without a tip, was around $4. I picked up a double-order today—you go to one restaurant, pick up two orders, and deliver to two separate people. The total payout on that was $3.82. That's why I called them. Basically, I just made $1.91 per order on that. That's barely gas money at this point, and I'm trying to make a living off of this? It's just like any other service-industry job: We depend on tips to make money. I think a lot of people don't realize that the driving industry is making [a few dollars] per order without tips. We need to change the system in America. We need to get to a place where we pay the service industry what they deserve.
Mathew's three favorite takeout meals:
Korma paneer at Desi Spice (Midtown)
General Tso's Chicken at Lucky Buddha (Westside)
"Totchos" at Manuel's Tavern (Poncey-Highland)
This article appears in our February 2021 issue.