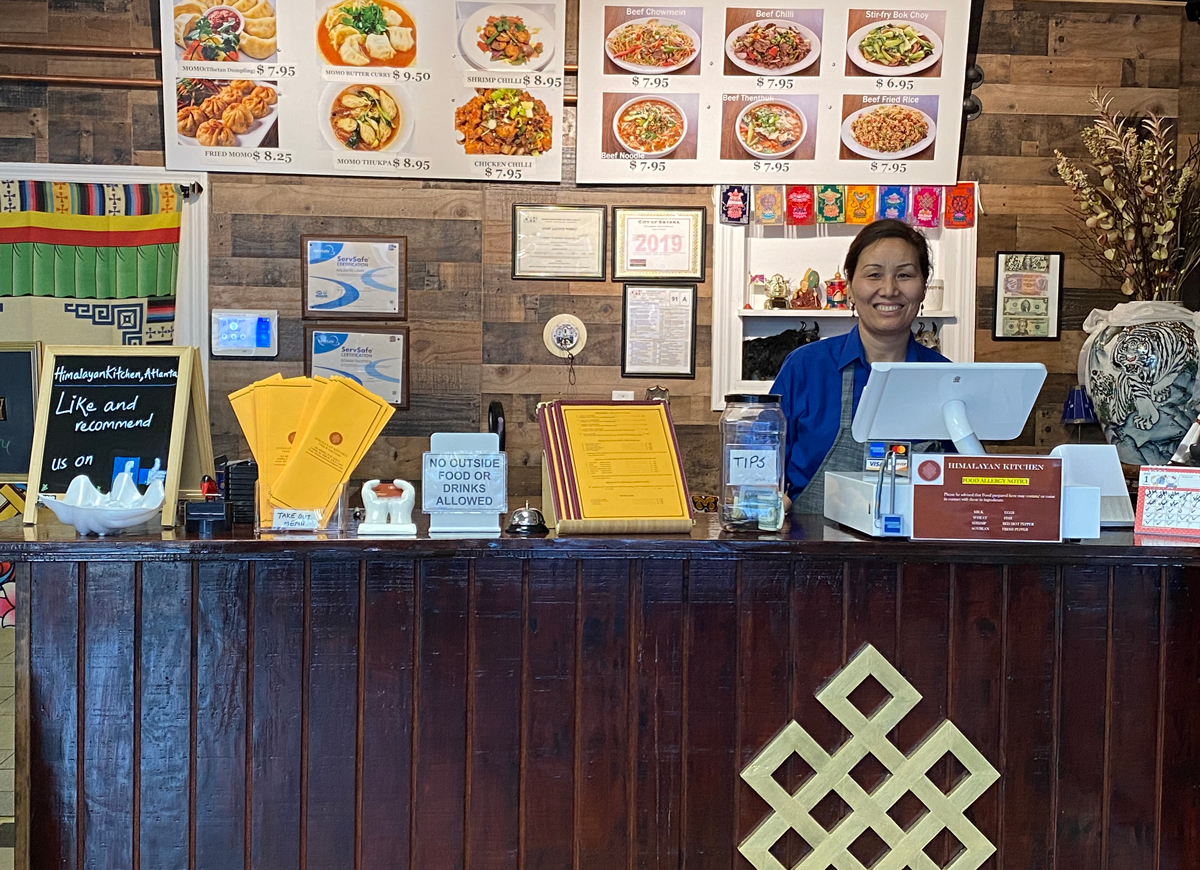 At age 13, Kalsang Lama was already a skilled enough cook to prepare dinner for her family when they returned home from work each night. She grew up in a Tibetan settlement in Mussoorie, a popular hill station in northern India. Her parents were refugees who had fled religious persecution in Tibet, walking across the world's highest mountains, the Himalayas, carrying just a few belongings with them. In Mussoorie, they worked constantly and spent family time reminiscing about their home country's food and traditions.
After Lama (who goes by the first name Kelly now) moved to Atlanta in 1995, she found work at Japanese restaurants and had a dream to run her own Tibetan restaurant someday. It took 24 years, but in November she finally opened Himalayan Kitchen, located in a dated strip mall in Smyrna and offering the only true Tibetan food in metro Atlanta. "The location doesn't matter, as long as you have great food and service," Lama says. She works the front of the house, offering guests a cup of green tea as soon as they walk in.
Among the first hints of the restaurant's inspiration are the posters of Tibet's majestic scenery, traditional endless knot symbols of Tibetan Buddhism, and Tibetan door curtains. The menu is largely based on the family recipes of Lama and chef Sonam Dhong Dhong. Like Lama, Dhong Dhong was born into a Tibetan refugee family in India and started cooking for the household as a child. "I would stand in the kitchen and watch my mom cook," he says, "until I was allowed to make rice and then later, complete dinners." He attended a Tibetan boarding school in southern India but didn't have access to higher education or decent job prospects. When one of his friends sent him an invitation to visit Boston, Dhong Dhong made the difficult decision to leave his family in Dehradun, a city at the Himalayan foothills, to make a better life for himself in the U.S. He worked his way up from a bus boy at an Indian restaurant to the tandoor (clay oven) making bread. He later became a sushi chef in Atlanta.
Dhong Dhong often prepared Indian food for the employees at the Japanese restaurant where he worked. Lama was one of those employees, and Dhong Dhong's cooking made her nostalgic for the food of her childhood. They knew there were many Tibetan students in Atlanta as a result of an Emory University exchange program and that Emory hosted Buddhist monks. "There is even a monastery," Dhong Dhong says. "But there was no authentic Tibetan food in metro Atlanta."
Tibet is bordered by China, Mongolia, Nepal, Bhutan, and India, which means you'll find similar dishes in each country. Thukpa (also known as gyathuk) is a spicy soup with egg noodles, ground meat, and lots of vegetables; it's warm and satisfying in Tibet's cold climate. Another dish, Thenthuk, is essentially the same but uses chunky broken noodles. Chow mein, not unlike what you find at Indo-Chinese restaurants, has long Hakka noodles stir-fried with shredded vegetables, thick soy sauce, black pepper, fresh garlic, and chilis. Sha bhakleb, savory fried beef patties not unlike empanadas, are served in Tibet at potlucks and special occasions.
Dhong Dhong and Lama's menu features all of that as well as several variations of momo (a steamed dumpling). The half-moon-shaped dumplings traditionally are stuffed only with minced meat, but here you can also get chicken and vegetarian versions, the latter filled with soybeans, celery, chives, cabbage, tofu, green onion, red onion, cilantro, ginger, and garlic. Cooked to order, the soft, warm flour dumplings are served with a dipping sauce made with tomatoes, onions, garlic, and a type of deep-purple Sichuan peppercorn that he imports from India.
If you like Indian curry, try the mild butter curry momo. Or if you're in the mood for something truly different, Lama created an Americanized version of momo, called "Kelly's Special," in which the dumplings are dipped in panko breadcrumbs, deep fried, and served with homemade spicy mayo sauce.
Conversing in English, Hindi, Spanish, and a handful of other languages they picked up, Lama and Dhong Dhong educate their first-time diners about Tibetan cuisine and remember practically every repeat customer by face. Just a few months after opening, they rely on word of mouth and have kept operations intentionally lean.
"We are not jumping into marketing, subscribing to delivery services, or getting greedy for more business," Lama say. "Only stretch as far as your blanket reaches." 1651 Roswell Street, Smyrna, 678- 217-4443