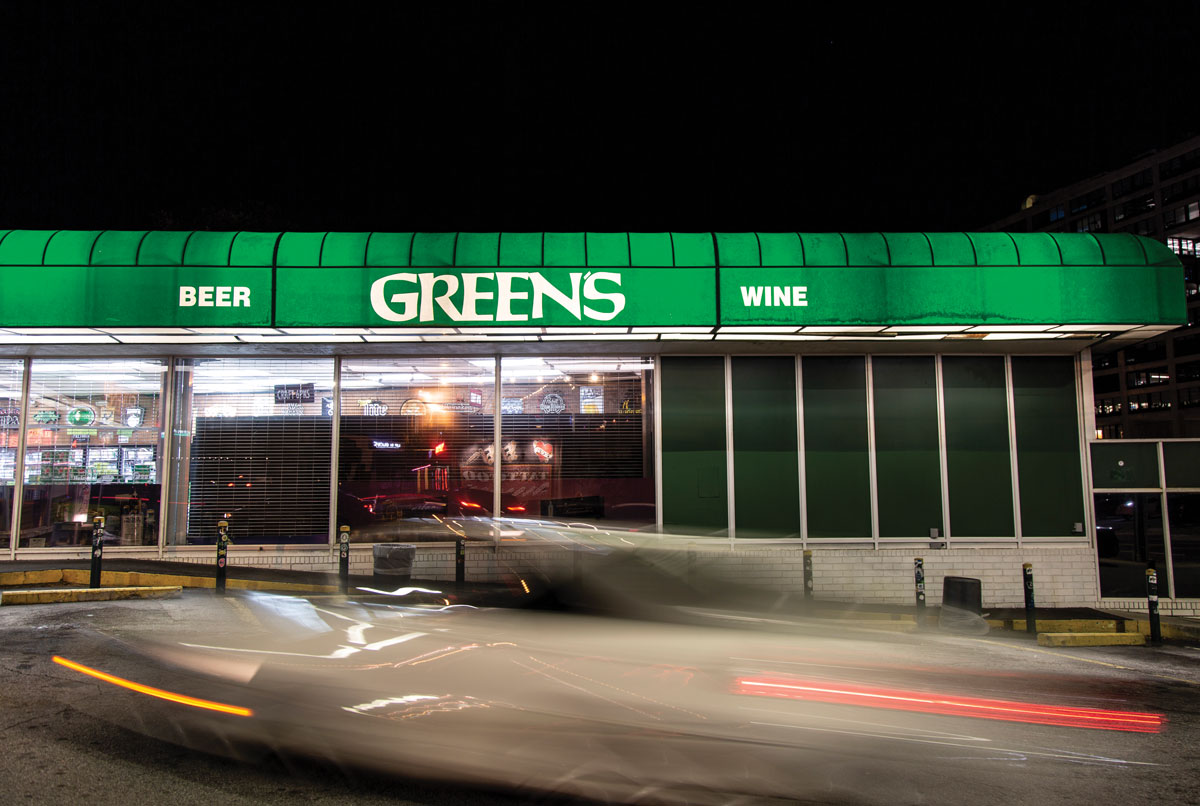 Persuaded by my wife, I recently submitted a spit sample for one of those ancestry DNA tests. The results came back like I'd hit the ethnological drunk-ass Powerball: England, Germanic Europe, Scotland, Wales, Ireland—in other words, a Euro-American amalgam genetically doomed to love the drink. Which could help explain the almost seismic euphoria I feel each time I walk into Green's Beverages.
With its recognizable logo in St. Patrick's Day font, those simple but wonderful green awnings, and that chatty, sweet staff, Green's (no relation, unfortunately, because a family discount would be fantastic) operates stores across South Carolina and has two in Atlanta. But the original, and my favorite, dates back to 1937 on Ponce de Leon Avenue. It's a hatchet-shaped, low-rise building facing the BeltLine—nothing special to look at. Yet somehow it's the perfect location for a landmark Atlanta bottle shop where I've seen a cappella performances in the checkout line and—in quintessential Ponce fashion, one Friday night—businesspeople casually stepping over a writhing, inebriated lady at the entrance. What I love most about the Ponce Green's is how it's a microcosm of Atlanta: A melting pot of patronage that can get a little wild, it's usually difficult to access by car and celebrates stuff the outside world probably finds weird (hello, PBR Salted Caramel Hard Coffee). Whoever excluded it from the National Register of Historic Places must have been drunk.
As bad as it may sound, stops at Green's have preceded basically all of my life's milestones in this city: kegs for weddings and Christmas shindigs, a trunk full of booze for a book launch party, bottles of champagne following childbirth. It's still the cheapest liquor store I've found, even post-inflation. Good local six-packs in the $8 range are prevalent, boxed wine runs a few bucks cheaper than at grocery stores, and for splurges, that highfalutin beer cooler with an automatic door is stocked to the gills with things like $12.99 bottles of barrel-aged doppelbock. After I put a 50-can beer fridge in the garage, Green's trips have become less frequent but more bountiful. They usually result in a shopping cart bulging with a rainbowed menagerie of craft beer, a feeling that I'm a child who's won some toy-store sweepstakes, and at least one concerned glance from the clerk. It was probably a bad sign when, in the early depths of Covid-19, a Green's associate loaded my purchases into boxes and repeatedly warned, with genuine concern: "Careful now—she's heavy!"
At the risk of sounding sappy, I'd say the key to a truly joyous Green's visit is achieving the feeling beforehand that you've earned it. Maybe it's the Friday of a productive workweek. Maybe your daughter made honor roll. Maybe you survived a global pandemic and want to pack as many friends into your home as possible because the day ends in "y." There's no better means of getting that party started, the way I see it, than fighting for a parking spot, nodding to a friendly Green's Beer Specialist, and grooving to vintage Rod Stewart as you stare at rows of craft beer like you're studying for the LSAT. Someone will invariably ask if you need help. We all probably do, but the best reply at Green's is always: "Naw, just lookin'."
This article appears in our January 2023 issue.