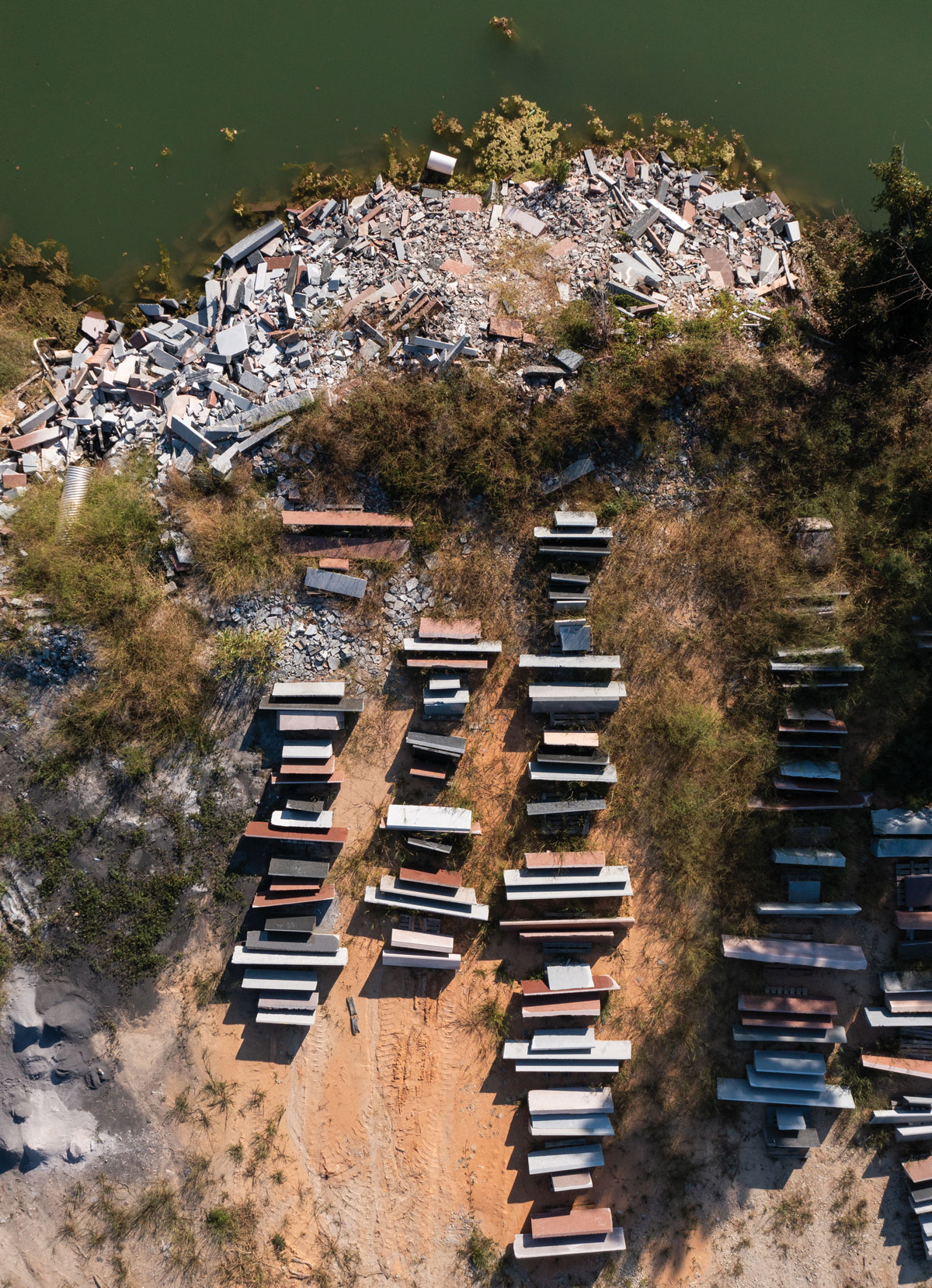 Granite is one of the hardest rocks on Earth. Much of what is mined around the world is crushed for gravel or cut into countertops, sidewalk curbs, and building stones. But in Elberton, Georgia—where, 325 million years ago, a great mass of magma rose through the earth's crust, cooled, and solidified—90 percent of the granite coming out of the area's numerous quarries is crafted into cemetery memorials. One could say death keeps Elberton itself alive.
There aren't entire towns dedicated to the art of gravedigging or embalming or hospice. But Elberton, population 4,640, leads the cemetery memorials sector of the U.S. death-care industry. At first, the granite quarried from Elberton's vast vein was used to rebuild railroad infrastructure damaged during the Civil War; later, in 1889, the city's first commercial quarry opened to supply granite for use in home foundations and chimney stones. A monument shop opened in 1897 on McIntosh Street, and as railroad lines continued to broaden Elberton's reach and skilled Italian stonecutters immigrated to work in the county, the pace of Elberton's industry steadily grew, garnering it the title "Granite Capital of the World."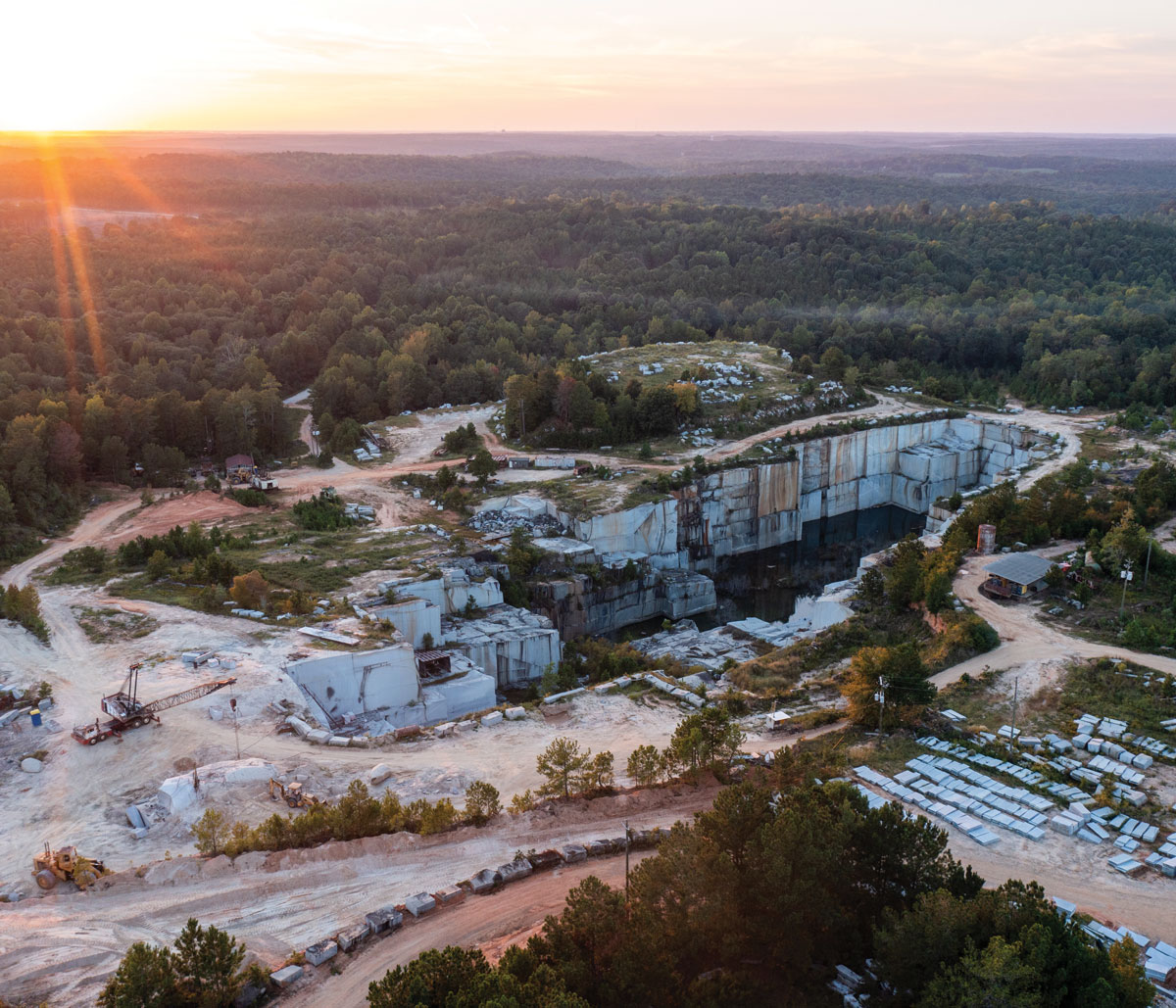 Sitting in an office with walls made of granite, tucked inside a granite manufacturing plant, Keystone Memorials vice president Ross Oglesby told me he remembers playing with Legos under the table at granite conventions as a kid and working in "the pit" in his family's quarry during his high school summers. As a teen, Oglesby also helped lay out gravestone designs. "I would have to take a person's portrait and put it on their monument," he said.
"I would end up with teenagers that were the same age as me. That kind of always made you think, okay, you know—gotta be a little careful when I'm driving home tonight." Many kids around here get to know granite from a young age; today, students at Elbert County High School have the option to study the trade at what may be the country's only high school granite lab, where they learn to use Monu-CAD, a software to lay out text and images on gravestones, and to work the industrial machinery that polishes, cuts, and sandblasts the rock.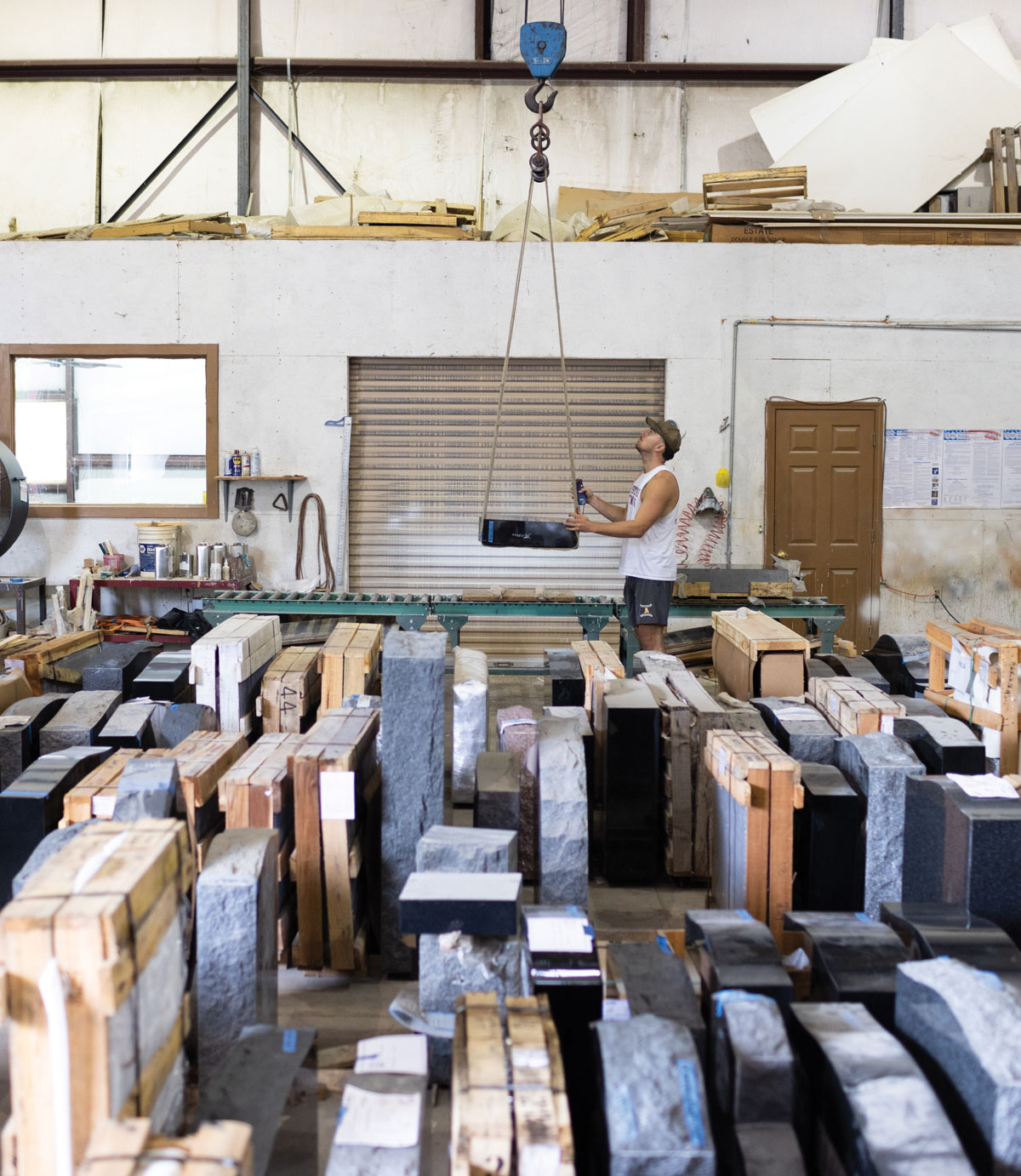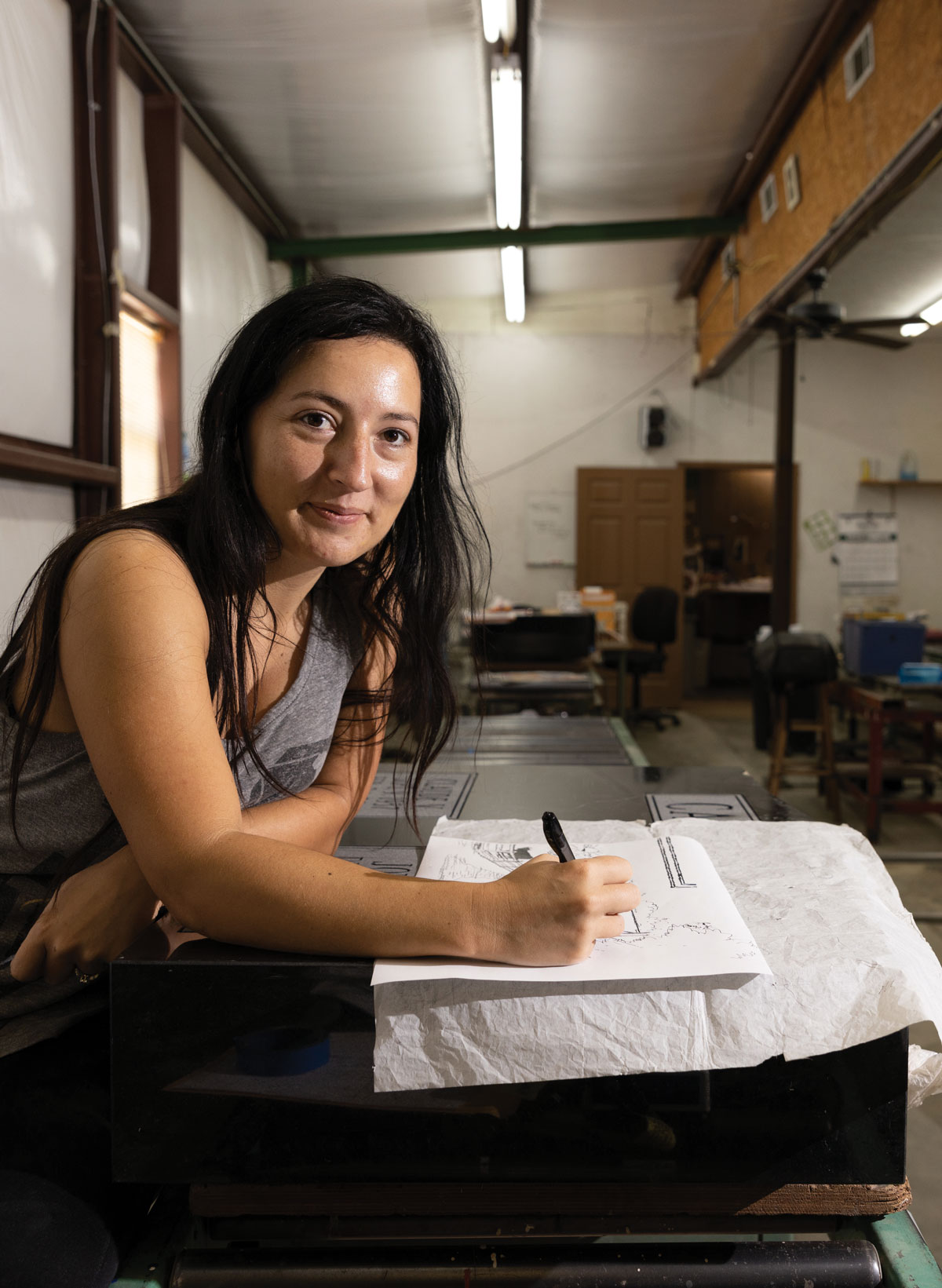 Founded in 1941 by Oglesby's grandfather, Keystone is one of more than 150 granite "sheds," as they're called, in Elberton. Since his dad retired, Oglesby and his two siblings run the day-to-day operations. "I'd say about 40, 50 percent of what I produce here is locally quarried Elberton granite," he said. The rest is shipped in from elsewhere—about a fifth comes from Missouri—to be carved into memorials; the infrastructure maintained by the area's granite resources allows producers to work with stone imported from around the world.
No two types of granite are alike—they vary in color, grain size, and sheen, depending on the mineral proportions that made up the molten rock as it began a cooling process that stretched thousands of years. The most common granites contain a mix of quartz, feldspar, and mica, the specific balance of which sets a China black granite apart from a Missouri red, or a Carolina diamond gray from a Georgia blue. The types coming out of the ground around Elberton are Georgia blue and royal gray, both packed tight with interlocking patterns of minuscule flecks that dance in the sun like a TV that's lost its signal.
The pandemic injected a mixture of demand and delay into the industry that strained all facets of monument production—Oglesby says his shop jumped from an eight-week turnaround to up to 10 months in production time. Partly, that has to do with supply-chain issues dogging the production of monuments. With shipping costs rising, retailers that used to buy from China and India turned to U.S. quarries, which became overwhelmed as they struggled to find the laborers needed to meet the increased demand. But Chris Kubas, executive vice president of the Elberton Granite Association, says he thinks the pandemic also motivated people to purchase gravestones ahead of time, a trend known in the industry as "pre-need buying." "People sat around with their families and loved ones and thought about death during the pandemic," Kubas says. They had free time to think about their estates, how they wanted to be remembered, and how they wanted to remember others.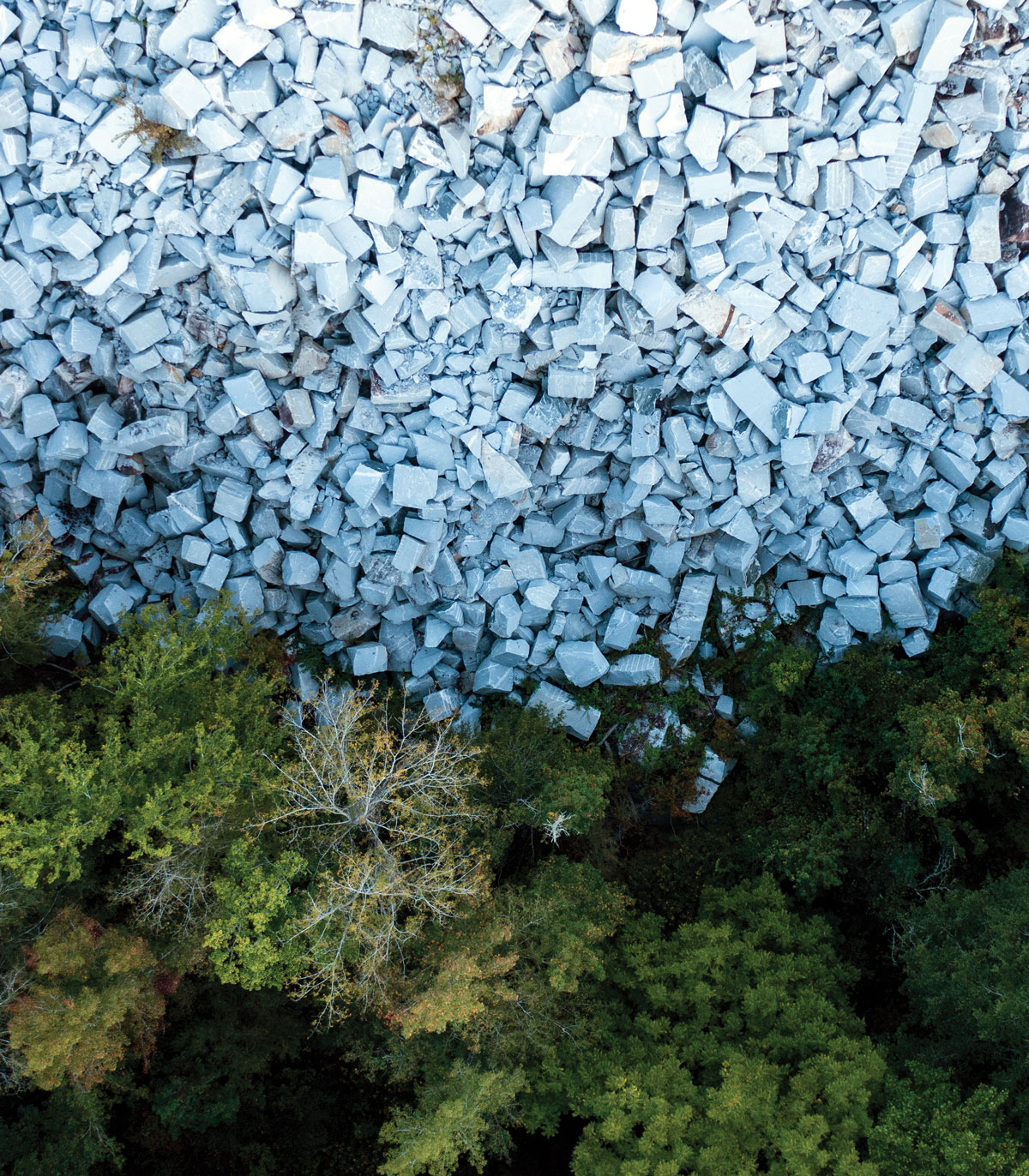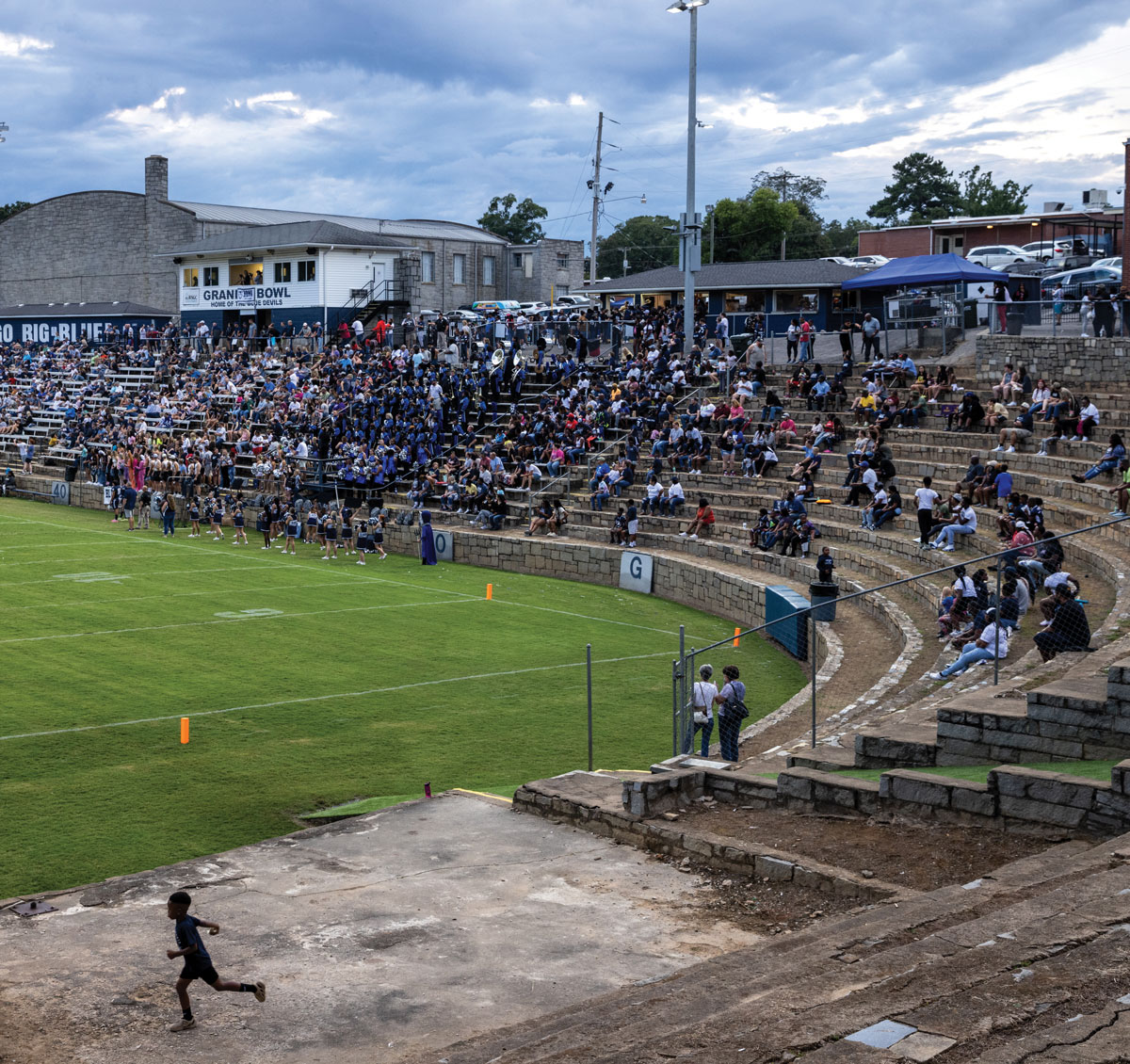 In summer 2022, Elberton was in the news when its most popular attraction was blown up in the dead of night. The Georgia Guidestones—a mysterious collection of 19-foot-tall granite slabs built to withstand the apocalypse, and engraved with instructions in eight different languages for rebuilding society afterwards—were erected in 1980 and evoked a kind of pseudo-Stonehenge mystique. (The true identity of their creator, who gave his name as Robert C. Christian, is unknown.) The guidestones' instructions were meant to relieve us of the anxiety of our own self-destructive path, affirming that we could rebuild in case of a catastrophic event of our own creation.
It is in our nature to disrupt Nature, to defy the path toward death that all things travel. Once the march of time wrests that control from us, how we are remembered is all we have left. Elberton Mayor Daniel Graves finds poetry in the nature of memorial stone production: "The stone is pulled from the earth and, just like our lives, there's a tension and care and detail put into making it into something very special," he says. "And then, it's returned."
Memorials relieve the living of the thought of a fate we are unable to truly comprehend—they allow us to walk away from our grief and come back to it when we're ready. They give us hope that we could be remembered forever by someone—anyone or everyone. They remind us that we are here, now. That there were others before us whose lives were not like ours and that the ground we walk on will be here when we are not.
This article appears in our December 2022 issue.