A stone monument in downtown Savannah marks what was probably Georgia's first road, the construction of which got underway in 1735. Beginning in Madison Square, the Ogeechee Road ended some 60 miles south at the Altamaha River, in what's now Darien.
Parts of that Savannah-Darien route eventually became U.S. Highway 17, also known as the Coastal Highway. U.S. 17 hugs the coast as closely as the Georgia coast can be hugged—which is to say, at a little distance, because there is so much marsh and so many islands between the mainland and the ocean. Laid out in the 18th century, paved in the 20th, the road skirts those marshes and weaves its way through pine forests, over rivers big and small, and through villages where people have made their livings off the land and the sea.
But you know how things go: Progress progresses. Interstate 95 was finished in the 1970s. Now, the trip through Georgia is a 70-miles-per-hour blur, a six-lane firehose, a dash-dot-dash sequence of trees and marsh punctuated by the occasional fast-food interchange. Time passes quickly on Interstate 95. That's how it's meant to pass. But Highway 17 still moves at its own speed.
Lately, I've been having trouble with time. Not the usual complaints—the past catches up, history repeats, a nightmare from which one can't awake, etc., etc.—but something weirder, something that dissolves distinctions between what once felt like fixed categories: past, present, future.
Life's exigencies spill into one dimension: facial-recognition algorithms, viral pandemics, a reality-TV president—their demands sitting ungainly on the timeline, clamoring in rapid succession. "The present has become too overwhelming, so the future has become unimaginable," the novelist Valeria Luiselli wrote recently in her book, Lost Children Archive. "And without future, time feels like only an accumulation."
A sense of accumulated time prevails, too, along Highway 17—but without the vertigo. Two lanes in most places, Highway 17 is picturesque, but the perspective it affords is unusually deep, with glimpses of a Georgia both recent and remote: midcentury motor lodges, working shrimp boats, abandoned rice plantations. Maybe I'm drawn to this particular highway for its palliative quality, the way it demonstrates how many different stories can sit amicably side by side along the Georgia coast. It feels hopeful rather than dissonant. I meander like a tidal creek: slowly enough to see the cordgrass waving in the marsh, through towns whose economies were once fed by this very highway and are now neglected by it—though you can still find pretty good seafood. In Melissa Fay Greene's Praying for Sheetrock, one of the best true stories ever told about coastal Georgia, U.S. 17 is practically a character. Greene quotes Sonny Seiler, the famous Savannah lawyer: "You can't learn anything riding down I-95 with the Yankees. You've got to go the old way, 17, what we call the old way."
As I set out onto Highway 17 from Savannah, I make two stops first along Ogeechee Road, which is still its name where the route heads out of town. The first is Laurel Grove, a cemetery cleaved in half by the I-16 off-ramp as it shoots traffic into the center of the city.
This cemetery was already split, though, and along familiar lines. Laurel Grove North opened in 1850 for white Savannahians, with Laurel Grove South added several years later for free and enslaved black people. Notable names rest in each segregated half: Girl Scouts founder Juliette Gordon Low in a tree-shaded plot in the north, the civil rights leader W.W. Law in the south. Law, who led the integration of Savannah, also helped preserve Laurel Grove South, spearheading the restoration of the gravesite of Andrew Bryan—who founded First African Baptist Church, one of the country's first black congregations, in the late 18th century. "There is no source that holds as much black history," Law told the Savannah Morning News in 1999. Laurel Grove North was established the same year as Atlanta's Oakland Cemetery and filled up quickly during the Victorian era; as such, it boasts one of the most concentrated collections of Victorian cemetery architecture in the Southeast. And both halves of Laurel Grove—rolling, verdant, and parklike, with strange old crypts and chipped stone markers—are lonelier than tourist-packed Bonaventure, of Midnight in the Garden of Good and Evil fame.
My second stop is Ms. Polly's Cake Giants, just outside of Laurel Grove South, to get a slice of sour-cream pound cake for the road. From here, Ogeechee Road angles southwest past motels and Mexican groceries and little flea markets—big ones, too. At the edge of Savannah, Keller's Flea Market draws hundreds of vendors every weekend to its elaborate warren of tin-roofed buildings. Everyone comes here, and they put everything up for sale: old windows and graduation gowns, alligator skulls and shea butter, $1,000 labradoodle puppies. Kobe Bryant memorial T-shirts, white sage smudge sticks, laundry detergent. Confederate bedsheets, door knobs, the collected teachings of the Honorable Elijah Muhammad. Latinx vendors at a small farmers market sell mangoes, plantains, tortillas, and cranberry beans.
There is also a taqueria or two, but I usually hold out for a taqueria about five minutes down the road, located inside an Indian and Mexican grocery store called Big Bazaar. Or I travel five minutes further, to the banks of the Ogeechee River, for Love's Seafood & Steaks, which began as a fish camp in 1949. It's still family-owned—that family being the Loves—and a reliable purveyor of fine dishes like lowcountry boil and fried Georgia shrimp (as well as a gorgeous spot to catch the sunset). Love's was also the alter ego of the rowdy bar in Forrest Gump where Jenny sings "Blowin' in the Wind" and tells Forrest—outside, on the Old Kings Ferry Bridge—that he doesn't know what love is. She also gives him the advice he'll carry forward: If he ever gets in trouble, just run.
Before being designated U.S. Highway 17, this road formed part of the Dixie Highway, one of the first paved interstate systems in the U.S. The Dixie Highway was hatched in the early 20th century to fuel travel to Florida, an emerging vacation destination, with construction beginning in 1915. The system stretched from Michigan to Miami; so many communities along the way clamored for their piece that two main north-south routes, with various tributaries, were eventually laid. In Georgia, the westernmost took travelers from Atlanta to Tallahassee; a diagonal connector, the Central Dixie Highway, cut over from Macon to Jacksonville; and the easternmost route followed "the old Oglethorpe road," as a 1916 article in Automobile Journal put it, from Savannah to Darien and beyond.
With the advent of the U.S. Numbered Highway System in 1926, the old road names disappeared, though not entirely. Traces of the label "Dixie Highway" linger here and there along U.S. routes. Earlier this year, Miami-Dade County commissioners voted to rename the last vestiges of Miami's Dixie Highway, which became Harriet Tubman Highway.
In any event, the roads stayed. Under the name Ocean Highway, in fact, Georgia's coastal route was the subject of a 1938 guidebook produced by the Federal Writers' Project. The roadside attractions kept coming—like the Midway Museum, built in 1959. A half hour outside Savannah on U.S. 17, the town of Midway was settled by descendants of Puritans who moved from New England and took up rice cultivation. Rice thrived in this region for the same reason the Midway Museum, designed in the style of an 18th-century colonial cottage, is raised several feet off the ground: the wet earth. The museum collects artifacts from the descendants of planters who lived in the area. When I toured recently, a guide pointed to an ornate organ which was once hidden from the Union Army in a swamp. The house is filled with artifacts like that—the tableware, bedspreads, and Bibles of the planter class, as well as a library of local history. This is not a sentimental portrayal of antebellum days but rather an austere depiction of the daily lives of people who prospered by enslaving others.
South of Midway, a town's very name reflects these origins: Riceboro, where a festival every November honors "the heritage of rice farming and the Gullah Geechee culture." (Rice was domesticated in West Africa 3,000 years ago; in recent decades, scholars have argued that its success in the New World depended on the agricultural expertise brought here by enslaved people.) Scores of people gather in a park alongside the highway and listen to music, hold a cook-off, and crown a pageant winner. RiceFest was founded in 2007 by, among others, the late Jim Bacote, who also cofounded the Geechee Kunda Cultural Center, a little further south on 17—a rambling repository of African art and other artifacts celebrating Georgia's Gullah Geechee people. Since the interstate opened 50 years ago, this area has been quiet: The road grew lonely and business dried up. "This whole town disappeared," the Midway Museum guide told me.
Heading south on 17, across the county line, one of the first things you'll see is the Smallest Church in America. It can be skipped if you're in a hurry. Picture a tiny church. Yep, you've got it.
Now, picture a country juke joint like in movies—ramshackle construction, eccentric decor, middle of nowhere. That's a better way to spend your time: by detouring to the Old School Diner, 10 minutes off Highway 17 down Harris Neck Road. Its exterior is decorated with shells and cast-iron pans and license plates, and its interior walls are plywood, plastered with thousands of pictures of folks who've dined here. This is a seafood place and a ribs place, where the item to order is the Wheelchair Platter—a sampler of whatever Chef Jerome, who opened the restaurant in 2005, is cooking. "It Will Astound You," the menu says. "What's on it, you ask? Well . . . Ben Affleck says, 'Why ask? Trust your Chef!'" (Ben Affleck owns an enormous estate on a nearby island.)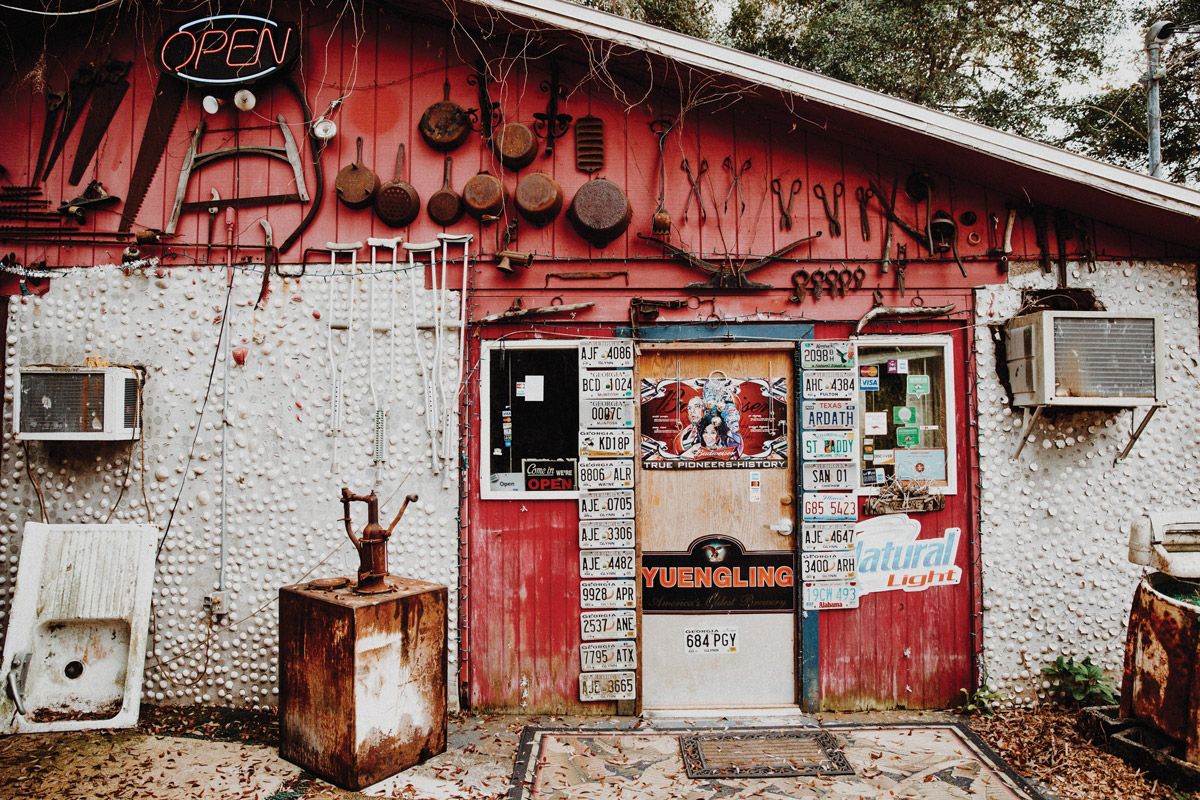 In the first half of the 20th century, travelers camped in empty fields when they stopped for the night. In McIntosh County, entrepreneurs got busy with motels, gas stations, restaurants, and produce stands—and organized crime. In Praying for Sheetrock, Greene vividly described the racket that roadside grifters created along 17 into Darien. Unsuspecting tourists would stop for a snack and find themselves lured into a gambling game they'd inevitably lose. "They were the county's greatest source of wealth," Greene wrote: "To this day, no one knows how many thousands—how many tens of thousands—of cash Yankee dollars of vacation money and retirement money were lost on that mile-and-a-half stretch of fruit stands under the pine trees."
Overlooking a distributary channel of the Altamaha River, Darien has the same population today as it did when Greene visited in the 1970s: about 1,800. Darien is maybe my favorite place on the Georgia coast. Its energy and eclecticism always surprise me. There's a palpable sense of backstory, a weird emptiness, and a few beautiful central blocks for wandering around, with old houses and churches, large and small—I've never quite figured out how I feel about Darien, which is the reason I keep going back to it. It's the kind of place that keeps you looking. Plus, there's the mesmerizing riverfront, where the masts of shrimp boats resemble a city skyline and marsh stretches for miles. A single intersection comprises most of Darien's downtown, but right there—at the foot of a river bridge—you'll find a store called Turnip Greens, selling local produce and sundry groceries; an antique shop; a Mexican restaurant; an honest-to-goodness wine bar; and Skippers' Fish Camp, one of two excellent seafood places in town. The other is B&J's Steaks & Seafood, which you'd think was the only place to eat for miles given how packed the parking lot is. B&J's serves the usual seafood hits and a soulful southern lunch buffet: fried chicken, mac and cheese, neck bones and rice, okra and tomatoes.
Darien is the second-oldest planned city in Georgia; Fort King George, a state historic site at the edge of the marsh, is the oldest remaining English fort on the coast. The town's fortunes rose and fell: During the longleaf pine boom, Darien was an international shipping port. It's still a fishing town, as evidenced by the guy who sells shrimp from the back of his truck at the Friendly Express gas station and by the Blessing of the Fleet, an annual spring festival when local shrimpers line their boats up in the harbor. Standing at the crest of the Highway 17 bridge, a priest calls them forth, one by one, and wishes them prosperity.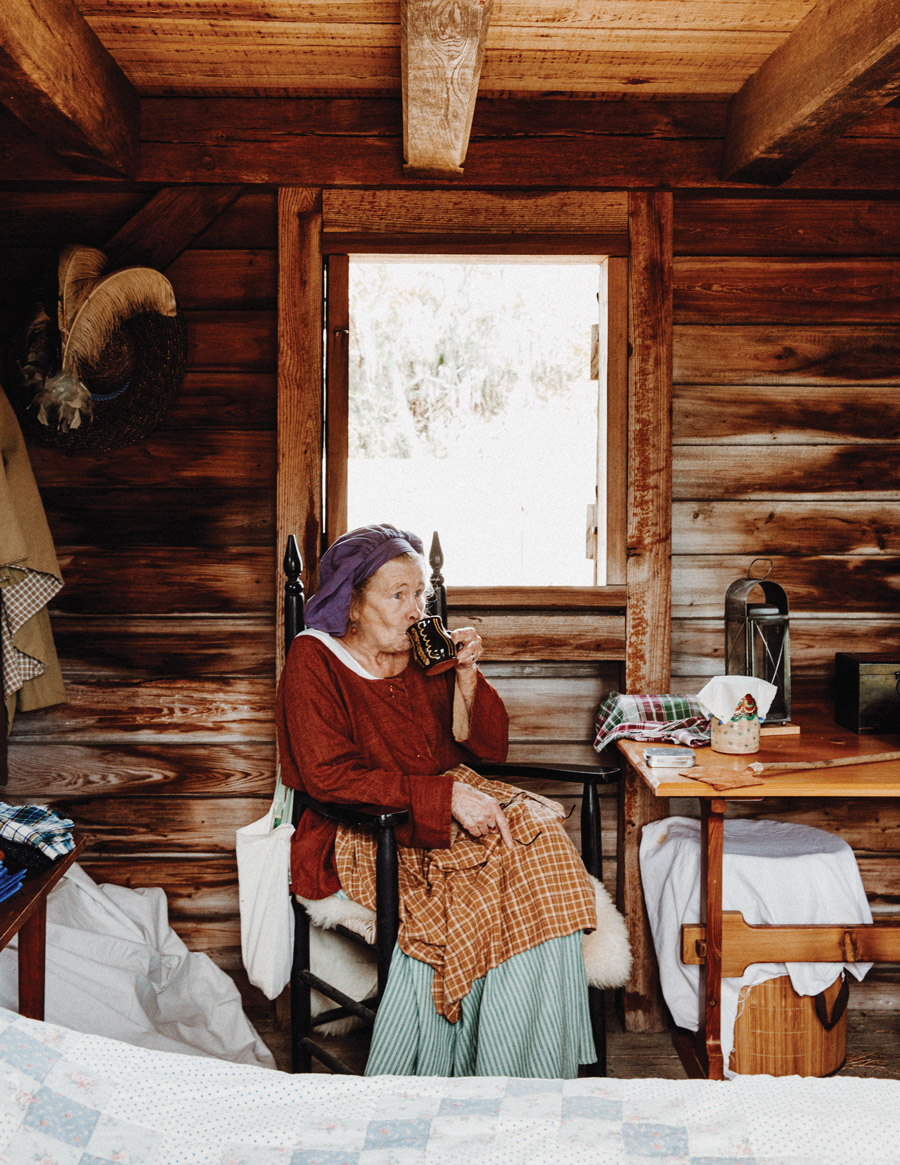 The land past that bridge feels like wild country indeed, somehow both denuded and overgrown, flat and swampy as far as the eye can see, cut through with old canals. Butler Island was the site of a rice plantation started by Pierce Butler, who signed the U.S. Constitution. Inherited by his grandson, Pierce Mease Butler, it has a legacy that has entered posterity thanks to Frances Anne Kemble, a British actress who married the younger Butler in Philadelphia in 1834. She had no idea, she wrote later, where his fortune came from; she was aghast to learn it was built on the labor of nearly a thousand people in his possession.
Fanny Kemble spent a winter on this island, and the book that resulted, Journal of a Residence on a Georgia Plantation in 1838-1839, is an unflinching look at slavery from a rare insider's vantage. Kemble hated it here—hated the degradation she witnessed, hated the white planters' wives she was expected to befriend, hated her cold, austere accommodations on Butler Island. She captured some of the lonely beauty of the place all the same: "If no human chisel ever yet cut breath," she wrote, "neither did any human pen ever write light; if it did, mine should spread out before you the unspeakable glories of these Southern heavens, the saffron brightness of morning, the blue intense brilliancy of noon, the golden splendor and the rosy softness of sunset."
The long, watery canals remain as magically luminous. You can learn agricultural facts about rice at nearby Hofwyl-Broadfield, a former plantation which is now a museum and historical site, but in my opinion, it is just as enlightening to stand somewhere on Butler Island and listen to the wind and watch the water. The old, empty, white house here was built by the incredibly named Col. Tillinghast L'Hommedieu Huston, a co-owner of the New York Yankees who purchased the Butler land in 1926 and started a dairy and an iceberg-lettuce farm. Now, weeds grow high all around. Locals fish off the bridge nearby, and alligators haunt the huge canals carved centuries ago by enslaved people. It's startling to walk through this tainted landscape, which nature is busy taking back.
"The splendid road into Brunswick is through the celebrated Marshes of Glynn, made famous in the poem by Sidney Lanier," trumpeted Automobile Journal in 1916. The marshes are still here today, but there's a lot more traffic. Past Brunswick, Highway 17 rises into the soaring Sidney Lanier Bridge before heading into the hinterlands and reaching, eventually, a blue bridge at the Florida line. It's a sweet drive. It's also a good idea to turn at Woodbine and head east to St. Marys, a jewel of a little town on the water, where the Cumberland Island Ferry docks. It has the same quiet allure as the other stops along this route—the coast behind the coast. Twisting live oak trees line Osborne Street as it leads in a straight line to the river, with Florida visible just across the water. There's a good bookstore down here, Once Upon A Bookseller, a submarine museum, and one of coastal Georgia's most convivial little bars: Seagle's Saloon, on the first floor of the 100-year-old Riverview Hotel.
Brunswick, often overlooked in favor of the tourist-packed islands it serves as conduit to, is also worth lingering in. Downtown is centered around a couple of wide thoroughfares that often feel a bit empty, though folks who live here have plenty of ideas about where to visit—particularly, to eat. Like Indigo Coastal Shanty, a place with the rare feel of a really good neighborhood restaurant: warm vibes, happy diners, and satisfying, well-flavored dishes like an Indian-spiced burger, Bahamian chicken curry, and plenty of seafood. On Newcastle Street, Tipsy McSway's is an amiable hangout with better-than-the-usual bar food and live music.
Like Savannah, Brunswick is laid out around a series of greenspaces: The Old Town feels like a compressed, more intimate version of Savannah's historic district. On a recent visit, I walked past blooming azaleas on my way to Lover's Oak—900 years old, its name taken from Native American lore—before looping back to Hanover Park. It was dusk, early spring. Nobody was around, but somebody had pulled a bunch of Spanish moss to the ground and arranged it into a sort of miniature labyrinth: found art or earth art or whatever you want to call it. A summoning circle, a magic circle, a talisman. A portal to the past or to the future. Or to someplace else altogether?
Where to stay
Thunderbird Inn
Savannah
A 1964 motor lodge remade in bright colors, boasting kitschy perks—like MoonPies and RC Cola in each room—and proximity to Savannah's historic district. Hip, pet-friendly, and definitely one of the most affordable downtown options.
Open Gates Bed & Breakfast
Darien
An elegant 1876 inn overlooking gorgeous Vernon Square, with well-
appointed guest rooms and—when it's in season—shrimp eggs Benedict for breakfast, among other goodies. "To-go" meals available for those eager to head out exploring.
Riverview Hotel
St. Marys
Come for the gorgeous river views from the second-story balcony, stay for the homey rooms, sweet service, and convivial little bar on the first floor of this 100-year-old building. Steps from the Cumberland Island ferry.
Brunswick Manor
Brunswick
Just down the street from the Lover's Oak, this fancy but affordable B&B features a koi pond and orchid conservatory (!), plus a large veranda for lounging. Just a short walk from downtown restaurants and shops, for those disinclined to lounge.
This article appears in our May 2020 issue.