In the eight years since we launched our annual Groundbreakers awards, we've celebrated cancer researchers, organic farmers, architects who've reimagined historic buildings, cryptocurrency pioneers, and more. But you could argue that no leaders are as critical as the ones working to save our planet. Maybe it's because Atlanta has long been the City in a Forest, but the metro area has birthed many visionary green leaders and organizations, from Southface to Trees Atlanta. This month we celebrate a few of these innovators who have found novel ways to champion our environment—and to include all ages, races, and orientations in their efforts. We reserve special recognition for the greatest green hero of them all, Ted Turner, and the family members who are helping spread his ideals.
By Mary Jo DiLonardo, John Donovan, Ken Edelstein, and Betsy Riley
Leigh-Kathryn Bonner
Bee Downtown
Since 2014
Pollinators
A fourth-generation beekeeper, Leigh-Kathryn Bonner wanted to keep a hive while attending North Carolina State University in Raleigh. When her apartment complex said no, the company she was interning for—the historic mixed-use district American Tobacco Campus—said yes. The headquarters for Burt's Bees was in the same development, and, recognizing a good branding opportunity, they asked Bonner to place a hive in front of their office. News spread, other companies wanted in, and her side gig grew into a full-time business: Bee Downtown.
In 2018, the project expanded to Atlanta. Now, in addition to its clients in North Carolina, Bee Downtown manages 100 hives here with 15 corporate partners including Cox, Chick-fil-A, Delta, Ponce City Market, AT&T, and Georgia Power. Both Inc. and Forbes have named Bonner, 26, among their Under 30 rising stars.
The Bee Downtown team installs and maintains the hives, but company employees enjoy learning about the bees—plus, they get to enjoy the honey. "As much as the companies love the sustainability piece of it, employees fall in love with the bees and want to put on the suits and be involved," says Bonner.
More than half of bee species are on the decline, and nearly a quarter are at risk of extinction. In the U.S., honeybees pollinate roughly $15 billion worth of crops each year, which make up a quarter of all food consumed across the country.
"When we put in the beehives, bees will pollinate about a three-mile radius in every direction, so companies are planting more pollinator-friendly plants and spraying fewer chemicals," Bonner says. "And as these radiuses begin to overlap, we've ended up creating 33 miles of connected, healthy bee corridor through the City of Atlanta from all these companies working together."
Since 1995
Clean Water
The West Atlanta Watershed Alliance was founded two decades ago on the heels of southwest Atlanta's struggle to battle discriminatory wastewater treatment practices. Now, the initiative has grown into a well-rounded sustainability organization. Its work covers the Proctor, Utoy, and Sandy Creek watersheds. Together, the three are impacted by a sewer overflow facility, 11 landfills, and four former Superfund sites.
In the mid-'90s, the city proposed a sewer-treatment facility in the Utoy Creek watershed at John A. White Park, located in a predominantly black neighborhood. Residents were already worried about raw sewage and stormwater overflows, so they organized to stop it. Next, they mounted a campaign to prevent an eight-mile sewage tunnel from northwest to southwest Atlanta.
"On the heels of those victories, WAWA was formed not only to be reactive to negative projects but also to put forth a positive vision as to how we could approach the land," says Na'Taki Osborne Jelks, cofounder and board chair. "We engage people in understanding how the quality of the environment impacts our health and our quality of life."
With just a few staff members, the group is mostly volunteer, including college students, community activists, and school kids. They host creek cleanup days but are also involved in much bigger projects. WAWA partners with the city to operate the Outdoor Activity Center, a 26-acre urban-forest preserve and nature center. WAWA also cares for the 135-acre Cascade Springs Nature Preserve and the 200-acre Lionel Hampton-Beecher Hills Preserve.
"Our work is to grow a cleaner, greener, healthier, and more sustainable West Atlanta," Jelks says. "It's all about getting communities engaged in protection, restoration, and stewardship. We help people understand how significant our watersheds and urban forests are to our livelihoods."
Since 2011
Recycling
A century-old former foundry in Southwest Atlanta's Oakland City neighborhood augurs Atlanta's future.
"It's got great bones," Lifecycle Building Center Executive Director Shannon Goodman says of her 70,000-square-foot base of operations. Goodman should know. LBC's raison d'etre rests on its ability to find value in old buildings and structures slated for demolition.
In 2011, the then Perkins and Will architect helped found Lifecycle, a nonprofit that salvages and sells materials from demolitions and renovations at its Reuse Center on Murphy Avenue. The effort—part of a coalition of similar organizations in other cities—got initial support from big players in Atlanta's design and construction community. On any given day, professionals can be seen loading up their trucks with deeply discounted construction materials, while homeowners search the aisles for one-of-a-kind door knobs or vintage windows. Nearly 200 nonprofits have received material grants. Available items are priced at 50 to 85 percent less than new materials.
LBC claims to have diverted from landfills 6 million pounds of tile, tubs, joists, lights, flooring, cabinets, sinks, ducts, doors, ornaments, and other materials. More difficult to calculate: the carbon-pollution reduction that comes with manufacturing and shipping fewer new products.
The board is now launching a green renovation of its own creaky complex. The rehab is designed to add floor space and to allow the organization to offer courses on reusing materials and saving energy, as well as to help them find better ways to do so. Goodman says team members already have set aside heart-of-pine joists that they found in a cleanup of the main building's decrepit mezzanine. The joists will be used for trellises to shade part of the building and save on cooling costs.
Construction is expected to begin in early 2020. Meanwhile, Goodman and her colleagues have an extra incentive to hunt for reusable materials.
"We're basically doing what we want everybody in the city to do," she says. "This is our opportunity to set a great example."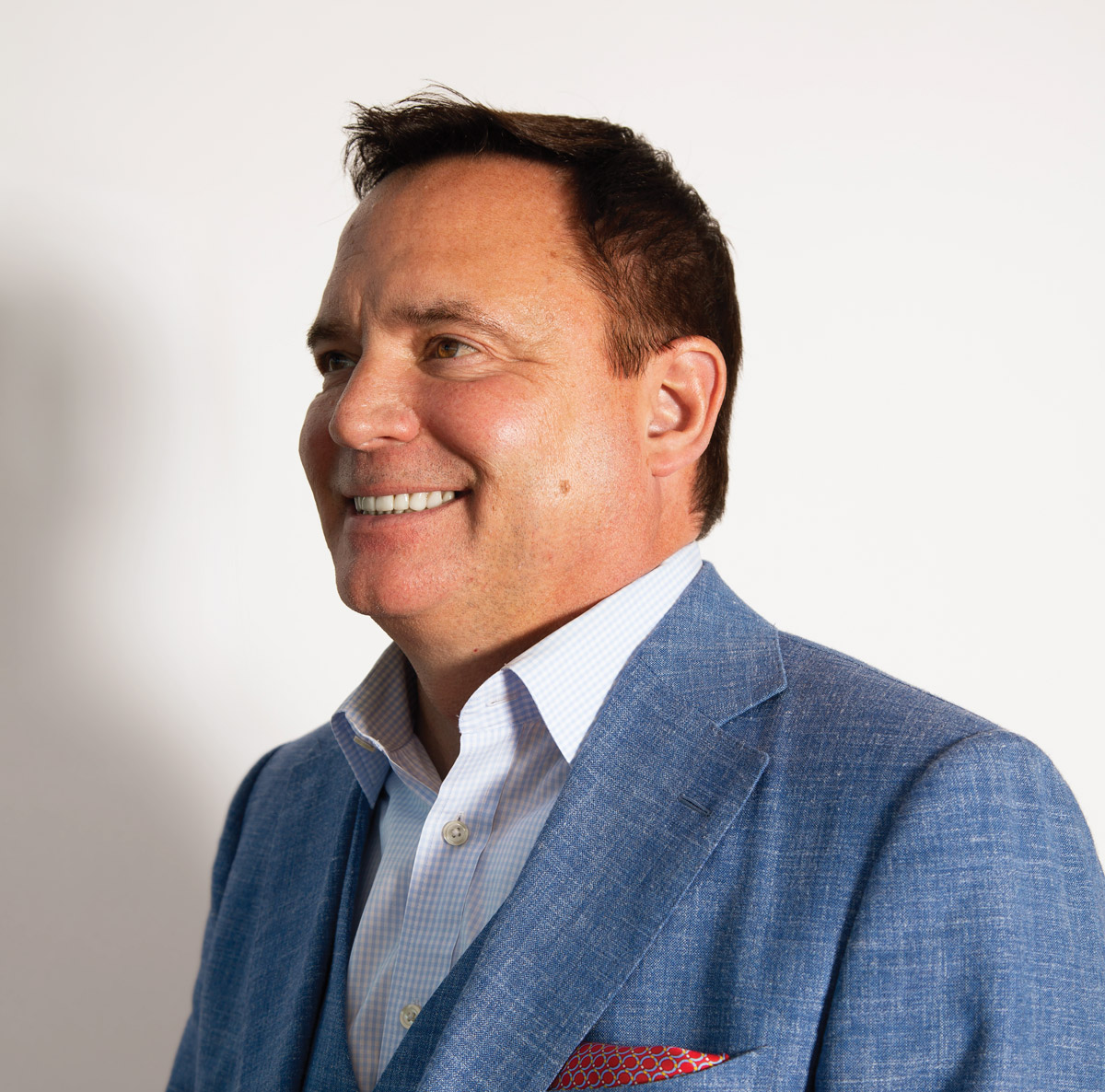 Jay Gould
Interface
Since 1994
Clean Manufacturing
Carpet-Making is a very dirty industry. Twenty-five years ago, a customer at Interface—which makes commercial carpet tile, luxury vinyl tile, and rubber flooring—asked the late founder Ray Anderson what the Atlanta-based company's policy was on sustainability. Anderson didn't have one and realized, I have to stop pilfering Earth's resources and eliminate the impact we have on the Earth, says the company's CEO Jay Gould.
The result was Mission Zero, a commitment to eliminate any negative impact on the environment by 2020. It was a bold proclamation at the time and one that many skeptics thought was unattainable. But Interface has made major strides. The average carbon footprint of their carpet is down 69 percent since 1996. Now, 89 percent of energy used at manufacturing sites is from renewable sources, and greenhouse gas emissions are down by 96 percent. Total waste sent to landfills has dropped by 92 percent.
"But 'doing no harm' isn't good enough anymore," says Gould, explaining the company's new sustainability plan, Climate Take Back. Every product the company makes is now carbon neutral through reengineered manufacturing processes, reduced emissions, or a small investment in carbon offsets. Here in Atlanta, Interface moved its headquarters from Vinings to Midtown across from the MARTA station so more employees could take public transit. They've also invested in a calculator that will allow architects, designers, and builders to track and reduce their carbon footprint when building.
Gould says, "We know that we're a small company, and, if we want to make a big impact, we have to create movement to get other companies to follow us."
Installing 1,000 square meters of Interface flooring, rather than traditional products, offsets the equivalent carbon emissions of nine round-trip flights between New York and Paris.
Since 2007
Corporate Values
Cox Conserves was launched as a company-wide environmental-sustainability program in 2007 with two main goals: send zero waste to landfills by 2024, and be carbon- and water-neutral by 2044. Twelve years on, the company is already 70 percent of the way toward meeting its zero-waste goal.
Company Enterprises chair Jim Kennedy, grandson of founder James Cox, launched the program, incorporating 435 different ecofriendly projects throughout three of the firm's major subsidiaries: Cox Communications, Cox Media Group, and Cox Automotive. Between those efforts and investments in external initiatives, the company has poured nearly $400 million into conservation.
For example, there are two solar arrays on the roof of its corporate campus in Dunwoody. And staffers are asked to throw food or paper towels in compost bins, not the trash. That endeavor makes a difference when you have 55,000 employees, who are encouraged to adopt similar practices at home.
The company recently invested in Sierra Energy, which offers a technology that can convert virtually all unrecyclable landfill waste into renewable energy, and in BrightFarms, a hydroponic greenhouse that uses sustainable agricultural methods. Cox has also collaborated with several other companies to purchase bigger chunks of solar energy. Employees receive incentives for installing solar-panel systems on their own homes.
"How cool is it that Cox is going to eliminate its environmental impact on the planet?" says Steve Bradley, Cox Enterprises assistant vice president of Cleantech Strategy & Investments. "I believe that Cox and Atlanta have the potential to be the clean-tech nucleus of the U.S. and potentially the world. That, to me, is really exciting, and something we don't get a lot of credit for. We're hoping to change that."
Cox Conserves:
148,000 tons of CO₂ offset
81 million gallons of water saved
170,000 tons of waste diverted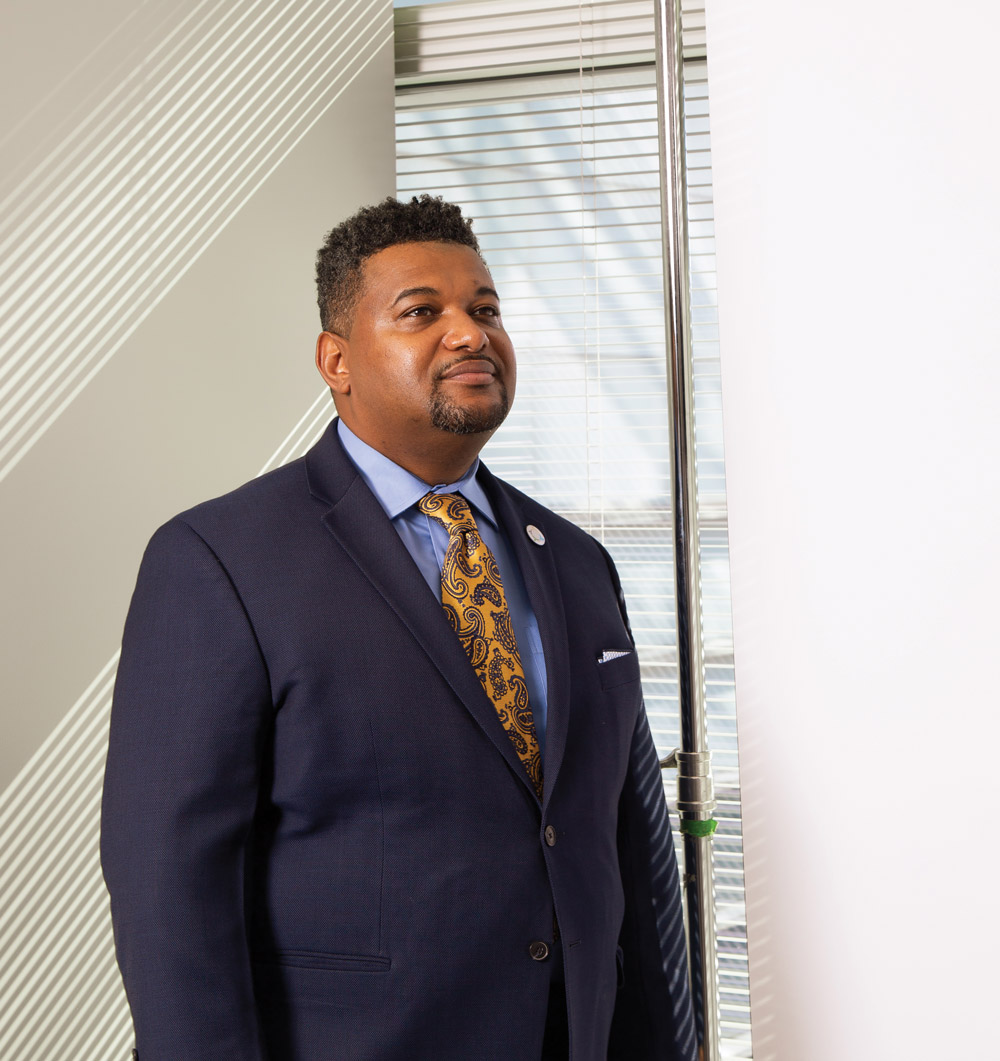 Nathaniel Smith
Partnership for Southern Equity
Since 2009
Energy
Nathaniel smith founded the Partnership for Southern Equity a decade ago to make sure all races and people get to share equally in the growing prosperity of metropolitan Atlanta and the South.
Minority leaders have noted for decades that mainstream environmental groups lacked the diversity to advocate for their concerns—despite the fact that pollution tends to hit communities of color the hardest. That's finally changing, in part, Smith argues, out of necessity. "The environmental movement is finally understanding that it needs more than just white people in the room," he says.
Grants and support from groups like Seventh Generation, the Kendeda Fund, and the Kresge Foundation have allowed Smith to assemble a staff of skilled, idealistic organizers. Of the nonprofit's four "work focuses," Just Energy ("just" refers to equity and justice and is not to be confused with the natural gas provider) has gotten the most attention, including a $1 million MacArthur Foundation grant to help communities of color cope with the rising costs of energy and climate change.
For example, staff organizer Wan Smith (no relation to Nathaniel) recently launched a campaign in East Lake to protest Georgia Power's proposed rate hike. Citizens who had never before been heard attended hearings with the Public Service Commission and weighed in on social media. "We have to let them know we're here," Wan says. "It may be unfathomable to us, but there are people who really don't believe that some people don't have an extra $25 a month to pay their power bill."
Megan Desrosiers + Alice Keyes
One Hundred Miles
Since 2013
Georgia Coast
As she hunkered down this past September in her Brunswick home, Megan Desrosiers could feel the urgency of her work staring down at her. It came in the form of the slow-moving, 20-mile-wide eye of Hurricane Dorian.
Six years earlier, she and fellow coastal advocate Alice Keyes had founded One Hundred Miles for the purpose of protecting Georgia's relatively undeveloped, hundred-mile-long coast from unprecedented threats. There are water-supply issues, poorly placed developments, and coastal erosion—not to mention sea-level rise associated with climate change.
"We spent our first six months together listening and learning as much as we could, both about our coast's unique natural resources and about the people who live here and love it," Desrosiers said. At first, veteran coastal activists were skeptical of the new kid. But whatever soreness existed was soon salved in the trenches. The new group brought existing stakeholders closer together by establishing the Georgia Coast Collaborative to coordinate on key issues; concrete victories followed.
In 2015, the Legislature approved a new, 25-foot, development-free buffer to protect salt marshes. Earlier this year, state lawmakers overwhelmingly voted to oppose oil exploration and development in Georgia waters, inspiring coastal congressman Buddy Carter to revoke support for drilling there.
Those successes owe a lot to advocacy that builds interest at the community level and relies on confrontation only as a last resort. Desrosiers's mantra is "educate, celebrate, collaborate." But, she warns, civility shouldn't be mistaken for lack of resolve: "We definitely will stand in front of the Capitol holding signs, and we definitely will file lawsuits."
Jasmine Crowe
Goodr
Since 2017
Food Waste
If you ever find yourself at a meal with Jasmine Crowe, the dynamic founder and CEO of Goodr, you may feel an urgent need to clean your plate. It's understandable. Leftovers are, literally, Crowe's business. She uses them to fight hunger, help businesses save money, make everybody feel better, and, for good measure, clean up the environment. "My friends and family are always eating all their food if they go out with me," Crowe, 35, says with a laugh. "They just think, Oh my God, you make me think about food waste . . . let me eat all my food because Jasmine's here."
From cooking spaghetti dinners for hundreds out of her tiny apartment in southwest Atlanta to launching Goodr in January 2017 (and, earlier this year, moving into the company's new environmentally friendly offices near the Atlanta BeltLine), Crowe has been one busy entrepreneur. The Charlotte, North Carolina, native has launched Goodr outposts in six other U.S. cities and plans for more. Going international is in her sights, too.
While volunteering with Sunday Soul, which feeds the elderly and those experiencing homelessness, she realized that businesses chuck a lot of food into landfills, which benefits nobody and is a major source of methane gas. According to the Environmental Protection Agency, Americans generated more than 78 billion pounds of food waste in 2015. The EPA says it is the single biggest material piling up in landfills today.
Goodr—like "do-gooder"—connects food-serving businesses with nonprofits that feed the hungry. It already has diverted more than 1 million pounds of food from landfills. Companies like Turner and Hartsfield-Jackson Atlanta International Airport call on Goodr, which picks up and delivers. A proprietary app tracks donations (hello, tax deduction) and analyzes where food is wasted.
It's a win-win-win for companies, the hungry, and the environment. "We're a force for good," Crowe says. "I love that."
According to the Environmental Protection Agency, Americans generated more than 78 billion pounds of food waste in 2015. The EPA says it is the single biggest material piling up in landfills today.
Yomi Noibi
ECO-Action
Since 1989
Community
The way Abayomi "Yomi" Noibi sees it, the power to change what demands to be changed, to fix what needs to be fixed, lies with the people. Sometimes, he says, you just have to point that out and get out of the way.
"We listen, okay? We listen, and we listen, and we listen," says Noibi, the executive director of Atlanta's ECO-Action, which helps people tackle environmental-health threats to their neighborhoods. "When communities come to us, most of the time, they are angry. They are frustrated. Through listening, we help transform their anger, their frustrations, into organized strategy."
ECO-Action—Environmental Community Action Inc.—focuses its efforts on underserved, vulnerable communities throughout the state. Over the past 30 years, it has paired with more than 150 groups to combat environmental hazards that often bleed into the politics and economies of the area.
For example, in 2012, ECO-Action partnered with several intown organizations to clear and recycle more than 3,500 illegally dumped tires. In 2014, Noibi and ECO-Action played a significant role in helping to organize the Turner Field Community Benefits Coalition to address concerns about development around the former Braves stadium. They also helped form agreements between developers and the City of Atlanta.
And for the past several years, ECO-Action has worked with other partners such as the Chattahoochee Riverkeeper and the City of Atlanta Department of Watershed Management. One time, they went to Taylor County to address tainted water and ended up working with a black-led group to restore voting rights.
Noibi, a native of Nigeria who studied environmental science and has a PhD from the University of Iowa, says, "We are about science. We are about the environment. But Eco-Action, really, is a social-justice organization, using the environment to get social and environmental justice for all."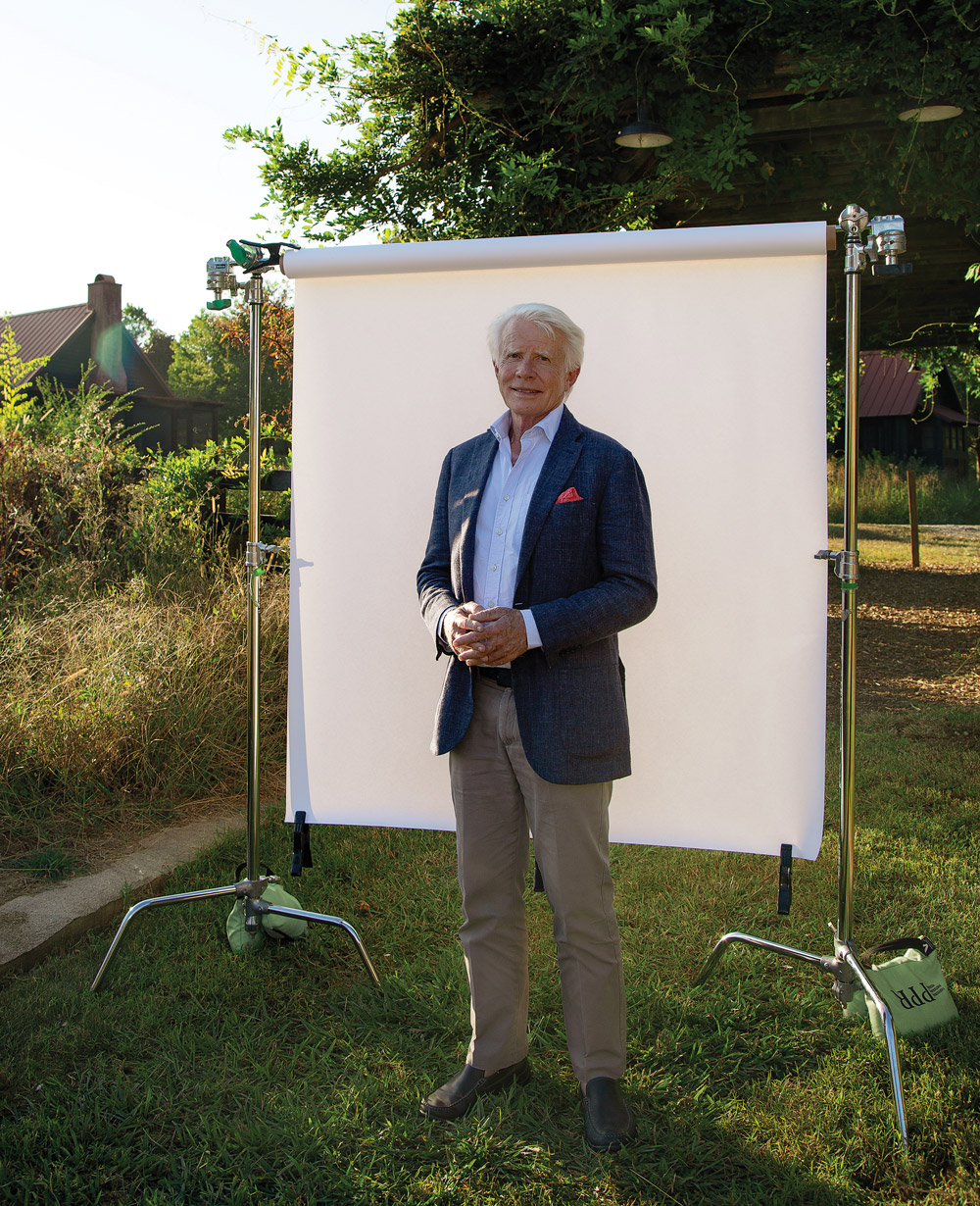 Steve Nygren
Serenbe
Since 2002
Biophilic Design
What began as a rural weekend retreat for former Atlanta restaurateur Steve Nygren and his family in 1991 is now a 1,400-acre community of more than 700 people in 400 homes. More impressively, this lush area of South Fulton County has become a global model of environmentally responsible development.
In 2002, Nygren joined with 500 local landowners around Palmetto to devise a unique zoning plan for their combined 40,000 acres that would keep 70 percent of the land untouched, while the remaining 30 percent grew into relatively dense, sustainably built villages. The unique approach offered a way to achieve what are often two contradictory goals: preserving the natural landscape and protecting property values. "I realized the only way to save the greater area was to develop part of it and show the balance between development and preservation," he says. With a name created by Nygren's wife, Marie—a combination of serenity and being—Serenbe was born.
So far, Serenbe consists of three hamlets, with 15 miles of nature trails, a 25-acre organic farm, weekly farmers markets, and edible landscapes, such as blueberry bushes along sidewalks. Wastewater is captured and reused for irrigation. Builders conserve energy by facilitating solar, geothermal, and net-zero energy homes. Commercial areas are located within walking distance of residences.
"Developers come from all over the world to learn how we navigated to actually do what we have done today," Nygren says. "Some call us new urbanists, but new urbanists are not [necessarily] environmentalists and don't have the preservationist or agriculture element." Nygren prefers the term biophilic design, which maintains that humans thrive best when they dwell close to nature and other living things.
"In 15 years, the entire conversation has changed," says Nygren. "When we started, many of the principles we were talking about were things coming from treehuggers and very-liberals. Now, this conversation has come to an economic model that works."
Since 2014
Transportation
A highway's an odd namesake for one of the world's greenest CEOs. That thought occurred to Harriet Anderson Langford five years ago as she returned home from the state Capitol, where 18 miles of Interstate 85 southwest of Atlanta had just been named for her late father.
Ray Anderson, founder of Interface Inc., was renowned for his late-career conversion into a corporate-sustainability evangelist. So, that evening, as she relaxed on her porch in Troup County, Langford turned to her husband and asked, "Phil, have you ever heard of a sustainable highway?"
The question inspired Harriet to steer a chunk of the foundation that her father had established toward a novel project. The foundation redubbed those 18 miles "the Ray." Then, they reached an agreement with the Georgia Department of Transportation to turn the strip into a proving ground for safe, sustainable transportation ideas and hired hotshot environmental executive Allie Kelly, formerly of the Georgia Conservancy, as chief road warrior.
The first few projects—each environmentally consequential—were detached from one another: The world's first drive-thru tire-pressure and tread-depth monitoring station. A solar-powered vehicle-charging station. Low-maintenance bioswale medians. Pavement made with recycled rubber tires.
After four years, however, the research lanes are starting to merge, and an astounding convoy of ideas is taking shape. First up: A megawatt solar farm is being constructed at the Ray's Exit 14. But what if, Kelly asks, those panels became more than simply a model for clean-energy projects that could be built along other highways? What if they also powered smart roadways to guide autonomous vehicles?
Listening to Kelly mix very big ideas might give you whiplash. Could right-of-way solar farms grow into a clean-energy grid along the ready-made interstate network? Could that grid deliver power to battery-powered tractor-trailers? To industrial facilities along highways? To cities? Could those smart 18-wheelers "platoon"—moving train-like in single file for safety and fuel reduction?
Sexy high-tech ideas have turned the Ray into a media darling. In 2017, the Weather Channel listed it as a Top 10 Way to Save the World. In 2018, Fast Company named it a World Changing Ideas Award finalist. With so many fresh innovations now rumbling down that 18 miles of highway, the recognition may be only starting.
Angelou Ezeilo
Greening Youth
Since 2007
Education
As a child growing up in Jersey City, Angelou Ezeilo looked forward to summers—when she escaped to upstate New York and got to spend time outdoors. Though she fell in love with nature, her parents didn't steer her toward a career in the field. "They didn't see images of little brown girls doing environmental stuff," she says.
Instead, the Spelman graduate became a lawyer and joined New Jersey's agriculture department. From there, she moved to the Trust for Public Land in both New Jersey and Georgia, where she helped acquire land for the Atlanta BeltLine.
"It was lonely because there was nobody there who looked like me and no pipeline, no mentorship, no nothing," she says. So, in 2007, she founded the Greening Youth Foundation to connect underrepresented youth and young adults to careers in conservation and the outdoors.
The foundation sponsors multiple programs, both locally and nationally, from school programs to youth camp-outs. They partner with land-management groups like the National Park Service and the U.S. Forest Service to offer internships, where undergraduates and graduate students help with tasks from bat research to geological surveys.
In 2014, GYF launched the Urban Youth Corps, targeting metro Atlanta college-aged youth who aren't in school. Students start at the Urban Conservation Training Institute, a historic farm in West End, where they learn green trades such as tree care, landscape management, and urban agriculture. After that initial training, participants are organized into teams and assigned to conservation-related tasks—and are paid for 40-hour weeks throughout the year-long program.
Ezeilo—whose book, Engage, Connect, Protect: Empowering Diverse Youth as Environmental Leaders, came out this month—estimates that 25,000 young people have participated. They may not stick with environmental careers, she says, but hopefully, they will be lifelong stewards of the planet.
LEGACY AWARD
Turner family
Few vistas in the world rival that from Machu Picchu. But when Ted Turner took his children to visit the landmark in Peru, his eyes were often at his feet, looking for and picking up trash. His oldest daughter, Laura, was surprised that the guide thought this was unusual behavior. After all, that's what her family did every time they visited the beach. The rest of the world may have thought of the America's Cup winner, CNN founder, and Braves owner as Captain Outrageous, but, says Laura, "growing up, we believed him to be the real Captain Planet and still do."
In fact, it is not a stretch to say that Turner has done more to save the Earth than any other private individual. With a net worth of $2 billion, he has already given away more than half of his wealth—with much of it going to environmental causes. He has five foundations: the United Nations Foundation (which he famously seeded with a $1 billion pledge), the Nuclear Threat Initiative, the Turner Foundation, the Turner Endangered Species Fund, and the Captain Planet Foundation (the latter was an offshoot of the animated television series he cocreated in the early 1990s). Over the decades, he has acquired 2 million acres in the Western U.S., plus three ranches in Argentina, to help save native bison, which had dwindled to a few hundred by the late 1970s. His personal herd now numbers more than 50,000.
Turner has also inspired his five children and 14 grandchildren. All three generations are helping lead the Turner Foundation. Here in Atlanta, Laura and her husband, Rutherford Seydel, cofounded the Chattahoochee Riverkeeper 25 years ago—successfully suing the City of Atlanta to force compliance with clean-water regulations. The Seydels also have launched or helped lead many other initiatives focused on clean air, healthy oceans, endangered species, renewable energy, and other green causes; their Buckhead home was the first LEED Gold–certified private residence in the Southeast.
The Seydels' oldest son, John, was recently appointed Atlanta's director of sustainability. His favorite story about his grandfather dates to when John was 10 years old. Turner had invited all the Montana-based Native American tribes to his Flying D ranch. John recalls, "When Grandpa's herd of thousands of bison came running over the mountain, many of the chiefs, and my Grandpa, broke into tears."
But in this family of big dreamers, the latest victory is literally quite small. Laura notes, "One of my favorite recent examples of the far-reaching reputation and living legacy of my family starts with the naming of a newly discovered marsupial frog species from the Andes region of Ecuador. Scientists honored our family's commitment to conservation within the name: Gastrotheca turnerorum."
This article appears in our November 2019 issue.