Gua Sha is a traditional Chinese technique for reducing pain and inflammation brought on by blood stasis or stagnation. Practitioners move pooled or stagnated blood by scraping a spoon, coin, or smooth-edged bottle cap across the skin. And when I say scraping, I mean scraping—look up photos of Gua Sha and you'll see raised red blotches, lines, and scratches. People say it doesn't hurt, but it sure looks like it does.
There aren't a lot of studies out there on Gua Sha, though one did find that the practice has "beneficial short-term effects on pain and functional status in patients with chronic neck pain." Another said that elderly patients with low-back pain could experience a more long-lasting anti-inflammatory effect from Gua Sha than a hot pack.
But to get any benefit for your back or your neck, you gotta go for the welts. The idea is to increase blood flow to the areas that need it most, creating cell turnover and, apparently, breaking up stagnation and congestion.
Thankfully a Gua Sha facial is not nearly as aggressive. It's more like a comforting, soothing facial massage performed with smooth and ridged discs, spoons, and other tools made from gemstones like jade and quartz. The treatment is said to lift the muscles, smooth the skin, bring fresh oxygen to the cells, and encourage production of good stuff like collagen.
I made an appointment for a Gua Sha facial with Marlene Webb, a licensed aesthetician and certified Nefeli Jade Stone Facial Therapist who operates her business, Vibrant-Glow Holistic Facial Spa, out of Decatur Healing Arts (an introductory hour costs $60; a four-week program costs $279).
With a kind and calming voice, she explained the history, science, and approach of Gua Sha. Then Webb showed me some before-and-after pictures. They're pretty convincing; many of these clients look like they've had a facelift.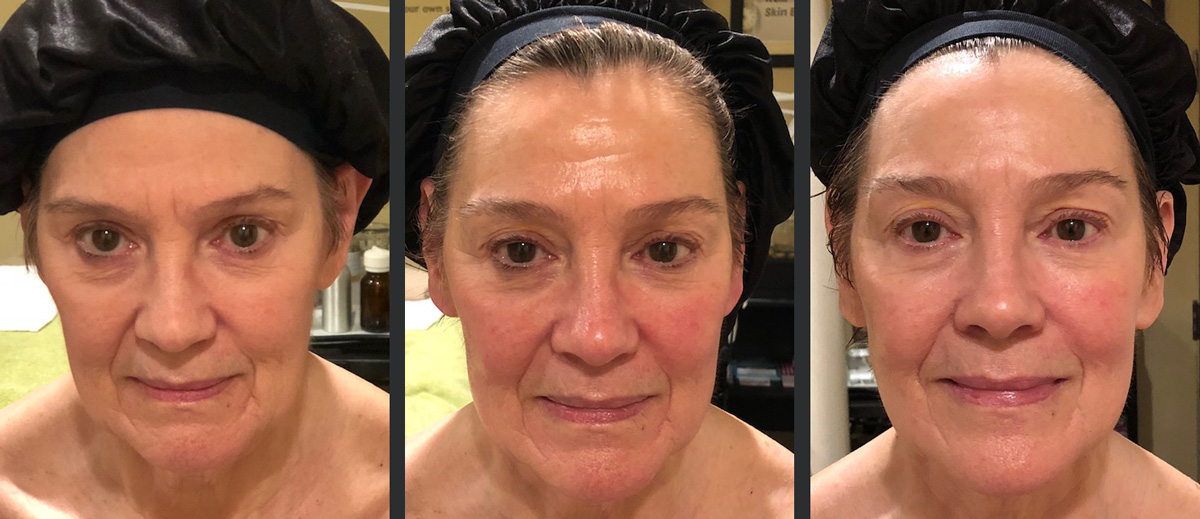 During my treatment, Webb performed a skin analysis, a deep-clean foaming face wash, a once-over with microcurrent wand, and finished with a facial massage with Gua Sha stones and a copper tool.
It was glorious, and not at all violent; I actually fell asleep several times during the session. And the immediate results were pretty impressive. The "11" lines between my eyebrows were gone, the horizontal wrinkles on my forehead were softer, and my jaw, cheeks, and brow bone were lifted. And I was actually able to express my surprise at these results.
"A lot of people are using Botox now, but that paralyzes the skin. Gua Sha strengthens the muscles of the face and relaxes wrinkles," Webb says.
As with any muscles, for real strength and results you need real dedication and consistency, which means going to see a specialist on a regular basis or performing some Gua Sha at home. Though I'd prefer to lie on her comfy, cushy table and have her knead and lift and gently pull my face into a better state every week, I can't afford it quite so often, so I bought some "jade" Gua Sha stones at Marshalls for about $8. (Note: some experts warn against using cheap knock-offs, and say they can irritate the skin.)
Mimicking her moves as best I can, I gently press the stones—shaped like puzzle pieces—into my clean and well-moisturized skin and then run them up my cheeks, along my jawline, across my forehead, and very gently under my eyes ("I see too many people who pull on that skin too much," Webb tsks. "That can cause bruising.").
After about a week of DIY facial massages in front of Netflix, my wrinkles aren't gone, but they've softened. My complexion is a bit clearer, there's less tension in my face, and there's a nice little flush to my cheeks. No pain, all gain. Do I look younger? Don't answer that. Do I feel good? Absolutely. So I'm adding Gua Sha stones to my skin care arsenal.