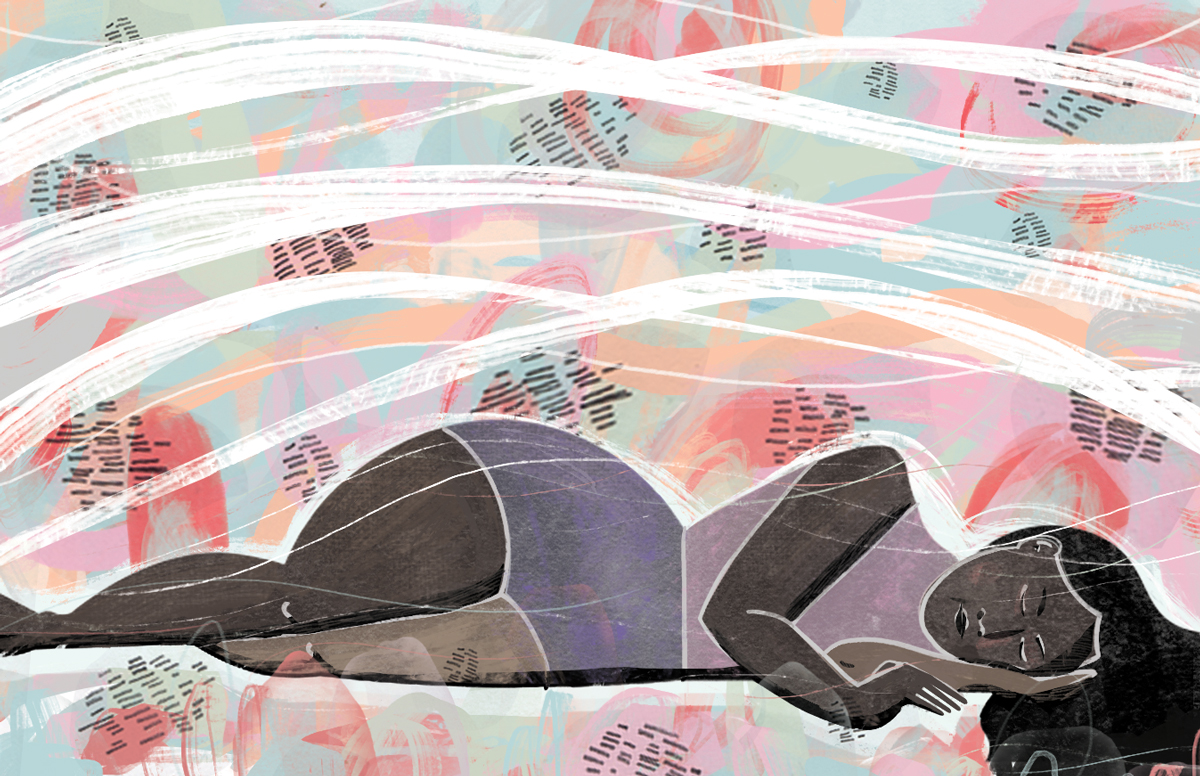 Tricia Hersey was bone-tired. It was 2013, and she had just begun the Master of Divinity program at Emory. The pace was rigorous. In lecture halls, Hersey felt unseen and unheard among her mostly white peers. The TV news—a seemingly inescapable loop of police brutality against black people—only intensified her stress. Two of her close relatives passed away unexpectedly. And one day, a thief snatched Hersey's backpack containing her class notes, her research, and her first sermon, which she was scheduled to preach in two days.
Overwhelmed, Hersey wanted to quit school. Instead, she started napping. She napped in the campus quad, in the library, in the upholstered balcony pews of Cannon Chapel. It was transformative, she says, and enabled her to keep going. "I was healing. Naps really saved my life in that way." Hersey talks about naps the way some people might describe a spiritual experience—because for her, that's what they are. "Sleep is such a vulnerable place, and I believe that when you rest, it's a healing portal," she says. "You have space to talk and vent, to hope, to dream. You can work things out you can't work out when you're awake."
The epiphany inspired her to research the idea of rest as both a healing mechanism for cultural trauma and a form of resistance against oppression. Hersey dug into the Emory library's African American history archives, researching the lives and legacies of enslaved Africans who labored on Southern land, including her own ancestors. She studied this history through the lens of black liberation theology. "It was this whole examination of labor in the South, and how bodies are commodified, and how capitalism and white supremacy help that," she says. Hersey talked to African Americans who'd lived through the Jim Crow era about how their decades-old trauma manifested physically. After exploring scientific research on how the brain uses sleep to process trauma, she became transfixed by the idea of rest as a form of reparations and sleep deprivation as an issue of racial and social justice. Rest wasn't just personal; it was political.
In 2016, Hersey founded the Nap Ministry, initially as a kind of performance art experiment. She hosted its first collective napping event, which 40 people attended, the following May at Colony Square, three years before Killer Mike espoused similar ideas with the "Church of Sleep" in his Netflix show Trigger Warning. Since 2016, Hersey has led a dozen similar events, in both Atlanta and her hometown of Chicago.
Those attending the group naps are provided with yoga mats, pillows, blankets, and music. Hersey displays a Sleep Altar with candles, an anthology of first-person testimonies from enslaved people, and cotton from Southern farms—"I always like to ground the room in the space of our people before us who weren't able to rest," Hersey says.
As the "Nap Bishop," Hersey, who's 44, opens each event with meditation. After an hour of napping, she leads the group in a "nap talk," wherein attendees can share any discoveries unearthed during their rest. Typically, at least one person sheds tears. "I really feel like we're deprogramming people," she says. "We're pushing back against these systems telling us we should feel guilty for laying down and taking a nap."
In April, Hersey announced a series of similar events held on the first Wednesday of each month at Oakhurst's Yellow Mat Yoga. Studio owner Siha Collins met Hersey last year at an event for Lead to Life, a group of activists who volunteered to collect soil samples from lynching sites for an exhibit at Montgomery's National Memorial for Peace and Justice. After the soil collection, they gathered at Yellow Mat with the jars of soil. Hersey led a ceremony for resting and remembrance. Her mission and ideals resonated deeply with Collins. "Resting was a skill I just didn't have," Collins says. "All of us need to learn what she's teaching. Everybody knows what it's like to need good sleep."
Hersey's sermon will soon reach a wider audience. Filmmaker Ebony Blanding first met Hersey four years ago and attended her first collective nap last year. She finds Hersey's ideas revelatory: "Beautiful and so compassionate, but also so radical." This fall, Blanding will direct And So They Rested, a 30-minute film starring Hersey proselytizing. "Instead of Tricia preaching about God, she's preaching about rest," Blanding says. The film, for which Blanding was awarded a $1,500 grant by Idea Capital, will be released in 2020.
Hersey hopes to secure a "nap temple" for the Ministry, which she envisions as a haven for anyone in Atlanta. Longer-term, she hopes to cultivate and build a movement around the idea of rest as radical resistance. "How can we resist these toxic systems that want us to be disconnected, that want us to work 80 hours a week, that want us to feel like we're not worthy unless we're producing something? This isn't just about naps."
This article appears in our May 2019 issue.