Some say that brown furniture is back—some say it never left. An old piece can add history, warmth, and a collected vibe to a room, whether in a traditional space or juxtaposed with modern elements. Fortunately, Atlanta is a hotbed for antiques, with trade-only and retail sources ranging from dusty markets to pedigreed showrooms. Five designers give their takes on where to find the best old pieces in town and how to keep the look fresh and never fusty.
Loren Taylor Interior Design's pick
Travis and Company
What: Founded more than 40 years ago as Donohue and Travis by Eden Donohue and Dotty Travis, this trade-only showroom at ADAC is still family owned, specializing in French antiques, acrylic pieces, and an exclusive upholstery line.
Hunting for: French Moderne, Louis XV, Louis XVI, Directoire, Empire-era pieces for a classic, glam look
Best find: A patinaed pair of small, mirrored Moderne chests. "They were the room and background simultaneously," says Taylor. "When a certain light poured into the room, it was like a crack in a cavern had revealed some undiscovered dimension. I used them in a guest bedroom, where there was a depth challenge for side tables, with gorgeous chrome Stiffel ball lamps."
Designer tip: "I always use antiques and vintage pieces in every space, but the secret is to have restraint when using them," says Taylor. "Often, we want these sterile rooms with white everything and clean lines, but it's pleasing to insert a spot of visual tension with antiques." ADAC, travisandcompany.com
Patricia McLean Interiors's pick
Miami Circle area: Foxglove Antiques & Galleries, William Word Antiques, Architectural Accents
What: A selection of go-tos open to the public on and around Miami Circle and Piedmont, offering everything from neoclassical commodes to antique hardware
Hunting for: Everything! English, French, and Italian furniture, art, accessories, lighting, and hardware all in one place.
Best find: All the antique mantles at Architectural Accents. "I love to build clients' rooms around them," says McLean, who is a past honorary design chair of the Cathedral Antiques Show. "One favorite client loved their French mantle so much that I designed bookcases my furniture makers constructed to complement it." Other favorite finds? Chandeliers and antique hardware. "The first thing I bought for my own condo was an antique doorknob for the powder-room door," she says. "I see it every day and love it."
Tip: When you trust the sources, don't be afraid to shop online. Says McLean: "William Word's website is always up to date, and their emails and Instagram posts are current and clever. I actually buy from the posts sometimes!" The Shops of Miami Circle, miamicircleshops.com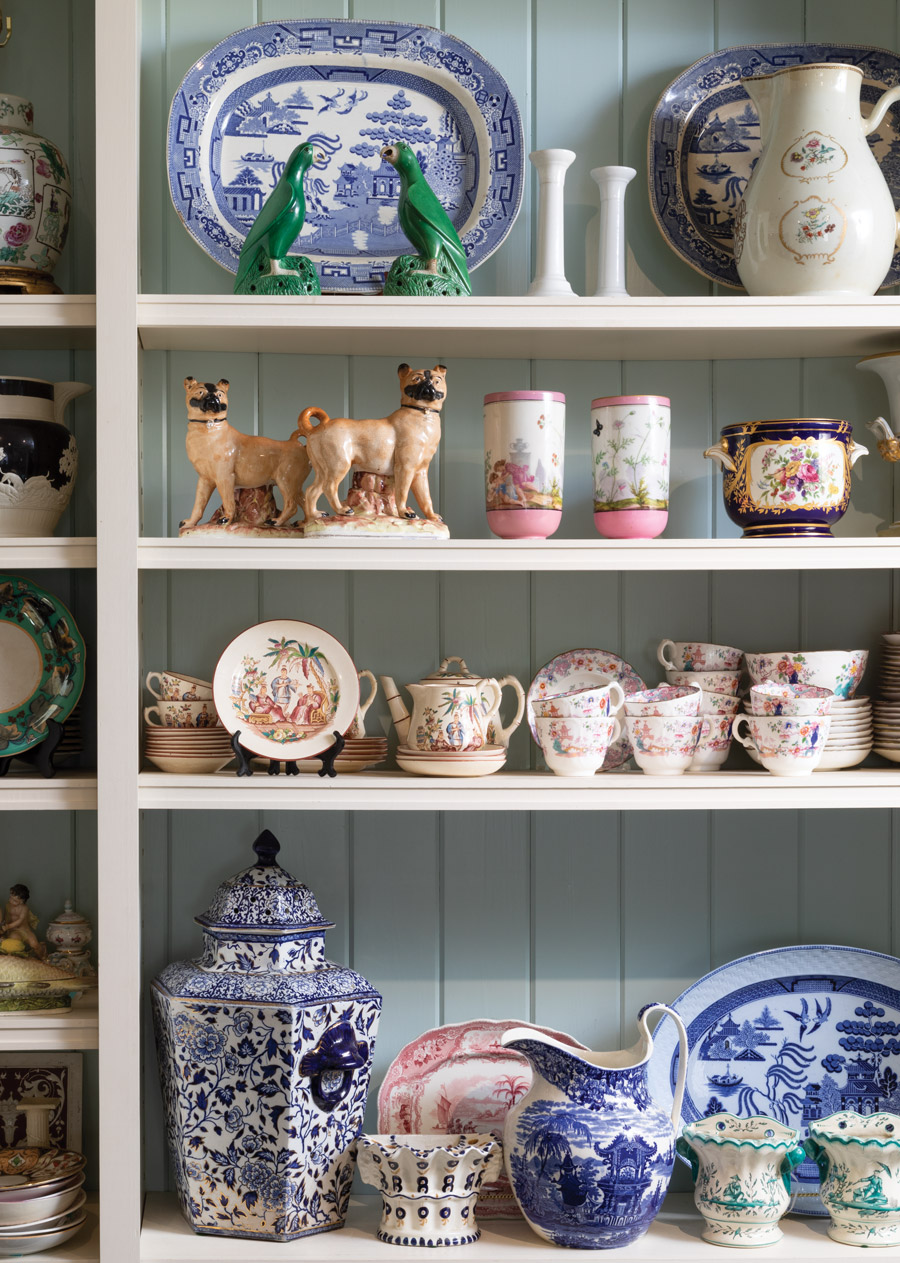 Jared Hughes Design's pick
Parc Monceau
What: A three-story townhouse in the Galleries at Peachtree Hills featuring high-end, classic, and global 18th-century to midcentury antiques
Hunting for: "We look for clean-lined, antique, wood pieces like Georgian sideboards or Hepplewhite secretaries," says Hughes. "We love fun plaster pieces in organic shapes, which lend an air of whimsy to the design." Other things on his list? Pastoral oil paintings, Indian peshawars, gilt Italian pieces, unique boxes, bone-inlay furniture, chinoiserie, or japanned pieces.
Best find: A Regency-style recamier for a client's master bedroom
Designer tip: "Look for pieces with clean lines and classic elements and color patterns," says Hughes. "Then, style and add in color with smaller accessories, fabrics, and paint." The Galleries at Peachtree Hills, parcmonceauatl.com
Anna Braund Interiors's pick
Robuck
What: Kristen Marooney Walls and Shane Robuck have been importing 17th- to 19th-century antiques from Europe since 1994, with a shop in the Galleries of Peachtree Hills.
Hunting for: 17th- to 19th-century tables and case goods—anything with a story
Best find: A pair of leather-and velvet-upholstered club chairs, circa 1910, from the English Edwardian period. "The leather was in near-perfect condition and maintained the original patinaed brass nail heads and velvet cushions," says Braund. "They were so unusual in that they required little restoration."
Designer tip: "Antiques give a room its history and heart, but I enjoy a juxtaposition of form, texture, and color because it allows the eye to rest," she says. "If you find an antique from the Italian Baroque period that is muddy in color and heavy in ornamentation, complement it with a clean-colored sofa with straightforward lines." The Galleries at Peachtree Hills, robuck.co
Shayelyn Woodbery Interiors's pick
Interiors Market
What: A 10,000-square-foot warehouse of multiple vendors offering modern, antique, and vintage goods and art, china, and accessories from a wide range of styles and periods. Also, a new French cafe.
Hunting for: "I gravitate toward unique pieces with intricate details that set them apart," says Woodbery, "like ornately carved woods— especially on chairs and the legs of tables—water gilding, hand engraving or filigree work on brass pieces, inlaid wood, and unique hardware."
Best find: An early 19th-century landscape oil painting for the family room in an Inman Park project Designer tip: Mix it up! "I typically include at least one or two antique or vintage pieces in every space that I design," says Woodbery. "I feel like including antiques is essential to a space feeling collected and not fabricated. In my home, I have antiques from multiple periods and styles all mixed together." 55 Bennett Street Northwest, 404-352-0055