"Miami Circle" is a bit of a misnomer. First, it's hardly a circle at all but rather a half mile–long cul-de-sac known for specialty decor and design shops. Second, there's nothing "Miami" about it, aside from the pair of palm trees flanking the sign at the entrance off Piedmont Road in Buckhead. (It's said to have taken its name from Miami Window Company, an early tenant.) Long associated with fine antiques, the district has experienced a renaissance in recent years and is better than ever for art, accessories, and one-of-a-kind finds (and, yes, it's open to the public). Designers Julie Montgomery and Michele Gratch of Montgomery Gratch Interiors, who have an office on the Circle, helped us narrow down stops on a shopping tour.
Art
There's a reason Anne Irwin Fine Art has been around for more than 30 years. The friendly vibe and attainable price points make this punchy, fun gallery a great stop for new collectors. Montgomery and Gratch go to discover the next local art darlings, like painters Blayne Macauley and Kit Porter. At Pryor Fine Art, find a delightful selection of abstract art, figurative painting, and sculpture, and don't miss Elizabeth Stockton's dreamlike landscapes or Anke Schofield's animal paintings on wood. For a museum-like experience, drop in to the blue-chip Alan Avery Art Company, which relocated to the Circle in 2016 with world-class names like Romare Bearden, Robert Rauschenberg, and Helen Frankenthaler, and local stars like Harriet Leibowitz and Bob Landstrom.
New Furnishings & Accessories
Miami Circle's latest addition, Topography Home, opened last fall when Chris Campbell turned his long-running e-commerce shop into a sleek brick and mortar. Find glam designer favorites like Noir, Regina Andrew, Arteriors, and Caracole on display to order, with full selection on mounted touchscreens. A grab-and-go room is stacked with cocktail tables, small light fixtures, pillows, and tabletop treasures. The approachable Acquisitions is filled with classic upholstered furnishings, European antiques (walnut buffets, bamboo side tables), on-trend Visual Comfort lighting, and the shop's reproduction painted furniture. Montgomery and Gratch often pop in for accessories like picture frames, nesting trays, and pillows. At Bed Down Home, find groovy consoles and pretty mirrors—plus, its new Design-Your-Own collection of beds, sofas, and case goods, which allows for customizing bases, fabrics, finishes, and embellishments to create your own look.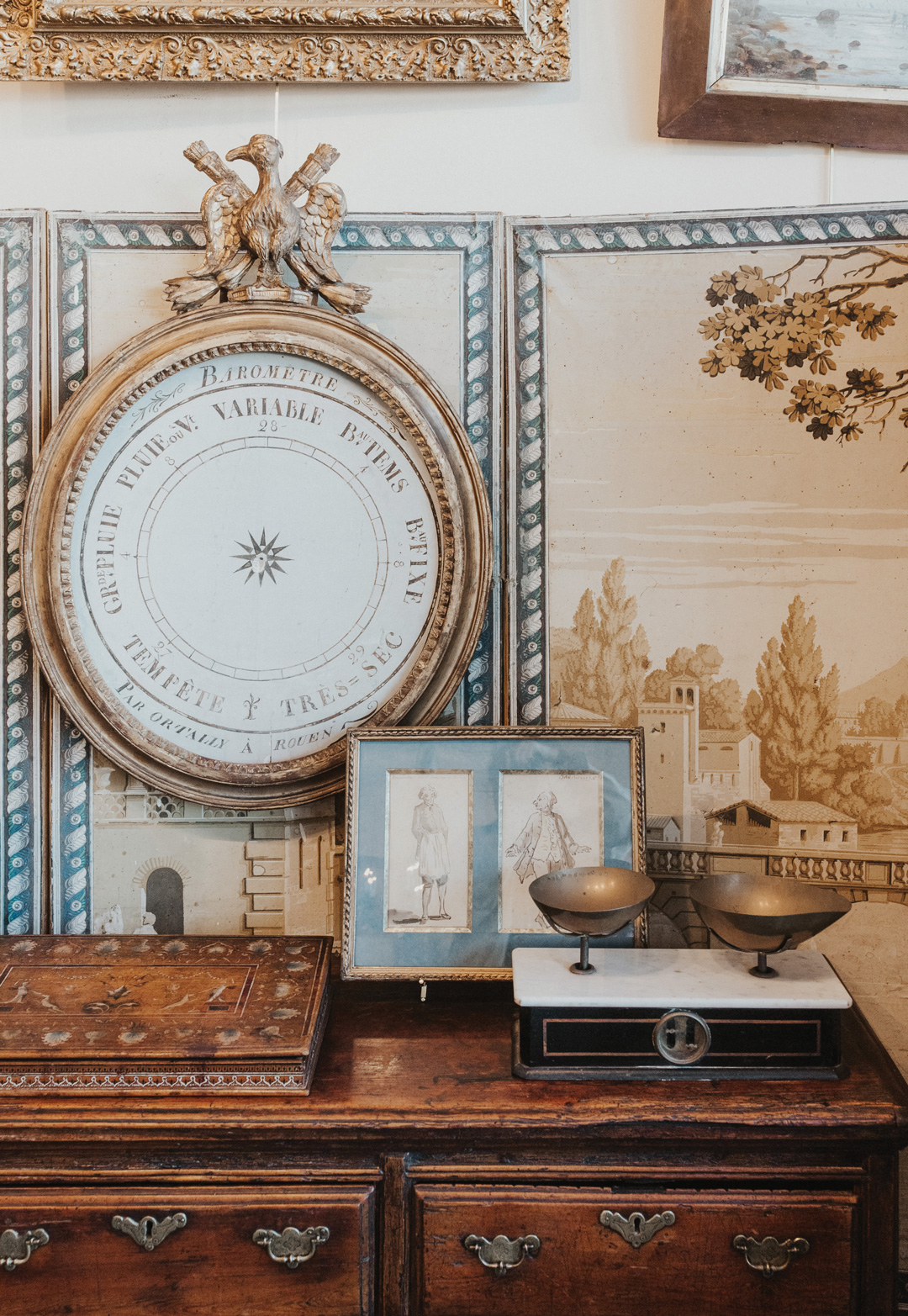 Vintage & Antique Finds
Furniture consignment is rare in Atlanta, and the relatively new Mélange offers a wide array of styles, from art nouveau to contemporary. "It's a mishmash but super interesting," says Gratch. Now, it's expanding to make more space for its offerings, like modern Mitchell Gold + Bob Williams tables and Minton china. Foxglove Antiques & Galleries features 15 international antiques dealers with spreads primed for merry browsing. "We'll go here for things like one-of-a-kind pieces—antlers or a platter or a gorgeous clock," says Montgomery. Look for a pop-up cafe concept this spring. Patinaed French farm tables, rustic ladders, and old garden furniture hanging from the ceiling make for a fun display at the Nicholson Gallery. "If you want one very fine talking piece," says Montgomery, "go to William Word Fine Antiques." The family-owned store, a mainstay of the neighborhood and serious collectors, recently got its biggest shipment ever of European antiques, including 17th century Baroque chairs and 19th century cloisonné urns. Watch as pieces are refurbished on the floor.
Tile & Stone
California-based Walker Zanger opened its spiffy new showroom last year and just released three new artisan tile collections, including a fashionable terrazzo. "This is for your not-so-basic tile," says Montgomery. "It's your 'accent wall in the master shower' kind of tile." Find a huge variety of colorways—and price points—as well as ancient stone slabs. Montgomery and Gratch also recommend Miami Circle Marble & Fabrication for slabs; they often have remnants (leftovers from big slabs), which can mean deals.
Rugs
For the trade, Montgomery and Gratch swear by the cut rugs at Miami Circle Floor Coverings from the likes of Nourison and Missoni. For antique beauties, visit Vintage Persian Rugs, often a hot vendor at Scott Antique Markets. Shop here without the wait or the crowds.
Get Organized
Get your closet consultation at California Closets, and donate any unwanted items to Buckhead Thriftique, which not only sells used items—now, including furniture—but gives them away to those in need.
There's more…
Attend an Auction
Ahlers & Ogletree hosts lively all-day bidding events on art, jewelry, and furniture, complete with drinks and hors d'oeuvres.
Add a Bonus Stop
While technically just north of Miami Circle on Piedmont Road, Architectural Accents is a must-visit for those who love history and a hunt. Rooms go on and on, with scores of tiles from historic homes, bathtubs, iron railings, and racks of antique hardware. Mantelpieces date to 1720 (prices range from $2,000 to $60,000).
Know Before You Go
Check open hours. Miami Circle is a ghost town on Sunday, and some shops are even closed or limited on Saturday.
This article appears in our Spring 2019 issue of Atlanta Magazine's HOME.