In Milton, a former intown diehard found suburban bliss
Debra Shigley | Freelance writer, TV journalist
In my mind, I'm a very cosmopolitan, urban person. I've lived in New York, Mexico City, Atlanta. And I never, ever in a million years thought I'd move to the suburbs. I would drive outside the Perimeter—for work, maybe doing a story—and almost get hives.
We'd been in East Lake about eight years. We had five kids [ages two to 10] in a four-bedroom—a good-sized house for intown, newer construction right by the golf course—a live-in au pair, and a second nanny. But there was never going to be a guest room. So, we were kind of soft-looking, just passing thoughts, no action.
When everything started happening with Covid, my husband and I were working from home, and the kids were all virtual. What shifted is not this idea of wanting to have more space in the 'burbs; it was, What if life really revolved around my nuclear family unit? Is this the best we can do? I'm not going to museums. I'm not going out to dinner. Date night is like once a year—it takes two babysitters. It all kind of came into focus with quarantine.
I don't think I'd ever even been to Milton. We just started driving around a bit, a couple of weekends. It felt like we were going to Tennessee, really. I believe in God and faith, and I just felt there was a wind pushing us in a different direction, but it wasn't very definitive. We wanted an amazing school system and more space. My husband really wanted a pool. And I, for some strange reason, really wanted a barn. I didn't have any animals, but it was just this image of pastoral bliss. Like, one day, my kids might get married in this barn.
Our Realtor sent us a video of this property. It had the barn, the pool, a playing field—just this unicorn. Four families saw it the next morning. We toured it and thought there was no way we'd get this house. It was my little Joanna Gaines dream. After a night of two bottles of wine, we raised our own offer. The next day, our agent called: "You got a house in Milton! Woo-hoo!" We closed in September.
We have a little under four acres. It's sort of like a farmhouse, built in 1993, about 7,500 square feet and six bedrooms, wraparound porches where I spend a lot of time writing or doing yoga. There's a garden beside the house with a potting shed. We inherited the former owner's two pot-bellied pigs.
The number one, life-changing [benefit] is that the school bus arrives at my front door and picks up my children at the crack of dawn, takes them to school, and brings them home. This has dramatically changed my life. When I'm forcing my kids to get off their devices and go play, there are a lot of options. Sometimes, we just sit and watch the birds—swallows, pigeons, bluebirds, finches, blue jays. I appreciate how magical this place is, but Publix is right down the street.
I loved my life in East Lake—our neighbors, the experience. There was never this feeling of, Oh, we've got to get out, we're bursting at the seams. We'll see what happens. In the meantime, this feeling of giving our kids this experience they don't even fully appreciate yet—we'll be able to look back and feel that was really special. I think that was the driving hope behind making such a big change.
A Cobb County expat ditched her massive house for a cozy intown condo
Anna Caraballo | Former co-owner, Atlanta Movie Tours
With Atlanta Movie Tours, we took people around by huge buses to show them where everything was filmed. It's pretty hard to get people on a bus when there's a global pandemic. We closed it up completely. There was no foreseeable future where it was going to work, and it was an incredibly hard decision. But things happen, and they happen for a reason.
We lived on a preserve in the middle of East Cobb. Six thousand square feet, five other houses in the neighborhood, completely secluded, had to drive the car to go anywhere. Two cars in a three-car garage because our son moved out. My husband and I looked at each other and said, This is ridiculous. There are rooms that we don't see for months. What are we doing?
I ended up listing it on my own in maybe July, for sale by owner, and, 10 days later, we got an offer. Really, it was the best time to sell, to not let the pandemic stand in our way. The buyers lived in Buckhead, looking for more of a suburban neighborhood, doing what I think most people are doing right now.
Midtown checked all the boxes: walkability, the people, location. You don't need a car here at all. I walked to the dentist this morning, a half mile. The vet is a mile away. Every morning, I'm in Piedmont Park. Literally, we have this bubble, and we're making sure we don't have to drive in it.
We bought near the top of a high-rise. An 800-square-foot condo. It's almost like the whole building is our sanctuary now. If I want a patio setting, I'll sit outside on the club deck and look out at the skyline instead of a creek.
It's definitely been challenging coming to a place where, when the elevator doors open, you have to make the decision of whether you're going to step in with the other people or wait. It's almost like island life, where you can't be in a hurry. And social distancing goes out the window when dogs are involved. I don't know if our dog [Pai Mei, a shih tzu] knew what another dog was before; but when he spots one on the sidewalk now, all of a sudden, that other person is right in your face, so your dogs can meet. Pai Mei wasn't used to people, or noise, but he likes it.
Some people were definitely curious why we decided to make this move now, of all years. There are concerns with the pandemic, with violence in the city. We've met a lot of empty-nesters, but nobody that's done it during the pandemic.
Not one regret. It's an entirely different world, and the freedom to be able to leave your house and walk practically anywhere, to anything you want to do, it's unbeatable. I don't understand why everybody wouldn't want this.
For this new Atlantan, lockdown in a high-rise was too much
Hannah Katherine | Financial analyst, blogger
I moved directly from the University of Delaware, where I graduated, to work in finance in Atlanta, sight unseen. I took a one-way flight on June 2, 2019. I didn't come down with a car, and I'd always wanted to walk to work, to be in the heart of a city. I did a lot of research, and Midtown with its nightlife and restaurants just made sense.
We started working from home in early March, a week after I started my blog, Belle on the Beltline. Midtown has so much construction I couldn't focus. I was just listening to jackhammers, and there was terrible smoke, so I couldn't use my [third-floor] balcony. They would start at 6 a.m. And from a Covid perspective, it was impossible to go outside and avoid people if I wanted to take a walk. All the reasons I'd moved there—the nightlife and the restaurants—I wasn't really utilizing as much. A lot of what I was paying for in that building were the amenities, and with Covid, they were closed. I was like, Why am I paying $2,000 per month for two outdoor pools I can't use?
A friend of mine, we were both working from home and pretty lonely, so we moved into an apartment on the BeltLine in Old Fourth Ward. Now, we have greenspace everywhere. Even simple things like not having to use a lobby elevator have been nice. I decided to get a scooter for only, like, $300 online at Walmart. I can go from one end of the BeltLine to the other in eight minutes. I'm walking distance to Kroger. It sounds silly, but it's quiet and peaceful, nice to get up in the morning and hear birds instead of jackhammers.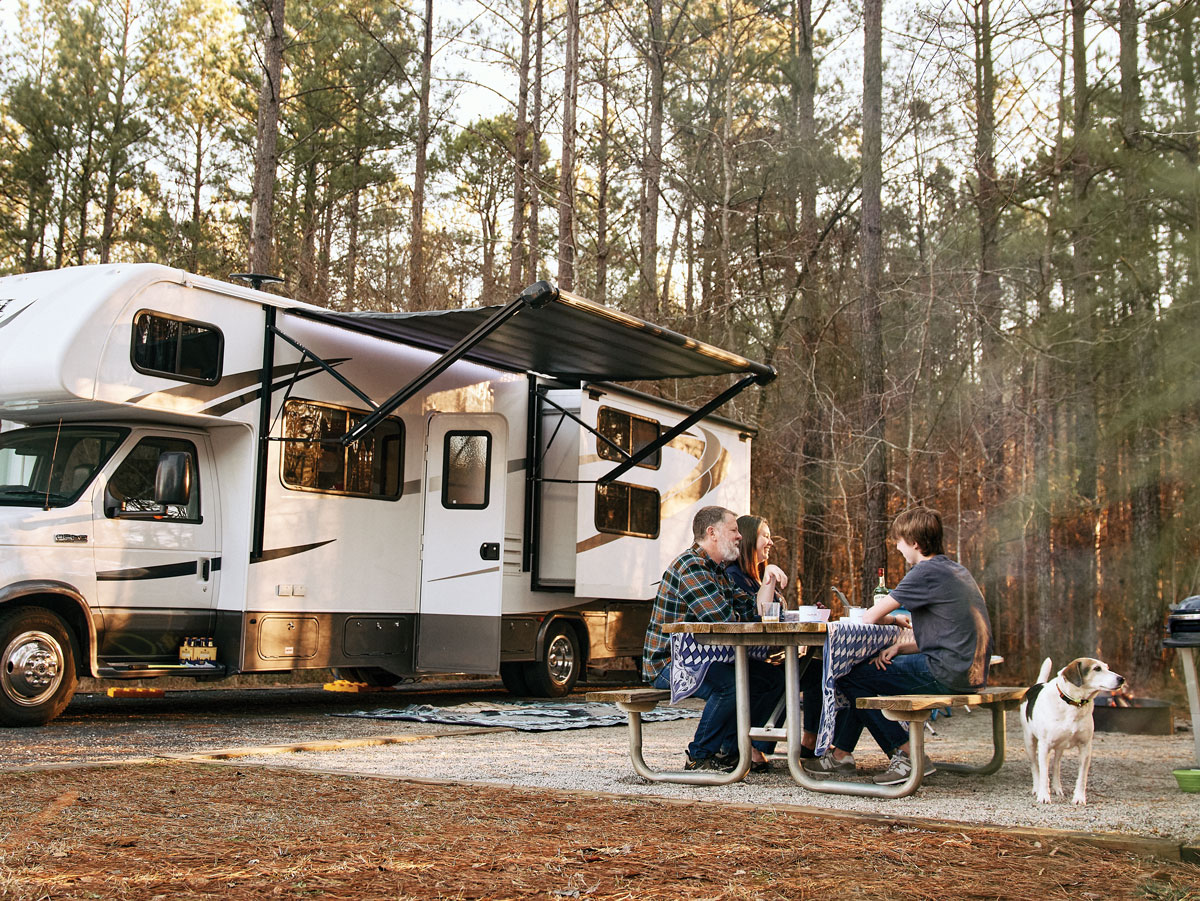 A longtime Midtown resident says, To hell with it—let's get an RV.
Joe Binns | Political consultant
We were freaked out by flying, or staying in hotels, so we looked for a way to get out and go places with our two kids [and dog, Roscoe]. When it became clear the kids were going to be learning virtually, and that I could do my work anywhere, we decided to jump into an RV search in May, thinking we were getting in early.
When we got to the dealership, these guys were trying to juggle three customers and write four contracts at the same time. It was clearly a sellers' market, and I suspect they jacked up prices. We sat down in a typical used-car dealer scene. They say this thing costs, like, $65,000. So, my wife [Melissa Mullinax, MARTA's chief of staff] slides a number, $55,000, on a piece of paper across the table, like, Let's do this. And instead of countering, they said, Sorry. We get in the car, start driving home, and I called them back and threw my wife under the bus, told them just to hold that thing for us.
It's a 2017, 32-foot Forest River Forester, a drivable house on wheels. We named it Lucinda [for musician Lucinda Williams]. It sleeps 10, with a kitchen, master bedroom, bunkbeds, and generator. It gets eight miles per gallon; we insisted our son, who just turned 16, buy an electric car to offset the massive carbon footprint we've incurred.
Our first trip was to a Lake Lanier campground, and we realized how compatible, incredible, and fun it was. It's pretty intense in there with two conference calls and school happening. Headphones are really important. Wi-Fi bandwidth is superimportant.
We did a loop around West Virginia, Virginia, Kentucky, Tennessee, the Carolinas, to state parks and a lot of lakes. For Thanksgiving, we did Mississippi, Louisiana, Arkansas, Texas, Oklahoma, and kept going all the way out to White Sands, New Mexico. We were going to go to Colorado to visit friends, but Covid got too hot. We ended up just having the family Thanksgiving in Ozark National Forest.
You run into all these things on the road that become really great educational experiences for the kids. These massive windfarms in Texas and Oklahoma, we read up and studied them. And less consequential sites like the World's Largest Pistachio.
The neighbors [in Midtown, near Piedmont Park] have been really cool. We got the RV home and she took up like six parking spaces. We finally found a place to park [securely, for a fee] on DeKalb Industrial.
What we came away with was that just getting out of town was important to our mental health during these really crazy times. We're going to keep exploring the United States. We'll drive as far as that thing will take us.
This article appears in our April 2021 issue.