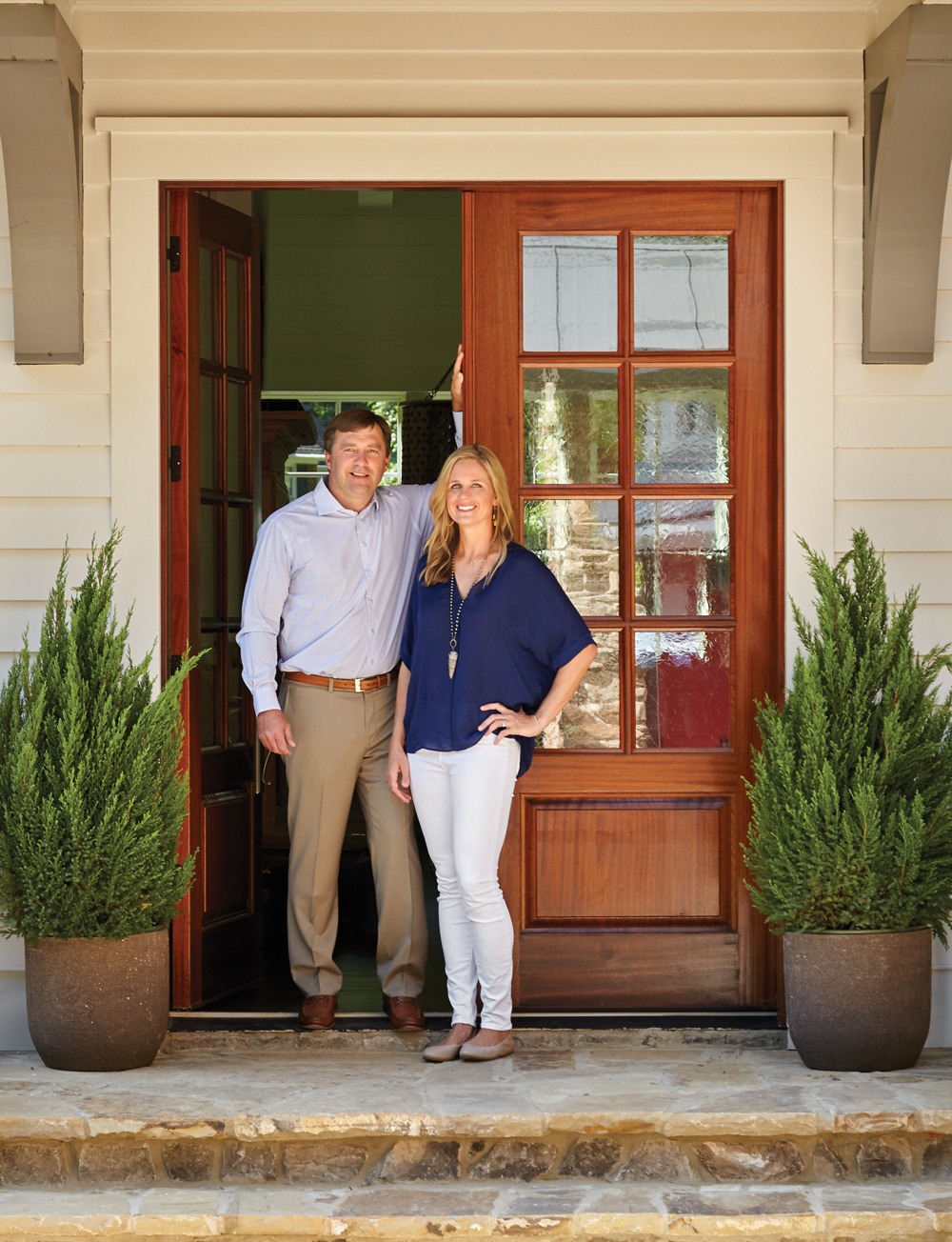 As head coach of a college football team, Kirby Smart has a wide spectrum of duties; apparently, so does his house. The Smarts' newly remodeled Athens home not only accommodates day-to-day family life, but it also serves as a place to entertain potential players and other VIPs integral to the University of Georgia football machine. "It makes recruits feel like they're part of the Bulldog family when you let them come into your house," says Kirby, UGA head coach since December 2015. These officially sanctioned visits with prospects and their parents might include playing games with the three Smart children, enjoying an informal meal, or admiring sports memorabilia.
All this takes place in the football wing of the house, as the new Smart abode has both a work and a personal side. "We had a set of unique needs for this home, which is one reason it took six months to find," says Kirby's wife, Mary Beth. "There are times when we might host players and their families with all the coaches, and 75 people could be here at once."
When Mary Beth first spotted the 1920s cottage, she knew it had the charm they were looking for: heart-pine floors and tall ceilings, with stone covering exterior and interior walls. The structure was built as a hunting lodge but later expanded and turned into a private residence. With help from interior designer Cindy Dunaway Waites and DreamBuilt Homes, the Smarts replaced a previous addition with new personal quarters and remodeled the historic cottage for football functions. The two buildings are linked by a dining room that can serve either side. The family moved in this past summer, just before the start of preseason practice.
The stone facade influenced design decisions for the new construction, steering everyone in the direction of modern farmhouse style—with shiplap walls, barn doors, industrial lighting, and touches of pecky cypress. Waites placed antiques and original art in both sections of the property, but the two spaces have some differences, too. "The recruiting side has more of a masculine feel, with darker colors and a game table, whereas the main house is a little lighter and 'cleaner,'" she says.
Kirby weighed in on some design decisions—such as, not surprisingly, television placement for sports watching—but his days have been nonstop ever since taking the reins of the SEC team.
One thing you don't see much of in the house? Red and black, those bold colors that fill Sanford Stadium every fall. "It wasn't necessarily intentional not to use red, but we just happened to choose other colors that suit a young family," Waites says. "I also worked on Kirby's UGA office, and we certainly used plenty of red there." Grays and greens against a background of cream flow throughout the Smart house, with art and accessories adding pattern and accent colors.
It's not the first time Kirby and Mary Beth have lived in Athens. Kirby played defensive back at UGA from 1995 to 1998, served as an administrative assistant after graduation, then returned in 2005 for one season as running backs coach (most recently he was part of the University of Alabama's National Championship–winning program). Mary Beth (maiden name, Lycett) was a UGA basketball star in the early 2000s. Waites was amused when her window-treatment fabricator, thrilled to work on Mary Beth's house, said, "I don't know who Mary Beth Lycett's husband is, but I've got a signed poster of her UGA women's basketball team on my wall."
The five members of the Smart family—which includes twins Julia and Weston, and son Andrew—have embraced life in Athens, especially now that they've moved into their permanent home. They cherish privacy but enjoy heading out to watch other UGA sports (tennis, baseball, and, of course, women's basketball) or dining at family favorites LRG Provisions, Donna Changs, and Five & Ten. Kirby may be a local celebrity, but he also wants a regular family-guy life around town. "The more we go out, the more normal it becomes," he says. Having a home of their own now as a sanctuary—even one they share with others—is a major score for the Smarts.
Interior design: Cindy Lynn Dunaway Interiors, cldinteriors.com
Design/build firm: DreamBuilt, dreambuilt.com
This article originally appeared in our October 2017 issue.