House Beautiful's Whole Home Concept House, which opens tomorrow in Brookhaven, is the first custom house the media brand has ever built. They accomplished it with modern trailblazer Michael Ladisic, a local builder who was involved with the magazine's Kitchen of the Year in 2016.
When House Beautiful reconnected with Ladisic, he was already preparing to erect a house on this particular lot at 983 Carter Drive, so when he brought architect Linda MacArthur, interior designer Sherry Hart, and kitchen and bath designer Matthew Quinn to the project team, the entire concept came together beautifully.
The team flew to NYC to meet with the Hearst Design Group, who, luckily, loved the plans already, suggesting only a few tweaks. Hart says she worked closely with House Beautiful's then-editor-in-chief Sophie Dow Donelson, who was among several editors sacked from Hearst publications earlier this month.
Thus, the innovative Atlanta concept house stands to be one of the last vestiges of Donelson's imprint on the publication—and a big reason why so many are clamoring to see it in person. As a longtime design writer, I was quick to join my peers at the Thursday press preview to pay homage to the Donelson-led era.
The magazine's aesthetic seems to be shifting quickly toward something more Millennial-focused. But both the new marketing direction and the style of the concept house are responses to consumer demand, so it makes perfect sense that the residence has so many hallmarks of the modern American farmhouse. And that's certainly not a bad thing. Holistically, this house is marvelous.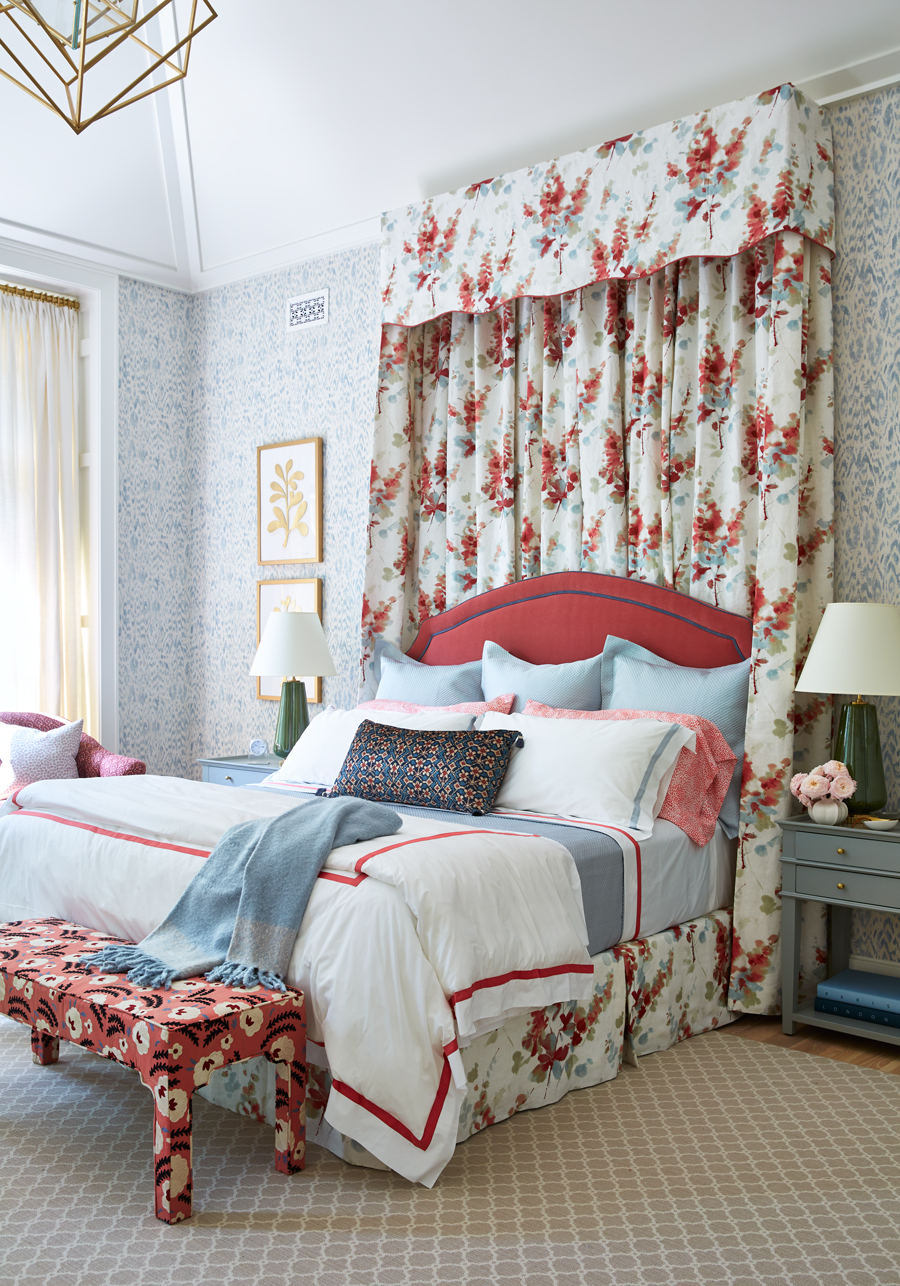 The home's proportions are super roomy, and Ladisic's team added floor-to-ceiling, glass-and-metal windows and doors throughout, which further amps up the openness. The stairwell features a massive Marvin window that Ladisic has housed within a larger, bronze-colored frame—a really cool way to catch an overhead glimpse of the home office-slash-hallway while descending from the private level to the ground floor.
I absolutely loved the surplus of pale woods and similarly colored stones—employed on closet doors, wide-plank floors, clean-lined fireplaces, and the cool veneer covering the kitchen ceiling. Its dramatic vaulting was made possible thanks in no small part to the step-up landing MacArthur and Ladisic devised for the master bedroom upstairs. Clearly this is a house conceived for style, but it's just as much about function.
"Donelson's mission in 2018 was to show readers how strategic design choices can deliver more than a pretty space—they can help them live a smarter, happier, and healthier life," Hearst senior PR manager Gabriel Ford explains.
The whole-home concept is about living well with loved ones and having places to engage in the activities of actual everyday life. Lounging and dining spaces blend together, with a long table that can host huge groups or split up into two parts when the occasion calls for it. The table is set with mismatched but coordinated china from Replacements.com, underscoring the contemporary importance of reuse.
As a sign of the times, the design team has eschewed the formal living room in favor of having a meditation and wellness space—complete with the latest Peloton stationary bike—at the front of the house.
"A lot of times, mothers don't want to be down in the basement working out. So why not work out upstairs while the kids are watching TV—or playing on their laptops—from a fun daybed?" Hart says.
The area between the two garages has been devised as a courtyard (where the eventual homeowners can throw parties or screen "drive-in style" movies for the kids). And to take the stress away from receiving packages, a wooden valet closet just to the right of the driveway is outfitted with a BoxLock that can be easily opened by delivery personnel to keep parcels safe.
Throughout the house are customized vent covers from house sponsor Architectural Grille—featuring everything from palm fronds in the children's bedroom to milk bones in the dog room, which boasts a convenient wash station and steel-framed doggie door.
There also seems to be a focus on modern gadgetry—several new LG products make their debut at this show house on Saturday. These include appliances from its high-end label Signature Kitchen Suite, such as a range with a built-in sous vide.
A walk-in larder—or chilled pantry—keeps produce and sundries fresher longer. House Beautiful specifically requested the year-round grow closet for fresh herbs that Design Galleria principal Quinn created. It in itself is worth a trip to see.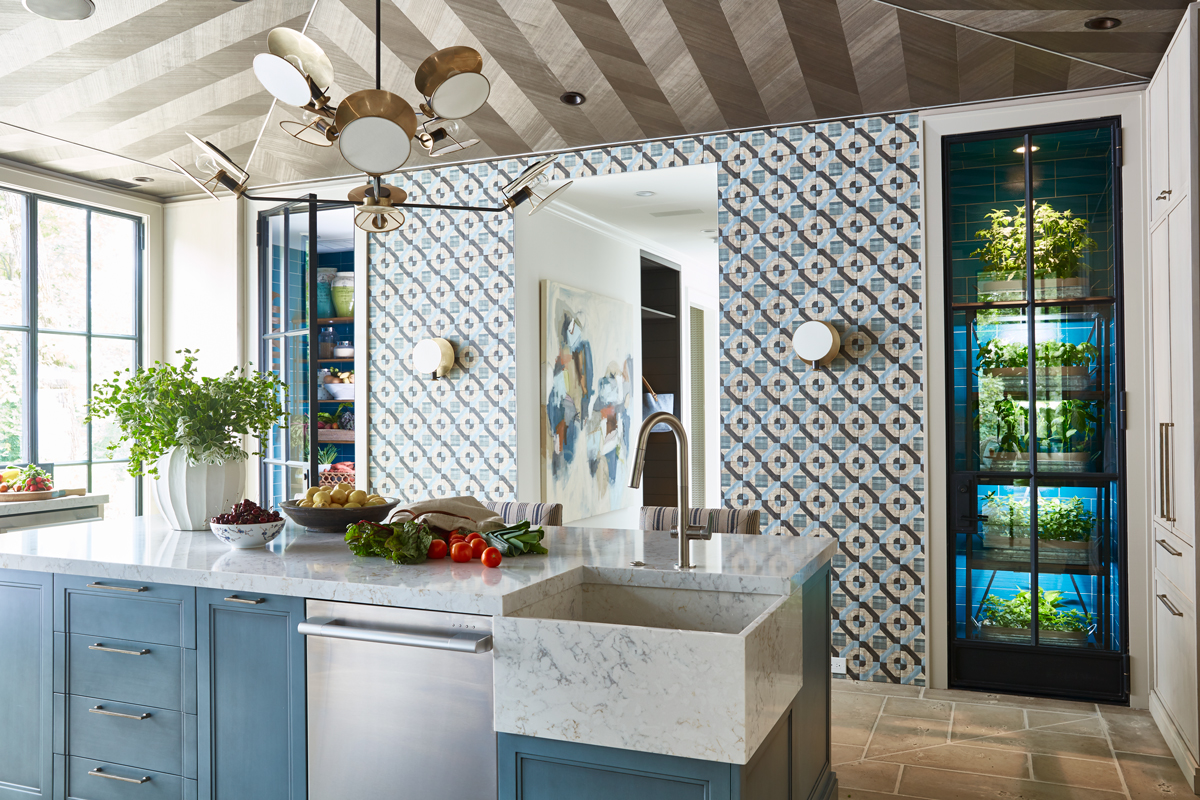 Upstairs in the master closet, shirts can be refreshed for a business meeting with LG's Wi-Fi-enabled Styler Smart Steamer cabinet. Advanced tech also appears in the light switches by NOON Home, which can be configured with presets like "wine time" in the study, which is chiefly used for oenophilic pursuits. (That particular room also has a climate-controlled vino storage case behind the desk.)
The bathrooms are restful, with the curvaceous shapes and contemporary flourishes Quinn is internationally renowned for. (Don't miss his gleaming silver tiles for AKDO in the master, which represent only one of his numerous signature collections in the house.)
The kitchen is ground zero for these. Marked by powerful symmetry and grandiose dimensions, it embraces an exquisite quality of light—both natural and from Thomas O'Brien's mod Reflector chandelier in the ceiling. This dramatic design moment is a big reason Quinn fought so hard for a contained cooking space. Be sure to take a good look around, because this room is an idea machine.
Vintage-look sconces from Circa Lighting punctuate retro-inspired wall tiles, while island cabinets are colored Quinn's favored teal. There are lots of these deep gray-greens in the home—the Benjamin Moore hues used are all masterful—which seem to be the "it" colors of the moment. Hart loved using them, too, as you'll see with the coral-and-teal Thibaut drapery fabric (Corneila) in the living room.
There's also something vaguely vintage Palm Beach about Hart's approach—the children's bedroom is a Lilly Pulitzer-esque palette of pink and green, complete with a partial wall of palm-print paper, a rattan bed by Suzanne Kasler for Ballard Designs, and a ceramic sculpture of a watermelon slice at the bedside. That minty hue appears once more on the shallow coffered ceiling of the luxurious covered porch. Hart says the way it converses with the enormous, verdigris-colored urns planted with fig trees was entirely unplanned, but that's exactly the sort of intuition that makes a designer not just good, but great. She also got into rug layering and pattern mixing inside the home—both historically beloved by House Beautiful's editors. She employed the latter heavily in the master bedroom, which proudly appears on House Beautiful's November cover.
Visit: House Beautiful's Whole Home Concept House will be open October 20 and 21 from 12-5 p.m. There will be no on-site parking; parking and shuttle services are available at Sarah Smith Elementary School, 370 Old Ivy Road Northeast.