A couple of weeks into Covid-19 lockdown, Jeremy Porter sat at home and typed out a long email he thought was surely pointless.
As creator and CEO of Atlanta Motorsports Park, a gearhead wonderland built on rolling hills about an hour north of downtown in Dawsonville, Porter had watched pandemic restrictions decimate his corporate events business, as all public access was cut off and race events were cancelled. So he began writing an email to a few associates about long-planned new condominiums, of all things, that would not only be built amid widespread economic distress, but would overlook a roaring racetrack—basically the opposite of a tranquil beach or the mist-shrouded North Georgia Mountains just up the road that many have flocked to during the pandemic.
"I said to my wife, 'I'm going to send this email,'" Porter recalls, "'but I don't think we're going to sell anything.'"
That was at 11 a.m. By day's end, five trackside condos were under contract—at an average price of $250,000 for only the barebones shells of units. Each buyer would have to add bathrooms, kitchens, car lifts, and any other accoutrements they could dream up themselves, customizing their interiors, like a car's, from headliner to floormats.
Six months later, Porter is astonished at the appetite for urban-style condo offerings far removed from Buckhead's towers or Inman Park's restaurant scene. The blueprints beckon buyers to trade "oceanfront for asphalt" and soak in the high-octane life—dining, sleeping, and entertaining in what's billed as the ultimate trophy cases for car fanatics. Following a few more emails and no advertising, about $8 million in condos had gone under contract in 10 weeks prior to groundbreaking in October, nearly selling out the first and second phases. The concept draws inspiration from condo-garage projects that have sprouted far and wide, especially M1 Concourse near Detroit, but it's a first for metro Atlanta.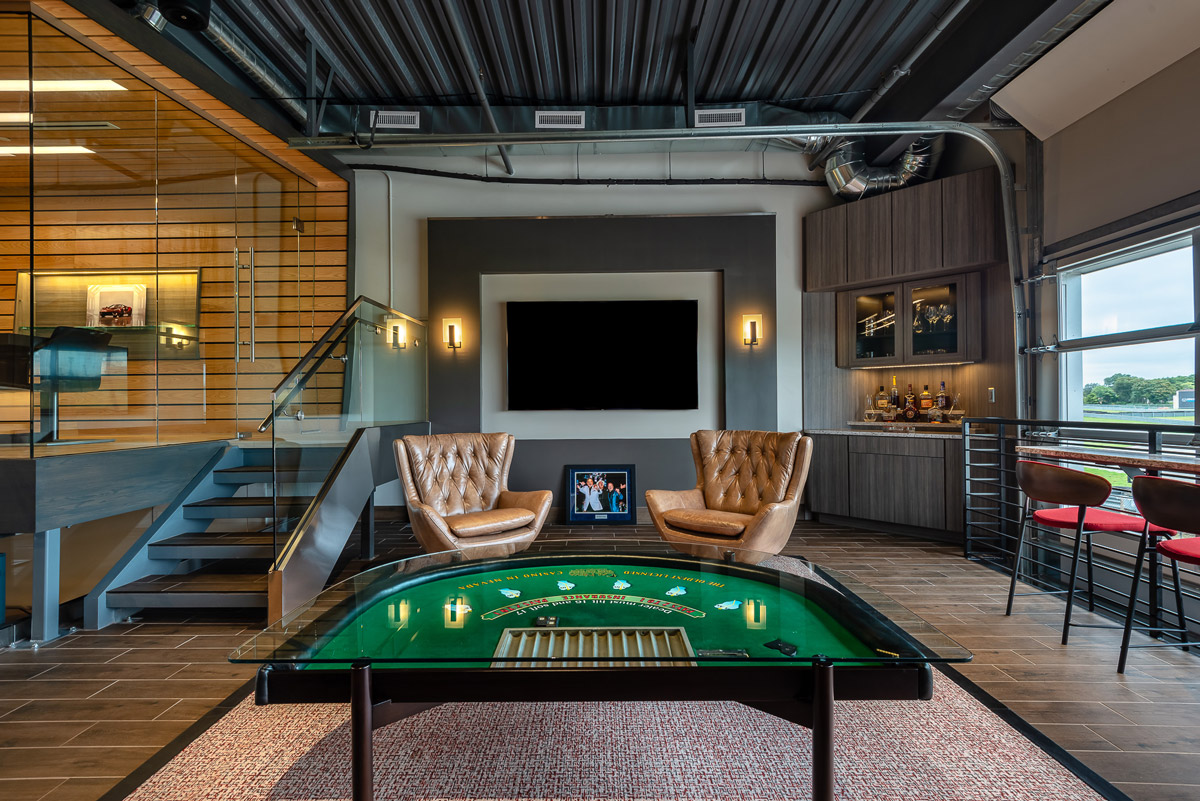 "People are always looking for something unique and fun to do, and to say you're a member of a motorsports country club, and, 'Oh, by the way, I've got a condo that overlooks the racetrack,' the needle completely comes off the record," says Porter. "People [around Atlanta] are like, what the…?"
The forthcoming bank of condos—crash pads in one sense only—will rise around the two-mile track's extreme first turn, at the end of its full-throttle straightaway. They're the latest component of a business success story that could be called unlikely, if not a longshot from the start.
• • •
With his spiked blondish hair and sunglasses, Porter might look the part of a debonair Formula One driver, but in truth he's a high school dropout and former hellraiser who once ended up living in a homeless shelter. A turning point came with a one-way bus ticket to see his brother in Georgia, who slapped some sense into Porter and put him to work in the restaurant equipment industry, whetting his appetite for business.
As a weekend driving hobbyist and former go-kart racer in the year 2000, Porter sensed a void in the market and put together a business plan for building a secondary public racetrack and country club at Road Atlanta's Turn 12. Despite initial enthusiast from track leaders, 9/11 and general trepidation about such an unproven venture squashed those plans. Seven years later, Porter shifted his attention to 150 forested acres in Dawson County, home of the Georgia Racing Hall of Fame, tucked about 10 minutes off Ga. Highway 400. He consulted with "rich friends" in his business development and headhunting spheres, including a SunTrust Bank executive, penned another business plan, launched a website, and made one promise after the next—until "the world fell apart in 2008," he says.
Porter had no money or experience in construction or racetrack operations. No billionaires, the traditional financiers of new tracks, were in his corner. But the dearth of new construction worldwide proved a blessing, in a sense, because contractors agreed to finance their own work—an unthinkable proposition before—and the activity caught the attention of legendary Formula One racecourse architect Hermann Tilke in Berlin, who was eager to break into the U.S. market. Tilke's team drew up the full Atlanta Motorsports Park plans for less than $70,000, incorporating cutting-edge safety measures and a replica of the famed "Carousel corner" at Germany's Nürburgring track. Local government eventually approved the plans, and Porter hustled to sell $3.5 million in memberships to keep quickly accruing bills paid. Chipper Jones, actor Patrick Dempsey, and former Atlanta Falcons receiver Michael Jenkins all bought in before ground even broke, attracted to the prospects of driving a technical, Tilke-designed course with roller-coaster elevation changes.
Colloquially called AMP, the track alone debuted with about 100 members and 50 garage spaces in time for the 2012 summer season, but in a relatively primitive state: The welcome center was a double-wide trailer, the parking lots made of dust-spewing gravel, and the temporary control tower just three big containers stacked atop each other.
Much has changed in the ensuing eight years. Garage spaces have quadrupled, and paid memberships (with initiation fees from $10,000 to $50,000) have swelled to 680, making AMP what Porter calls the world's biggest country club for the industry. The largest clientele by far is doctors, though membership ranks include players from all major sports—many of them joining undercover, to not void contracts that prohibit activities such as snow-skiing, let alone rocketing at 120 mph into a hairpin turn—and notables such as U.S. Senator Kelly Loeffler and husband Jeffrey Sprecher.
In preparation for the condos, the property has assumed more of a resort feel. The 20,000-square-foot conference center counts a gym, game room, playroom for kids, putting greens, and outdoor pool with slides, fire pit, grilling bar, and Jacuzzi. Elsewhere, there's a skid pad and ice hill to simulate hairy driving conditions, a nonprofit teen driving school, and several racing programs that contribute to about 150 jobs the facility provides. Road and Track magazine has named the course itself among the top 10 in North America.
AMP's second marquee attraction, a .8-mile go-kart track, debuted a couple of years ago. It's billed as the most extreme kart facility in the country, with mini racecars that can reach 60 mph and elevation changes equal to a four-story building. (Tip: Heed the pre-ride kart safety briefing, which I skipped during a recent facility tour and went stupidly fast over "Thrill Hill," promptly spinning into a field like the last-place player in Mario Kart.)
Around the corner from the kart garages, backhoes are churning dirt where the first two phases of 46 metal-clad condos are expected to open next summer, with an eventual 146 planned. Options of 640 square feet have started at about $137,000, climbing to units twice as large for just shy of $300,000. Porter expects most buyers to spend between $75,000 and $100,000 to finish the shell spaces, though deluxe build-outs costing north of $1 million won't be uncommon.
"If I'm to really break down the essence of [the condo appeal]," he says, "you've got these guys or gals that have built these car collections; and here, if you want, you can roll back your garage door, show it to all your neighbors, see theirs, do garage-crawl parties, and you get to tell the stories behind all of it. These cars mean something to them."
That social potential wasn't lost on Alan Barge, CEO of AERO Systems Engineering, who was poring over blueprints for his forthcoming 15,000-square-foot condo—four units combined, shared with a pal—with his McLaren and race-ready Lamborghinis parked nearby. After a long day of revving around the track, Barge says nothing beats kicking back with beers and toasting fellow car nuts without having to drive back, in his case, to Smyrna.
"The condos will just take the whole thing to the next level," says Barge, a member for the past two years. "It's just such a cool place to hang out if you're into cars, because you see everything. I absolutely drank the Kool-Aid."