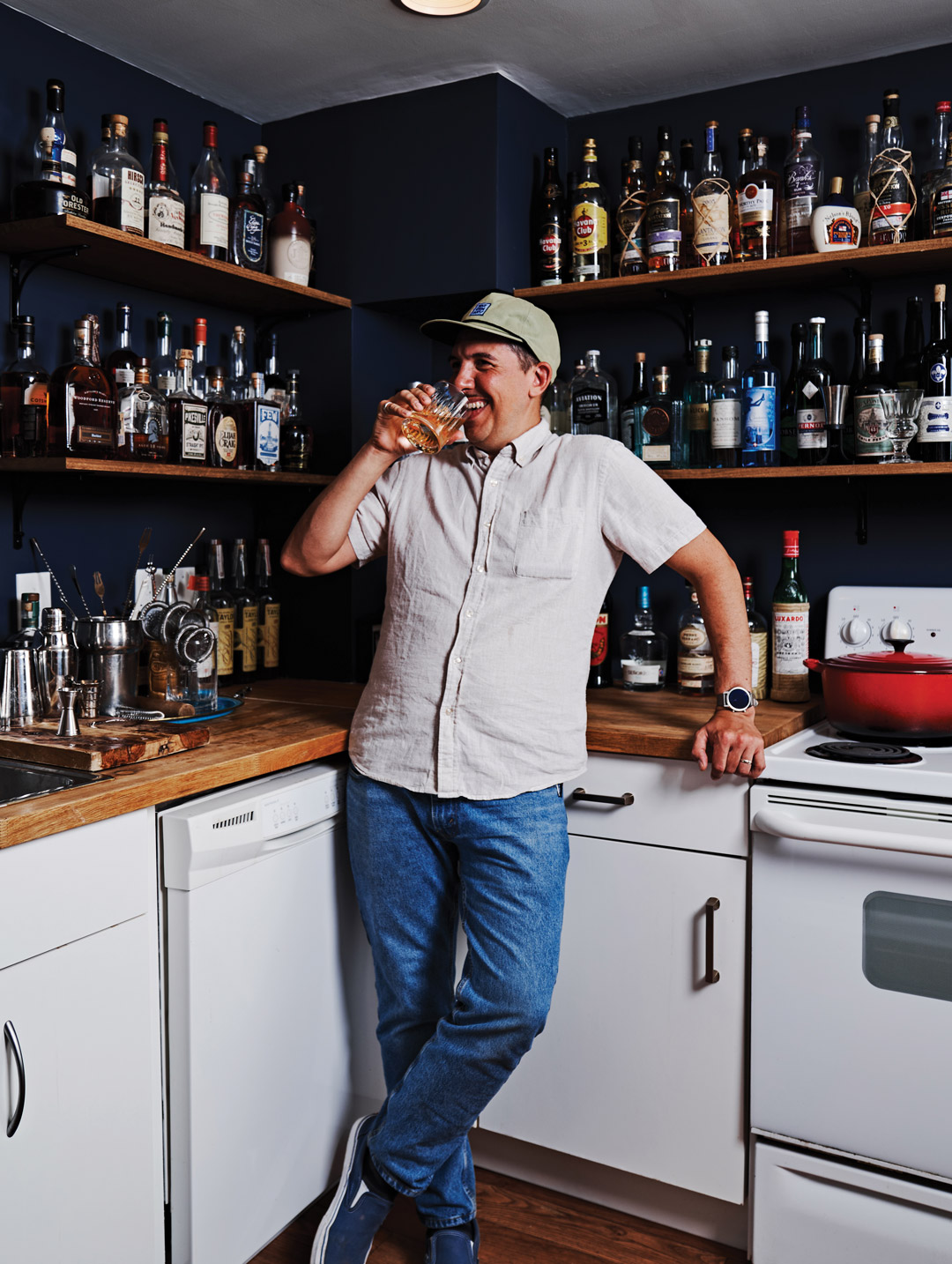 When Miles Macquarrie and his wife, Leigh Anne, were looking for a new home just prior to the birth of their daughter three years ago, they were charmed by a 1920s-era, Craftsman-style bungalow in East Lake. For the co-owner and beverage director of Watchman's Seafood and Spirits and Kimball House—a recent finalist for the James Beard Outstanding Beverage Program award—the location between his two establishments was a draw, as was a basement kitchen that he turned into a cozy bar and test lab for drink recipes.
1. Bar Mascot
Kimball House regulars may be familiar with the stuffed bobcat perched among glassware and other vintage items on the oyster depot's shelves. That specimen and its companion in Macquarrie's home bar were gifts from his father-in-law, an avid hunter.
2. Rare Spirits
Macquarrie installed simple shelves to hold his collection of around 250 bottles. Highlights include an unaged St. George's Spirits apple brandy eau de vie bottled exclusively for Eleven Madison Park, a 13-year Pappy Van Winkle rye whiskey, and a hefty supply of Amer Picon—available only in France—for making one of his favorite cocktails, the Brooklyn.
3. Chillin'
In the bar's fridge and freezer are assorted infused vermouths and spirits, fortified wines, cordials, and other projects in R&D for the bars, as well as a Kold-Draft ice maker and chilled glassware for serving up perfectly cold cocktails.
4. Antiques Row
An avid vintage enthusiast, Macquarrie sources his personal glassware the same places he does for his bars: Goodwill, My Favorite Place, Kudzu Antiques and Modern, and Chamblee's Antiques Row.
This article appears in our September 2019 issue.