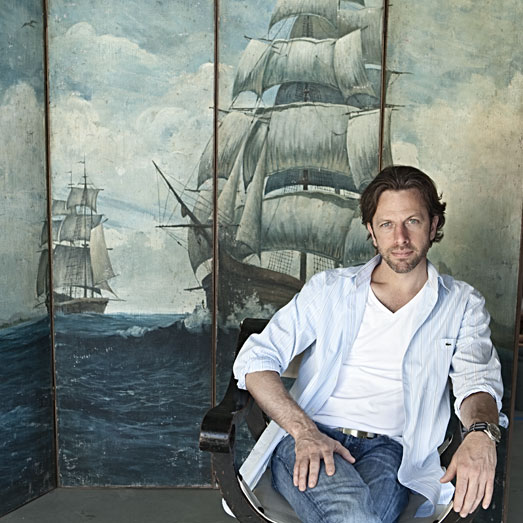 Photograph by Alana Goldstein
It's installation week for the blockbuster Atlanta Symphony Associates' Decorators Show House, and Raymond Goins can hardly sit still. For Goins, a self-taught artist and furniture designer, the spring event is a debut of sorts: He's decorated the entire master bath suite, his first solo showhouse space.
Striding around his Chamblee studio, Goins points out a sleek, white, lacquered etagere with oyster leather shelves and a pair of cement greyhounds painted whimsically like Staffordshire dogs; then he just steps back and grins, blue eyes dancing merrily. Most spectacular are the reverse-painted, citron glass panels with Etruscan symbols that will line the water closet walls, floor to ceiling. "Isn't this fun? Aren't these fabulous?" he gushes, his honeyed voice redolent of his native South Carolina.
Goins is one of those hypercreative people who inspired the phrase "bursting with ideas." A hotel management job brought him to Atlanta, where he befriended longtime interior designer Marie Warren. Impressed by his charcoal portraiture, she gave him his first commission: painting a Biedermeier table with a bust of Napoleon. Soon he was opening his own studio to do original artwork, custom paint finishes, and furniture restoration. In 2000, he introduced an urn lamp called the Chelsea, which became the first in an ever-expanding line of original home accessories and furniture. Particularly popular now are painted leather screens, the lamps, a trestle table, and graceful designs such as a mirrored chest or demilune table. (For a short time, Goins also operated an art gallery, Raymond Lawrence at Tula on Bennett Street, named Atlanta's Best New Gallery in 1998.)
Goins cites muses from Michelangelo to painter Caspar David Friedrich and designer Albert Hadley—which makes his work pretty much perfect for Atlanta's classic taste. Even his more contemporary pieces bear hints of romantic classicism. He jokes that his showhouse bathroom, with its painted glass walls and metal mesh shutters, is a modern interpretation of a monastery's stained glass (explicit imagery notwithstanding).
The multitasker is now doing more interior design. But he is also traveling to New York and London, establishing liaisons with ultraexclusive companies such as luxury accessories designer Asprey and linen maker Pratesi. On the polar opposite of the economic spectrum, he is introducing some less expensive products, starting with custom, hand-painted tortoiseshell frames in playful colors such as acid green, Chinese red, and robin's egg blue. Frames start at $250. "We call it 'Ray Goins by the foot,'" he jokes.
"I enjoy the process of things," explains Goins. "That's my excuse for not finishing them. It's like being a good writer and using fewer words. You get something to a stage and then leave it alone. It's not about absolute literal forms." raymondgoins.com; prices quoted by order
This article originally appeared in our June 2010 issue.