My dear friend Liz Lapidus, whose public relations firm represents some of the city's top restaurants and creatives, has a knack for inviting all the right people to just the right venue. The dinner she hosted one fall evening in the leafy courtyard of Susan Bridges's Inman Park gallery, Whitespace, was no different. There, her intimate group of eight gathered to celebrate Birmingham-based artist Amy Pleasant's show Writing Pictures.
"Susan has created an amazing experience in the neighborhood," says Liz. "I love how the space evolves from a buzzy opening night venue to a quiet place to view art."
Beneath a canopy of trees draped with string lights, guests sipped Unvanquished bourbon cocktails by Navarro Carr and nibbled on cornmeal crisps by James Beard Award–winning chef Scott Peacock, who created a thrilling fall-inspired menu.
Bridges and Katie Barringer, who founded (the sadly now-closed) Cover Books, decorated the long wooden table with fall flowers and branches. Handmade touches added to the homegrown affair: Chef Peacock brought napkins hand-dyed with indigo grown in his Alabama backyard. His garden provided the persimmons and pomegranates for the salad as well as the Carolina Gold rice for the panna cotta for dessert. The entire meal reflected the terroir of the topsoil-rich region of Alabama that the chef calls home.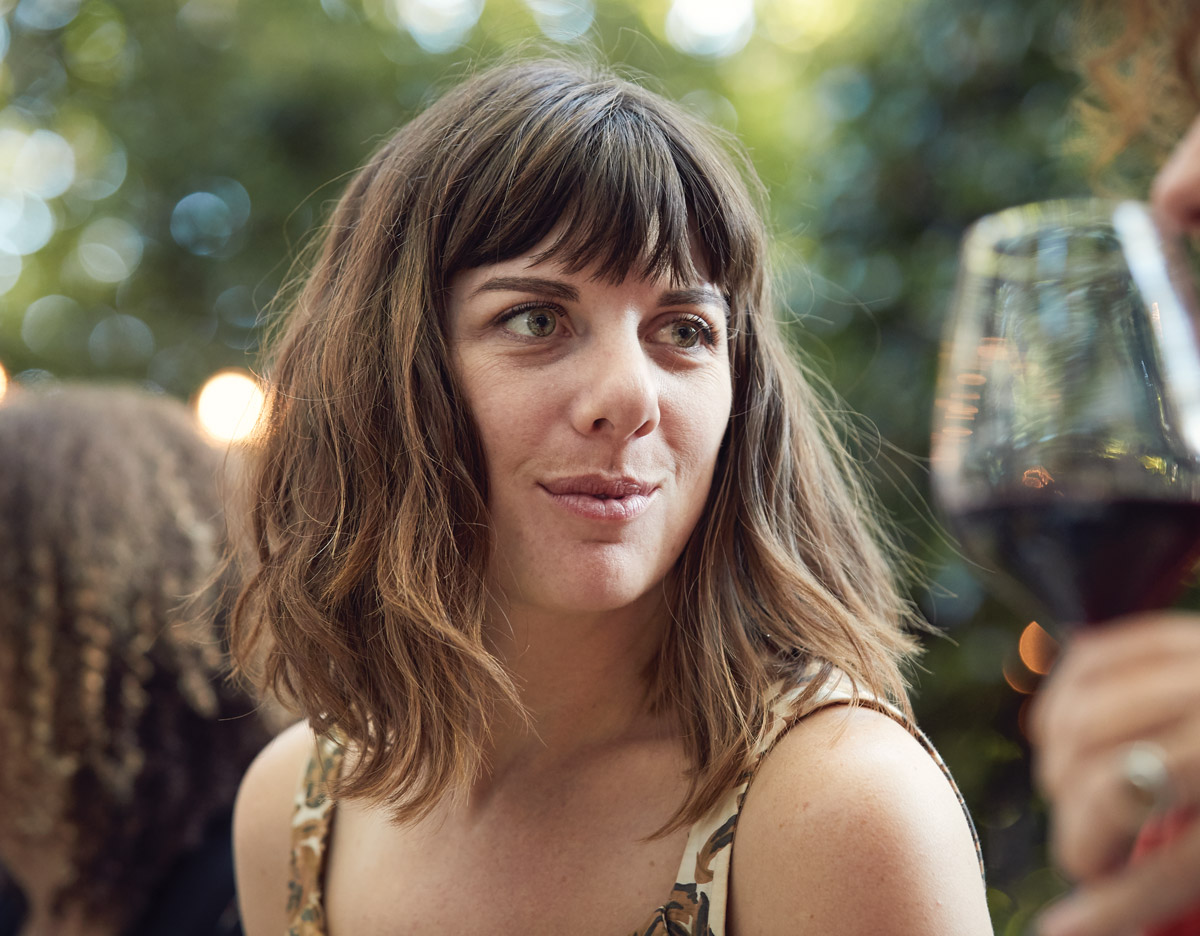 Guests mingled in the gallery, which features a large sliding door that gives it a seamless indoor-outdoor feeling. Pleasant's minimalist black-and-white works on paper, paintings, and ceramic sculptures of the human form inspired—but so did Liz herself. I always love watching her interact with guests, because she truly listens and asks all the right questions. She assembles all the perfect pieces.
The menu
Cocktail
The Unvanquished
Dinner
Cornmeal crisps
Salad of fall fruits and spicy greens
Rich beef stew
Dessert
Carolina Gold panna cotta with candied pumpkin and burnt honey
1
Cocktail from Navarro Carr: The Unvanquished
The Unvanquished
Serves 1
1.5 ounce bourbon
½ ounce Grade A maple syrup
½ ounce freshly squeezed lime juice
½ ounce Zirbenz (pine liqueur)
1 dash of Regan's Orange Bitters No. 6
2–3 cardamom seeds, muddled (reserve a small amount for garnish)
Put all ingredients into a cocktail shaker, add ice, and shake. Strain into a rocks
glass over ice. Garnish with a sprinkle of muddled cardamom seeds.
2
Menu from Scott Peacock: Cornmeal Crisps
Serves 8
1 cup finely ground white or yellow cornmeal
1 teaspoon kosher salt
1 ½–2 ¼ cups boiling water
3 tablespoons unsalted butter, divided
Optional garnish: Rosemary, finely chopped and sprinkled with salt and pepper and drizzled with olive oil
Preheat oven to 375 F.
Stir the cornmeal and salt together, and whisk in enough boiling water to make a smooth, spreadable mush with the consistency of loose mashed potatoes. Whisk in two tablespoons of butter. If it becomes stiff, whisk in a bit more boiling water until it is loose and smooth.
With a tablespoon of butter, grease two baking sheets. Divide the batter between the two baking sheets, and use a rubber spatula to spread as thinly and evenly as possible. (Dipping the spatula in water helps.) If desired, sprinkle lightly with chopped and seasoned rosemary—not too much—and a few grinds of black pepper.
Bake for 20 minutes or longer, turning pan as needed for even cooking, until crisp and golden brown. Do not be surprised if cracks develop as it bakes. They add to the charm.
Remove from oven and allow to cool on the baking sheets. If made with optional herb garnish, best to eat the day made but can be stored in an airtight container for several days.
3
Salad of Fall Fruits and Spicy Greens
Serves 8
For the dressing:
1 shallot, finely diced
1 small clove of garlic, chopped, sprinkled with kosher salt and rubbed to a paste
¾ teaspoon kosher salt
3–5 grinds of black pepper
Small pinch sugar
3 tablespoons white wine or champagne vinegar
1 teaspoon Dijon mustard
½ cup plus 1 tablespoon extra virgin olive oil
For the salad:
1 ½ cups persimmon, quartered and thinly sliced lengthwise (¼-inch or less)
1 ¼ cups pomegranate seed
½ lemon
1 ¼ cups cucumber, peeled, seeded, quartered lengthwise, and sliced ¼-inch thick
⅓ cup black, oil-cured olives, pitted and torn into ⅓-inch pieces
¼ fresh mint leaves, torn
6 cups arugula, carefully washed and dried
6 cups watercress, carefully washed and dried
Salt and freshly ground black pepper to taste
Put the shallot, garlic, salt, pepper, sugar, and vinegar in a small, nonreactive bowl and allow to mellow for 10 to 30 minutes. Whisk in the mustard and olive oil. Taste carefully for seasoning and adjust as needed.
Put the persimmon and pomegranate seed in a bowl, squeeze the lemon over it, and toss. Add cucumber, oil-cured olives, and mint. Season with a pinch of kosher salt and a few grinds of pepper. Pour ¼ cup of the dressing over the mixture. Toss well. Add the arugula and watercress, drizzle just enough to lightly coat, and season to taste. (Maldon flakes are nice as a finishing salt.) Gently toss and serve immediately.
Rich beef stew and
cornmeal crisps
1  3 ½ to 4 pound well-marbled chuck roast (preferably grass-fed)
1 tablespoon kosher salt
3 tablespoons olive oil
6 ounces thick-cut bacon, cut into 1/2-inch pieces
1 tablespoon unsalted butter
2 cups yellow onion, diced
1 leek, white part only, split lengthwise and cut into thin slices
3 large cloves of garlic
1 bottle dry red wine
1 tablespoon tomato paste
1 stick cinnamon (Ceylon preferred)
7 fresh bay leaves (or 3 dried)
1/4 teaspoon dried thyme
10 parsley stems (leaves reserved)
Trim and cut roast into large 2-inch pieces. Sprinkle evenly with 1 tablespoon of kosher salt, then cover and refrigerate overnight if possible. (This helps with flavor of stew, but it could be rushed!)
Preheat oven to 275F
Cook bacon in 1 tablespoon olive oil over medium heat until brown. Drain and reserve and pour all but 2 tablespoons of bacon fat from the pan and add 2 tablespoons remaining olive oil to pan. Blot salted beef dry with paper towel and brown carefully in the skillet over medium-high heat. This is the most critical step in developing good flavor in the stew, so take time to brown carefully all over, working in batches as needed. Remove well-browned beef and set aside.
Drain all but 1 tablespoon fat from the skillet and add 1 tablespoon unsalted butter. Add onions to pan, sprinkle with salt, and cook over medium heat, scraping up all the browned bits from the bottom of the pan. Cook just until onions have softened; do not let them brown. Stir in the leeks and garlic, and cook for four minutes over low heat.
Transfer onion mixture to a 3-quart baking dish (I often use a Pyrex casserole dish). Pour wine into skillet and bring to a boil, then lower heat and cook until reduced by half. When reduced, whisk in the tomato paste. Arrange the browned beef and bacon over the onions and pour over the reduced red wine. Add stock to almost cover. Tuck in the parsley stems (tied with kitchen twine helps with their later removal), fresh bay and cinnamon. Sprinkle dried thyme over the whole. Cover with parchment paper and a double thickness of foil. Seal tightly. Place on a baking sheet and bake in preheated oven for 2 hours. Exercising great care, unwrap foil, making sure not to let the steam released cause a burn. Test the tenderness of the beef with a skewer or the tip of a sharp knife. More than likely beef will require a bit more cooking. If it does, recover with foil and bake 20 to 30 minutes longer until meat is just tender.
Uncover, remove parsley stems and cinnamon and increase oven temp to 350 and cook 15 to 20 minutes longer, basting occasionally, to further brown and glaze the stew. Remove from oven, tent with foil and let rest for 10 minutes or so before serving with torn (not chopped) parsley as a finishing garnish. This stew, like most, is especially good made the day before and reheated.
5
Carolina Gold Panna Cotta with Candied Pumpkin and Burnt Honey
Serves 8
For the panna cotta:
2 cups whole milk
2 ½ cups heavy cream
3 tablespoons Carolina Gold or other fragrant rice
3 strips orange zest, all pith carefully removed
½ cup sugar
½ teaspoon kosher salt
1 scant packet unflavored gelatin, softened in 3 tablespoons cold water or milk
¼ teaspoon vanilla extract
For the candied pumpkin garnish:
2 cups pumpkin, peeled, seeded, and cut into ½-inch cubes (small cooking pumpkins work best)
1 cup sugar
½-inch soft cinnamon stick (Ceylon preferred)
2 tablespoons lemon juice
¼ teaspoon kosher salt
¼ cup dark honey (buckwheat is beautiful)
Put the milk, two cups of heavy cream, rice, orange zest, sugar, and salt in a heavy nonreactive saucepan. Cook over medium-low heat, stirring often, and bring to a simmer. Reduce heat to low, stirring occasionally for 30 minutes or longer until the rice is very soft. Remove orange zest, and gently stir in softened gelatin until dissolved. Pour through a fine strainer, using a rubber spatula to press the rice through. Whisk gently to blend. Stir in the remaining ½ cup heavy cream and vanilla. Pour into a serving bowl or individual servings, cover, and chill for at least two hours until set.
Toss the pumpkin and sugar together and refrigerate for a few hours or overnight to draw out the liquid. Put in a heavy, nonreactive saucepan, and add cinnamon, lemon juice, and salt, and simmer, partially covered, until pumpkin is tender and translucent and syrup has thickened. Cool and refrigerate. Add to the panna cotta as a garnish. Boil honey in a saucepan or small skillet over medium-high heat until reduced by half. Let cool slightly, and drizzle ½ teaspoon in very thin threads over the panna cotta and pumpkin just before serving.
This article appears in our Fall 2018 issue of Atlanta Magazine's HOME.